Racer X Redux: Steel City
Welcome to ReduX presented by Renthal. Quite a rebound for the Red Riders.

Last weekend at Southwick, Honda endured one of its worst weekends ever, what with Andrew Short's bike breaking in the first practice, then him not qualifying based on lap times in session two and only getting in with a provisional, then running out of gas on the last lap of the first moto at the same exact time Brett Metcalfe had lost the moto win on his Honda when he ran out of gas. By then, Short had already been taken down by another Honda rider, Ben Townley, who plowed into Short but later DNF'd when a rock smacked his Honda's water pump. Then Short and Metcalfe were both down on the first lap of moto two. Not a good weekend.

And then here they come right back at Steel City, with Kevin Freaking Windham taking the win (!!!) in the 450s, and Trey Canard adding an all-time-clutch 1-1 victory in the 250 class to boot. If only Ashley Fiolek had not came up one corner short of the overall in the Women's class! More on that spectacular battle later...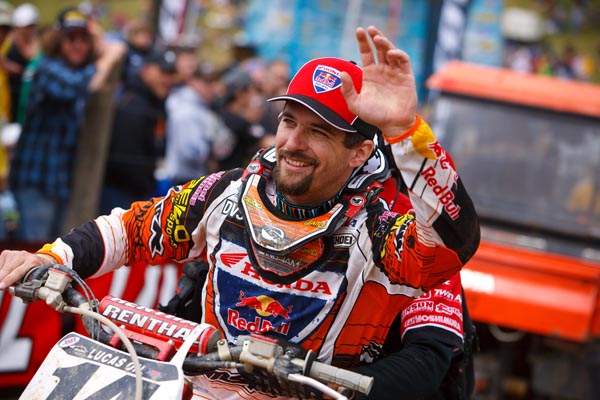 Winning is a great cure for back pain.
Simon Cudby photo
But first, KEVIN WINDHAM! It's times like this when I wish Vegas set gambling odds on this sport, because what would the odds have been of a KW win when this series began? Not only was he not racing, he was not supposed to be racing, and even if there was a suspicion of him racing, no one would have expected much since he logged solid 20th and 33rd overall finishes in guest rides outdoors last year.

But we really need to just erase Kevin Windham 2009 from the system and pretend that never happened. Okay, folks? Kevin Windham 2009 never happened. We probably wouldn't think the dude was so old if he hadn't been so bad last year. This year, we saw the regular KW all season in SX, and as soon as he led laps in his first outdoor race at Millville, we knew he was racing MX, too. Now after a month to build his fitness by racing, he is ready to win.

Here's a stat I just figured out: KW has won national-level races in 12 different seasons now, which is a record as far as I can tell. Jeff Ward won AMA National or SX races in 11 seasons.

Funny how experience helps. A young KW was known for great talent and speed but wasn't able to put it all together, mentally, to get wins. Now he's become the man to step up and do it when opportunity knocks. Think Unadilla in '07, when Carmichael had retired and James Stewart crashed out of practice. The rest of the field was suddenly thrust into the spotlight, and Windham handled it best to win the overall. At Steel City this year, Ryan Dungey finally had some back luck, and all the dudes who usually hog the race wins, Stewart, Reed and Villopoto, weren't there, either. So someone was going to get a rare win, and once again Windham delivered.

It's getting harder, though. There are lots of jokes about Kevin being old, but I personally feel that 32 is quite young (and that's a completely and totally biased statement written only because I'm also 32). Well, apparently it is old. After the race Kevin told me he was totally physically hammered after those two motos, and his back was killing him. I told him 32 is only old in riding years, and is pretty young for most other walks of life. He said, "Yeah, but today pretty much all I did was ride, so I'm old!"

Kevin won this one via great race craft. He had good speed at times but used it only sparingly. Instead of hammering every lap of every moto, he saved himself, but when he needed to pass Metcalfe in moto one or Short in moto two, he pushed it. When Dungey caught him in moto two, he backed it down. Until Metcalfe started catching him again, and he laid down some more fast laps. This was a veteran starting pitcher using cunning and experience to win games instead of just firing fastballs past people.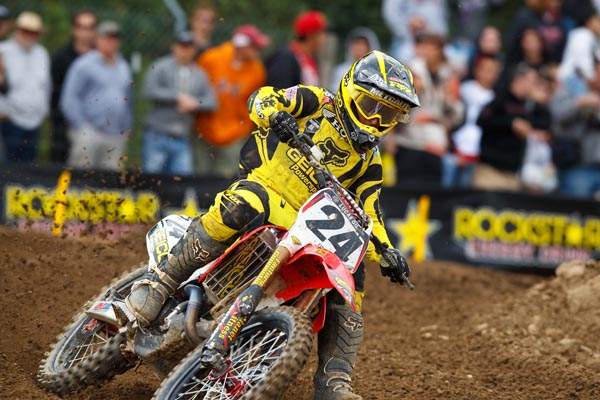 Metty has made the leap from merely finishing on the podium in races, to genuinely being a threat to win any of them. Too bad there is only one more race left!
Cudby photo
Metty was so darned close, again. He was a man on a mission in the first moto and took off until he stalled, then Windham just outfoxed him at the end. He was as fast as KW on this day and maybe a little stronger, but Kevin's experience won out. Still, Metty has all the ingredients to win, and he knows it, which is a big step.

Not sure why, exactly, but the last three races have hosted really big crowds, much more than I saw at those races last year. Maybe we just had good weather. Maybe it was the James Stewart factor (he certainly had to sell some tickets for Unadilla, at least). Maybe this massive TV push outdoors is starting to pay off. I don't know, but I do know the timing was perfect because there were a lot of KW fans cheering over the weekend.

They also got to see great racing. You can't ask for much better than we saw this weekend, with four of the six motos going down to the final lap. The track helped. Marc Peters comes in to help with some of these national tracks, and he's just a master at finding the right combination of bumps on the inside and berms on the outside to open up options.

And while I'm praising an event produced by the company I work for, don't forget the Can-Am Grand National Cross Country Series is headed to Unadilla this weekend! I love Loretta Lynn's Ranch! Morgantown is the Mecca of the industry! 32 is still young! Go NY Giants. I got it all in. Good.

Oh, but you're wondering what else Morgantown offers the industry besides what we produce in this office? Well, we do have a sweet Honda/Suzuki/Yamaha/KTM shop in town, and I ran into one of their main guys, who we call Mega Watt, at Steel City. Mega will take anyone down in bench-racing rants about old-school Team Honda, Team USA, or riders not giving it their all. At Steel City, he sought out Jeff Emig and went off about Jeff's amazing 1996 Steel City ride, when he beat Jeremy McGrath straight-up and won the AMA Motocross Championship. Mega, using words as only he can, said, "That ride defined his testicals."
Emig (obviously) thought that was cool, and he says he looks back at those old McGrath days and thinks he's lucky, now, because without such an advisary, there wouldn't be so many great memories. Fans remember that race because it was such a clutch performance, and because toppling MC was such an amazing feat.

Well, that's where we're at now with Canard, who came to Steel City with his back against the wall. He caught and passed Christophe Pourcel in moto one and held on for the win under a mountain of pressure. For moto two, Pourcel was pissed off about losing the first one and was going to do everything in his power to get the win. But Canard didn't yield again. I can't possibly put into words the kind of pressure Pourcel applied in those races, and to make matters worse, Pourcel had just ran Canard down for a Unadilla second moto win a few weeks back, and out-dueled him in the first moto at Millville, and the second moto in Colorado. Basically anytime Pourcel has been on his game, no one can beat him straight up. But this time Canard did it twice. I just can't even explain how hard that is to do. Last year on this track, Pourcel was literally toying with Dungey, and they were still pulling away from the pack. CP flies at Steel City. But Trey was able to meet and exceed that. Incredible riding by both guys, and by the way we'll probably never fully know the type of physical ailments Pourcel deals with every weekend, but the dude sure tries hard for a dude who supposedly doesn't try hard.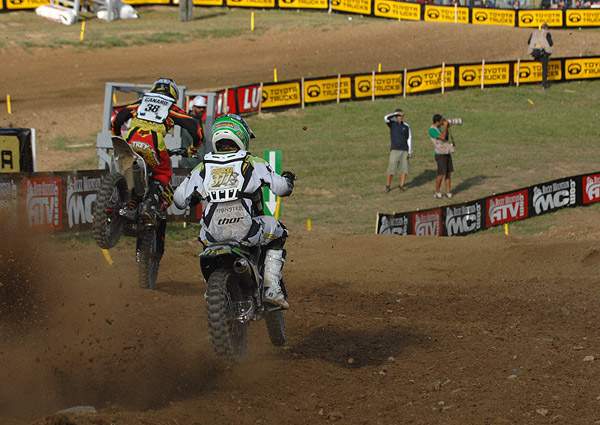 Pourcel was ALL OVER Canard....
Carl Stone photo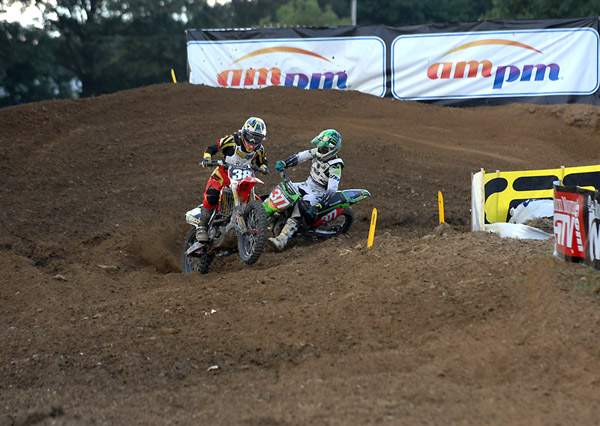 Like, seriously.
Carl Stone photo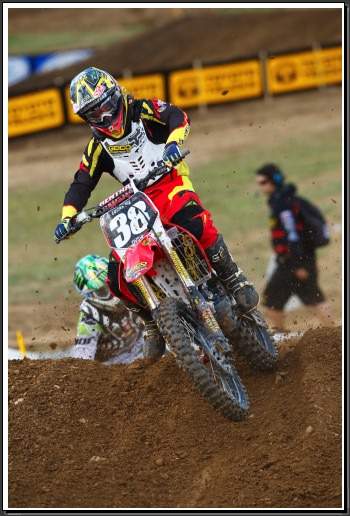 But Trey never yielded, and won one of the hardest fought races you'll ever see. Big props to both of these guys for laying it on the line.
Cudby photo
As proof of these dudes stepping it up, in the first half of each moto, riders like Rattray, Wilson, Barcia, Wil Hahn, Cole Seely and Nico Izzi were able to battle up front. But in the final ten minutes of each race, the Canard/Pourcel train found another gear and took off (which leads me to the question, do trains even have gears?). They were gone by the end of each moto. By the way, Pourcel's fastest lap in Moto 1 came on the last lap, and Canard's fastest lap in moto two came on the last lap. Think about that!

This may end up the saving grace for Pourcel, who can still win this thing with a 2-2 next weekend. You know Rattray and Wilson aren't going to cost him any points, so what will it take for someone else, ala Barcia, Wharton, Hahn, Tickle or someone like that, to actually beat him in either moto. He's going to be digging deeper than anyone because he has to. If there are five minutes to go in the second moto and Martin Davalos is somehow holding the second-place spot and denying Pourcel championship points, do you really think Davalos holds him off? Heck, Izzi actually waved Pourcel by in this one!

But, as they say, that's why they run the races. Pourcel's 2-2 isn't a guarantee (and neither is a 1-1 by Canard, for that matter). We'll be covering both the 450 and 250 class live next Saturday night on SPEED, so you have absolutely no excuses for not watching.

On Friday, some random fan gave Pourcel a present—a poster of the Joker from Batman. He said Pourcel could use it to improve his hand in the second moto, since he's usually so great in moto one but worse in moto two. We had a good laugh about this in an interview on the Racer X pre-show, and Pourcel joked about being good at cards because he never lets his true feelings show. Yes, he's been The Crafty Frenchman, and yes, he pretends he doesn't train or practice or care, but after Steel City, that act is over. The dude was bummed out after losing; he wanted it, he went for it, he tried as hard as he could, but this time he couldn't pull it out. And he cared. At no point this year or last, I think, has he been beaten in this manner. You could see it in his eyes after the race.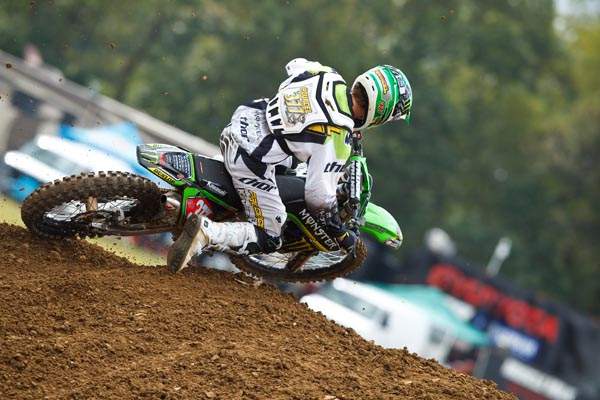 This is just an awesome photo of CP.
Cudby photo
As for Canard, who would have thought getting passed for eighth last week in the second moto by Martin Davalos could cost him the title? Or getting passed by Blake Baggett for sixth in the first moto at Hangtown? Unbelievable that this championship has gotten this close. Reminds me much of the 2000 season, when Stephane Roncada opened up a huge points lead only to get caught by a surging Travis Pastrana at the last round (they must have been racing on Mars back then because you'd have to be from another planet to believe that Pastrana once won championships over a long season).

Can Ben Townley have any worse luck? There are, I think, seven rocks total on the Southwick track, and one of them hit his water pump. Steel City has a few more, but dudes were getting roosted all day without enduring anything worse than welts, except for Ben who had one strike him right in the face and break his nose. Terrible. Then he got taken down off the start in moto two and was done again. Do not ever attempt to go to the beach with Ben or his dark cloud will ruin the fun.

Mike Alessi and Matt Goerke made the podium at Southwick but were back to normal at Steel City, Mike going 7-7 and Matt 18-9 for 15th. A team should hire Georke to race Southwick and Broc Hepler to race Steel City and they'd be guaranteeing podium appearances.

The new star was Nick Paluzzi, who Muscle Milk/Toyota JGR literally called on Tuesday offering Josh Grant's bike. He took a redeye from California to North Carolina and literally went riding the next day. The rookie rode awesome to 10-8 scores and seventh overall. We've seen crazy first-national performances before (Eli Tomac, anyone?), so who knows what this means for Nick, but it was definitely impressive.

Monster Kawasaki brought Billy McKenzie over to fill Chad Reed's spot; he finished 17th in moto one and then broke his collarbone in the first-turn crash that claimed Townley in the second moto. Bugger!

After practice, I spotted Tommy Hahn rolling with a strong pimp walk out of the Asterisk truck. I'm talking full gangsta' strut! Unfortunately, Tommy told me that while he does roll like a pimp normally, this time he was struggling with a second-degree shoulder separation. He was going to race anyway, and tried, but couldn't hang on. What sucks is, I think Tommy was every bit as good as that Short/Metcalfe/Townley/JG chase group behind Dungey this year, but hasn't gotten to show it much. Somebody give this dude a ride for 2011.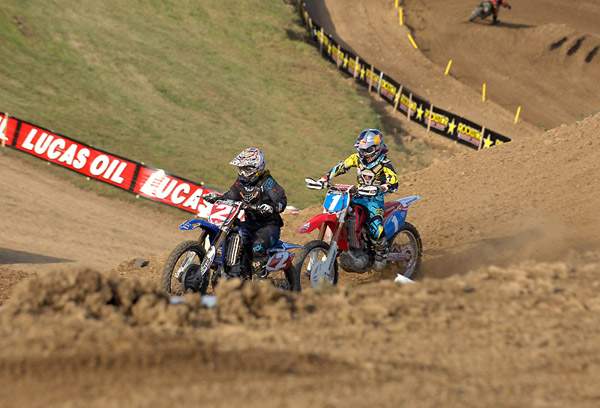 Believe it or not, Patterson versus Fiolek was closer than Pourcel versus Canard!
Carl Stone photo
The WMX Series is heating up with Jessica Patterson trying to rip the #1 plate away from Ashley Fiolek. Patterson crashed on the first lap of moto one but came all the way back for second—much like she did last week at Southwick. But unlike last week at Southwick, Fiolek was not going to let Patterson win moto two with ease. They fought and battled the whole darned time, probably even bettering the Pourcel/Canard fight. It came down to the last lap when they bumped, and JP stayed up and got the win. Jessica has a 22-point lead heading into the finale next weekend, it's been an amazing season for her.

Hey, we've been going by the "we will only talk about Jason Lawrence when Jason Lawrence does something newsworthy" rule. So here it is: he went 28-15 to earn the Muscle Milk Recovery Award (biggest improvement from moto one to moto two). He finished both motos! That's news! So now, a well-deserved Jason Lawrence photo gallery.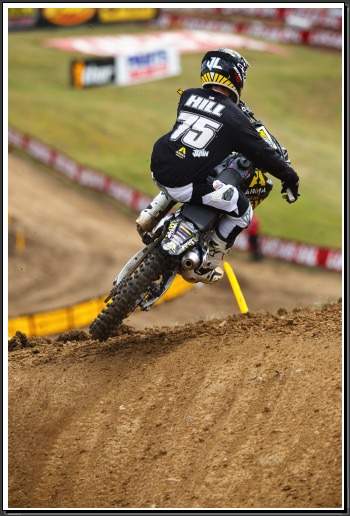 Crazy J-Law stuff is back! Here he is running a Josh Hill jersey in practice. Full on Fox jersey complete with San Manuel logos. You have to love this!
Cudby photo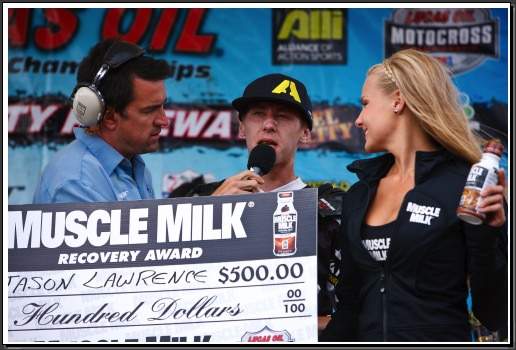 Here he is on the podium. Said his goal was to just finish the motos.
Cudby photo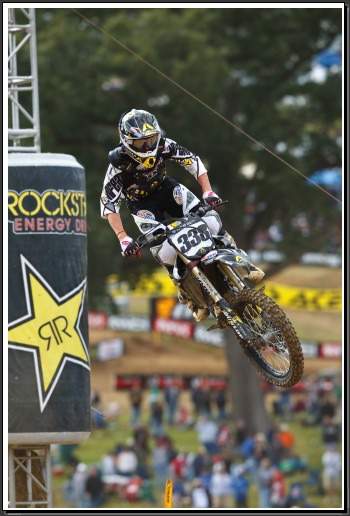 Classic J-Law style. Enjoy it, fans!
Cudby photos
Late on Saturday, we were wrapping up the Racer X Motocross post show with Tim Ferry and video man Robb Swiatek. Suddenly, out of nowhere, a voice yells out, "What's up, Robo Robb?" toward Swiatek. It was Lawrence! The guy who usually cruises the pits in a hoodie, staring at the ground, looking mad at the world, went out of his way to say hi to our camera guy. And keep in mind J-Law has never said hi to Robb at the races before, not in the three whole seasons Robb has been with us. But on this day, all of a sudden, he threw in a "What's up, Robo Robb?" It was by far the funniest thing to happen at the races all year, and in my mind, a sign that Jason has finally turned it all around. Look out next year, Dungey!
So there you go, you thought this would be a controversey-free ReduX with such praise for the racing, the racers and the race track. But I threw in some J-Law! That's all. Email me jasonw@racerxonline.com if you want to go crazy in support of Windham or hate of Lawrence or any other topic here.