Monday Conversation: Kevin Windham
Kevin Windham has already blown some minds this year. Racing for the GEICO Powersports Honda team in supercross, Windham scored two wins in a row near the end of the season on his way to second in the points standings. As a supercross-only racer, he wasn't planning on racing outdoors at all, but when Davi Millsaps got hurt at Budds Creek, Honda came calling, and just like his GEICO teammate Trey Canard did in supercross, Windham is filling in on the Honda Red Bull Racing team until the end of the season. Oh, and he's winning. He won the Steel City National with a 1-2 score last Saturday.
Racer X:
Was this an AMA National or a vet race?
Kevin Windham
: A Vet National! First off, I knew that I could be decent and I wanted to try to find a podium before the end of the year. After the win, I've had a little time to think and I'm really thinking that this might be the last outdoor national I ever win. Of course, we've got
Pala
and I'm not throwing in the towel, but Dungey is strong and I haven't even really found a podium until today. I'm interested to go there and see how we do and give it my all. Reality is, a bird in the hand is worth two in the bush. It's like a GEICO commercial. Look, I'm just plugging my sponsors...
Is that a GEICO commercial?
Yeah, I think so.
You're like the caveman: It's so simple, Kevin can do it.
I'm kind of like the caveman. It's just a very memorable day. You know, I had the "old man" card going until last weekend. I could barely muster up a mid-life crisis with John Dowd being on the track [at Southwick], so it got me fired up to come out. It was just a good day all the way around.
That first moto, when you're battling with Brett Metcalfe, it was funny because your styles are so different and you were strong in such different places on the track.
Well, he stalled and I got the lead. Honestly, about 20 minutes in, I got a little bit pumped in my right arm. I lost some feeling and the grip kind of vibrated out of my hand a couple times. When he came by, I picked up a few better lines, but mainly just gave myself a time to kind of relax. At that point, I was thinking, "Whatever; get second, that's a great ride for me in this moto." I just kind of let it go and started thinking about the bike and trying to get the feeling back in my hand. With maybe 4 or 5 laps to go, the feeling came back, so I was like, "Hey, I've got some gas left in the tank; I'm going to make a run at this deal." When I was able to get the lead with a lap to go, it was awesome. It was just such a rollercoaster ride for me in that moto; up and down, back and forth. I thought I had it, I thought I didn't have it, and back and forth. Finally, we wound up getting it. It was a lot of fun racing Metty, and as big or bigger than that was the crowd. I just think that's motocross, man. It was awesome. If he would have kept going and won it or if I never got it back, the fact that we were dicing just made it so sick. I loved it. It was a lot of fun.
The second moto, when you were trying to pass Andrew Short, I saw you almost ram him once in the turn over there. Obviously, he's an aggressive racer, too, but you guys are sort of temporary teammates. How do you have to adjust how you're racing against him?
Actually, in that turn, I knew I wasn't going to hit him so I wasn't as concerned with that. I mean, he had to raise up [on the bike], but that's cool; that's all racing. I was not going to hit him. Actually, in turn 2 or 3, I ran around the outside, which was faster than what I had been doing. I had been nursing it up the inside. Visually, I hit my same braking point, but I was going about 20 miles an hour faster. If he wouldn't have given way right here, I would have smoked him [ran into him] and there was nothing I could do about it. It was kind of a bad move on my part, but we didn't hit and he kept the lead. Short, we know how to ride against each other. Whether I'm on the GEICO Powersports Honda team or whether I'm riding for Honda Red Bull Racing, it really doesn't matter to us. I respect him and I think he respects me. I think that move, for anybody racing Short or Short racing me, is acceptable. Like I said, no contact was made. I let him know I was there, but obviously didn't have the position to make the pass. At that point in the race, I wasn't willing to jeopardize a slam over anything.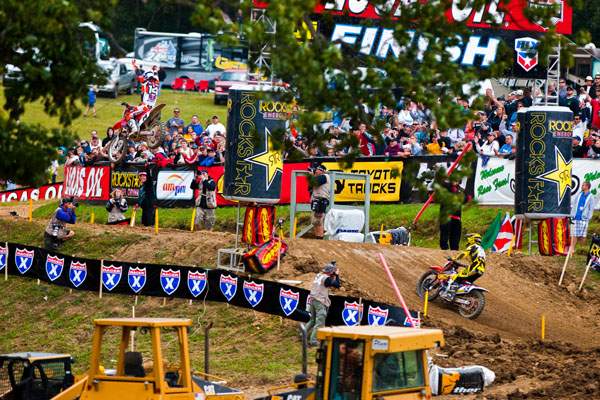 Kevin Windham takes the checkered in moto one in front of Brett Metcalfe.
Photo: Steve Cox
But you have done that before...
Now, if you look back at my career you can name like three times I've slammed somebody, maybe. Maybe only three...
Yeah, I probably could, but they're good ones.
Well, now let me tell you something: If you piss me off, it's on. You know, in my opinion, and most of the people that saw them, all of them were well-deserved. Listen, everybody out there on the track deserves respect no matter what; from the guy that had to rake up enough cash to come here privateer with his mom and dad and do it, all the way up. To make it on this level and make it on the track, you deserve respect. I'm glad that I haven't been known as a dirty rider, but you only get crossed so many times. I've never had any issues with Short. It's been a 16-year career, so to do 3, what is that?
Well, three notable ones. I'm sure you kind of bumped into other folks somewhere.
Come on, it's racing and the frickin' track is 20 feet wide most of the time.
But those were like, "Whoa!"
Yeah, like 3 that could've cost me points...
Is it likely that this next National at Pala is going to be your last AMA National ever?
Every year, I get really sad when it's time for the Nationals to start and I'm not there. I mean, I'm out with friends, riding my new Mastercraft, wakeboarding, hanging out, drinking beer; just having a great time. But a sad feeling comes over me, like, "Hey, this isn't where I'm supposed to be." The reality of it is that I'm going to have to limp through this week just to survive
Pala
. I mean, I'm hurting right now – my neck and my back and my shoulders...
Just getting beat up from racing these tracks?
I'm old, dude. When I quit outdoors, it was because I was having health problems from racing outdoors. I think when I retire, I feel like I can go Supercross a lot longer, but outdoors is just a whole other beast. The 450s tear up the track more and enables us to go faster and it's just tough on the body. Like right now, I'm miserable in my own body and I don't want to be one of those guys that just gets addicted to pain pills whenever I can't take the pain anymore. I mean, it's pretty bad, but the racer inside of me says that's where I belong and that's where I want to be.
It probably makes wakeboarding tough, too, if you're all sore and beat up.
Yeah, it is. It's tough all the time. Like, I'm so pumped when I just go wake to wake, toe side and heel side...
Thanks for your time, old man.
No problem!