Welcome to ReduX presented by Renthal. It's all about the record book.

Last week I was talking to Andrew Short about his recent holeshot prowess, and told him the unfortunate news that riders who go from first to second in a race are considered faders, and riders who go from tenth to second are heroes. Shorty replied that down the road, no one remembers how it happened, they just remember that you got second.

Yes, the record books are forever, which is good and bad for the riders. In the case of Ryan Dungey, this is awesome. The record books say this is one of the greatest seasons in the history of the sport, and by far the best-ever rookie campaign. By clinching the title at Southwick, he's now the only rookie to ever win both the 450 SX and MX titles. With nine wins, he's tied for the most outdoor premiere class wins as a rookie (with two more races left to try to break that mark, set by Ricky Carmichael in 2000) and he's now the youngest-ever SX champion and second-youngest ever champion in this class outdoors (only Ricky Johnson was younger).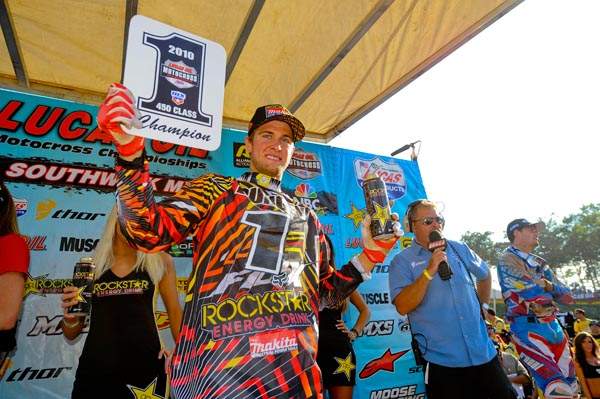 The only one that counts.
Steve Cox photo

Dungey's season is so mind-blowing, that it actually blew his mind. He didn't know about RC's nine rookie wins, he wasn't studying birthdates of the stars to see if he was the youngest 450 champ, he wasn't doing anything besides just trying to win the next race. When he was asked about all of these in the post-race press conference, he was pretty much shocked.

A decade from now, some other young hotshot will adapt quickly to the big class and win some races, and Dungey's 2010 season will pop out as a reference point. It's the rookie season that all rookie seasons are judged by. But in all of those future bench-racing discussions, no one will mention the 2010 trouble for James Stewart, Ryan Villopoto or Chad Reed. They will only remember Dungey's dominance.

For Dungey, this is good news. Ever since Villopoto crashed out of the St. Louis SX, The Dunge has been haunted by the "but would he have won of those guys didn't get hurt?" question. If you're a Dungey fan, you think this is bogus, if you're a RV, Stewart or Reed guy, you think it's legit. But was Dungey supposed to do? Not win the races or titles just because those dudes were out? He'll get his chance to prove it against them, we hope, and he'll be ready for the challenge.

Otherwise there's no reason to lose sleep over this question, because it will soon be forgotten. Remember Reed used to battle the same tag because he only won titles when Carmichael or Stewart were out—he won his '04 and '08 SX titles when those guys succumbed to torn ACLs, and he won last year's outdoor crown after Stewart went SX-only. But that topic is pretty much dead now. This year Dungey started winning in the same fashion, and suddenly Reed became a reference point. He's no longer thought of as the guy who got lucky, he was thought of as the established, legit champion that Dungey didn't beat straight up in supercross.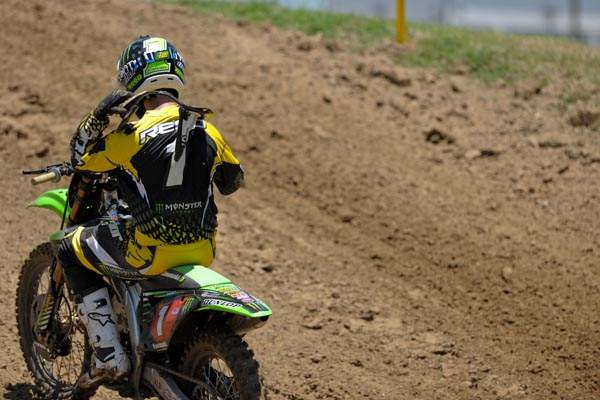 Everyone considers Reed the 2009 AMA 450 MX Champion, not "the guy who won when Villopoto and Alessi got hurt."
Steve Cox photo
Furthermore, remember that Villopoto and Mike Alessi were the early stars of last year's outdoor campaign until they went out with knee injuries. But by the time Reed rolled into Hangtown this year with the AMA MX number-one plate, he was thought of only as the champion, not the guy who didn't beat Ryan and Mike straight up last year. The same way that Dungey is known as the 2009 250 MX Champ, not the guy who lucked out when Christophe Pourcel's engine went south at Southwick.

Excuses and caveats will be forgotten in history, as they should be, because the champ is the champ. When Ricky Carmichael won his first pro title, the '97 125 MX crown, the '95 and '96 125 champ, Steve Lamson, was out most of the year with injuries. No one cares now. Jeff Stanton took his place in the pantheon of greats in 1989, when he won the 250 SX and MX crowns. Sure, Rick Johnson broke his wrist that year after winning the first five SX races, but you don't hear anyone taking anything away from Stanton today—we like to call him six-time, not six-time-asterisk.

So forget the conjecture. Dungey is the current champ, the man, the gold standard. And his fan base is growing weekly—you see a few more Dungey signs on the fences every week, a few more feet added to the autograph line, more Dungey shirts, more Dungey support. I also predict that now that he's scaled these heights, he's only going to gets more comfortable with this role, and better with the fans and media.

And just to throw some gasoline on this fire, here's a stat I uncovered: Combine Dungey's current MX points lead with his 70-point margin in supercross and you have a 221 point gap over the competition. Previous to this, he biggest combined points gap in a season came with Carmichael in 2002, who held a 205 combined lead. In that stat, you can argue that Dungey's season is the most dominant ever—and someone is going to look back at these standings in 2020 and be impressed.

So that's the good news about the record book. Here's the downside: The record book will only say that Brett Metcalfe went 14-7 at the 'Wick, which is his worst result of the season. It will never explain that Metty rode the race of his life, and would have finally broken his long winless streak in the U.S. in moto one. No more doubts about Metty's ability to win, because he had that race won until he ran out of gas (!) on the last lap. Horrible.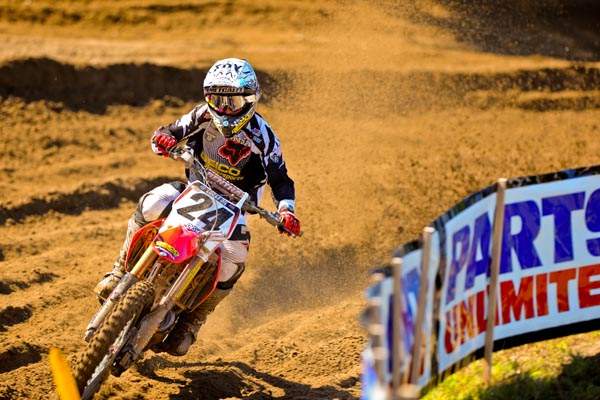 Clearly Metty was not trying to conserve on gas.
Steve Cox photo
Just to add insult to injury, Metty ended up credited with 14th in the first moto, while Andrew Short, who had to take the 40th gate pick, was smashed into the fence by Ben Townley, and also ran out of gas, was credited with 15th (because, out of the top 15, they were the only riders to not get lapped before the white flag came out). Metcalfe's dream ride earned him exactly one more point than Short's nightmare. And these dudes are battling for second in points.

And justice is never served in this sport. No chance Metty was going to get another start and win moto two, because that never happens. He ended up locking bars with Kevin Windham on the first lap and going down, then had his bike run over and found himself nearly last. Of course! He rode his ass off and finished 7th. But the record book will only show 14-7 for ninth overall. He didn't get the win, but hopefully people remember the effort. He had this one.

But that's still a better day than Short! By now you probably know his bike let go in the first practice. They had it fixed for practice two, but Shorty knew he would never get a good gate pick since the sand track would be way rougher and everyone gets their good time in during session one. I then mentioned how he said last week "I have so much confidence in my starts right now, I feel like I can pull a holeshot from anywhere on that gate." He said, "Yeah, I think I'm about to eat those words."

He did. The track was so much slower that he ended up qualifying 49th which would have bumped him out of the whole show! But the rule book allows the top ten in points to get a gate spot anyway—the 40th gate—and indeed now Shorty knows he can't pull a start from anywhere on that gate.

He got a terrible start in moto one, got taken down by Townley when their black clouds collided and created thunder and lighting all at once, and then ran out of gas. In moto two, he went down about 20 feet out of the gate, never gave up, got lapped by Dungey, kept charging, and finished 18h overall with 15-17 scores. Short is now three points ahead of Metty for second in the series with two races to go. Before we start saying that today's riders are spoiled and don't try as hard as the old heroes, think about the effort that Short and Metty put in to get 9th and 18th overall on this day. Or Townley, who went 34-2 for 7th.

So what happened with the gas? Sand tracks kill mileage because they bog the engine down so much, and you can also ride a sand track with a lot more throttle than a hard packed track. And testing can't replicate Metcalfe's effort with Dungey on his wheel for 30+2. The sad part is, the GEICO team had an oversized aluminum tank on Metcalfe's bike, but they had an even bigger tank for their 250 bikes, which get even worse mileage due to the higher revs. Not surprisingly, they strapped the Paris-Dakar style 250 tank on Metty's bike for moto two.

Yes, Short ran out in moto one, too, and I heard Kevin Windham had about a drop left in his tank when the moto ended. Did Dungey have these problems? Nope. When you're hot you're hot.

On Saturday morning I headed to the Pro Circuit truck to interview Christophe Pourcel for TV, and Mitch Payton mentioned that Tyla Rattray was a new daddy. Since when? Since just about right at that moment! Baby Brooke came along in California on Saturday morning, but Tyla was at Southwick, chilling in the pits like always. Mind you I missed Budds Creek when my girl was born on a Thursday, which either makes me a wuss or an awesome dad. Not sure. Tyla's motivation is two-fold—he's in a close battle with Dean Wilson for third in the series, and also, he's trying to get into the top ten in overall combined points for the season so he can get a permanent career number. Nice goal, but for real, I couldn't tell you which riders have permanent numbers or not. Is Barcia permanent 17? I have no clue.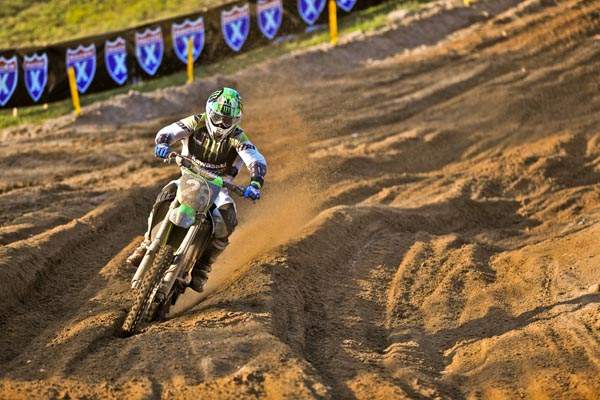 Who's your daddy?
Steve Cox photo
Apparently the permanent number means a lot to Tyla, and hey, while you're at it, why not just win the darned race and collect a nice bonus check, too? Sounds like it was worth it. Of course the idiot TV announcers didn't even realize he was winning the overall because both our monitor and scoring screens were having some problems during the second moto, and we got lost in the math while we were sorting that out. Finally late in the show Emig and I realized the old 2-2 beats 4-1 rule and Rattray had it. I heard Barcia's mom was watching the race on TV in the press tent and believed us when we thought Barcia was going to win. Then we changed our mind. Sorry!

Double super congrats to the Rattray gang. I hope his fiance doesn't hang this over his head for too long—if I missed the birth of my girl, there'd be one more single mom in the world.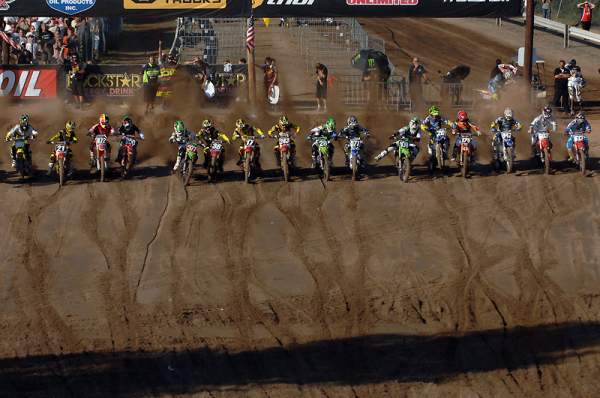 Pourcel may act like he doesn't care, but watch him deal with Canard in the moto two start...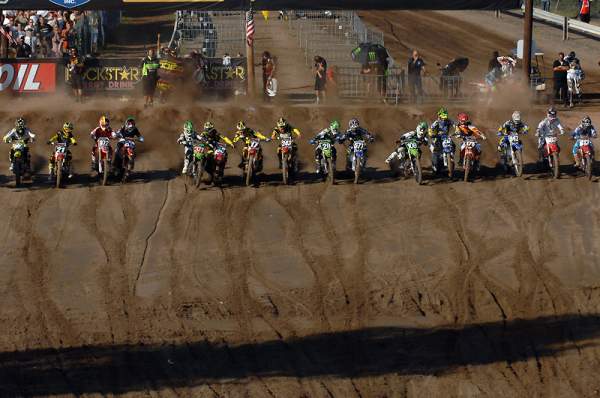 Pardon me.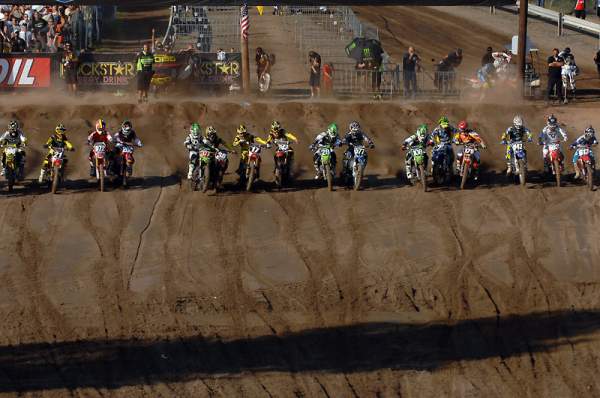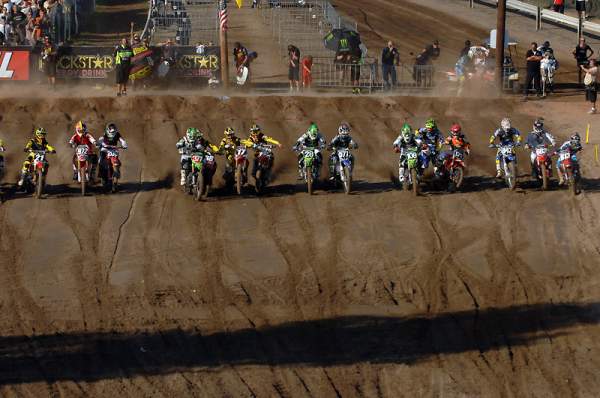 Pourcel learned this from one of the best, I remember a bunch of photos of Tony Cairolli doing the same thing to him in the '07 MX2 GPs.
Carl Stone photos
Both Trey Canard and Christophe Pourcel missed massive opportunities to make up points. Canard dug deep to hold off the indefatigable Rattray in moto one, but his early crash in moto two was old-school Trey, the kind of mistake I thought he wouldn't make anymore. I think that set off some championship panic, and he rode poorly after that. But at least he won his good moto—Pourcel could only take third in his good race, as Rattray and Barcia left him behind in moto two. Let's just forget about ever predicting how Pourcel is going to do. One week he's clearly the man and the next he's just one of the boys.

The 13-point gap still left between these two is big, because now Canard can go 1-1 over the last two rounds and Pourcel will still win the crown with a pair of 2-2s. But you know how much I hate doing math like that….

About 20 minutes before the second 450 A group practice, Mike and Tony Alessi were studying the starting gate. They finally settled on a gate, and then Mike just sat down and stared at the gate for about 10 minutes. This was old school Alessi, and after that I knew he'd have a good day. He did—putting the 350 on the podium with 3-4 scores. To be totally fair, it wasn't a complete breakthrough, because he wasn't on the same pace as Dungey, Metty or Townley, so we're not talking the return of Hangtown Mike. But it's progress.

And the good news is, we get Mike in a post-race press conference again! This week's gem: Mike says he was so frustrated with his results that he started training too hard during the week and coming into the races tired, so he decided he needed to take it easy, went for a run on the beach, found his motivation, trained harder than ever, and then it paid off with a podium. Go figure that one out, trainers.

Matt Goerke scored an even more unlikely podium than Alessi. Georke has been out pretty much all year with a broken leg, but he sure does rail at the Wick. Last year he finished sixth in moto one and pulled off the overall with a second-moto win, so I thought there was a chance again when he took sixth in moto one again. Not quite, but 6-3 is pretty good for your first race back!

If Goerke hadn't pulled out that shocking podium, Kyle Chisholm would have finally gotten one. He rode well with 4-6 scores.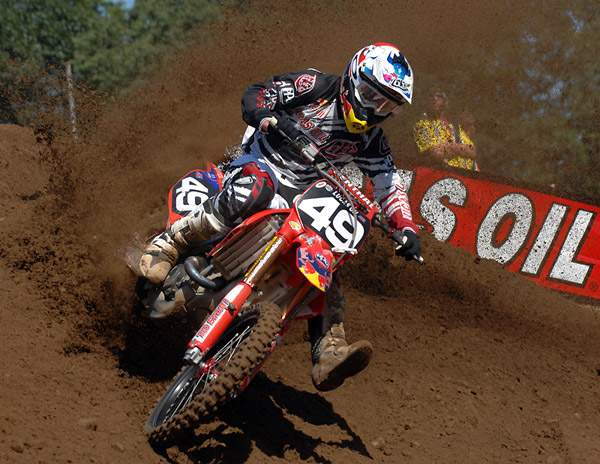 Dowd, Henry, Keller, Hahn.
Carl Stone photo
The Hahn boys were talking about bringing serious speed to Southwick, and I joked about Wilbur bringing that Kansas sand experience and joining the Mount Rushmore of NESC alongside Dowd, Henry, Jo Jo Keller, Pat Barton and the rest. Well, they were serious about the serious speed. T-Hahn had a podium in the bag with second in moto one and a strong charge going in moto to before he smoked a clutch. And Wil holeshot both 250 motos and stayed in the hunt the whole time. I'm talking serious speed.

On the other hand, the MX Gods took the day off and didn't hook Dowd up this time. Not much more to say besides him taking 11th in moto one and getting his electronics ripped from his bike in a first-turn moto two crash. Ironic that a man born before electricity was invented was undone by the electronics on his bike!

How about Gareth Swanepoel getting on a Star Racing 250F for the first time ever and going top ten in both motos? Clearly South Africans like the sand. Also, Microsoft Word's spelling autocorrect for Swanepoel is "Swinepox."

I wrap this with a quote from one of my old Jersey buddies, Chris Hunter, (Mike the Situation was unavailable for comment). Chris used to hold a pro license and race 450s in the nationals, but he hadn't been to a race in five years. Here's what he thought: "The Lites class was sick. I can only describe it to people by saying its like combining The Road warrior with Tron. That 2nd moto was RIDICULOUS."

The record book will say Dungey and Rattray won, but at the races, so much more than that actually took place.