Metty T-Shirt Design Contest
We received this note from Brett Metcalfe:
Hey everyone!

I'm looking to create a cool T-shirt and am asking for your help. As I have been busy preparing for the last three rounds of the AMA Pro Motocross Championship, I thought I would reach out to my fans to design the artwork. All you have to do is rev-up your creativity, submit your entry, and you might just see it on a few shirts walking around at the championship finale at Pala Raceway on September 11th.

So here's the deal… You can submit any type of art you want for any area of the shirt, just be specific. Entries are open to all ages and feel free to submit more than one design. The only thing I ask is that the design include the word "Metty" and the number 24. Other than that, the sky is the limit. I will be accepting entries by email at metty24fans@gmail.com until September 1st. Winning entries will be notified by September 3rd.

So what's in it for you? First of all, you get to show off your wicked design on a T-shirt that myself and others will be wearing at Pala, and don't worry I'll send you one too! Also, the winning design will receive one of my autographed race helmets, second place gets an autographed race jersey, and third place a signed front number plate from my GEICO Powersports Factory Connection Honda race bike.

Afraid your artistic talent is out of shape and have no chance of winning? No Worries! Art is one of a kind and everyone has different tastes. So don't be discouraged, you would be surprised what I think is cool! I will be posting some of the entries and announcing the winner on my Facebook page set up for the contest: http://www.facebook.com/pages/Metty-Tshirt-Design-Contest/122404587809359 . You can follow me on Twitter as well: http://twitter.com/bmetty24

Thanks,

Brett "Metty" Metcalfe

By submitting your design you, or if a minor your legal guardian(s) hereby agree to allow the use of your design by Brett Metcalfe and affiliates (Metcalfe) royalty free for purposes of this contest including publishing your design as an entry and the use of the winning design by Metcalfe on a shirt to be worn at the Pala motocross national. Should Metcalfe wish to use the design for purposes not contemplated herein, the submitting party shall enter into good faith negotiations with Metcalfe to agree upon terms and conditions to allow such use. If Metcalfe and the submitting party cannot come to an agreement then all rights shall remain with the submitting party. The winning entries shall be determined by Metcalfe in his sole discretion.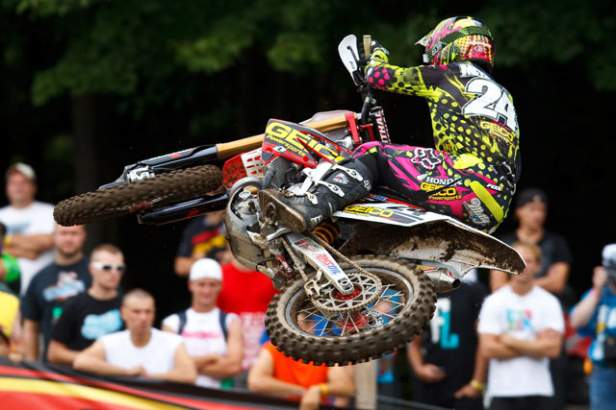 Photo: Simon Cudby