Chad Reed on "The Daily Habit" Monday
Best of Motocross Week Kicks Off With Supercross Champ Chad Reed and Musical Guest Mumford and Sons on "The Daily Habit" Monday, August 23, 2010

Airing Monday, August 23 at 9:00 pm Eastern Time (6:00 pm Pacific Time) and telecast three additional times, Chad Reed and musical guest Mumford and Sons will appear on "The Daily Habit." Set your DVR right now!

Monday, FuelTV kicks off Best of Motocross Week with a repeat of Aussie Supercross and Motocross champ Chad Reed's first appearance on The Habit. Chad shares his career highlights as well as a look into the personal life of one of motocross' most consistent winners. Also, Chad takes Amanda Champagne to the arena for opening day of the AMA Supercross series to take us behind the scenes of one of the most intense days of the year. Plus, a band we showed you first! Musical guest Mumford and Sons take over the Stride Sound Stage with their rustic blend of folk and heartfelt pop.

Chad Reed's sponsors include: Kawasaki, Monster, Thor, Parts Unlimited, Scott Goggles and Aplinestars.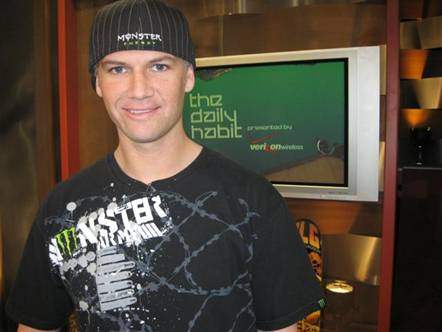 "The Daily Habit" is FUEL TV's first original daily series, telecast weeknights at 9:00pm ET (6:00pm PT) while re-airing later in the evening at 12:00am ET (9:00pm PT), and the following weekday at 10:30am ET (7:30am PT) and 5:30pm ET (2:30pm PT). "The Daily Habit" encompasses the world of the action sports enthusiast, mixing the best in pop culture with today's top action sports personalities, cutting-edge music, product reviews, and comedy.

About FUEL TV
FUEL TV is the action sports lifestyle network for skateboarding, snowboarding, surfing, BMX, freestyle-motocross, and wakeboarding. FUEL TV, part of FOX Sports Media Group, was launched July 1, 2003 and is seen in more than 30-million U.S. homes. To subscribe to FUEL TV, call 877-4-FUEL-TV. For program times and other information, visit www.fuel.tv.