Welcome to ReduX presented by Renthal. Just like we anticipated, Dungey had a fight on his hands with the guest star.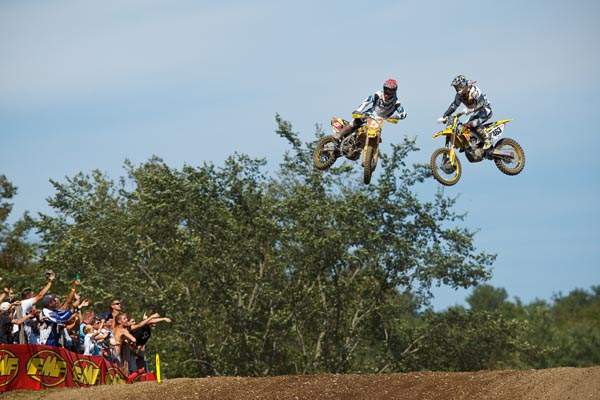 The battle we were waiting for?
Simon Cudby photo
But it was the wrong guy! Instead of James Stewart engaging The Dunge in a second moto duel live on NBC, Clemente Desalle provided the challenge. The MX Panda was hungry, and he held Dungey off until the 20-minute mark of the second moto, which is the strongest challenge Dungey has faced during his eight-race win streak. Clemente Deale! The MX Panda!

(Two notes on Desalle: I talked to him on Friday to confirm his name is pronounced "Clemah" like LeMans, not "Clemente." He also said he watches the races via the web and the international feed, and he says I talk too fast sometimes. Excellent point.

Note number two: The MX Panda nickname comes because, apparently, Clemente used to eat a lot, and pandas eat a lot, hence MX panda. Did not know panda's ate a lot, and I really feel bad because elephants and pigs take so much heat while pandas must be getting off easy. Gotta' love the things you learn in motocross. Someday I'll spout off "You know panda's eat a lot" and I'll sound smart. Just like I was the only kid in elementary school who knew Holland and the Netherlands were the same country. I learned it from the MX des Nations!)

Dungey did exactly what we knew he would do—get better and faster throughout the day as the track got rougher, and he eventually overcame all challengers in smooth, efficient fashion late in the day. This is a systematic annihilation of the competition, and there may be no end in sight, unless Ryan Villopoto or James Stewart can somehow return to the series….

Oh wait! Stewart actually did return! This was one heck of a much-anticipated battle, as Stewart and Dungey have never raced against each other outdoors, and Stewart has a rep for only returning when he's ready to win—check Budds Creek '03 and Glen Helen '08. To make predictions about who would win Unadilla would be disrespectful—Dungey has surely earned the right to be the favorite, but it would be ridiculous to think of Stewart as a non-factor.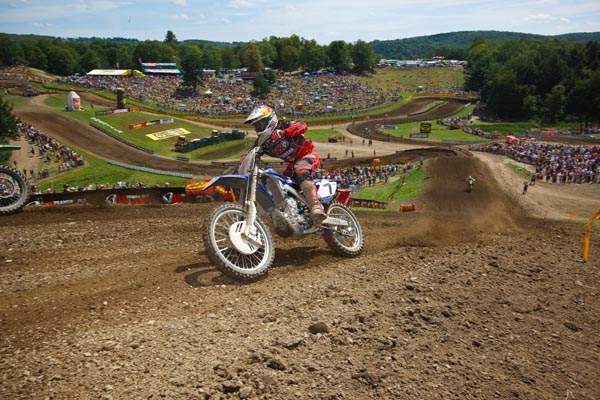 You may have heard that #7 was back.
Simon Cudby
Especially after watching him in practice. The #7 was flying immediately—just carrying so much speed in corners, and pushing hard over the bars—classic Stewart style and speed. He clocked in the fastest laps in both practice sessions. But that only means so much. I remember James besting Ricky Carmichael's practice lap times on a 250 two-stroke in '05, only to end up getting caught in the first moto by RC, and then landing on Ricky in a crash heard 'round the world. And Dungey has quite a rep for progressing throughout the day. Practice times means little here.

Almost surprisingly, Dungey grabbed the holeshot in the first moto. Seems like he's taken another page from RC as he adopted the "trade a holeshot for a safe top five start, and make sure you never, ever get caught in a first-turn crash" strategy. But sometimes he stumbles on a holeshot. Andrew Short and Desalle were next, but you kept waiting for Stewart to uncork it. Instead, he made a ton of mistakes, as it didn't look like his bike was really set up right. He was eating lots of roost and had some tearoffs flapping on the side of his helmet. Plus, surely he had some racing rust, right?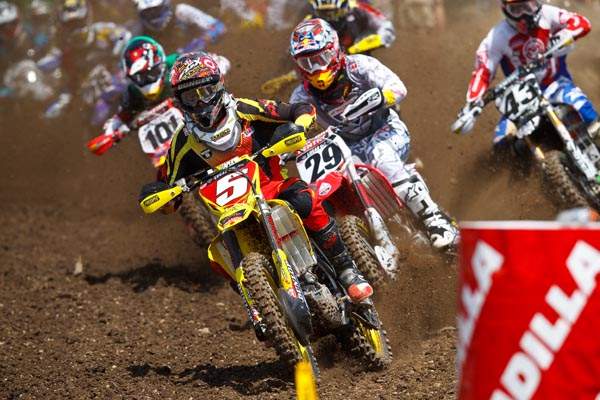 "Oops! Sorry, Andrew. I'll let you have the next one. My bad."
Simon Cudby photo
At the halfway point it was clear we weren't going to see a battle in this one. Dungey took off in his standard fashion, while Stewart was just trying to nurse it home without having one of those small mistakes turn into a big one. But that happened when he crashed at the bottom of Screw-U and handed second back to Desalle. Stewart made a last-lap run to get him back, but came up short.

For sure, Stewart looked like someone who had been off a bike for five months, and was riding for a team that has only raced one outdoor national ever (they brought Reed out to Budds Creek in '07 to get some prep in for des Nations). Things weren't perfect, but here's the thing—despite all of that, he still snagged a podium finish, and finished 13 seconds ahead of the Short/Metty battle for fourth. And those two were battling and pushing all the way to the finish. So while James looked a little rusty, he was definitely not slow.

And hey, I had a few people email me after the race saying we shouldn't have built up Stewart's return so much, because Dungey is the new champ and Stewart hasn't proven himself. Yeah, well, that's an easy email to write after the race, but seriously, at the track, no one was counting Stewart out before the race. No one. And then after that first moto, could he make some bike changes, smooth out, and run with Dungey in moto two?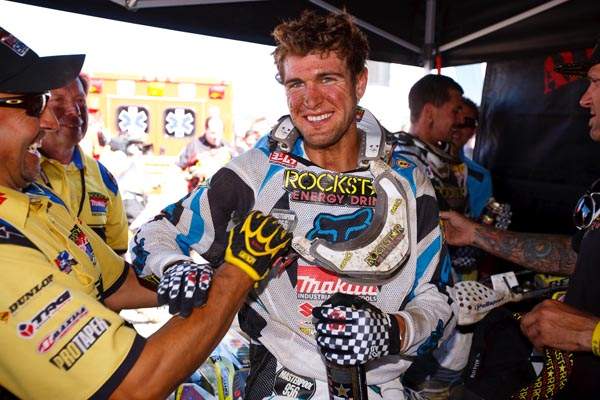 He wasn't ever that worried, it appears.
Simon Cudby photo
Now comes the craziest statement you will hear all season. Sure, it's been a year of surprises—like Dungey winning huge in his rookie season, Chad Reed and Stewart bombing out, etc—but if you're looking for the sentence least likely to have been written before the season began, it's this:

Stewart got a bad start, made up a few positions, but was eventually repassed by Mike Alessi in a battle for 11th place.

Stewart and Alessi! 11th place! Seriously, I think Stewart will retire before he accepts that fate, so he literally did retire from the race. If he's back for Southwick, he should be much, much better, but still, you have to admit that Dungey never even saw him during the races, which definitely means something. No word on if the #800 was trying to get James a good deal on old Believe the Hype shirts before the race.

By the way, Alessi went 13-13 on the day. Even in his bad motos this year he was grinding out 12th place finishes, so this was another step back. Amazing that the Alessis are just non-factors at this point, and they're not generating any crazy drama or headlines off the track, either. This is how bad it is for the Alessis right now. Somehow still, they're a distance second to that #338 guy in the "riders who used to be lightning rods for attention that we don't even talk about anymore" standings. They can't even win that!

Yes, J-Law's team was there and someone was seen on a #338 bike during practice, but the only things people say about J-Law anymore are "why are we even talking about J-Law anymore?" so we're done with this topic.

Okay so Stewart was out. Erin Bates headed to the pits to get a Stewart interview, but we know from experience that when things go bad for James, he doesn't like to talk. One of the NBC producers got in my headset and said, "tell the viewers we will have a Stewart interview soon." Hey, that sounded good, but what were the odds? Sure, the NBC guys might talk to the losing coach after a tough NFL game, and they might interview a NASCAR driver after he gets wrecked in a race, but this is James Stewart we're talking about here, and he doesn't talk when things go bad.

What would have been the harm in him saying, "I tried my hardest but I've only been on a bike for a few weeks, I'm tired. These guys are good and I'm not ready yet. Just want to thank the fans and my sponsors."

It really wouldn't have been that hard for him to say. Really not hard at all. Because you know what? He said that exact same thing after he finished third in the first moto! Just come out, hit the play button on that speech, and bam, your respect level will go up 1000 percent. This is an easy plug for your sponsors on live network TV. But he missed the chance to play it right, which I think we've been seeing happen since 2005.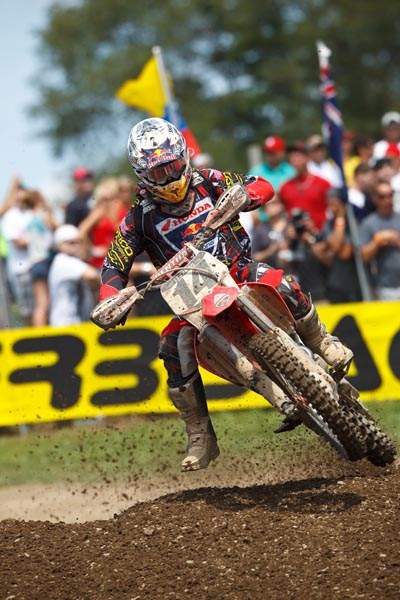 KW was expected to be a factor on this track but a first-moto getoff ended his chances. It did not slow him down though, as you'll read later.
Cudby photo
Okay so where were we? Oh yeah, Short had the second-moto holeshot and Dungey was right there, so obviously Dunge was going to make the pass and check out. Except Desalle was still up front giving Dungey fits! Dungey would make a charge, get into a bad line or take on some roost and drop back. The possibility that Dungey was not going to pull this off became a real possibility, but he finally made a run and got by in mid-air over the Skyshot. If Stewart hadn't been there, Desalle's ride would have been the talk of the day, or even the season. Awesome job by the Belgian—and by the way, I've never seen Roger DeCoster smile so big after a race. His boy Dungey wins with a Belgian on his bike taking second? Nice.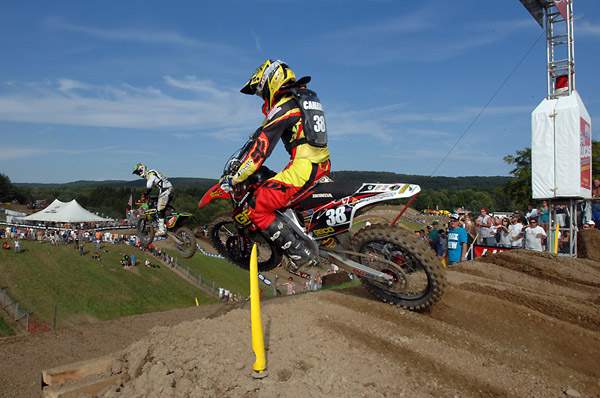 This photo brings me back to 2003. Let me explain...
Carl Stone photo

And speaking of great moments for Belgium, let me take you back to the 2003 Motocross des Nations in Belgium. The world braced for a titanic Ricky Carmichael v. Stefan Everts battle, with both in their prime. The King of Belgium was even there (you can't make this up). The des Nations used a one-moto format that year, and when Tim Ferry crashed and hurt his thumb and Ryan Hughes broke a chain, Team USA's hopes were lost. But that didn't stop Carmichael from raging through the field, on a 250 two-stroke, and passing Everts for the lead and the moto win. We would later find out that RC was riding with a torn ACL, and that 250 two-strokes were hopelessly outclassed (we weren't 100 percent sure at the time, because RC was still winning on one).

So Belgium actually won the event, at home, in front of the King. But Everts knew he had been beaten where it counts. When it was over, Everts pumped his fist, said "we're number one" and basically tried to pretend he was ecstatic about the team victory. But he knew, and everyone else knew, that he had been beaten. Who were the other riders on Team Belgium that day? I don't even remember. That's not what anyone cared about.

Okay so here's the point. In the 250 class at Unadilla, Trey Canard scored a MASSIVE victory by going 2-1 and clipping 22 points off of Christophe Pourcel's lead. On paper, it's a huge victory for Trey, and also further proof that you should NEVER, EVER, NEVER start with this "if this guy finishes second in every race for the rest of the season he will win the title by X amount of points" garbage. Sure, Pourcel could have gone 2-2 at the final four rounds and won the title, but racing doesn't work like that, and sure enough he crashed out on the second lap on his favorite track. Let's show the races some respect and stop making up results before they happen (unless you want to bet on a Short holeshot and Dungey taking the lead at the 17-minute mark. I'm with you on that).

Okay so Trey makes up massive points. But, that second moto charge by Pourcel was ridiculous. It was not supposed to happen. Canard checked out with a huge early lead, Pourcel had a bad start, and he had to be hurting. If he had salvaged a fifth, or a second, it would have been impressive. But oh man does the Frenchman fly on this track. He made up a crazy amount of ground in the last ten minutes, and Canard started making mistakes once the heat was on. Once Pourcel got around, Trey got to see some of his fast lines, pick up the pace and almost get him back, but CP held on for what has to be the grittiest moto win we've ever seen from him.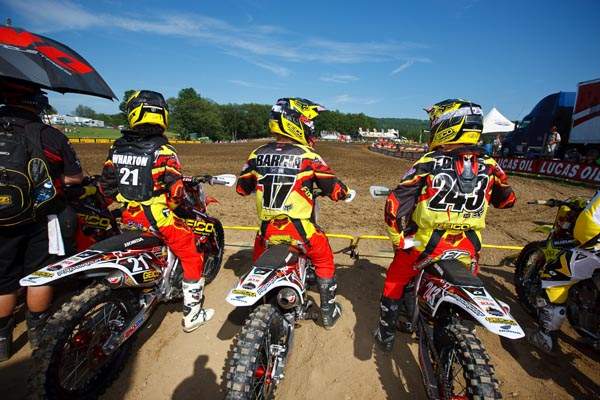 The GEICO geckos are representing against the Monster monsters.
Cudby photo
So if you're Canard, it was an awesome weekend on just about every account—you made up the huge points you needed, and you're cashing another win bonus check. But who really left the track feeling like the victor? Yes, Unadilla is a special place for Pourcel, but regardless of the track, that's an amazing win, and he left no doubt whatsoever that he's still the man in this class.

Of course, there are some that theorize that Pourcel, being Mr. First Moto, basically did in moto two what he normally did in moto one. After all, he did get to rest during the first moto. And if Southwick is rough, hot and humid, can he really ride like that in both motos there? Meanwhile, Canard's been deep into sand riding boot camp at Tim Ferry's house. There's still a showdown brewing here, but that was still an amazing effort to salvage some momentum for Pourcel. I can't wait to see him at Unadilla on a 450 next year.

What's up with those GEICO Powersports Hondas? They went 1-2-3-4 in the first moto and are as close as they've ever been to matching Monster Pro Circuit Kawasaki monster stride for stride. I'm calling them the Tampa Bay Rays of MX—they rebuilt this team with top draft pics out of the amateurs, and now it's paying off. Canard, Wharton, Barcia and Tomac all signed with the team a full year before they turned pro, and now the squad is finally delivering the results they had always envisioned.

Another member (usually) of that team, Kevin Windham, was a favorite in the 450 class since he usually hauls at Unadilla, and this year he was on a 450 instead of last year's failed 250 experiment. He crashed out of moto one, but came raging back in moto two, passing Short aggressively in the last turn of the race to steal fourth. KW also logged his fastest lap of the moto on the last lap, just so he could catch and pass his teammate and finish fourth. The veteran is seriously motivated right now. After that ride, someone who knows what they're talking about told me KW wouldn't have been a bad MXdN choice. Not a bad idea once you think about it.

And by the way, Windham and Davi Millsaps now both have exactly 76 points after each have run three races. Talk about the perfect fill in.

A few weeks ago we mentioned the top privateer battle between Kyle Chisholm, Kyle Regal and Ryan Sipes. There are now just four points between the trio as the battle for 8-9-10 in the standings, and trust me, all three of them know this.

That's it from 'Dilla. I have a weekend off and after the two week X Games/Loretta's road trip, I feel like I'm getting vacation days just by sitting here in the beautiful Racer X offices. And once this column is posted, I'm pretty much out of work to do, so please email me at jasonw@racerxonline.com so they don't find something else for me to work on.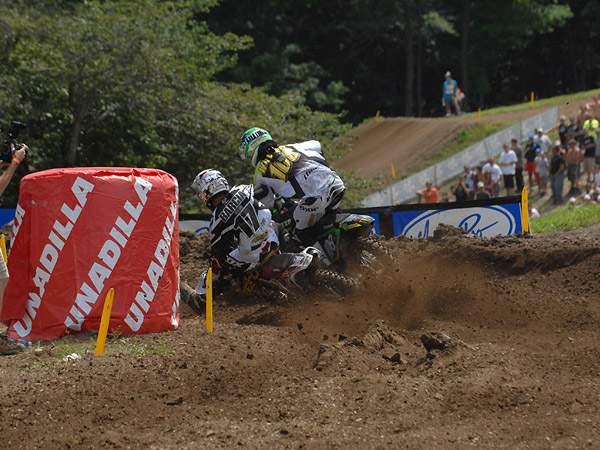 The full Barcia experience.
Carl Stone photo