Oklahoma Endurocross Results
Oklahoma, OK – Round two of the 2010 GEICO Powersports EnduroCross Series, presented by E3 Sparkplugs challenged the riders with a long, tough track combined with brutal heat and humidity. Red Bull KTM backed Taddy Blazusiak faced a serious challenge from Muscle Milk KTM backed Mike Brown who took the lead away from Taddy and looked like he was on track for his first EnduroCross win but ultimately gave up the lead and then tipped over in a very technical rock turn and finished 11th. The multi rider battle for second was taken by Geoff Aaron and the final spot on the podium went to Monster Energy Kawasaki's Justin Soule.

Geoff Aaron, the ten time National Trials champion got the day started by setting the fastest time during the Pioneer Hot Lap that determines the gate picks for the evenings heat races. The GEICO, Red Bull backed KTM rider also earned a $500 bonus from Rekluse clutch by being the fastest rider using their auto clutch. This was Aaron's second consecutive fast lap and he topped Muscle Milk KTM's Mike Brown and defending EnduroCross champion, Taddy Blazusiak.

Blazusiak, Brown and Aaron were the heat race winners and earned the best gate picks for the main event. Then Blazusiak used that good gate pick to take the $750 Girardi Wealth management holeshot award. Mike Brown was on a mission and took the lead away and battled with Blazusiak for half of the race but then slowly lost touch and then a fall in a technical rock turn took him out of the podium spots. Geoff Aaron got a slow start but steadily moved through the field to take second away from Justin Soule, who held on for his first ever EnduroCross Podium. Cody Webb, the recently crowned U.S. Trials Champion won the battle for forth ahead of Zip Ty Husqvarna's Cory Graffunder. Kevin Rookstool rode his RPM KTM to sixth position after showing the speed to run third early in the main event. Lucas Oil backed Colton Haaker finished seventh ahead of Gary Sutherlin, Ricky Dietrich and Kyle Redmond. Dietrich, the 2008 EnduroCross Champion twisted his shifter around his footpeg early in the main and had to stop to straighten it. Although Taddy controlled most of the main event, a few mistakes in the final laps, including a big endo made the victory uncertain and kept the large crowd on their feet all the way to the finish.

In the support classes, Oklahoma's own Guy Cooper won the Vet class in front of the partisan crowd. The former Motocross and Supercross star faced stiff competition from several riders but ultimately took the win. Zip Ty Husqvarna mounted Nick Burson won the open Amateur main event and Josh Nutsch won the TrialsCross class. The top three in the Amateur classes battled for $500 in the dash for cash and that was taken by Mathew Henderson who came all the way from California.

2010 Oklahoma EnduroCross Expert Class results:

1. Taddy Blazusiak KTM
2. Geoff Aaron Christini KTM
3. Justin Soule Kawasaki
4. Cody Webb Gas Gas
5. Cory Graffunder Husqvarna
6. Kevin Rookstool KTM
7. Colton Haaker Kawasaki
8. Gary Sutherlin Kawasaki
9. Ricky Dietrich Kawasaki
10. Kyle Redmond Kawasaki
11. Mike Brown KTM

The GEICO EnduroCross series presented by E3 Spark plugs now heads to Indianapolis Indiana for round three of the series. The event will take place on Friday, August 27th during the MotoGP weekend.

GEICO EnduroCross on the Lucas Oil Motorsports Hour on Versus network:

Event / Date / Arena Air Date / Time Re-Air Date / Time

Las Vegas, NV 07/17/10 - Orleans Arena: 10/10/10 6:00 PM 10/14/10 5:00 PM
Guthrie, OK 08/14/10 - Lazy E Arena: 10/31/10 5:00 PM 11/3/10 5:00 PM
Indianapolis, IN 08/27/10 – Pepsi Coliseum: 11/7/10 6:00 PM 11/11/10 5:00 PM
Everett, WA 9/11/10 – Comcast Arena : 11/14/10 5:00 PM 11/17/10 5:00 PM
Denver, CO 10/30/10 - National Western Complex: 12/12/10 5:00 PM 12/15/10 5:00 PM
Las Vegas, NV 11/20/10 - Orleans Arena: 12/19/10 6:00 PM 12/23/10 5:00 PM

Note: All times are Eastern. www.motorsportshour.com.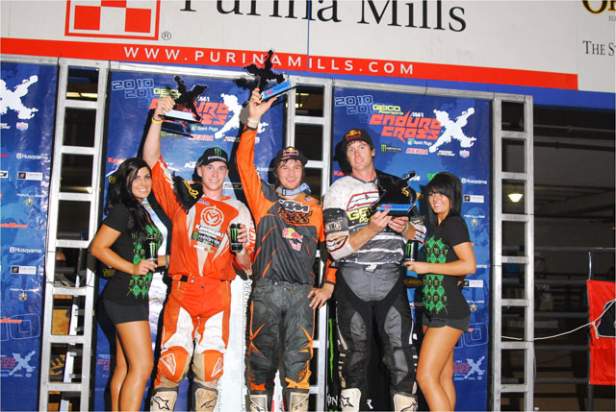 Photo: Chris Hultner


EnduroCross tracks incorporate various elements of off road racing into a supercross-style setting, including rocks, boulders, logs, sand, mud, a water-hole… and even a few special obstacles like giant tires thrown in! Known as the "toughest racing on two wheels," this indoor version of extreme off road racing will certainly keep you on your feet. The GEICO Powersports AMA EnduroCross series will be captured by the Versus Network, to be aired on the popular grassroots racing program; The Lucas Motorsports Hour. With its excitement and unpredictability, the EnduroCross championship has always down to the wire and this year will be no different as the series starts and finishes at Vegas' Orleans Arena! Don't miss your chance to see GEICO Powersports AMA Endurocross "Live" - and be sure to log-on to www.Versus.com for local airing dates/times for the Lucas Motorsports Hour.

ENDUROCROSS is a registered trademark of Source Interlink Magazines, LLC.