Welcome to ReduX presented by Renthal. I know how you feel. You're trying to scour the results from the AMA Amateur National at Loretta Lynn Ranch and figure out who did what. But there are so many classes and so many winners, it's impossible to tell.

I felt the same way before I started going to the event. Through the mishmash of stocks and mods, A, B and C, age groups, four-strokes, all that, and by the end you're left feeling the same way I do after I leave the Loretta's beer tent each night.

I can't help with the hangover (yeah, just try to rehydrate yourself when the heat index reaches 111, as it did this year). But I can guide you through the results. I've gone to the Ranch for nine years now as an announcer and Cycle News reporter, and I think I've figured out the formula. It looks like a giant mashup of classes, but there's a method to the madness, and the list is carefully honed and tuned each year by the AMA and MX Sports. The amateur team managers, and the top riders and their parents all understand the formula, and they race the right classes for the right reasons.

Time to add you to the list. For this week's ReduX presented by Renthal, I'll provide a primer on each group of classes at the Ranch, explain who stood out this year, and you'll end up with some clarity, for once, on 99 motos and 34 classes at Loretta's.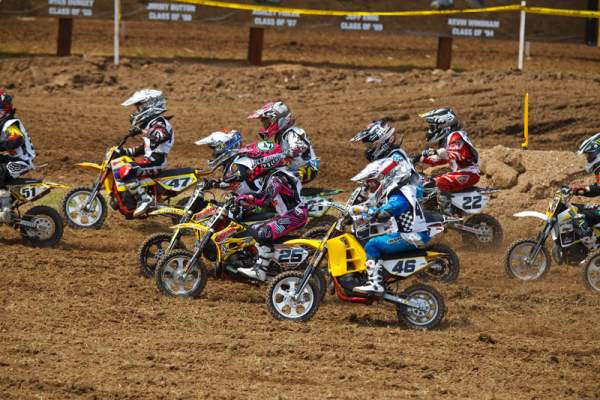 Stilez Robertson (25) is already known as the man in a boys class (50cc 7-8 AMA Class 2). But he was denied a title this year by Jackson Turpin.
Cudby Photo
50 Classes: If you're a factory team manager, it's tempting to just sign each year's 51cc Stock Shaft Drive Champion to a 15-year contract. Be careful, though, because 50cc Championships don't always result in more titles later in a rider's career. The odds are pretty much 50/50 that he will ever win again. Yes, James Stewart won the 1993 50 (7-8) Stock title, but what about Tyler Stewart, who won the 51 (7-8) AMA class 2 ten years later? Mike Alessi won it in 1995, and Davi Millsaps won in 1996. But Brandon Large won in 1997, and Forest Lane in 1998. What happened to the careers of 1986 50cc champ Patrick McPherson or 1987 champ Tommy Schueler? Check out Tyler McSwain, son of former GNCC standout Steve McSwain. Tyler won 50cc titles in '01, 02 and 04 but has no crowns since (although he's still young enough to get back up there). This is not a condemnation on the riders who didn't pan out. It's just proof that winning on a single-speed 50 doesn't always result in wins on bigger bikes later on.

But every year some kids goes out and rails on his 50, and everyone remarks "Dude, he's already up on the pegs! He's got a real riding style already! I haven't seen anything like this since James Stewart!"

Today's 50cc classes cover three different groups of riders. The smallest kids start with the 51 (4-6) Stock Shaft Drive (Yamaha PW) and the new 51 (4-6) Stock Multi Speed (Honda XR50) classes, won this year by Steel Gately and Dylan Varn, respectively. The faster young kids can race 51 (4-6) AMA 1 Stock, which primarily features Cobras, which are way faster than PWs or XRs. Gage Linville won that one. As the 50 riders get older, they can race 51 (7-8) AMA 2 Stock, which is also dominated by Cobras. Stilez (with a Z) Robertson had already established himself as the man, or boy, in the 50 classes with a (4-6) win last year. This year he went 1-1 in his first two (7-8) motos, but crashed twice in the last moto, giving him 1-2-11 scores. Jackson Turpin, nephew of former factory Suzuki rider Keith Turpin, won the title with 3-4-3 scores. Again, odds are at best 50/50 of a 50cc hero carrying all the way into the pros, but Robertson appears to have the skills.

65s: The 65s have real transmissions and clutches, and the fastest riders can jump most of the bigger jumps, while the 50s are rolling everything. So this class is a better indicator—Ricky Carmichael didn't win a 50 title, but he won the 1990 65 Stock (7-11) class. There are two age divisions here: 65 (7-9) Stock, which was won by the dominant Jordan Bailey, who already has two 50cc titles to his credit. Then you have 65 (10-11) Stock and Modified. Note that at Loretta's, everyone is racing stock bikes until the (10-11) division. And the age gap between the 7-9 group and the 10-11 group is huge. Bailey won in (7-9), but only finished 13th in (10-11) mod. But it wouldn't be a shocker for him to win in that class next year. Riders make huge progress each year at these ages.

This year's 65 (10-11) Stock and Mod classes featured awesome battles between Jake Pinhancos, Luke Purther and Joey Crown. Pinhancos and Purther won the titles while Crown finished second in both. Watch these three kids ride and you'll see scaled down pros—same style, form and aggression, just smaller.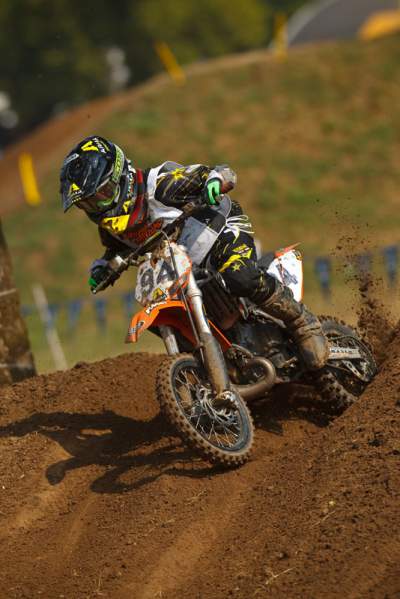 Check out Luke Purther's 65cc style and tell me he doesn't already have pro form.
Cudby Photo

85s: Somewhere along the way the 80 class became the 85 class. And oddly most riders still call them 80s. And the bikes have always clocked in at around 83cc anyway. There are two age divisions here, 9-11 and 12-14. You'll see some 65cc riders dabble in 85s, but again, a year of age is a massive difference, so a 10-year-old who smokes the 65 comp may just be fighting for a top ten against 11-year-olds on an 85.

Austin Forkner won both 85 (9-11) Stock and Mod titles this year. These are his first titles at Loretta's, but wins in this class can launch a career—Ian Trettel won 'em both in 2004 and suffered through a lot of injuries since, but Suzuki sticks with him because those titles indicate he has some talent. Jessy Nelson remains a Honda prospect because he won those titles in 2006. Behind Forkner, Tristan Charboneau was fast in this class this year, too, but bad starts held him back.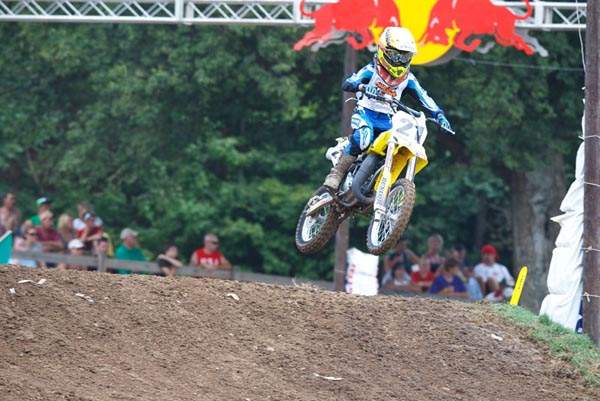 With two 85cc titles, Austin Forkner is now on the map.
Cudby photo

The real minicycle showdowns happen in the next age division. The 85 (12-14) class used to be known as (12-13), and this is the heart of minicycle racing. Below age 12, a rider could be racing 65s or 85s. By 13 or 14, he could be racing Superminis, or maybe big bikes in the Schoolboy class. But that 12-13 bracket is usually the sweet spot where everyone meets up, especially since there aren't A or B divisions on minis. The classic Alessi/Villopoto and Alessi/Millsaps wars you've heard about took place in this class. Past champions here include: Bradshaw, Button, Reynard, Windham, Carmichael, Alessi, Stewart, Millsaps, Hill, Barcia and Tomac. Unlike the 50s, you almost never see a rider win at this age and fade into oblivion. For example, here's the 85 (12-13) class from 2004:

85 Stock 12-13 1. Nico Izzi (Suz); 2. Trey Canard (Kaw); 3. Blake Wharton (Suz).
85 Mod 12-13 1. Nico Izzi (Suz); 2. Trey Canard (Kaw); 3. Blake Wharton (Suz).

And those 2004 results don't include Austin Stroupe, who was crazy fast that year but crashed out of contention. The next year Justin Barcia won both titles. All five of those riders have pro factory rides today.

Unfortunately, the age limit change from (12-13) to (12-14) may have changed the dynamic of this class slightly. While most 13-year-olds race 85s, a good number of 14-year-olds are big enough to go Supermini or Schoolboy, so you can't guarantee the best of the best racing against each other on 85s anymore. So we'll see how it turns out for this year's champs: Chris Alldredge won Stock and Steve Gretchen won Mod.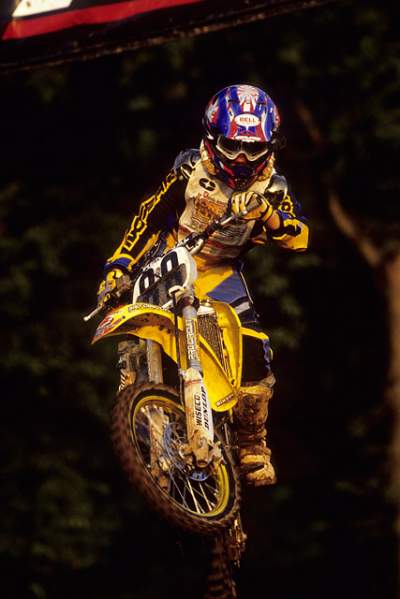 Old-school Millsaps pic from 2001.
By 2002, he had to leave the minis behind and race 125s, because he had gotten too big for the little bikes.
Jim Sanderson photo

Supermini: This is the class between minis and big bikes, with larger wheels on 85-size frames. You already know this. Back in the day, you would have one Supermini (12-15) class and one 85cc (14-15) class, but now there's room for a 16-year-old kid on a Honda 150 by having Supermini 1 (12-15) and Supermini 2 (13-16).

This year's Supermini 1 and 2 classes offered up the drama, pressure and excitement this race is known for. And that's even without Adam Cianciarulo in the mix. Last year AC was trying to add his name to the 85 (12-13) luminaries, but he had some bad luck early in the week, and Alldredge and the late, greatly missed Jesse Masterpool were the favorites for the titles. AC needed a miracle after scoring 3-6 in his first two motos, and he got it when Alldredge and Masterpool improbably crashed into each other in the final moto, and could not get their bikes unlocked. Wild. AC won the moto and the title. Unfortunately, AC seemed to cash out all of his good luck right there, because this year he basically never got his bikes to run right at Loretta's, and he left without a moto win or a title.

The racing was awesome though even without him, as Suzuki riders Jace Owen and Dakota Alix dueled with Honda's Cooper Webb. Both third-motos were epic. In Supermini 2, Alix led Owen, then Owen fell. Webb fought past Alix in a tremendous battle, and had the title in hand. But on the last lap, all hell broke loose. Webb crashed into a lapper, the second place rider Nick Gaines then crashed, too. Owen, cruising in third after his early crash, inherited the lead on the last lap and won the title. That's crazy!
Schoolboy: This used to be a lot simpler back in the day. The fastest mini riders would move up and race the 125 (12-15) class. That's what Stewart, Millsaps and Hill, did, for example. Now it's a little muddied up since we have 250Fs, and some think the transition from minis should take place on a 125, not a 250. So instead of 125 (12-15) Stock and Mod, we now have Schoolboy 1 for two-strokes and Schoolboy 2 for four-strokes. Also, both classes now carry the B/C designation, while back in the day A riders raced this class (Stewart, for example, won 125 A and Schoolboy Mod in his final year at the Ranch).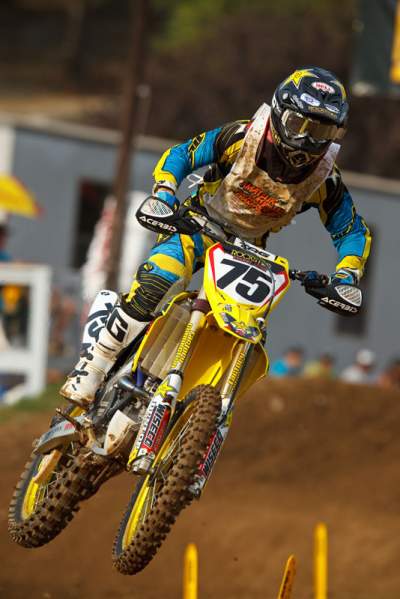 Suzuki Schooboy prospect Joey Savatgy.
Cudby photo
It's funny to see factory-supported riders race on 125s even though some OEMs don't necessarily sell those bikes anymore (last year Kawasaki busted out a KX125 and Jacob Hayes won on a title on it). Yamaha YZ125s filled most of the gate in the 125 division this year, and Luke Renzland won the title on one. Usually this class offers the best racing (perhaps it's something about those 125s) but it didn't quite work out that way this year.

Suzuki prospect Joey Savatgy is still following the old-school path. He won both 85 (12-13) classes in 2008, raced Schoolboy last year to 4th and 7th place finishes, and then won the Schoolboy 2 class for 250Fs this year. He was a contender on his 125 too, but he crashed out of the second moto.
Girls: You can't expect female racers to compete in a class called Schoolboy, so there is a Girls (12-15) class. This class launched Ashley Fiolek into the spotlight six years ago. Watch out for Amanda Maheu, who won the title last year with 1-1-1 finishes, and then went 1-3-1 to win it again. And she's still eligible for the class next year! Well-spoken girl, too.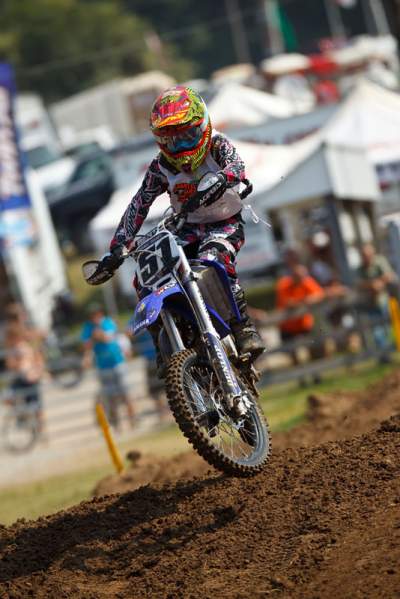 Amanda Mahue is going to be battling The Fioleks of the world in a few years. You heard it here first.
Cudby photo
Collegeboy B/C (17-24): This is a new catch-all class to replace the former catch-all, Four-Stroke. Tyler Bereman won it.

C Classes: Let's say you were raised riding dirt bikes on the farm but never really raced. By the time you started racing, you were too big for 85s. That could make you a C class contender, which is for fast newcomers on big bikes. A young Jeremy McGrath didn't race 80s since he was off doing BMX, so he came to the Ranch for the first time as a C rider and won a title. Every year, we bring this up just in case lightning strikes twice. This year's potential "next McGraths" are 250 C Stock Champ Ryan Breece , 250 C Mod Champ Broc Gourley, 450 C Champ Sean Baxley.

B Classes: You can count on the 85 (12-13) champs being good, but some riders don't excel until they get on big bikes. That's where the Schoolboy and B classes come into play. Ryan Dungey was barely a top-ten threat on 85s, but he won a Schoolboy title, which launched his career. Trey Canard was always chasing Stroupe and Izzi on little bikes, but he broke through and beat Stroup in the B class. That launched him. The last few years, two tall kids on Kawasaki's found their stride in the B class—PJ Larsen and Dean Wilson (Deano won his first LL's title in 450 B mod in '08). This year's potential next Wilson is Justin Bogle. Bogle, like Wilson, Larsen and Canard, was a contender on smaller bikes but wasn't able to get over the hump and win a title. He was completely unstoppable this year though, as he was the only rider to win every single moto he competed in. Six out of six. Now Bogle is set up for a strong year or two in the A class, and after that, the sky is the limit. I really doubt before Loretta's '08, anyone was saying Dean Wilson would win an AMA MX National within two years.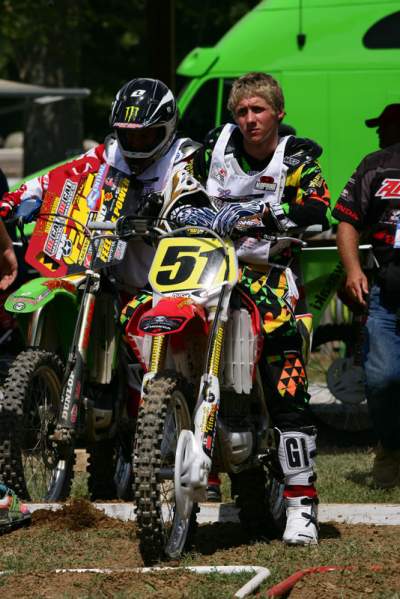 Bam Bam Barcia loading up for the B class in 2008.
Cudby photo
On the very, very upper end of the spectrum, some riders get so fast so early that they're running A class speed while still in the B class. Barcia was the fastest rider at the Ranch in '08 while he was still a B rider. Ditto for Tomac last year. Stewart could have done the same thing but the idea of him running B was so ridiculous that I think it lasted for a week.

Brad Frace won in 250 B Stock this year, he was strong coming through the pack all week. Chris Plouffe won 450 B Mod, even getting fourth in the final moto despite riding with a flat front tire. Only at Loretta's do riders get front flats in the final moto when the title is within reach.

One more shout out here: Jeremy Martin, younger brother of top privateer Alex Martin, and son of Millville, MN track owners John and Gretta Martin, found his groove this year. He raced 250 B Mod and Schoolboy 2, and won motos at 1 p.m and 2 p.m on Thursday—and it was like 110 out that day! He came through the pack both times to do it. Poor first motos cost him a shot at the titles, but if Jeremy keeps improving like this, he'll be winning titles soon.?


A Classes: There are four A classes for expert riders: 450 and 250 A, and 450 and 250 A Pro Sport. The Pro Sport designation allows a rider to try a few AMA Pro Motocross or Supercross races and still compete at the Ranch. Tomac, for example, could have raced Pro Sport this class this year if he had gone to his Area and Regional qualifiers. But clearly, he doesn't need to do amateur races anymore.

But a rider who has not competed in a pro race can also race pro sport. In other words, there's no major difference between A and A Pro Sport as far as talent and speed. The four classes just allow the fast riders to get into two classes: if you've raced pro already, ride both Pro Sport classes. If you only race 250s, go 250 A and 250 A Pro Sport.

Obviously, the "next big things" play in the A class. Jason Anderson was already on that list last year, but crashes and bike problems ruined his week. He's basically like the college standout who decided to stay in school one more year instead of entering the NBA draft. Anderson is four months younger than Tomac. Last year Tomac was still in the B class while Anderson was A, but now Tomac is pro and Anderson is still an amateur.

Anderson moved from KTM to Kawasaki this year and dominated the Ams all season. At Loretta's, he won his first four motos, and had the 250 Pro Sport title in hand until his bike broke in the third moto (only at Loretta's). In the final 450 A moto, he crashed three times on the first lap and had to rage from 40th to fifth. That moto was the 98th of 99 to run during the week, so he got to put a nice stamp on the festivities with that title-saving drive.

Anderson and Tomac used to battle quite a bit. Tomac was always the classic "so smooth he looks slower than he is" while Anderson is the classic wide-open charger. He was manhandling a 450 as well as any pro, and I think he has every bit of the potential of recent grads like Barcia, Wilson, Tomac and Canard.

Ian Trettel is good, too, as was Gannon Audette. Check out Sign of the Laps for proof. Audette is a Minnesota kid who really only recently hit the big time—and with Dungey, we're starting to see that late bloomers who enter the pros hungry to prove themselves do well. Trettle was once in there with Barcia, but injuries cost him big time. Apparently the kid is tenacious enough to keep digging, so who knows, he could be back up there. Also credit to Kawasaki's Zack Freeberg, who grabbed the 250 Pro Sport title when Anderson's bike broke in the final moto. Anderson's long walk back to the pits has been seen before--I remember Tommy Hahn and Kyle Chisholm doing the exact same thing not too long ago.
Women: The Women's class, hands down, used to offer the best battles of the week, from Lisa-Akin Wagner versus Mercedes Gonzalez duels in the 80s, to Jessica Patterson/Tarah Gieger/Sara Whitmore battles a few years ago. But Womens' motocross has gone big time, and the top-five in the WMX Series are no longer allowed to race amateur at Loretta's. Alexah Pearson won this year's title, and she's also doing pretty well in her rookie WMX tour this summer.

Vet Classes: Not much explaining to do here. Robbie Reynard returned to the Ranch in 25 Plus and killed it. He might not have been the fastest rider of the week, but he looked like it. Robbie is still that fun to watch. He also finished 4th in 450 A Pro Sport.

After Jeff Emig came back to the Ranch in 2002 and made racing Vet cool for ex pros, the floodgates opened. In order to make sure the non-ex-pros still had a class to race in, the Vet 30 class became a B/C class, so Emigs, Reynards and such can't race it anymore. This year, NAVY SEAL Stacey Virgin dominated the first two motos but crashed out of moto three. David Jones won via 4-3-7 scores, on a 2004 KX125. And that's what this class is all about!? ?In Vet 35 Plus, ex-pro Keith Johnson has become a staple at the Ranch. He and fellow New Englander Mike Treadwell are hilarious company, they stop by the announcer's tower every once in awhile for some jokes, and I hear they have a great time camping out. That, also, is what this event is all about.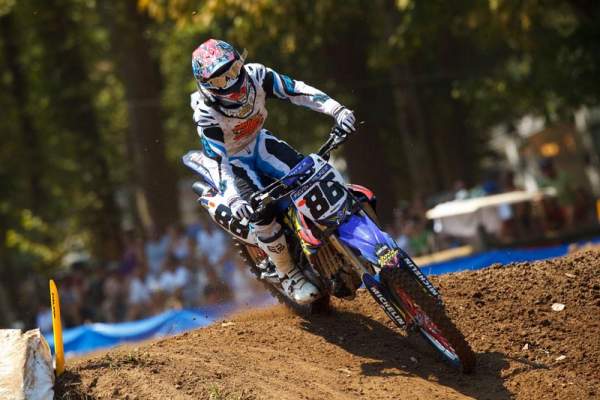 All-time King of the Ranch Kevin Walker.
Simon Cudby
Then you have Kevin Walker, who is also what this race is all about. Johnson edged him in 35 Plus, but Walker was the young man of 40 Plus, and a showdown loomed with the ageless (and 47-year-old) Doug Dubach. The battle lived up to its billing. They shadowed each other the whole way in the first moto, the humidity finally got to Dubach, and he let Walker past him with two laps to go. Walker then holeshot and checked out in moto two, allowing him to go 1-1-2 and win the crown—his record 14th at the Ranch.

Some will say it's a shame that a Vet like Walker holds the all-time Loretta's title mark instead of pro superstars like Stewart and Alessi (who are tied for second). And on the outside, yes, this race is about the kids and the next big things. But the Vet group is just as much a part of the event—for every homeschooled, training 24/7 kid in the 85s, there's a husband and dad with a full-time job who squeezes in enough training time to make this race, brings the family down with him, and gets to feel like he "made it" for one week of the year. You gotta' respect that gang just as much. For years, the Walker family would hang out by the creek and feed everyone the best fried chicken in the world. Dubach always has his daughters hanging around him on the podium and playing games all week. And when they were done battling, they both hosted seminars together at the Yamaha rig.

Don't worry, Dubach crushed everyone in 45 Plus. California's Matt Tedder Sr. is the king of the oldest guys, he won a pair of 45 Plus titles a few years ago, and now had back-to-back 50 + titles. Two of his sons, Myles and Dakota, are off racing pro this year, and he had the quote of the week when he said "The kids aren't here this week because they're off racing pro. So now my wife and I get to spend the week working on making some new Tedders!"

"My wife and I are treating this like a vacation. We keep telling the people parked next to us that the hydraulics are messed up on our motorhome!" Loretta's Masters 50 Plus Champ Matt Tedder had some fun with his podium speeches, and other things, all week.

Yup, the old guys have as much fun here as the kids do.