Metal + Motocross = Red Bull Metallicross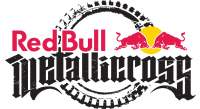 Los Angeles, CA – This October, the stars will align to create one of most unique and challenging tracks motocross has ever seen. Five of the world's best motocross athletes will come together to design and build a "dream track" blending several two-wheel off-road disciplines. The athletes - James Stewart, Travis Pastrana, Ronnie Renner, David Knight and Geoff Aaron - will bring to life a track that unites design elements from supercross, motocross, endurocross, freestyle and trials. Each of the five riders will contribute a portion to the total design, and the result will be a mash-up of everything they've always wanted to put into a race track, but were never allowed to do. This motocross melting pot will be known as Red Bull Metallicross, and will be held at the venerable Pala Raceway on Saturday, October 23.

With some of the best talent in motocross serving as designers, the track will definitely be revolutionary, but it will also have a theme to bump the excitement up a few more notches. As Red Bull Metallicross implies, it will not only feature top-level motocross action, but "metal" music as well. Rock and metal bands will perform on the track in-between each round of racing, and the event will culminate with a special performance by a top heavy metal group.

Red Bull Metallicross is open to pros and amateurs alike, but the track will not be for the faint of heart. The track will be as unforgiving as it will be revolutionary, and will feature: a nearly two story drop into the first turn; a 12-foot-high step-up; dirt-to-concrete whoops; a creek crossing; stretches of sand; a stair set made of railroad ties; explosions and geysers of flame. The racing format will also add some new wrinkles and twists to traditional racing. There will be several heat races, a last chance qualifier and wildcard elements that will keep the fans riveted to the action on the track and give every rider a true chance to prove themselves.

"When I was approached to help design a section of the Red Bull Metallicross track, I jumped all over it," said Stewart. "I have always had some pretty crazy thoughts about obstacles and elements to a track. Now with this special event it gives me the blank canvas I need to put these crazy elements together. You can look forward to some wild stuff that will take each athlete's absolute best to navigate and survive."

"Metallicross is going to be the raddest event ever. I'm pumped to be a part of something so revolutionary to the sport," said Renner. "We have a chance to help design our own real life video game…this event is going to be all-time!"

Aspiring racers will have the chance to earn a spot in the main event during one of two regional qualifier events. The top 10 riders from each qualifier will move on and pit themselves against some of the best professionals in the world at the Red Bull Metallicross main event. Qualifiers will take place at the following locations:

September 25: E-Street MX, Riverfront Track, Sacramento, Calif.

October 2: Pala Raceway, Pala, Calif.

"Pala Raceway is honored to host Red Bull Metallicross, as we know from previous events how far Red Bull pushes the envelope," said Ryan Ouellette, president MXMPI/Pala Raceway. "While we are in the middle of getting ready for the Pala National, we can hardly wait to begin construction on the course and progress the sport."

TRACK DESIGNERS:

James Stewart
2007 and 2009 Supercross and 2008 AMA Motocross champion (perfect 24 for 24 season).

Travis Pastrana
17-time X Games medalist (11 gold), 2000 AMA 125cc Motocross champion, 2001 125cc East Supercross champion and 2006 Red Bull X-Fighters series champion. First rider to complete a motorcycle double backflip.

Ronnie Renner
X Games gold medalist, Red Bull X-Fighters Mexico City winner and Guinness World Record holder for Highest Air on a Motorcycle.

David Knight
Two-time World Enduro Champion and two-time Grand National Cross Country Champion, two-time Red Bull Last Man Standing winner.

Geoff Aaron
Ten-time AMA Trials Champion, 2009 AMA EnduroCross Champion, and 73 career National wins.

More information is available at www.redbullmetallicross.com.