Loretta Lynn's Saturday Late Report
You can count on at least 99 gate drops at Loretta Lynns, and this year, despite heavy rain at times and ridiculous heat at others, the 99th gate had dropped by Saturday afternoon. Here are some of the highlights by the time the dust had settled.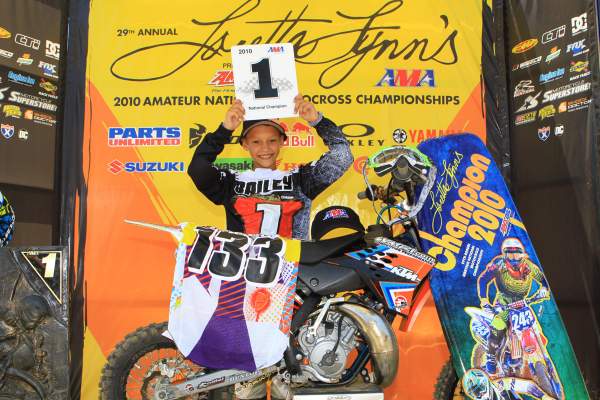 Jordan Bailey is already getting used to this.
Racedaypix.com photo

We may have a star on our hands with 65 (7-9) Stock champion Jordan Bailey, who now already has three Loretta's titles to his name. The 65 (10-11) class is stacked, with Joey Crown, Luke Purther and Jake Pinhancos waging some great races. Purther grabbed the mod title yesterday, and Pinhancos took the stock division today.

Joey Savatgy grabbed a win in Schoolboy 2, but of course there had to be some drama. Joey led early and eventually yielded the moto win his fellow Suzuki rider Jeremy Martin. Then with four laps to go, Savatgy's header pipe fell off, making his bike very loud and probably pretty slow. He hung on to finish second and win the title.

Suzuki riders Ian Trettle and Gannon Audette had a showdown looming in 250 A, with both carrying 1-2 and 2-1 scores heading into the final moto. They both started outside the top ten, and quickly carved their way to the front, but Trettle managed to inch away while he did it. Jacob Hayes appeared headed to the moto win until he crashed on the last lap, giving Trettle not only the title, but the moto win.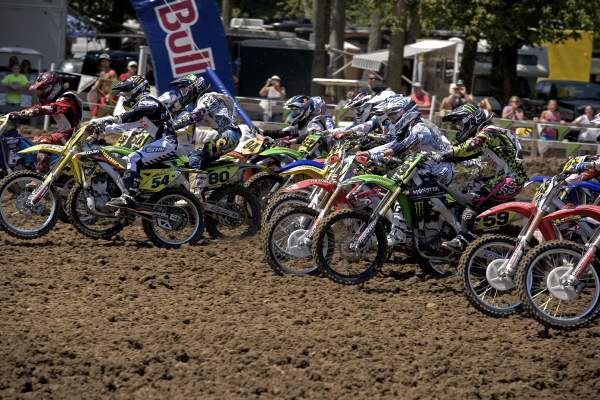 250 B Stock comes off the gate.
Matt Ware photo
In 250 B Stock, Kawasaki's Brad Frace was Mr. Consistent, taking 2-2-2 moto finishes to claim the championship, denying Honda's Kyle Peters, who rode well all week and won the final moto.

Yamaha grabbed a pair of titles, first with Alexah Pearson in the women's class, and then the legend of Kevin Walker continued in Senior 40 Plus. Walker outdueled Doug Dubach and Mike Treadwell to win it, breaking his own all-time title record at the ranch with his 14th number-one plate.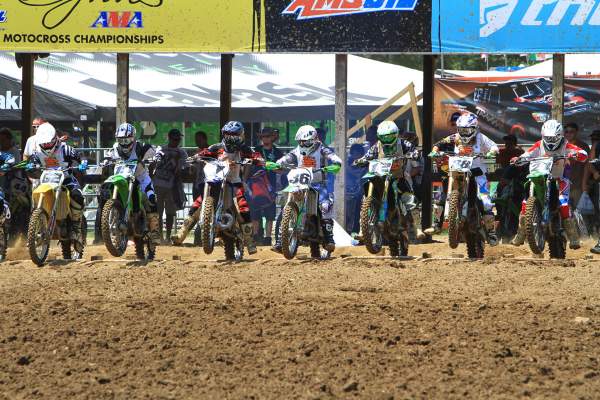 The Women's class takes off.
Racedaypix.com photo

Cooper Webb had a heartbreaker earlier in the day when he crashed while leading Supermini 2 on the last lap. He refocused for the final moto of Supermini 1, stayed strong under heavy pressure from Dakota Alix, and won the moto and title.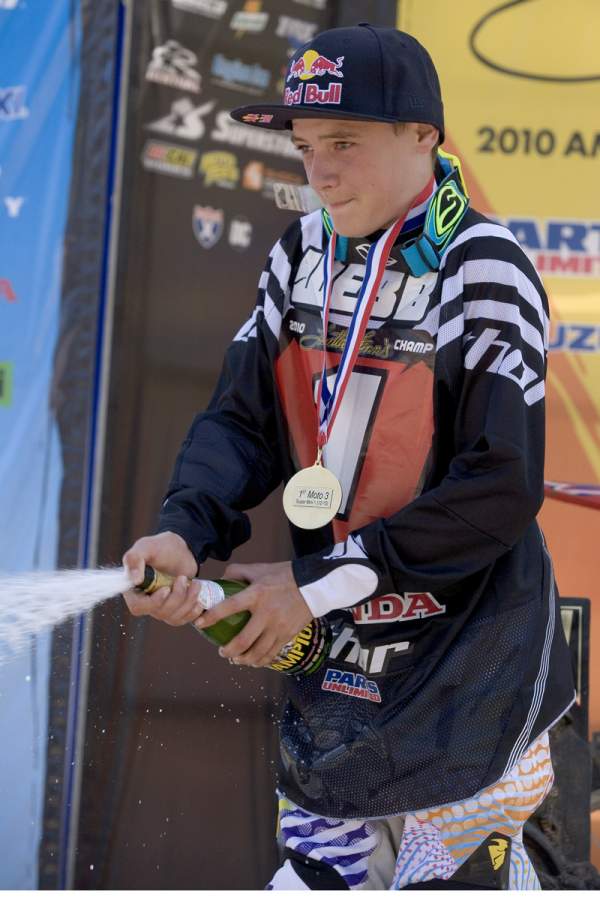 Cooper Webb delivered one Supermini Title.
Matt Ware photo
The final crazy drama of the day was saved for Jason Anderson and 450 A. Anderson had lost the 250 Pro Sport title when his bike broke in the morning, and he came carrying two moto wins, again, in 450. But then he crashed not once, not twice, but three times on the first lap of the 450 moto, leaving him just about last. Up front, Austin Howell took off with the lead in hopes of claiming the title, but Anderson put in an amazing charge, from last to fifth, enough to give him the title.

"My stomach was in knots out there, my mind was everywhere," said Anderson. "I rode my heart out."

Almost everyone who came here can say the same thing.