Racer X Redux: X Games 16
ReduX presented by Renthal was off to the X Games this week, my first real trip ever to the event. I actually went to the 2000 X Games in Philadelphia, but there wasn't much to see—just a freestyle and best trick event for the moto side, and back then backflips weren't possible (someone please explain to me how the backflip worked. Cary Hart does one, then no one can do it again for a few years, and then all of a sudden everyone learned it at the exact same time? Bizarre.)
Nowadays X Games is way bigger, and the moto side has enjoyed most of the growth. There are a ton of events to see, and even those that aren't moto-based, like rally car, have a lot in common with moto anyway (Travis and Deegan, for starters). Read on for a ridiculously long account of how it all went down.
Super X:
One-off races like this are always good at producing the unexpected, and what wasn't supposed to happen happened again. For the last two years, absolutely no one was buzzing about
Josh Hansen
before X Games, he was barely able to get a ride together for the race, and he won. This year,
Josh Grant
was on-again off-again, in fact at
Millville
he told me he was for sure not racing, and the JGR team backed that up again at
Washougal
. And yet, on Monday morning, he was back in!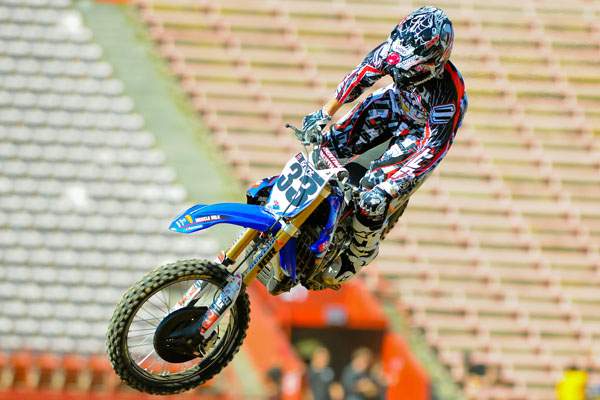 "On Sunday night I was bored," Josh said. "So on Monday morning I decided to go race."
Photo: Steve Cox
JG missed all of supercross this year, and he told me he rode Brian Deegan's SX track for one day to prepare for the race. Meanwhile everything was coming up Hansen this year, because Mitch Payton stayed on his ass since Vegas in May and made sure he actually kept riding. I think he was even doing some training. During his superb two-episode stint on MTV's The Hills, Stephanie Pratt fell for Hanny when he took her out on a date and didn't order a drink—because he's a professional athlete. I mean, that's reality TV. It has to be true!
So for once Hansen had some actual level of preparation, and when
James Stewart
,
Kevin Windham
and Grant all said they were out, it pretty much became the Hanny show.
In practice, though, it was
Justin Brayton
's show. JB hasn't been lighting it up outdoors this summer, but the very second they unleashed the riders on the Super X track, he looked like a totally different rider. In SX, Brayton is always fast from the get-go (23 is almost always the first number to pop up on the scoreboard during SX practice, yes, this is true) and he looked really confident all day on Wednesday. Grant, fresh off his one day at the Mulisha Compound, was second. Meanwhile Hanny looked like he was cruising, leading Jeremy McGrath to guess Hansen was just sandbagging, and would bring some serious heat in the races.
MC knows his stuff (you think?). In the first heat race, Hansen started right in front of Brayton and suddenly had speed he didn't have the day before, pulling away from Brayton and winning. Then Grant won heat two to set up a battle of the Joshes in the Final.
But would it really be a battle? I've written this before: everyone says Hansen has ridiculous speed and talent on a bike, but I'm still waiting to see the race where he actually really displays this ridiculous speed. Everyone can't be wrong, so I assume this speed is shown on a random Wednesday afternoon, instead of on Saturday nights at the races, where Hansen has been good at times but has never logged a one-man domination display. And even those random Wednesday riding displays must be really random, because Hansen hasn't always been the most reliable dude when it comes to even showing up and riding during the week at all.
When the gate dropped though, Hansen was ready to finally show off that speed. He squirted out to the lead (and poor
Chris Blose
got moved off the Super X track and into the freestyle course—this was not a Speed and Style event so he pumped the brakes and went back to about last. I really wish Blose had scouted that freestyle jump. Can you imagine how cool it would have been to get bumped off the track and then bust out a massive leap while racing off to the side of the track?)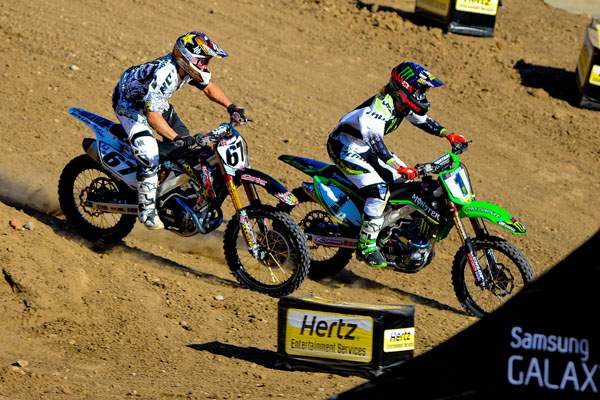 Blose and Hansen got a quick start in the Super X final.
Photo: Steve Cox
Grant and Brayton were second and third, but Hansen was really pouring it on. I think I finally saw the Hansen speed I've always heard about. As the Coliseum always does, the track featured a crazy long straight with whoops and a bunch of on-off table tops. Hanny was absolutely flying through there, blitzing the whoops
James Stewart
style scary fast. I don't recall ever seeing Hanny push this limits like this—he knew this was his event.
Funny thing, though. JG just kept riding. Normally he's the dude pushing it and taking big chances, but I think on this slick track, and considering he was just barely back into supercross, it almost seemed like he was going 99 percent instead of 101. And after Hansen's sprint was over, he was only 4 seconds back, and he started inching up. And I swear JG was knocking the rust off by the lap—he looked way better every time he went out on Wednesday, and better yet by Thursday.
Then Hansen started riding horribly. Maybe he tightened up after that hard push. Maybe not racing at all since May made it tough to readjust mentally or physically. Or maybe he was just struggling with his sagging pants, which ironically left one internet observer to tell me "Poor Hanny, undone in the race by the same way he wears his pants when he's not racing."
Okay, so Hanny's pants were coming down. But
Dean Wilson
's pants come down way further in every single moto this year and that doesn't really seem to slow him down at all. Maybe it's different on a supercross track, where you can't stand in corners. For whatever reason, Hansen came completely unraveled and JG reeled him in, made a pass in the same section Hansen was once fast in—the whoops and tables, and took off. Not bad for a case of the Mondays.
Hansen then bounced off the track and went all the way back to fourth behind the Brayton/
Ivan Tedesco
slugfest. Good to see IT really back in action after he pulled out of both motos at
Millville
with arm pump, and then skipped
Washougal
to get in some SX track time for this event. Ivan said the arm pump doesn't happen on the supercross track, so he put his focus into this and it showed. He was clearly back up to his old pace, because Tedesco and Brayton seemed to be a dead-even match in SX this year, and it was on again here. Then Hansen started pushing again and battled Ivan to the last lap, fighting back into third, with the JGR boys 1-2.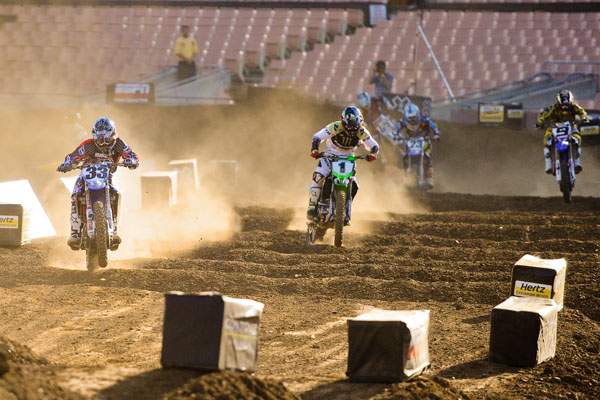 Josh Grant was bored, and decided to win a gold at X-Games this week.
Photo: Steve Cox
In the post-race press conference, Hansen was super bummed about blowing his shot at the three-peat. He mentioned the pants once, briefly, but otherwise stuck to saying "those guys just rode better and I finished third." He was so bummed it actually turned kind of funny, and then when everyone was laughing, Hansen let out a gigantic fart, which only made everyone laugh harder. And with that, I hope to never have to use the term fart in this column ever again.
Women's Super X: This is the only supercross race all year for the girls, and everyone of them explained the challenge the same way: try to be safe and make the jumps, and just accept the fact that everyone will suck in the whoops. That was the plan until Jessica Patterson and Tarah Gieger started blitzing the whoops in practice. They qualified way faster than Ashley, but she seems to figure out ways to win even when the competition has her on the ropes. Dare I start calling her crafty?
McGrath advised Fiolek to not bother blitzing the whoops, and just ride solid on the rest of the track. There was a good chance the other girls would make mistakes anyway. Hmm, you think this McGrath guy knows something? Patterson had already shown the possibilities when she crashed once in practice and bruised her ribs, even though she came back later to log the fastest time of the day.
Sarah Price was lighting out of the gate on all of the practice starts, and she pulled the holie in the Final. Fiolek quickly passed her for the lead, while Patterson and Gieger got held up a bit. Patterson had to hustle. She caught back up, then made a mistake and lost ground, then was pushing to catch up again when she landed off line on the massive finish-line jump and was ko'ed, ironically, by some UFC tuff blocks. JP denied again. Gieger started struggling down the stretch and lost touch with Fiolek, and Price was still digging hard with Vicki Golden right behind. They made a race for the medal spots, with Gieger getting silver and Price the bronze. Fiolek wasn't necessarily the fastest but she won the gold, and that's been her game plan ever since he started battling JP three years ago.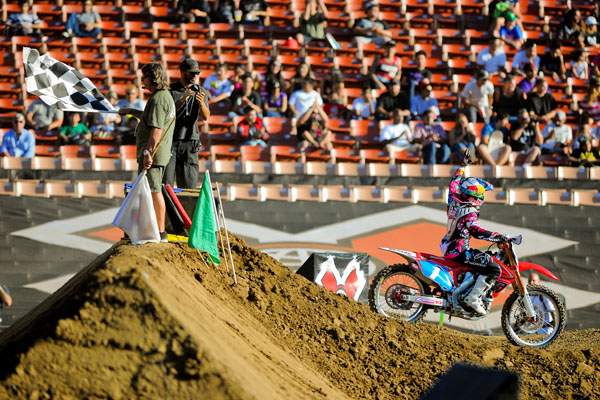 Ashley Fiolek was able to come home with another X Games gold medal.
Photo: Steve Cox
Super X Adaptive: You may not know too much about this one, which is a race for amputees and paraplegics. Awesome group of guys here, all with crazy stories. For example, bronze medalist Beau Meier lost his foot while horsing around on what he thought was a parked train. The train took off, his foot got wedged between two cars, and that was it. Most of the other guys had major accidents racing, including gold medalist Mike Schultz, who was a pro snocross racer who crashed his sled and lost his leg above the knee, and then built his own prosthetic knee with a shock absorber built in so he could keep riding. He won the gold at Winter X Games Adaptive SnoCross, took silver in last year's Super X Adaptive race, and then dominated the show this year.
He was supposed to battle last year's winner Chris Ridgway, but Ridge came up short on a step-on step-off in practice, cased it, and drove his knee up into his clutch perch. His leg swelled up so bad that he was having trouble getting his prosthetic on for raceday, and once he finally did, he couldn't put any weight on the leg. He couldn't race. Newcomer Todd Thompson saw the race on TV last year and decided to dedicate his life to it, he trained six days a week for the six-minute final, rode well and finished second. He said he would like to try qualifying for an outdoor national or even the regular Men's Super X race next year.
Then you have the paraplegics, who are able to tackle the track and jump some jumps while sitting down the whole time. Of all the crazy feats at XG, I really think these dudes are the most mind blowing of all. South African Samuel Erasmus came from behind to finish fifth overall making him the fastest of that group.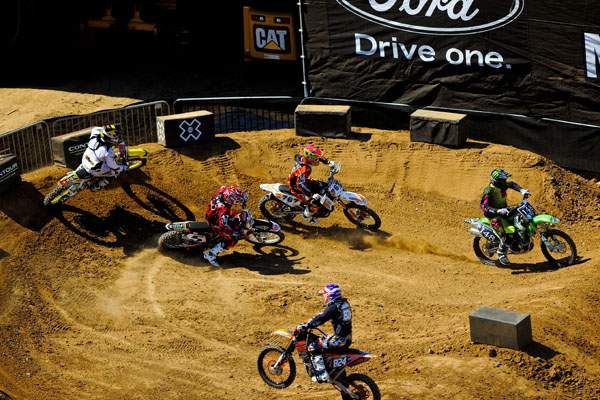 Adaptive racers hit the track at X.
Photo: Steve Cox
Moto X Freestyle:
You can't teach what
Travis Pastrana
's got. TP hasn't competed in XG freestyle since '06, but last year's gold winner Blake "Bilko" Williams bet Travis five bucks that he couldn't win if he came back. Them's fightin' words, so Travis returned to FMX and won, of course. Bilko had broken his collarbone and couldn't compete. Technically, some of the other riders had better tricks than Travis, but the story remains the same: I don't see the freestyle crew much, but they are a rough bunch, their tattoo, flat-bill dressed-in-all-black skills destroy the racer crowd. You'd think of these guys are reckless and wild, but when their runs begin, they all become calculated, carefully pulling each track with technical perfection. Travis? He just goes wide open, racing around the course, experimenting with stuff, bashing into things and generally being comfortable being uncomfortable (his specialty). Regardless of the technical expertise of his tricks, his runs looks and sound more exciting, so he wins.
I remember watching the first-ever big FMX show on TV, back in 1998 when ESPN aired a contest from Las Vegas. A 14-year-old Travis won it on a 125, with Rick Johnson in the TV booth pointing out how TP was racing the course while everyone else was riding. A dozen years later and that's still the case.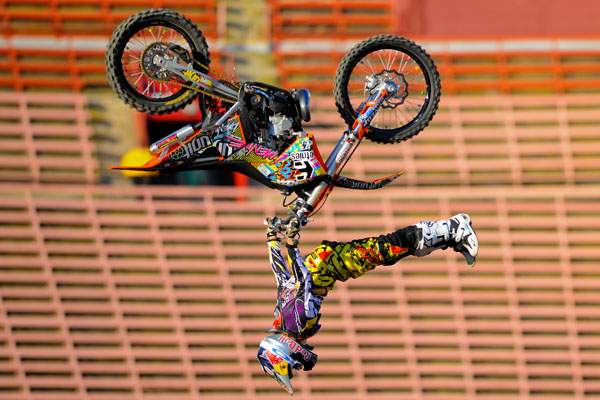 If you want technical perfection, Nate Adams used to be the guy, but silver medalist Levi Sherwood (above), a teenager from New Zealand, might be the new gold (if Travis wasn't there) standard. Kid was smooth.
Photo: Steve Cox
Moto X Step Up: Someone told me Step Up is the highest-rated event at X Games because it's the easiest to understand. I don't know if the ratings part is the true, but I understand the easy to understand part. Who can jump over the highest high bar. Simple.
This one would clearly come down to the Step Up experts, Ronnie Renner and Matt Buyten. They had each won two golds in this event before, and did the most prep coming in (the landings in Step Up hurt so much that most of the dudes don't practice it). And so it was, Renner and Buyten were the last men jumping, Buyten's style all aggression and throttle to launch over the top, and Renner gracefully whipping his bike over the bar. Renner had planned on using the KTM 350, but he said he would be jumping at higher revs, and it's harder to whip a bike when the crank is spinning so fast (that whole gyro thing). He went back to the 450 because of the lower revs, and that's today's science lesson.
Both hit the bar at 33' 6", and that's where Buyten's determination kicked in. You may remember way back in 2004, this dude was battling McGrath for the Step Up gold and kept popping his shoulder out, then popping it back in, and then jumping again. He's tough, and on his third attempt he gassed it harder and cleared it. Renner hit the bar with his front wheel, and Buyten took the gold. Crowd went nuts—everyone understood what was going on.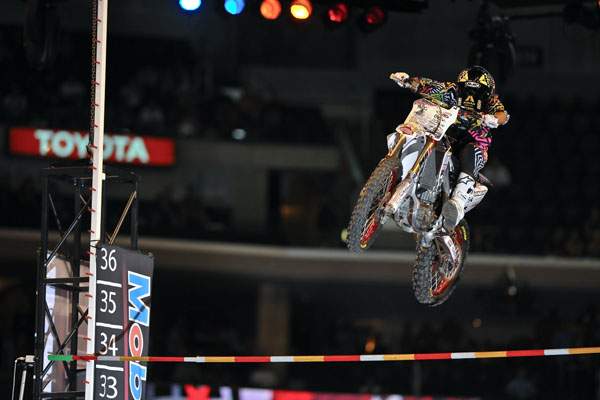 Buyten was able to clear 33'6" for the Step-Up gold.
Photo: Steve Cox
Best Whip: My favorite part of the Games, hands down, was watching Todd Potter's whips. Rumor has it he even cuts the silencer down on his 450 to make his panic revs even more thunderous. Racers Grant and Hansen competed, but their whips are too good--smooth, graceful arcs, where as guys like Potter and Twitch are just all violent hitches and panic revs. Seriously I wish they put some enduro tanks on the bikes and kept doing the whip warm up for a few hours, it was that cool.
Best Trick: Best Trick used to be the lame form of Freestyle, until dudes started pulling backflips, then backflip variations, and then body varials. But this year most of the guys did tricks that have been done before. Pastrana dropped out of the competition because he couldn't nail his 1728 Degree or however many twists and spins he's up to now, and he didn't want to just do something old. The defending champ, Kyle Loza, was supposedly dialing in the Bike Flip, where he somehow gets off the side of the bike and flips the machine while actually not flipping himself. That's much more complicated than step up. But Loza had a bad wrist and couldn't compete. I did have a chance to meet him and he was easily the wackiest looking guy at the event—which is saying something.
So with those two nutty innovators out, everyone else brought stuff you had seen before, although it was impressive stuff. Sherwood was hanging from the bars upside down with full extension, and Robbie Maddison did a body varial and landed sidesaddle. Cam Sinclair did a double backflip which won gold. This means if Pastrana had just decided to enter and pulled a double backflip, he would have won, sort of like
Ricky Carmichael
only needing to enter an extra national or two in 2007 to win the title, but sticking to his goal and retiring after
Millville
.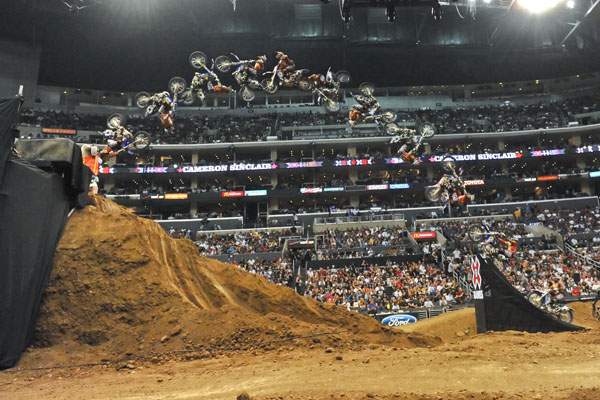 Cam Sinclair nailed a double backflip to secure the gold medal in Best Trick.
Photo: Steve Cox

Rally Car: This is a motorcycle site and I'm up to 2500 words already, but let me wax nostalgic about this for a moment: Before supercross started airing regularly on TV, ESPN aired the Mickey Thompson Off-Road Championship Grand Prix, indoor truck and buggy races. And that series also included bikes, making Jim Hollywood Holley a two-time Ultracross Champ. I watched these races on TV religiously, but since the events took place on the west coast, and the tour folded in the mid 90s, I never got a chance to see one in person, which angers me to no end. The X Games rally race was like a glimpse back to my childhood, with cars leaping out of the peristyle, just like the trucks did in 1988, when I begged my parents to take me home from the mall because I absolutely positively could not miss the Coliseum MTGP race on TV. I seriously remember watching that race for the first time like it was yesterday—Steve Millen got rolled over outside the peristyle, Rod Millen won, and in the bikes, the Vohland brothers were high-fiving over the jumps while running 1-2. I'll stop now.
The Rally car race didn't go very well, as the course was too complicated, drivers went the wrong way and just about every race ended in a DQ. Plus the big X Games names, Pastrana, Dave Mirra and Ken Block, all went out with mechanical problems. But there was a success in the new Super Rally format, with four cars lined up door to door. The fans loved it and the racing was great, so this form of rally has found a home. But then I realized that there was once an entire series with trucks bashing and rolling and jumping and battling every week. It was this rally car show times 1000 and ESPN covered it and it still went out of business. I will now light myself on fire.
Tanner Foust won both RCR golds in his Ford and teammate Brian Deegan took both silvers. Deegan is the rare media/marketing/hype machine that can actually back it all up in whatever he does—he's won a 125 supercross, X Games gold, and has now switched to four wheels with success. Behind the hype, he really delivers results, and thus deserves the trappings of the Metal Mulisha empire. He's not just a name out there. He's an icon that can still go.
Speed and Style:
You have to think this event was built for Travis, but yet he had never won it. Hard working Nate Adams met Travis in the finals (but only after a wild, complicated, controversial bronze race between Ronnie Kung Fu Faisst and Twitch Stenberg, which ended with both getting the bronze. That's Faisst's first-ever X medal. Score one for New Jersey, believe it or not). I was bummed '08 gold medalist Kevin Johnson didn't grab more hardware, after breaking his neck in February, KJ actually came back and added a backflip to his repertoire, but Faisst still edged him on freestyle points. Anyway, Adams had better tricks in the Final, but Travis was hauling ass and won on speed. Watching him peg his RM250 through the whoops takes you back ten years to when Travis was supposed to take racing on his back and make it bigger—to be followed by the
James Stewart
machine.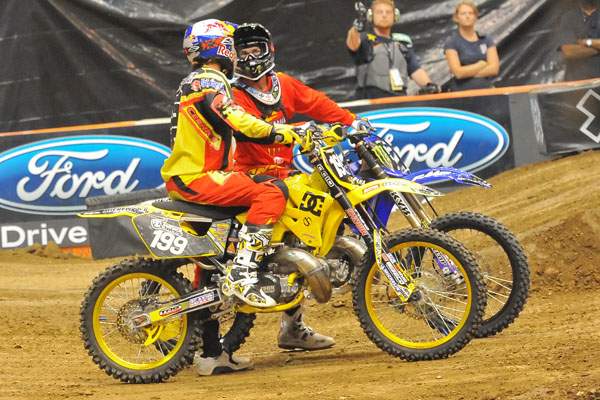 It was down to Travis Pastrana and Nate Adams for the final in Speed & Style. Travis took gold.
Photo: Steve Cox

Obviously the racing part didn't work out for Travis, and we always think of that as a shame. But after seeing these games practically built around him, it's harder to see it that way. Travis may never have won a 250 supercross, but he's raised the profile of dirt bikes higher than any racer ever could. In that way, he didn't just deliver, he actually overshot the mark. What else is new?