Cobra Riders Dominate at Ponca City
Cobra's Gage Linville, Andrew Britt, Lance Kobush and Pierce Brown all win titles at Ponca City Grand National
HILLSDALE, Mich., (Aug. 3, 2010) – Cobra mini cycle racers stepped up and swept the entire Jr. and Sr. 50cc Stock and Modified class podiums at the NMA's biggest race of the season – the 2010 Ponca City Grand National this past week/weekend.
Aboard the American-made King 50s, CXJRs and CX65s, Cobra racers accounted for five titles – including an incredible 1st place run by Utah's Pierce Brown to win the overall Super Pee Wee 6-9 title at, get this, seven-years-old!
"Absolutely unheard of what Pierce pulled off," said Cobra President Sean Hilbert. "That was Cobra's biggest highlight of the Ponca City Grand National weekend and this may very well be a first for the event." Note: California's Stilez Robertson and Florida's Cole Williams rounded out the all-Cobra podium sweep in the Super Pee Wee class.
Another big story for Cobra at Ponca was the effort by Colorado's Aaden Veazie, Cobra's newest addition to its team, in the 6-8 65cc Modified class. Veazie, running the Cobra CX65, was leading Lance Kobush late in the contest in the final moto when he ran into a downed lapped rider and broke his clutch lever.
Iowa's Gage Fisher would land a top ten finish in the 6-8 65cc Modified class and Veazie would place 9th in the 6-8 65cc Stock class. Cobra's Hunter Budd (Texas) scored a 3rd place podium finish in the first moto of the 9-11 65cc Stock class.
Leading the 7-8 50cc PW Stock and Modified class moto sweep was Missouri's Kobush. The Cobra King 50 racer swept top honors in both classes, with Brown taking 2nd place in both – Levi Kitchen (Washington) in 3rd in the Stock class and California's Robertson locking down 3rd in the 7-8 PW Modified class.
The little guys (4-6) were led by Georgia's
Gage Linville
, who won the Stock class and Colorado's
Andrew Britt
, who took top honors in the PW Modified class – though Linville won the second 4-6 Modified moto (7
th
in the opening moto). Nevada's
Robert Hailey
was the runner-up in both the 4-6 Stock and Modified classes, with Britt placing 3
rd
in Stock and
Cooper Gerecke
(California) scoring a 3
rd
in the 4-6 PW Modified class.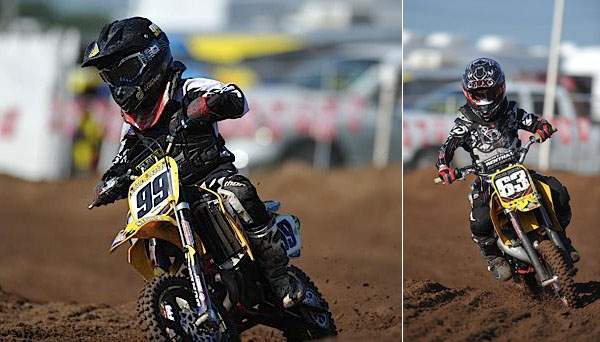 Lance Kobush (#99) and Pierce Brown (#63)
Photos courtesy of Motoplayground
Now it's onto Loretta's for the AMA Amateur National MX Championships this week.
For more information on the 2010 Ponca City Grand National – including up-to-date scoring, link to the NMA's website at:
http://www.nmamx.com/
Cobra, founded in 1993, produces the most successful line of competition mini cycles and mini quads in the United States with more than 200 national titles in the last decade. Based out of Hillsdale, Mich., Cobra's mission is to build premium products for the serious racer. For more information on Cobra products, please visit our website at
www.cobramotorcycle.com
.