5 Minutes with... Trey Canard
GEICO Powersports Honda's Trey Canard has been unbelievable in the last three races, and he just keeps getting better. At Washougal – where he broke his femur last time he was there – he dominated both motos, going 1-1 for his third-straight overall victory. We caught up with him a couple days after the race to get his take on it.
Racer X:
Instead of starting at, "You sure are going fast," let's start at what has changed with you between Hangtown and now.
Trey Canard
: I would say, overall, it would just be belief in myself. There are a lot of things that kind of add to that – a lot of ingredients. For example, I feel like I'm more fit now, my technique and my riding are getting better, I feel more focused and just feel like I have a more solid program right now... But coming into the races, I put in work, and having that confidence just helps the day start out right. There are a bunch of different things that are kind of coming into play, but the overall answer just amounts to believing in yourself.
It was pretty remarkable watching you, because late in the moto, both times, I don't know what your laptimes actually looked like, but you looked like you hadn't slowed at all.
Yeah, I mean, I felt strong. Getting a good start helps with that. You're not dealing with the other people and it's a lot less stress on you the first few laps. That definitely helped coming into the later moto, and having an easier moto in the first moto kind of helped for the second moto, too. Not that it was easy, but I didn't have to fight too terribly hard to come from tenth and pass a lot of guys [like Chris Pourcel did], I was out front the whole time. I was able to ride my own race. But yeah, I feel like the fitness was good. I think I struggled there at the beginning of the year and I think a little bit of that actually has to do with self-belief, and it might not even be that much more fitness. I don't believe you can gain that much fitness that fast. I think it just comes down to self-belief and maybe riding the bike a little more efficiently, and just the preparation coming in.
You and Ryan Dungey both looked like, in some ways, you were cruising around. You weren't going slow, obviously, but you both looked deliberate about your corners and stuff. You don't look like you're rushing anything. Is that how you feel, too?
I felt really relaxed in both motos, which was good, especially for that track. You don't want to over-ride that track, and it's important to take your time with some of the corners and the sketchy terrain. It was good. I felt like I had some really good rolling speed in my corners. Like you said, it wasn't rushed, but I felt like the momentum was a good thing for Washougal because it winds around and it's pretty high-speed. It wasn't a whole lot of braking; it was just kind of a whole flow. I was just excited about the way I rode. I couldn't complain about anything throughout the day. It was just a great day.
In the second moto, it looked like Dean Wilson really tried to push you out to try and get that advantage going into the next turn. I don't think he did anything wrong, of course, but when you're hot like you are right now, do you feel like you have a target on your back?
I'm sure with Dean, if you remember back to RedBud, I kind of tapped him a little bit and I'm sure that doesn't help things when I'm around him. I'm sure he's like, "Well, he hit me, so it's fair enough that I hit him." I'm sure that doesn't help things. But no, I don't feel that way at all. I feel like I'm still down in the points and I don't have those red number plates on my bike, so I'm not the guy. I'm just going to continue to try to do my best and show up prepared and just give it all I got. That's all I can worry about. Just try to enjoy racing. I really enjoyed racing this weekend and I know that's easy when the weekend goes well, but I'm just going to try and enjoy riding.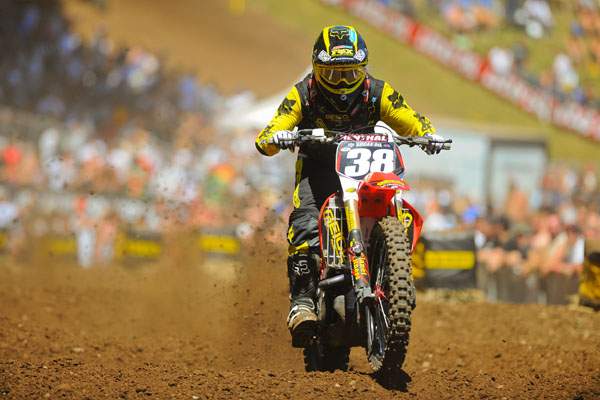 Trey Canard is absolutely dominant right now in the 250cc class.
Photo: Steve Cox
At about the halfway point, you were fourth or fifth in points, and now you're second in points. Also, you have more overall wins than anybody now.
This year is crazy in the Lites class. As you can see, it's probably been the most winners in a few years. It's been gnarly. I think, toward the end of the series, guys are going to start getting more tired, and everyone has found their place I think right now in the series. I think this break will actually help a lot for that – having a few weeks off before Unadilla and then another break. It should be interesting to see at Unadilla, because I think some guys will come in fresh and put up a fight.
Up on the podium, I heard Tyla Rattray ask, "What did you have for breakfast this morning?" Then you said, "Pancakes!" Was that for real? Did you really have pancakes?
Yeah, I had pancakes and an omelet. I've actually been eating pancakes a lot. I've been trampoline-training, so you've got to have your pancakes on the trampoline.
I think a lot of people would consider that not to be healthy food...
Yeah, if you eat them minus the syrup and the butter and all that, it's actually not that bad. Obviously, I don't sit there and dunk it in syrup.
I just thought it was funny to hear him say that and then have that be the answer. It wasn't like Wheaties or oatmeal or something that you would associate as being healthy...
Yeah, I cracked a turkey egg this morning and ate it raw. [Laughs] That's what I'm kind of figuring out, that there's not much rocket science, which is what most people think. It's just ultimately riding your dirt bike...
Yeah, you just have to give yourself the type of fuel your body can use and go ride...
Exactly, not stress about it.
What about your stress level overall? Some people would assume that you get more stress if you're winning and other people would assume that it gets easier. What is it for you?
For me, it's just easier to get through the week. Whenever you're not doing how you'd like to, you get kind of worried; just stressed out. Like, "Man, what do I need to do? What do I need to change?" You just start searching for answers. When you do well, it just makes it that much more fun to go ride. You can actually just go ride and train and do your work without all of that added stress. I try to just forget about the races and move on to the next one, but obviously kind of celebrate. Kind of move forward and take it as it is and try to be ready for the next one.
You broke your femur there last year...
I broke it in '08, but yeah that was the last [and only] time I raced there. The race has kind of haunted me. Going into it, I just got kind of nervous. That was one of the worst experiences I've ever had. I didn't even remember much about the race in '08. I just remember the bad parts about crashing and being in the hospital and surgery and all that drama. Going into the race [this year], I was actually really nervous. I was trying to be positive and move past it, but it's one of those memories that is hard to shake. To go there, I just wanted to get past it and leave there healthy and get that one behind me. I think I got 22nd in the first moto in '08 and then the second one I broke myself. I'm stoked. I'm kind of at a loss of words for the whole weekend. It was just a great one; one that I'll always remember, for sure.