5 Minutes with... Dean Wilson
Dean Wilson was born in Glasgow, Scotland. At age 9, he moved with his family to Canada, where Dean began to excel at motocross racing. At age 14, Dean moved to California, and he's been here ever since. The 2009 AMA Horizon Award winner was drafted onto Mitch Payton's Monster Energy/Pro Circuit/Kawasaki outfit for his rookie pro season, where he's made an immediate impact. For this reason, his name is in the conversation for the 2010 Motocross of Nations, but given his background, choosing a nation to ride for could get a bit tricky. And it has.

Racer X: Dean, you went 6-6 at Washougal, a couple small falls in the early stages of both motos taking you out of the mix. A rough day for you?


Dean Wilson
: Yeah,
Washougal
was a little bit rough for me because I was going into the race second in points. Canard was on a roll and I didn't really want to lose second. In the first moto I was behind Canard and sitting in second and had a real good get-off. I hit my head pretty hard and saw stars, and it took me a while to get up. And once I got up, I was pretty far behind and had to work my way through the pack, and I ended up sixth. It wasn't what I wanted, so I just wanted to regroup and get ready for the second moto. In the second moto I was up there. I was fourth off the start, and then I just fell over and then people were all running over my back and it took me forever to get going. Once I got going, I was way behind again. I was able to catch up to sixth, so I went 6-6 for fifth overall. It wasn't what I wanted, but I salvaged the day.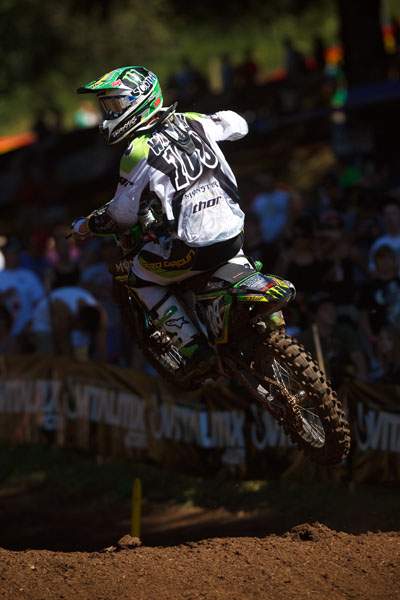 Dean Wilson racing at Washougal MX Park where he went 6-6 for 5th overall.
Photo: Simon Cudby

With four races remaining on the schedule, you're only 48 points out of the first place in the championship.


I've been pretty consistent going through the series. I've been on the box a lot, and that's just where I want to be. Sometimes you don't have the best days, and I had that last weekend. Now hopefully that's over with and I just have to be consistent and stay on the box.

You've won an overall, a moto, have three second-place finishes, and four third-places thus far outdoors. Did you think you would be so successful in your rookie year?


I prepared well for it. I have a lot of good people in my corner helping me, and Mitch [Payton] has me on the best bike out there, so I kind of expected it from myself. But I really didn't know what was going to happen because it's a pretty fast class. I'm just stoked to be in the position that I am, because if you would have told me last year that I would be here, I probably wouldn't have believed it.

There are four races to go on the in the 250 Motocross Championship. What's the plan? Pin it and just try to get to the front?


I want to get back to second in points. It's not going to be an easy task, but we'll just have to see how it goes. It's going to take really good starts. Pretty much if you want to win, you have to get good starts.

Talk of the 2010 Motocross of Nations and which riders will be riding for what nations has already started. Have you made any sort of decision on anything?


Yeah, I made my decision. It was definitely not an easy one—it was the hardest decision I've ever made. It was really hard. I'm going Team Great Britain. There was just a lot of politics within the Canadian team, which kind of sucks. I was born in Scotland. I've lived there longer than I ever lived in Canada or America. I mean, it's kind of something I've always wanted to do. To do it for them is going to be pretty awesome, because I have lots of family there. I really want to do it for my grandpa, as well. He's 88, and he's a true Scotsman, and he wants me to do it so bad. It will be awesome to do it for him and all of my family.

Is your grandpa still in Scotland?


Yeah, he still lives in Scotland. All of my family lives in Scotland. I have some family that lives in Toronto, but for the most part, they're all in Scotland. It's just a tough decision for me because I rode for Canada last year. I kind of feel a little bit disrespectful and like I'm turning my back on them, but I'm not turning my back on them—it's just the decision I've made. I'm a racer, not a politician. If I had Colton [Facciotti], Dusty [Klatt], and myself on the Canadian team, that would be a great team. I believe we could be top-five. But even if we had those two riders, I still made my decision, and it's going to be with Great Britain. I'm just fortunate to have an opportunity to be on that team. I'm pretty grateful for that.

Do you know who your teammates are yet?


I'm not sure who my teammates are. I think it's possibly it's [Tommy] Searle and [Shaun] Simpson, but I'm really not sure.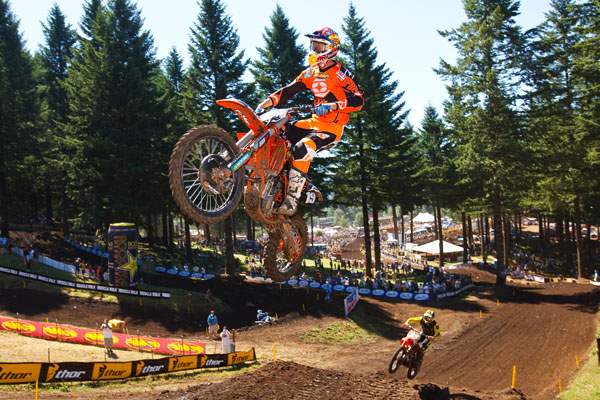 Wilson and Searle might be racing under the same tent for the Motocross of Nations at Thunder Valley.
Photo: Simon Cudby

Do you think you'll take any heat from the Canadian fans?


I'm kind of expecting it, but at the same time a lot of people know my situation and they know where I'm from. I hope I don't lose any fans from the UK or Canada. I mean, I know some people from the UK aren't too pumped on my decision, but it's the decision I made, and I'm just going to give it my best effort. That's all I can do.