Welcome to Redux presented by Renthal. The storm is a brewin'.
The 2010 Lucas Oil AMA Pro Motocross Championship is spaced out perfectly for bench racing. We had a wild round one followed by a weekend off, then another weekend off at the halfway point. We got to bench race after the opener about Eli Tomac, Chad Reed and Mike Alessi, and after the halfway mark, we got to ask if Ryan Dungey and Christophe Pourcel would maintain their massive points leads.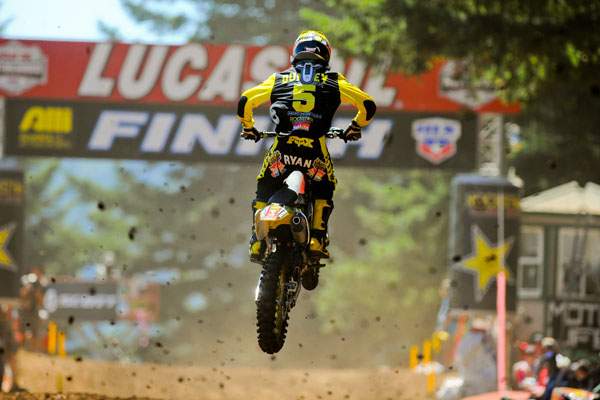 In a couple of weeks, we get to see what happens when an unstoppable force (above) meets an immovable object (below).
Photo: Steve Cox
For Dungey, nothing changed—four-straight moto wins—but in the 250 class, a star is born in Trey Canard, who after his Washougal triumph over the weekend now has won three-straight overalls (a Trey). He's climbed from fourth in points and 57 points down, to second in points and 38, yes, 38, points back.
Now the series gets two weeks off for X Games this week, and Loretta Lynn Ranch next week. I'll be at both of those events, and that's going to cut into my ReduX writing time a bit, but I have a backup plan.
More on that in a moment. First, we enter this two-weekend AMA Pro MX break at the perfect time for more debate. James Stewart is scheduled to return to racing at Unadilla, setting up an epic showdown over the final four races. And Canard is closing the gap rapidly on Pourcel in the 250s. This is stuff that's worth talking about.
Let's start with the 450 question: Say what you will about James Stewart, good or bad, but he's a bad dude on a bike. If he is coming back at 'Dilla, he's coming back ready, because Stewart's history includes several long breaks followed by instant-on domination. Remember Budds Creek '03? JS1 (at the time) missed four races with a broken collarbone and a lot of people were buzzing that Mike Brown and Ryan Hughes were riding 125s as fast as they could possibly be ridden. Then Stewart DESTROYED the field at Budds. Glen Helen '08? James missed supercross with ACL surgery and DESTROYED the field at the MX opener. His history at Unadilla is pretty sketchy, but if he makes it through that first race healthy, we're bound to see a battle with The Dunge at some point.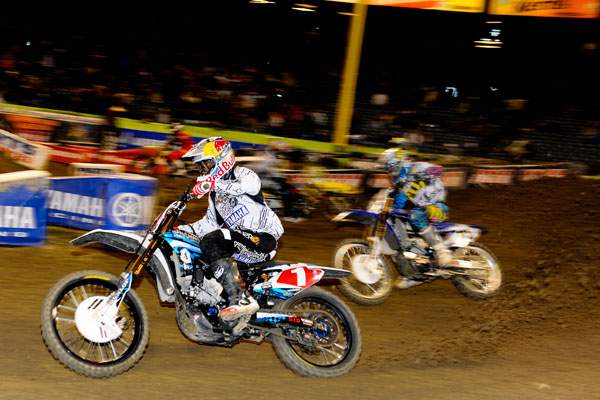 The immovable object (1).
Photo: Steve Cox
He may be the only one left who can win. Just a few weeks ago, Andrew Short, Ben Townley and Chad Reed had the battle of death in the first RedBud moto, but Dungey has won everything since. Meanwhile, Reed celebrated retro weekend by bringing back Epstein Barr from 2003, knocking him out of the series, and Townley took a big header on the first lap of moto one, and this one hurt. He'll be back for Unadilla, though.
As for Short, Dungey has him under control. So now he has to answer the Stewart question. At the post-race press conference, he answered it well, saying "Yeah, I have a points lead to worry about, but at the same time I'm not going to let someone just walk all over me." If you're Dungey, facing these "would he win if Stewart and Villopoto were there?" questions, this is a golden opportunity and he knows it.
Short was better at Washougal than any other race this year, as he held the dam back and scored 2-2 finishes. Beating Dungey is a tall order, but at least he didn't go way backward this time. Brett Metcalfe rebounded with a podium, and would you believe he had the fastest lap of the 450 second moto?
Also to note in the 450 class, we have a great privateer battle brewing between Kyle Chisholm, Ryan Sipes and Kyle Regal. Consistency is little tough for all of these guys, and Chisholm even mentioned to me how difficult it is to have raced all the races this year—he, Dungey and Nick Wey are some of the few men to race just about every supercross and national (Chisholm missed Anaheim 1). He's not worn out, but it does feel like a long season.
In 250s, let's mark Trey Canard's progress here: Good ride in Colorado with 3-2 scores and second overall. Hard-fought win in Red Bud with 4-1 scores. Even better at Millville with 2-1 finishes and a win. And now, the virtuoso 1-1 ride. Have you seen Canard on the track lately? Looks as if he's trying half as hard and going twice as fast. There are bumps in corners that everyone seems to hit except him, as if he's on a different track. He's looking really, really good.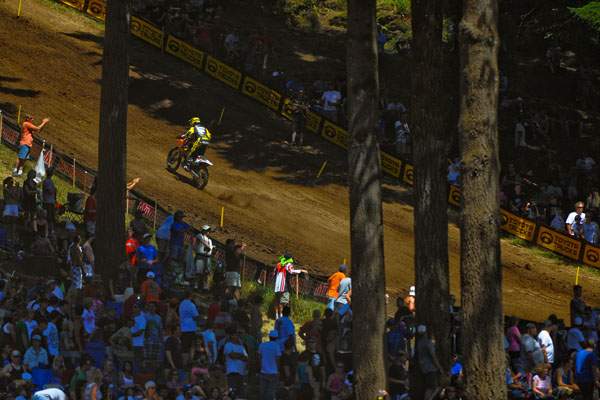 Trey Canard killed them at Washougal - the site of his broken femur the last time he raced there in 2008.
Photo: Steve Cox
Pourcel is a tougher competitor than he lets on, and I think the "Mr. First Moto" talk was bothering him despite his intent to make it seem like he does not care about anything. He even got a hair cut to stay cool. In moto two, he got really aggressive early and blitzed past his teammate Dean Wilson to get into second behind Canard. The race was on, and as strong as Canard was riding, you could also picture Le Crafty one sitting on his wheel for like 25 minutes and pulling another magic trick to steal a win.
Instead, Canard just pulled away. Pourcel had no answer. But he did spark another question: Apparently a rock smashed CP's clutch cable and broke it, so he rode the whole moto without a clutch. After the race he told me he was scared of stalling in the slow turns but otherwise it didn't mess him up too much. But I can't imagine that wouldn't be a huge factor riding a 250 on a slippery track. So this proves nothing and we'll have to have another showdown at 'Dilla, a track were Pourcel DESTROYED everyone last year, and the one he says is his favorite.
Expect some more one-on-one between these two. Late season is where you often see two-rider breakaways, as the championship push makes them go harder while everyone else knows they're out of it. Wilson might be the last to leave. Coming into Washougal everyone was talking about Canard vs. Pourcel, but Wilson was actually second in points. Until he fell early in moto 1. And moto 2. Dean rode his ass off (literally. Do you know that's why his pants fall off?) in both races but the results only show 6-6 scores.
Last week, I said we could wait no longer to answer the "What's up with Mike Alessi?" question, so I visited the ultimate source of Mike Alessi info, his dad Tony, to get some scoop. Unfortunately, Tony was already mic'ed up by The Great Outdoors/Inside the Moto people, which is awesome because it means he will once again star in an episode of that show (the Emmy people will be watching), but it was bad because there was no way he could slip up and tell me something off the record.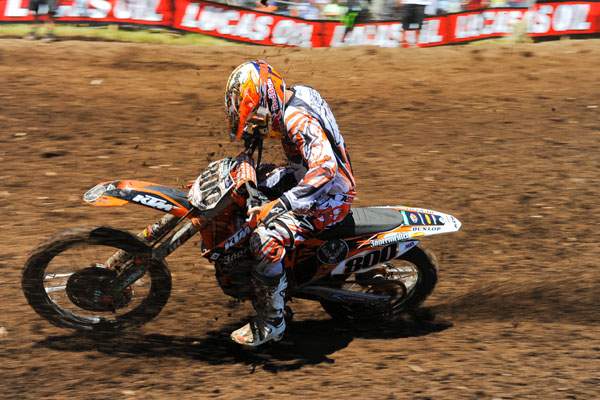 Mike Alessi eats some Washougal roost.
Photo: Steve Cox
Anyway, everyone wants to know if it's Mike or the bike, and Tony is actually staying cool and not to criticizing the machine publicly. But he's making it clear that Mike is as strong as ever. Yes, he was sick at High Point, but that was a one-weekend thing and, in fact, he's six-percent stronger on his VO2 max (oxygen efficiency) test than he was then. So, Mike is feeling better than ever. Want to translate?
Okay, I have X Games and Loretta's to prepare for. Let me turn this over to the Backup Plan, up-and-coming motojournalist Aaron Hansel, who volunteered to help this week. Aaron, take it away:
I'm Aaron Hansel and welcome to this week's edition of Redux, presented by Renthal. I've written this piece in the same spirit in which I think Jason would have written it, but if you find yourself having Weigandt withdrawals, don't worry, he'll be back next week. Until then, I hope you enjoy my stab at Redux: Washougal.
Before I'd ever been to this track, I never knew that there was an actual town called Washougal, and if you've ever been there, you can relate. The town of roughly 14,000 residents triples in size when the nationals roll in, and judging by the crowds of rowdy locals that gather on the side of the road after the race to gawk at the endless traffic, it's the biggest event this little town sees all year.
And what an event it was, for two guys. By now you all know that both Ryan Dungey and Trey Canard kept their winning streaks alive, but this year at Washougal there were some other trends that also kept rolling, and a few that were broken. Let's take a look at some of these trends and talk about the factors that helped break them, or kept them alive.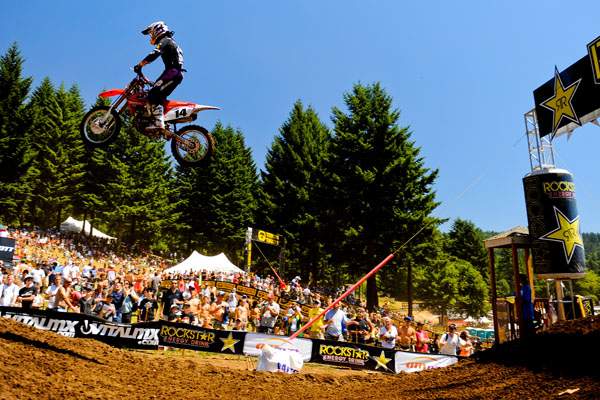 Kevin Windham's fan appeal is as strong as ever.
Photo: Steve Cox
Remaining: The popularity of Kevin Windham. K-Dub was back for the second race of his 2010 outdoor season, and the fans just can't get enough of this guy. When I walked past his autograph line, he was the only guy out signing, and the line still wrapped around the Honda Pits and down past the semi. Windham seemed to be thoroughly enjoying himself, and even chuckled when a fan told him to make sure to stay on the track until the checkered came out. Windham wasn't able to repeat his fourth overall from Spring Creek, but his 9-9 moto finishes were good enough to give him seventh for the day. Not bad for the veteran's second race back.
Remaining: The fiery temperatures. I was looking forward to escaping the triple digit heat of California, but when I arrived at the Washougal Retro National, so did the region's hottest day of the year. Yes, this is motocross and it's a tough sport, but I'm sure Eli Tomac is looking forward to the day when he doesn't have to wear that funny looking ice jacket contraption during the site-in lap. After the race, the pits looked like some sort of funky water park. Some riders were stripping down and dousing themselves, while others opted to just get blasted by a man friend with a pressure washer. The heat has been so intense that even Christophe Pourcel cut his hair!
Remaining: Ryan Sipes' solid finishes. Sipes is having a great rookie year in the 450 class. In eight rounds, the MotoConcepts Yamaha rider's overall finish has only been outside the top ten twice, and his sixth on the day, via 5-11 moto finishes, was his best yet. He even qualified second-fastest behind Ryan Dungey. I caught up with him after his race to get a "5 Minutes With" interview, and I expected him to be super pumped on his result. To my surprise, he seemed more upset about his 11th-place finish in the second moto than anything else. Then again, it's possible he was just annoyed that someone was shoving a voice recorder in his face while he was trying to regroup after a brutal moto. Sorry Ryan, and again, congrats!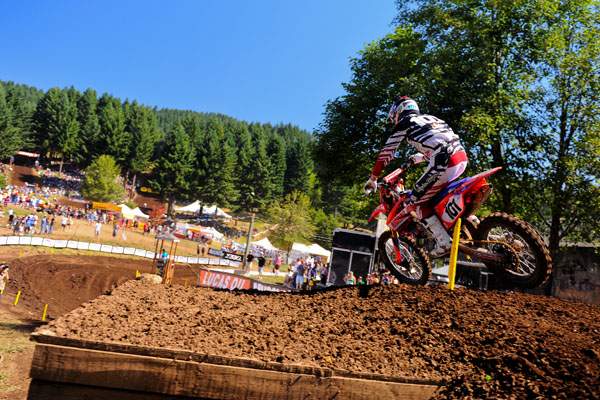 Ben Townley's dark cloud remains over him, but it will turn around at some point. It has to!
Photo: Steve Cox
Remaining: Ben Townley's issues. It hasn't been an easy season for the New Zealander so far, but it certainly isn't for lack of trying. I watched BT101 in practice and he looked like he was absolutely amped to race. He was charging and scrubbing jumps so hard you could eat off of them. Unfortunately, Townley went down on the first lap, hurt his shoulder, and didn't race the second moto. I'm not going to pretend like I know what's going on inside of Townley's head, but I'm sure it must be frustrating for the guy to consistently finish much worse than he knows he's capable of.
Broken: Christophe Pourcel's first-moto victory streak. Before Washougal, CP had finished first in every first moto except for High Point. At Washougal, the combination of a lackluster start from CP and a blisteringly fast Trey Canard was enough to snap the Frenchman's first-moto dominance. Pourcel spent roughly half the race in sixth place, and when he didn't move up it was starting to look like Canard would take a good chunk out of Pourcel's points lead. But Pourcel had some craftiness left in him, and out of nowhere he hit a magic button and started picking off riders with the ease and precision of a special forces sniper. By the time he got to second place, however, Canard was gone and Pourcel put it on cruise control. His 2-2 finishes handed him second overall, but his lead has shrunk to 38 points. It's going to be interesting to see how the remaining races play out in the 250 class.
Remaining: Andrew Short's holeshots. There are a few pretty safe bets this year, and Shorty nailing a holeshot seems like it has been a pretty safe one lately. Before Washougal, the Honda Red Bull Racing rider had logged six holeshots, and at the end of the day, that number had increased to eight. Short said he'd been trying to replicate race conditions when he practices starts at home, and during practice, Short blasted off the line, stopped, waited for the gate to clear out, and went back to practice another start. Whatever his program is, it seems to be working for him.
Broken: Delayed television coverage. For the first time in the history of American Motocross, all four motos could be seen live. The first two were streaming live on AlliSports.com, while Speed broadcast the second two motos live. Hats off to those involved for bringing live motocross to the people!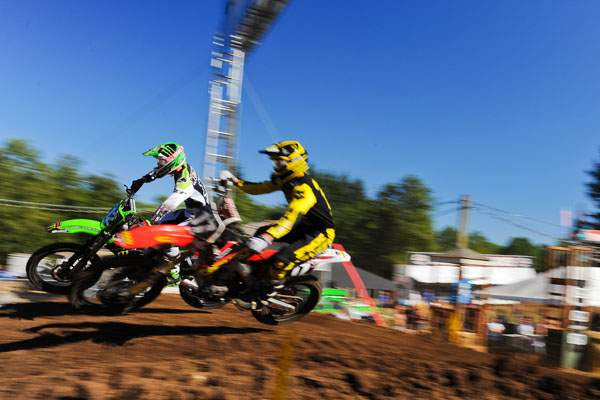 Jake Weimer (Pro Circuit) and Justin Barcia (GEICO) battle it out at the front. Those two teams have been dominant.
Photo: Steve Cox
Remaining: The domination of the Monster Energy Pro Circuit Kawasaki and GEICO Powersports Honda teams. With the best riders on some of the best equipment, it's no wonder that no other team has scored an overall podium this year. If you are the manager of a competing team, thoughts of sabotage have to be crossing your mind.
Broken: Tommy Hahn's terrible luck. The first moto may have left a bad taste in Hahn's mouth, as he ran fifth for most of the race only to fall and drop to seventh on lap 14 of 16, but he came back strong in moto two to take third, and nearly nipped Short for second. While I'm sure Hahn would much rather be on the podium, his fourth overall is his best finish of the year. Hahn won a moto and took the overall last year at Steel City, and he's got to be itching to get back on the box.
Broken: Kyle Regal's string of impressive finishes. Regal crashed in practice and rung his bell hard enough to pull out of the race altogether.
Remaining: Trey Canard's win streak. Trey Canard is absolutely rolling right now, and he flat out laid down the law in Washougal. In addition to handing Pourcel his first moto one loss since High Point, he also nabbed both holeshots and led every single lap of each moto. With performances like these, I will be shocked if Canard isn't selected to race for Team USA at the MXDN. In the press conference, Canard talked about how beneficial his relationship with Tim Ferry has been. At that point, I really expected a certain internet observationist sitting behind me to either start shedding tears of joy, stand up and cheer, or both.
Remaining: Ryan Dungey's ownership of the Lucas Oil AMA Pro Motocross Championship. It's been mentioned that Dungey's fitness has been the key to his domination this year. While this may be true, Dungey also busted out some blazing speed in Washougal. His practice time was fastest by nearly two seconds, he set the fastest time in moto one by a second and a half, and led 21 of 32 laps. With four rounds remaining, he has a mind-boggling 95-point lead over Andrew Short. He truly seems unbeatable right now. If James Stewart really does return at the next round at Unadilla, the fans in New York could be in for an epic clash of the titans.
Other points of interest include the unique layout of Washougal. Nestled on a hillside among towering pine trees, it's one of the most beautiful stops on the circuit. On the flipside, those same trees wreak havoc on the riders' view when the shadows start playing a roll. As I was driving to the track in the morning, I had a hard time just seeing the road at times and had to slow way down. And that was on four wheels on a hard, smooth surface. I can't imagine what it's like for these guys to go blasting full throttle through bumpy, rutted and off-camber sections without even being able to see the terrain.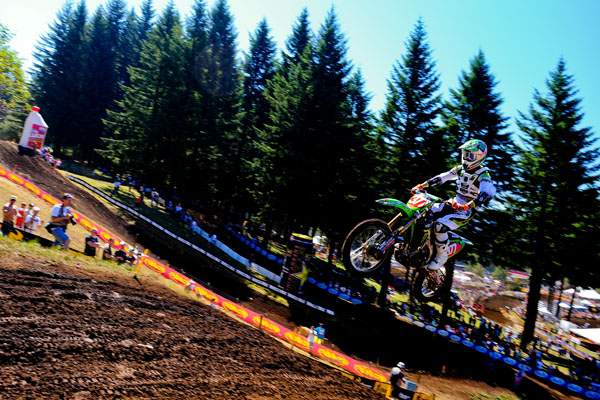 Chris Pourcel flies above the Washougal scenery.
Photo: Steve Cox
If you ever plan to attend Washougal in the future, a great place to watch the race is about halfway up horsepower hill. At the start of each moto, the deafening roar of the bikes echoes up the hill right before the pack comes screaming up the mountain. When they go by, the wind generated will blow your hair back, you will get peppered with roost, and I promise you will be wearing an ear-to-ear grin. I truly believe it's one of the best places to experience the raw energy of a professional motocross race, and just describing it is giving me goose bumps.
That's it for this week's, Redux, folks. If you liked it, email me at aaronhansel@sbcglobal.net. If you think I missed anything or you just plain hated it, feel free to tell me that too. Or, email the Weege, jaswonw@racerxill, and tell him you can't live without his words.