Privateer Profile: Derek Anderson
Who is Derek Anderson? He's a 20-year-old from Colorado, and he's in the middle of his first full outdoor motocross season. He has scored some points lately as a true privateer, so we figured we should find out from him what it's like to be doing it in true privateer fashion.
Racer X:
For the fans not familiar with you – which is most of them – tell them a little bit about yourself.
Derek Anderson: I used to race BMX up until I was about 12, and then I started out on a little XR80 riding the beginner class when I was 12 or 13 years old. I've just kind of loved motocross ever since.
Are you a rookie at 20?
Yeah, for the most part. I did the Lakewood National under the lights in 2008, and that was my first and only National prior to this year. I was going to do them last year, but I had a wrist injury, so I wasn't able to.
You've been putting in some good rides lately, so tell us how this has all come together.
I have a couple of really good sponsors that are helping me foot the bill for my gas and entry fees. It's still a limited budget, and I've already used up a lot of that budget, so now a lot of it is coming out of my prize money. Even the food I eat comes from the prize money. I try and keep good food in the box van, so that's coming out of my budget now. Other than that, I have a couple of friends that have been able to come with me and help me do some driving and watch over me at the track and stuff like that, and I'm pretty fortunate to have my dad as my mechanic. He stays at home and works, then flies in on Fridays, wrenches for me on Saturdays, then flies home on Sundays, so he doesn't miss much work. I'm pretty lucky to have that, and those are the big people who are helping me out right now. I'm just trying to keep finding practice tracks across the country to help me keep getting those points...
You're just out there driving from race to race, so how hard is that to find time to ride and train and whatnot?
Actually, once I get the camera back from Bryan [Oliphant] at Novik Gloves, I want to do a short video documenting the life of a privateer. It hasn't been too bad so far. The only thing that's hard is just the miles that you have to put down. Other than that, my dad's been helping me pretty good and he'll take a few minutes out of his day to help me find some practice tracks and tell me what addresses to punch in, or what places are good. He's been calling motorcycle shops and stuff just to get some feedback from them around the areas I'm going to help me find places to ride. He's kind of been my eyes and ears for that. And luckily I've got this GPS here, because what we do is we find a gym, and I call them and ask if they do one-day passes, and if we're lucky they have showers, too, so we'll get a shower at the gym, too, after we work out. Then we just sleep in the van and go back at it the next day. It hasn't been too bad, it's just the miles that can kind of get to you. The hours sitting in the truck are hard when you know everyone else is riding and you're driving...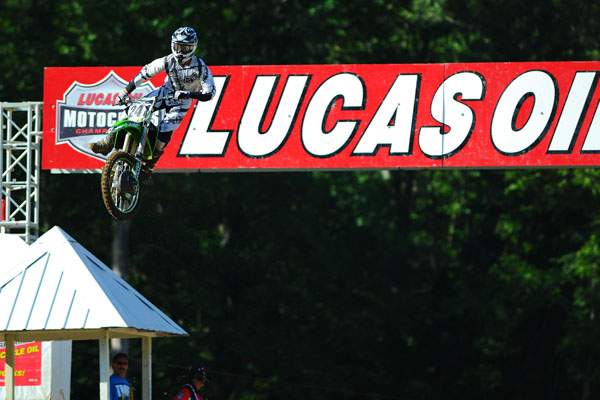 A former BMX racer, Derek Anderson has basically been racing motocross for seven years total.
Photo: Steve Cox
That sounds like a mental thing...
It honestly is. It's just that when you're driving, you're constantly thinking about riding, and it makes you think about the other guys that are riding while you're driving, but I think of it as a good thing sometimes. It shows I'm dedicated, and I'll get to be where those guys are someday...
This really is the old-school way of going racing, though! It used to be that riders and mechanics would load up in vans and just head out across the country like that. Everyone did it!
Yeah, that's awesome, and on the road, I'm my own mechanic, and I love it. I'm all about the underdog coming up and all of that. I'm riding a bike that's pretty close to stock, with just a couple of things that are there to help improve my riding on it. I love going to the track on a near-stock bike and doing well. There's nothing more satisfying than that. I hear those factory bikes are amazing, but I don't know how much better it can get from my bike. I'm a firm believer in the fact that you make the bike go fast. But I do want to get to the factory level someday to see how much better those bikes really are...
At the factory level, you get better bikes, but you get more expectations, too!
Yeah, that's the thing. Right now, I'm still nervous about qualifying! I don't know why... I've been putting in some pretty good results, and I'm still nervous about qualifying, but when it comes to the races, my goal is to get into the top 20, and I know I can do it, but I don't get that nervous on the gate anymore. At the local races, I get nervous as hell because you're kind of expected to do good, so... But right now, it's just about going out and seeing how good I can do.
Do you make up time at the end of races? How have you gotten these points at these races?
I think my better rides come when I fall at the start. I don't know why. I seem to not really get tired in those races. But compared to Ryan Dungey, my endurance is never going to be good enough, but with where I'm at right now, my endurance does help me gain a couple extra positions at the end of the races, or help me hold on to that position at the end of the races. I still want it to be better, and I'm hitting the gym when I can on the road. With my riding, it used to amaze me when I'd get lapped by the top guys, but now I'm starting to feel like once my endurance is better that I'll be able to be right there with them. They just do it so effortlessly, it seems.
Really, the benefit of a factory bike is that you have a whole team who is willing to help you get the absolute best setup you possibly can...
Yeah, all the testing, for me, goes down at the races! I'm kind of my own mechanic when I'm practicing, like I said, but at the tracks right now, I'm still trying to learn and get my endurance down and learn how to ride with what I have. It would be nice to have guys watching you in every corner to tell you who is going faster, and how, but I'm not there yet.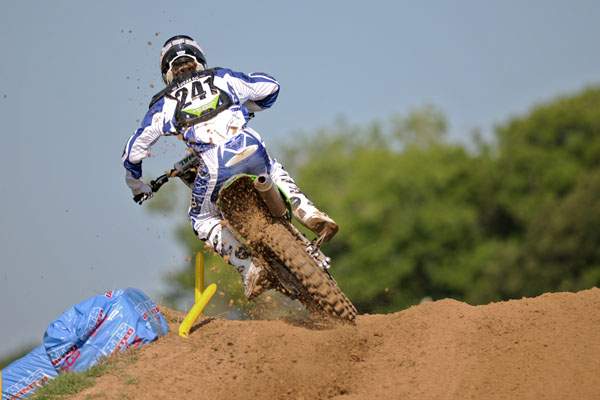 Anderson hopes to keep moving up until he gets noticed by the powers that be.
Photo: Steve Cox
How do you get to the next step?
I'm the type of guy who likes to earn what I have. Like, Bryan at Novik Gloves, he's always telling me I can get whatever gloves I want, but I don't like asking for things, so what I really want is to get some better results and maybe have someone – like a team – transport my bike around so that I can do some supercross races. I love supercross. I feel like I'd shine there. My little practice track at my house has always been more like arenacross, although I haven't ridden a real supercross track yet. But with my BMX background, I feel like I have good technique for supercross, and that's what I'm looking forward to after this year. I really want to get a national number this year and maybe land some sort of a ride for next year somehow. I'm not looking for a paycheck or a big-time factory ride, but I want something that will help me get to that level eventually.
Who would you like to thank?
DuPree 1 Inc., Hart Roofing, Vickery Motorsports, Team Green, Novik Gloves, Devol, Shoei, Rhino Stand, Victory Circle Graphics, Fox Racing, Bel Ray, Performance Cycle, Sunline, Dunlop, and Big O Tires.