Welcome to Redux presented by Renthal. For years, Millville served as the first AMA Pro National after the AMA Amateur Nationals at Loretta Lynn Ranch. It marked the beginning of the long road for amateurs—just ask Eli Tomac how tough this whole week after week thing is compared to racing a few big races a year.

The all-time craziest Millville debut was the infamous Believe the Hype Mike Alessi show in 2004 (not much to believe in at the moment). And all the way back in '88, Damon Bradshaw came blazing out of the ranks with a fourth overall—this was long before signing kids right out of the am ranks had become a normal deal, and might I add that I recently looked through a 1989 issue of MXA and Bradshaw's riding style looked just like anything you see today. But I digress.

In 2006, Ryan Dungey made a less hyped debut on his home track, as the real attention was on Josh Hill. Dungey went a solid 8-8 for seventh overall, while Hill logged 19-18 scores for 22nd. But the next weekend Hill went 2-5 at Broome-Tioga for third overall and appeared to be off to the races. But four years later, that's still Hill's best national finish ever, while Dungey has continued his climb, slowly getting better every week until now you could argue that he's the best in the world.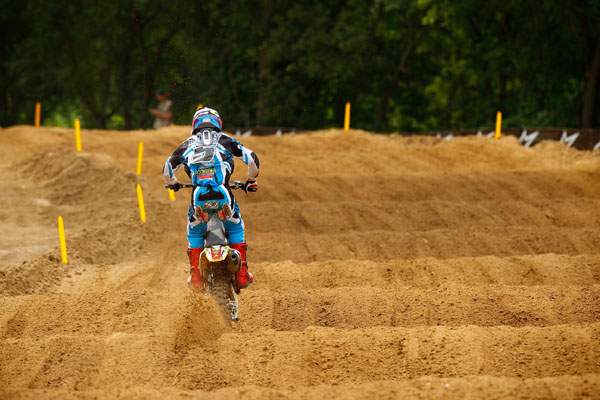 I'm not a big fan of the lame "This is all the competition got to see of the race winner" caption but, in this case, this is all the competition got to see of the race winner.
Cudby photo
Steady, uninterrupted progress. After Red Bud, I mentioned Dungey's fitness edge, and once again he overpowered the field at Millville. After his dominant second moto, some people were saying he won in Carmichael-like fashion, but I'm not so sure. Yes, Ricky was also in ridiculous shape, but he rarely even used that fitness to win. RC was usually gone by the second lap, and the fitness was just the backup in case someone tried to be a hero and race with him. For Dungey, the fitness is the key—every week someone challenges him in the first moto. But as the day progresses, they get tired, he doesn't, and he wins.

You don't just get fitness in a week, so I doubt someone is going to match him stride for stride anytime soon. Dungey's been building a base since 2006, and he's had hardly any injury time to interrupt that. Name another 450 rider who can say that.

The Tour de France (Note: that's a bicycle race that people used to pay attention to when Lance Armstrong was in contention) is considered the pinnacle of fitness, and riders spend the whole year peaking for that race. They'll hit target weights and body fat months in advance, all building toward a goal. In motocross, that doesn't get to happen enough—too many injuries, too much travel, too many other things to work on, like building speed or testing instead of working exclusively on endurance.

Dungey is the fruit of four years of labor.

Take Trey Canard for example. He entered the pro ranks at Millville in '07, crashing out of moto one but recovering to grab the second-moto holeshot and finish fourth. Then the long climb began. He won a supercross title right off the bat, but injuries always bite him outdoors.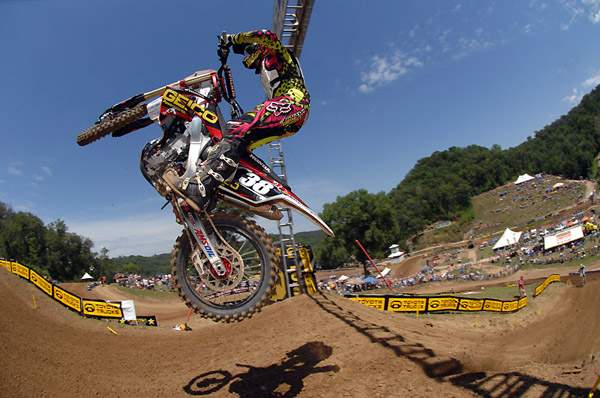 I really can't even figure this photo out. Perhaps Trey is working on his pull-up skills.
Stone photo

Only now has Trey enjoyed a long, uninterrupted span on a bike—he's been riding for nearly 12-straight months without a major setback. He's building and finally delivering on the promise, and now he has won two in a row. He also has Tim Ferry on his side, and if you're wondering where a lot of my knowlege about building that fitness base comes from, and how long it really takes to overcome an injury, well, it's because Timmy told me. Did you notice how strong Timmy was in '07 and '08, when he was staying healthy for a long period of time?

Too often we focus on the top riders to see how it's done, but they are not realistic targets. Carmichael, Travis Pastrana, James Stewart and Ryan Villopoto won the small-bike MX titles in their rookie seasons. This is an exception not a rule, and sometimes champions have to build their way to success.

However, the 250 riders can bring momentum, confidence, speed, fitness and all that stuff, but if Christophe Pourcel feels like winning, he's pretty much going to win. Canard might as well have been yelling "Red Buuuuudddd!" as he carried the momentum from his previous win around the first turn and quickly took the lead. But a few laps later, Pourcel reeled him in, made the pass and pulled away. Canard's momentum was only as good as Pourcel's attitude, which showed as Pourcel started slowing down and Canard caught back up. The Frenchman was looking back on every jump (like he did with Wilson in Colorado, and Tomac in Texas) and waiting for another battle. Canard retook the lead and tried to pull away again, until Pourcel sped up, again, made the pass, again, and started looking back, again. Just typical Pourcel strangeness.

He won the race, but he was tired. And hot. He started stripping off his boots and clothes seconds after crossing the finish, and we had to cut to a crowd shot before he went full-on naked (which, may be legal to show in the 'net, I hope we don't have to find out).

It's pretty obvious that Pourcel has second-moto issues, and when you saw him stripping down after moto one, you knew he would be hurting for moto two. And he was. Started eighth, couldn't make passes, finished 10th. Pourcel has now won six first motos in seven rounds, but this second moto trouble can no longer be ignored. Last year he had health troubles dating back to internal injuries suffered years ago. He says that's all cleared up, blaming his second moto troubles on the tracks getting too rough and one lined to make passes. I'm not buying it anymore. And if he can't get these issues solved, this title could slip away. People are buzzing about Canard after these last two wins, and he closed the points gap from 55 to 44 in one weekend.

And Dean Wilson continues his awesome riding and sits second in the 250 standings, 32 back. Wilson seems to ride really well on the rough tracks and hot weather, so I was picking him for a win, but he slid back to sixth in the first moto and said he felt sick before moto two. Then he went out and pushed Canard for the first 15 minutes of the race and finished a strong second! Before the season, if you had guessed that Wilson would be second in the 250 points after seven rounds, you're either Canadian, Scottish or a liar.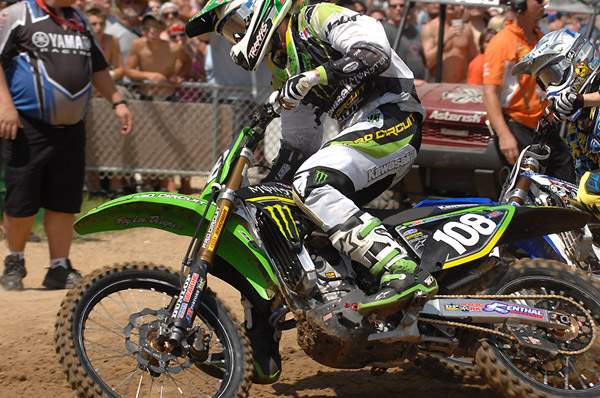 Dean Wilson about to break the record for shortest time a jersey has ever stayed tucked in....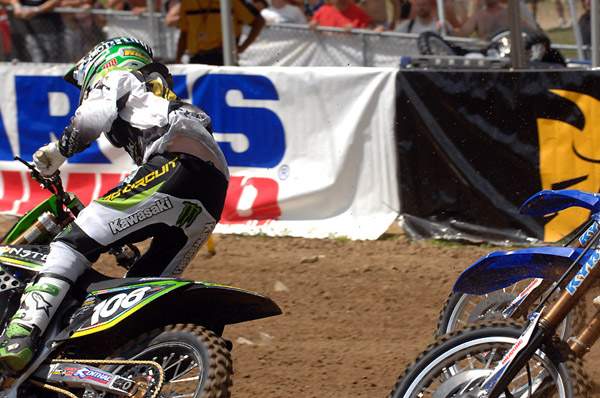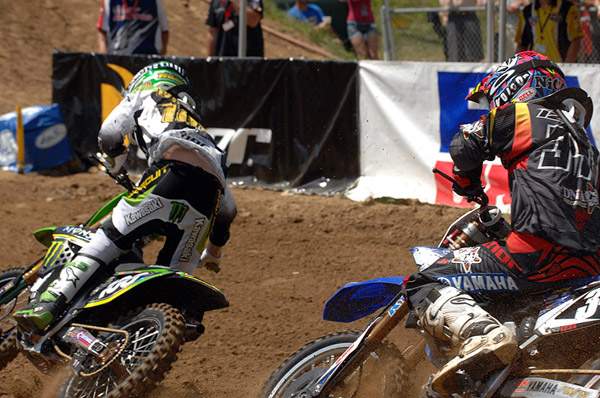 Gone before the second turn! And how about Dean standing up all the way around the turn and still grabbing the start?
Carl Stone photos
Back to the 450s. No one really had a shot at Dungey on his home track (unless Ryan Villopoto or James Stewart showed up magically 100 percent healthy, which actually now sounds pretty likely at some point before the season is over) but a few riders did show flashes. First of all, Kevin Windham's first moto is the stuff that makes this sport so great—pulling the holeshot and leading!? Awesome! Let's just pretend Kevin actually did retire at the end of 2008 and came back to racing in 2010. This was we can forget that he totally sucked in two appearances outdoors last and was run down by Josh Hansen (!) at the X Games. His Millville ride, 5-4 for fourth overall was more like it. Then his wife Dottie said Kevin is dropping out of the X Games this summer, which is a bummer because it would be awesome to see him grab gold. Is he not everyone's favorite to win anything nowadays? At least he's coming to the last six nationals. He's only going to get better. K-Dub at Unadilla in a few weeks could be very interesting.
Ivan Tedesco came back but didn't finish either moto. On Saturday morning, I talked to Johnny O'Mara and said, "So Ivan is really ready. This isn't some comeback weekend where he goes 17-17." O'Show said no. Somehow, their estimates were off. Hopefully it gets better soon.

The guy Windham replaced, Davi Millsaps, was hanging out in the pits on Saturday. Says he's bored at home. So here's the straight story on the Millsaps' kidney: lost three-quarters of the kidney in his Budds Creek crash, but supposedly the one-quarter could reattach to a dead quarter and revive it, forming half a kidney. Sounds like some alien sci-fi movie to me. Anyway Davi says he can start training this week.

Josh Grant was on a charge in the first moto, and he passed Andrew Short for third at the exact moment Dungey passed Windham for the lead. Windham had the anchor out by then, so JG went to second and was ready to fight Dungey. Not this time. Dungey pulled away. In the second moto, Josh got heat stroke and somehow rode the last 10 minutes of the race in a complete cloud. On complete autopilot, he finished 10th and doesn't remember anything. I saw him after the race, but barely, because he was so pale that he bordered on transparent. What's the deal with the heat jacking the guys up so much this year? Maybe if we didn't ride these darned dirt bikes and cause global warming we wouldn't have so many hot days.

Hey the heat never seems to hurt Kyle Regal, who passed Windham in the second moto, fell, got up and passed him again, then caught and passed Andrew Short for good measure. That's BOTH factory Honda riders. It's going to be harder and harder for teams to not sign Kyle next year.

After the race, Short was joking (all too truthfully) that he's the new Mike Alessi, in that he's getting all the holeshots and not exactly holding on to win the races. And so the "Shorty works harder than anyone but also fades" saga continues. As for the real Mike Alessi, dude, it's time to start asking the hard questions there. What the hell is going on? How do you win a moto at Hangtown and drop to the point where you're barely even a top-ten guy? Mike hasn't gotten a good start in a long time, and now he's experiencing what everyone else has always known—you get a bad start, and bad things happen, like a dude falling in front of him in the first moto.

Everyone involved is in a bad spot. Mike can't park that 350, it would be a marketing disaster for KTM. He can't trash talk the bike, either. So I guess he has to take it on the chin every week, unless, somehow he just sucks now, regardless of bike. Right from the start, I knew KTM would have a problem here. For the average guy (or even below average, like myself) the 350 may be a cool option. But at this level, where dudes can actually use all 450cc, it's a problem. But what's KTM supposed to do? Give factory rides to the local Vet B contenders? In supercross the bike might be good, and someone who can come through the pack might dig it. But supercross and coming through the pack are the exact opposite qualities of Mike Alessi.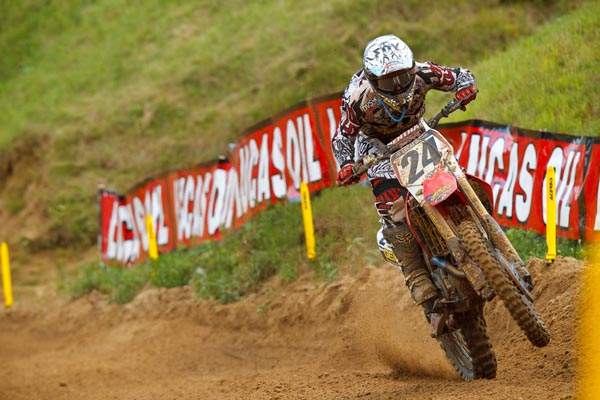 Since Brett Metcalfe hardly gets mentioned even when he does well, I'll post a photo of him here. He finally had an off day on the 450, with 16-6 scores and ninth overall. It's a credit to Brett's riding that this is an exceptionally bad performance based on the standard he's set.
Simon Cudby photo
Like Wilson on 250s, I thought this track would really suit Ben Townley, but he was only so-so with fourth in moto one. He was on a mission in moto two and grabbed the early lead until he fell, which has happened like 1324 times already this summer. I'd like to bring Ben over to the house and have him use that front tire to washout my kitchen floor.

Hey, Jake Weimer finally got something going, with 3-5 finishes for fourth overall. This class is so closely matched that the dude who gets fourth one weekend can get first the next (ask Canard). Unless Pourcel feels good in both motos.

Darrin Durham finished eighth in the second 250 moto. He's fast. Before we went on the air, Jeff Emig told me the real advantage of getting on a factory team and getting in really good shape isn't speed, it's consistency. When you see a guy like Durham with a few flashes, or even Regal in the 450s, you see what he means. These guys can run up front when things go their way, but that doesn't happen every week.

In WMX, Jessica Patterson got another win, but this battle with Ashley Fiolek was intense. She and Ashley Fiolek were making off-track excursions and crashing and basically pushing hard. I think things may get crazier before the season is done there.

That's it from Millville, off to Washougal. Send me an email at jasonw@racerxonline.com and I probably won't respond. Getting really busy this summer, just saying.