Welcome to another Friday and another installment of Racerhead. After a weekend off, the 2010 Lucas Oil AMA Motocross Championship heads up to Minnesota and the Land of 10,000 Lakes—and almost as many whoops. The Rockstar Energy Spring Creek National at Millville will mark the beginning of the second half of the series, and the track looks spectacular, as you can see by taking this Virtual iLap with Racer X, courtesy of MX Sports' Nick McCabe.
Spring Creek is owned by John and Greta Martin, parents to a couple of very fast young racers, including #50 Alex Martin. They did get some help this week, as Shane Schaefer (Brett Metcalfe's brother-in-law) helped out on the dozers by adding some cool new obstacles, and RedBud's Tim Ritchie even came out to do some excavating of some of the best soil in the motocross world.
You can tune in to the Spring Creek National tomorrow and watch live streaming video of the first motos at www.allisports.com. It should start a little shy of 2 p.m. EST. Then tune in to the SPEED TV Sunday broadcasts on with the 250s going at 4 p.m. Eastern and the 450s at 5 p.m.
The TV coverage this year has been excellent, in my personal opinion, with SPEED and NBC stepping up to deliver great times, what with live and same-day coverage. I think it's a big part of why the Lucas Oil AMA Motocross Championship is having a banner year so far. Here's a first-half update on the series, as pulled together by MX Sports and Alli Sports.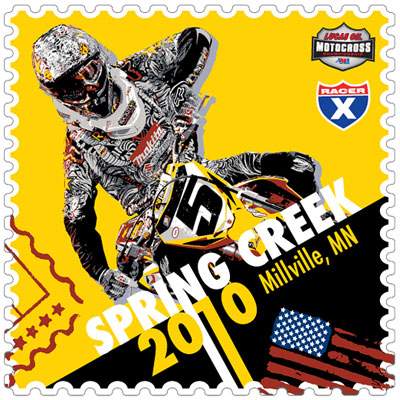 Stick Dungey on something.
Tomorrow's race marks Ryan Dungey's homecoming, and what a year it's been. Since he last left Millville (with the 250 Class win) the Rockstar/Makita Suzuki rider went on to win the '09 AMA Motocross title in the 250 Class, the Motocross of Nations as the leader of Team USA and winner of the MX1 class, the Monster Energy AMA Supercross Championship, and now he's leading the Lucas Oil AMA Motocross Championship. He was nominated for an ESPY, he's been linked to Jamie Lynn Spears (Britney's little sister), and he's sitting on top of the world!
Dungey's also on the cover of the brand new issue of Racer X Illustrated, pulling the holeshot at the Rockstar Energy High Point National in front of the NBC television cameras. Not a bad summer so far!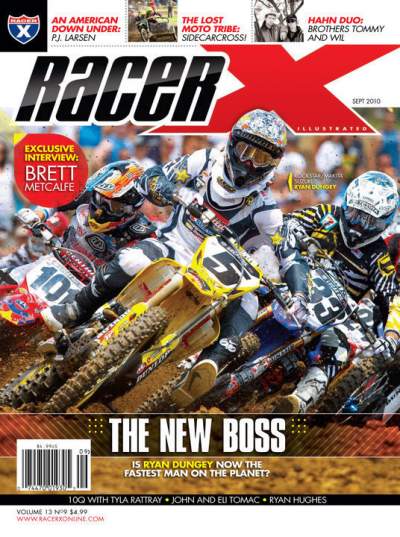 It's all about Dungey right now.
The new issue features a very cool piece on the series to date, P.J. Larsen's own story about his new life racing in Australia, a feature on motocross' second and third most famous hunters—the Hahn brothers—a big Q&A with Brett Metcalfe, and much more. Look for it in your mailbox or on newsstands very soon.
So what should we look for at Spring Creek? We penned a little preview and you can check it out right here.
Looking ahead, Pala Raceway, the new annual site of the final round of the Lucas Oil AMA Motocross Championship, has been getting more and more play of late. Last week Matt Francis made a film of the pros like Ben Townley, Christophe Pourcel, and Martin Davalos practicing, which you can watch right here.
The shot of Brett Metcalfe wheeling out of a corner at the end in that cool retro Fox Racing gear is worth going back again to watch!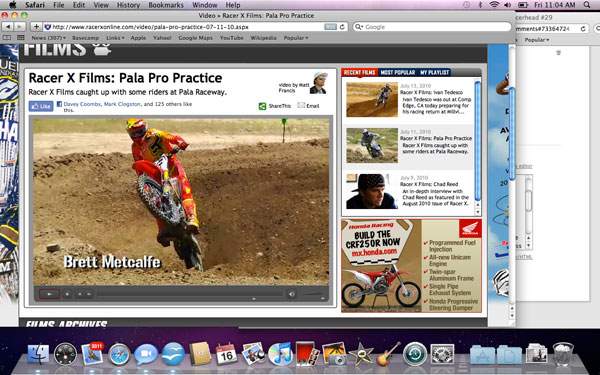 Then we got some photos of Kevin Windham working on his outdoor game at Pala as he prepares for a return to the series this weekend in Millville. Motocross Action did a couple of flyovers to show how progress on the foundation of the brand new national track is coming along, and then James Stewart showed up to practice for his own imminent return to the nationals. TMWX's Donn Maeda was there to capture both James and Pala on film.
Road 2 Recovery announced that they are moving their annual poker tournament there, now that the U.S. Open is apparently closed for business, and that will be the Thursday night, September 9, kickoff to the whole Rockstar Energy Pala National weekend. There will be a blowout party at the nearby Pala Casino on Saturday, followed by the official Lucas Oil AMA Motocross Celebration on Sunday evening (the public will be welcome).
With Kevin Windham back, James Stewart on the radar, and all of the regulars on the Lucas Oil AMA Motocross tour, Pala might just be the race of the year (century already taken).
After that, it will be time to turn our attention to the Motocross of Nations, which will take place at Thunder Valley in Colorado on September 25-26. Some of the top teams are taking shape already, with pre-announcements and whatnot. Team USA, the winner five times running, is still up in the air. The only shoo-in right now is Ryan Dungey. In the 250 (MX2) class you have to be thinking Trey Canard is the most solid American, and he did well at Thunder Valley against those same Pro Circuit Kawasaki KX250Fs that he's likely to be up against.
It's the third member where it gets really interesting. Colorado native and Honda Red Bull Racing rider Andrew Short is probably second best to Dungey right now among the Yanks, followed by maybe Josh Grant, who won a moto at Thunder Valley, and maybe Mike Alessi, but that 350 didn't look as impressive up in the altitude as it did at Hangtown. And then there's James Stewart—would he race the MXoN if he came back and started winning? It all remains to be seen.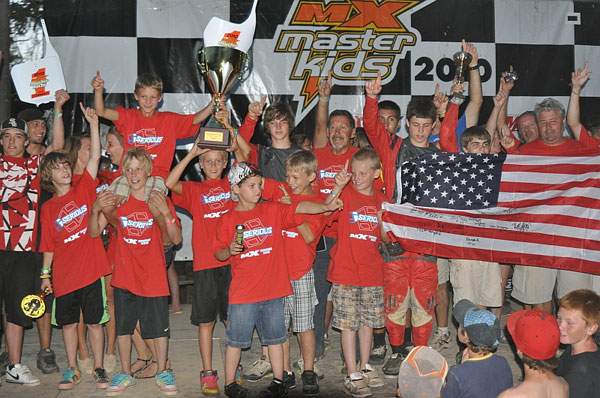 The MX Master Kids U.S. Team celebrates their win.
And in what's hopefully a preview of how this year's MXoN might turn out, the Team USA group of minicycle riders that went to the Masterkids race in Commercy, France, last weekend topped the rest of the world. Austin Forkner took two class titles in leading everyone, sweeping all eight of his motos. Also, Lance Kobusch of Missouri led every lap of all four of his motos in the 50cc Senior class. Matt Burkeen won his first three motos but then got a bad start and finished third in the final, according to his dad. Out of nine classes, Team USA riders took four championships, a second, two thirds, and two fourths.
Beyond that, it was a bad week for racing, as first it was announced that Lake Whitney in Texas was closing and the U.S. Open in Las Vegas has been put on ice for at least this year. Ouch.
In more positive news, right now, over 97,000 people "Like" Racer X Illustrated on Facebook. If you're on Facebook, you should too. Click here to Like us.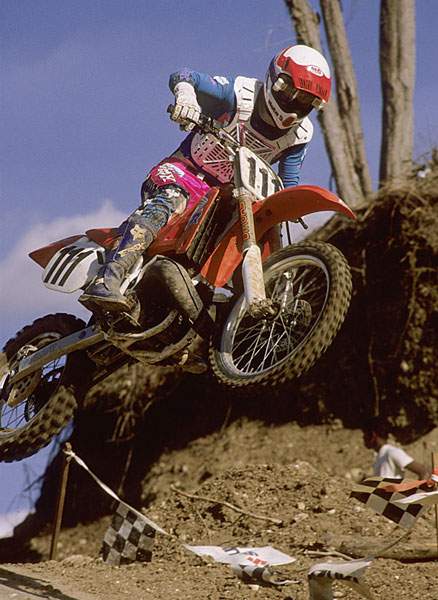 Check out this trivia photo above. If you email us here with the right answer, you may win a Racer X swag package with stickers, roost rag and more! Here's a picture of the roost rag and koozie in action: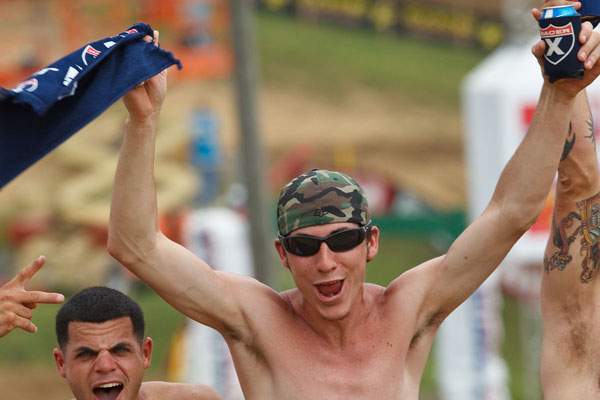 If you want to be more than a fan, but a fanatic, you need the koozie and roost rag!


Photo: Simon Cudby



Okay, let's go to Ping:
Christian Craig is finally getting the surgery he's been waiting for. The rods that have been holding his back steady for the past six months are coming out. This is his final procedure and he can now begin his final round of physical therapy and rehab to get back on a bike. His goal is to be riding by the end of the summer and be ready for the 2011 supercross season. He already has a spot saved for him on the TLD team. It's been a long year for Christian, and I know he is excited about getting back on a bike.
How would you feel about three months of free training from MX fitness specialist Robb Beams? Yes, it would mean that you have to stop cramming your face with Volcano Nachos from Taco Bell and guzzling cola by the liter, but you could increase your fitness dramatically and be 100 percent ready to race by the time the Mini Olympics come around in November. The same trainer who is helping Adam Cinciarulo, Ian Trettel and dozens of other top-level pros reach their physical potential is now offering a free three-month trial membership to his MotoE program. How do you take advantage of his generous offer? Just by doing something you should have done already: pick up a copy of my DVD, Motocross 101. Anyone who purchases the video, and those who already have, will receive a certificate via email that is good for a free three-month program. Every Friday you will receive a new training schedule for both on and off of the motorcycle, you can email Robb anytime with questions and you will receive any MotoE eBook that is created between now and the end of the year. This is a $475 value! Head over to www.motocross101.com to pick up your copy and get your fitness on!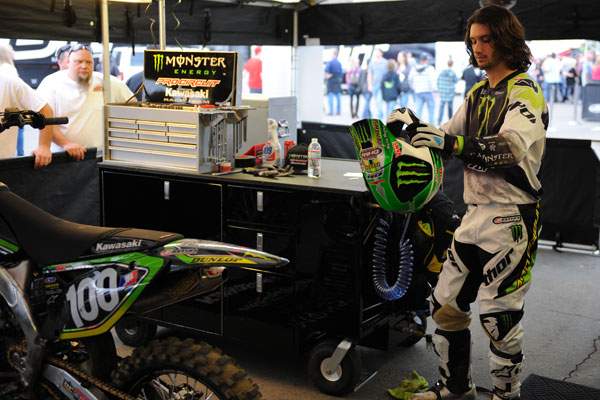 Hanny just looks like a star, doesn't he?
Photo: Steve Cox
Josh Hansen stopped by the race shop this week. After a few pleasantries, I had to hit him up about his new acting career on The Hills. If you are one of the twelve people who don't watch that show (that number includes me—I had the clip sent to me via email), then you watched Stephanie Pratt get all gaga over Hanny when they meet in a club. But Josh says that while the show isn't scripted, it is hardly "reality" either. He had already been seeing that girl for a while when they shot that episode. Anyway, they shot a portion of the season finale out at the Kawasaki test track, so look for a little moto going on in The Hills soon.
Here's Jason Weigandt:
Sadly we're actually down to only eleven people who don't watch The Hills, because I watched the series' finale this week when I heard Hanny would be in it. Sure enough, Stephanie Pratt heads down to "watch Josh ride supercross," even though the test track is two hours away, which makes her fear she is trying too hard. She watches him put in some laps on the Kawi track (from the bleachers, because I guess spectators can come and watch testing) and is so impressed that he does something so dangerous for a living. And yet he's such a sweet guy. A teddy bear. They decide to "go steady" and even have their first kiss in the back of a Kawi box van. Man, and I thought that stuff only used to happen down at Loretta's!
At RedBud, I heard a rumor from someone who would know (his agent) that Jason Lawrence would be back in action for X Games. Now, I've heard J-Law is actually on the XG entry list. But who will he be riding for? Well, I've also heard Jason showed up in North Carolina asking the JGR guys if they can do anything for him. If you're looking to make a big change in your life, moving from California to North Carolina may do it. Plus, with JGR, he'd no longer be in charge of doing anything but riding, unlike his old setup where he was the team owner.
For sure, J-Law isn't a rider any team is going to just sign without some deep thought. But I could see how if any marriage is going to work with him, this could be the one.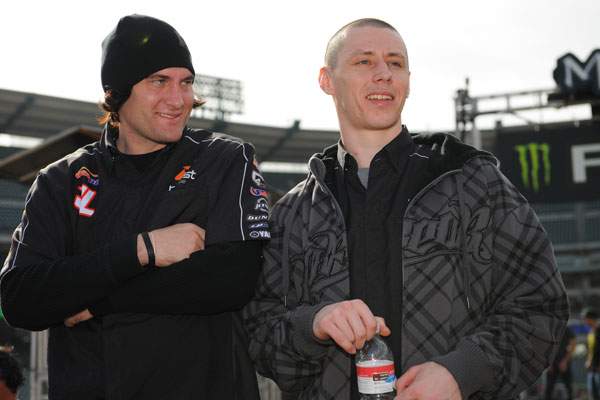 J-Law (right) with Dang (left). Will J-Law find a new home in NC?
Photo: Steve Cox
Meanwhile, I hear Josh Grant is now out of X Games, probably because he missed the whole supercross season with an injury, which means he has very little SX testing and prep under his belt. And as for JG staying on with JGR for 2011, he and his girlfriend are expecting a baby, and that might tempt him to go back home to California. JGR is exclusively a NC operation, so we'll see how that works out.
What's strange about all of these silly season rumors is that the 250 teams seem to be close to filling out lineups while the 450 teams are not. Usually the big pieces fall first, but that's not the case this time around. James Stewart and Ryan Villopoto, for example, are technically up for grabs, but if I were to bet, I'd say they'll end up staying right where they were this year.
So we're back to racing at Millville. Yes, the field had a weekend off, but I don't expect it to make much of an impact on the results. I don't think anyone is going to outwork, out-train, and out-improve Ryan Dungey over the break. And this is his home track, where he won straight-up against Christophe Pourcel last year.
Still, I think two riders stand to benefit from the time off. First, Mike Alessi has fallen all the way back to just being a top-ten guy. Supposedly, he was drained and sick after the USGP at Glen Helen, and clearly it's taking some time to dial in that KTM 350. Maybe this time is just what he needs.
Also look out for Ben Townley, who is improving every week. The more time he gets to test and train, the better he gets—he's definitely not burnt out after missing two years of racing. Throw in Reed, Short, Grant, and Metcalfe and you still have a 450 Class that's a lot closer than the results and point standings show. It would be tough for anyone but Dungey to win this title, but these guys certainly can win races.
Here's Steve Cox:
Remember Joaquim Rodrigues? Here in the USA, the racer known as J-Rod (thanks to me, not that I think it's original or anything) raced for the Red Bull KTM and Factory Connection Honda teams a few years ago. However, it was probably a bit too much for the Portuguese champ, because he put way too much pressure on himself all the time, and in the end that was why he didn't stay around. It's certainly not that he wasn't fast enough. His one podium supercross finish in the Lites class came on a night when he decided he was over falling and having all kinds of other problems, and he just went out and rode with no pressure. Voila, podium finish.
And then there was the 2005 Motocross des Nations in France, where J-Rod led most of the MX2 qualifier, despite a screw backing out of his scaphoid in his throttle wrist, which always caused him trouble toward the end of long motos. He led nearly all of it and then was passed by his "twin" Sebastien Tortelli in the last couple of laps. He still finished second, beating former world champ Steve Ramon, that year's National champ in the class Ivan Tedesco, Andrew McFarlane, Carl Nunn, Davide Guarneri, Tyla Rattray, Aigar Leok, Cody Cooper, etc.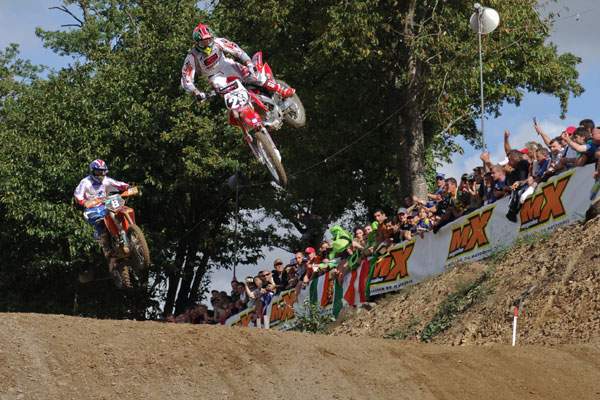 Joaquim Rodrigues (29) leads Sebastien Tortelli (8) at the MXdN in France in 2005.
Photo: Steve Cox
If he could have raced without putting so much pressure on himself his entire time here, he'd still be here, more than likely. He is very fast and very talented.
Well, he is also a buddy of mine, and I've been keeping up on what's going on with him over in Europe since he went back home. He has bounced around a fair bit, and has had a few injuries, but he has always been fast. Speed was never his problem. He rode for Aprilia last year in the MX3 World Championship and broke his leg near the end of the season at a race that most people figured he was going to win, because he was so much faster than everyone else that day.
The point to this whole thing is that J-Rod is back. Not back in the USA, but he's back racing. He had trouble finding a team that suited him, so he formed his own. Team JRod. At the opening round of the Portuguese Supercross Championship last weekend, he killed them, winning every time out on the track on his Team JRod Honda. Now, while that may not seem like a big deal to people here in the States, he did win. It's not like he got second. And the thing that really got him attention here in the States in the first place was that he swept every single round of the German Supercross Championship on a KTM, which prompted KTM to bring him to the USA and give him a run. If he continues down this path, will he get a second chance in the USA now that he's older and wiser?
Here's a YouTube video of the making of his team posters and such, so check it out here. And you can check out his website (Google will translate it for you if you're not lucky enough to be able to read Portuguese) here.
As for this weekend at Millville, call me crazy, but even though K-Dub is going to show up, along with IT and T-Hahn, the guy I'm most looking forward to seeing back out on the track is Tommy Searle. I think I know what to expect from those three, but with Tommy Searle, I don't know what to expect, and that's exciting. I think he has more motos in him like the one he had to start the season, but his shoulder was just too banged up to put in a full effort. Hopefully, it has healed completely now and he won't be handicapped against the rest of the field. If that's the case, watch out. He'll be fast.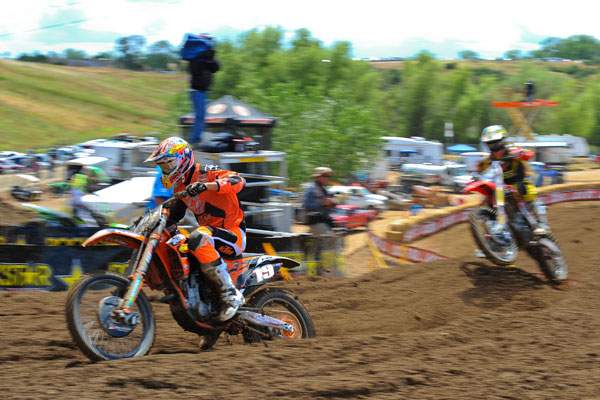 Keep your eyes on Tommy Searle (19) this weekend at Millville.
Photo: Steve Cox
In other news:
Speaking of Suzuki racing earlier, here is a fantastic little website from Sweden detailing the history of Suzuki Motocross bike development.
Tucker-Rocky Distributing just concluded their Annual Convention and dealer show in Dallas and Racer X Publisher Scott Wallenberg was on hand to check out the festivities. Aside from dozens of exhibitors showing reps and dealers new products there was also an autograph session with James Stewart, Kevin Windham and Brian Deegan on hand. For an inside look at products and industry VIP's check out this link.
Congratulations to Racer X's Art Director David Langran on getting his first cover! (Also, Steve Cox's first photo on the cover of The Racing Paper.) Make sure to find The Racing Paper on Facebook and "Like" them.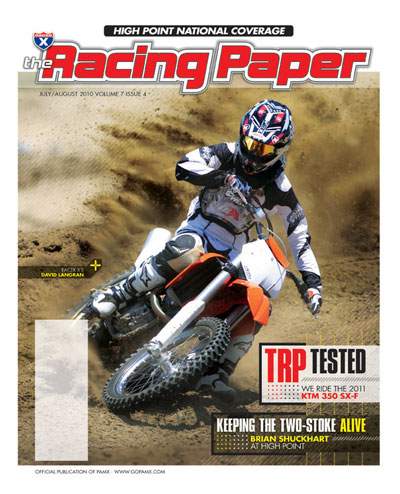 Here's proof that (most of) the Racer X staffers can ride.
Photo: Steve Cox
Justin Berry suffered a severe injury while practicing at a local track and is in the ICU in Oklahoma City. Keep your thoughts with his family and friends. Here's a video for him.
Check out this upcoming fundraiser: Scooters For Hooters!
Says their PR: "Scooters For Hooters is a cross country ride from San Diego California to Daytona Beach Florida. Sign up and support this event! It's going to be ONE HELL OF A RIDE!!! Supported by Klen Laundry, Maley Motorsports and others."
Finally, our thoughts and condolences go out to everyone at U.S. Highland Motorcycles. Company partners Christian Bales, Damian Riddoch, and Mats Malmberg were all killed when the plane Bales was piloting ran out of fuel on its approach to the airport near Tulsa, which is close the Mounds, Oklahoma, headquarters of U.S. Highland. Godspeed, men.