5 Minutes with... Ryan Dungey
To say that Rockstar/Makita Suzuki's Ryan Dungey has been dominant since round two doesn't come close to telling the whole story. Yes, he has won five in a row since he failed to break the top five in either moto at Hangtown, but sometimes things just roll your way. A good example of this was during the epic first-moto battle that included as many as six guys at the front (Ben Townley, Dungey, Chad Reed, Andrew Short, Josh Grant and Brett Metcalfe). Townley led the whole race, and on the last lap he overjumped a step-up and landed in some ruts and crashed pretty hard. If his bike had gone to the right, it would've slowed down or knocked down Ryan Dungey. But it went to the left and did that to Chad Reed instead. Dungey won the moto on what really ended up being a 50/50 shot. We caught up with him after the race to get his take on it.
Racer X:
Not to say the first moto was lucky, but to have things happen like that, does it sort of make you feel like it's meant to be? Townley's bike could have gone one way or the other...
Ryan Dungey
: You know, it was a freak accident. We were all pushing real hard and it's just one of them deals. He [Townley] went down. I was lucky I didn't get caught up in the back of him. I was able to remount and still win. I'm just trying to improve. I think there's always room for improvement and with all the races going on, I just try to take it one at a time. At the same time, it's a long series and you've got to be there every single weekend. I'm just trying to put down good laps and be the best I can be. I need to worry about myself and not worry about the whole field, so I think it was good I didn't get wrapped up into that.
I asked Roger Decoster last week about what it is about Ryan Dungey, and he basically said that you're a complete racer from start to finish – from your eating habits, to your training, your riding... He says you're not missing anything.
I think there are a lot of things that I'm very fortunate to have: To be able to work with a team like Rockstar/Makita Suzuki, and have Roger as the team manager... I've been able to work with a lot of great people. Throughout my career, I've just tried to learn. I've always been a sponge and I always want to keep improving. I never feel like I know it all. At the same time, one thing I've been able to learn in the past and put forward to the future is to take the good and leave the bad. There's always something to learn. I think Windham said it at a press conference, but he's been pro for 16 years and he's always learning something. So, I'm just trying to have an open mind and keep moving forward and just keep trying to go faster.
Faster, for your riding style, seems like that takes work because you're a smooth, deliberate rider. How do you go faster?
Obviously, it takes hard work and effort and practice. I don't think you ever get to a point [where you're fast enough]. You're just always trying to keep going faster and faster. Some days go better than others at the practice track. It's just a constant learning experience and you're just always trying to find that speed. It's good because it forces you to move faster and the other guys force you to work harder. Every year the sport is being raised to another level and I want to be up there and be a part of that. It's just one of them deals where you go out everyday trying to work on what you thought could have been better, or your bad habits – anything – so it's a constant learning experience, at the end of the day.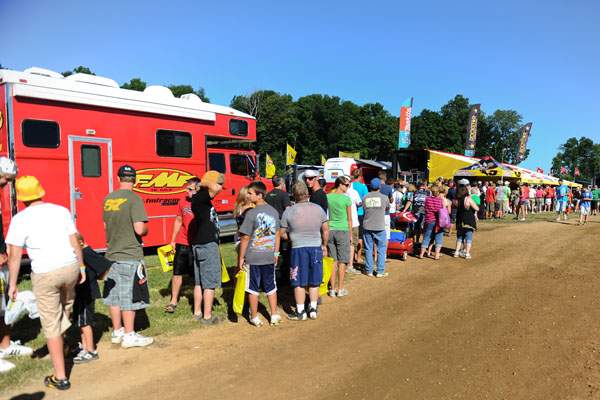 The line for Ryan Dungey's autograph at RedBud was massive.
Photo: Steve Cox
Earlier today, I was walking through the pits and there was a line of people, and I was thinking, "What is this about?" because I was not even near your truck so I didn't think it could be your line for autographs. I looked up and followed the line and it went straight to you you signing autographs. What is that like to just have that ridiculous demand?
To have fans behind you, it's cool. They make our sport really what it is. When you're out there racing and you've got fans screaming like crazy like today at RedBud, there's a little part of you that's like, "Wow..." It's kind of a cool deal. I just try to enjoy it. The fans enjoy it as do we. We're out there racing, and it's cool to see that. Any sport you look at, I think when they show the stands and people are going crazy, you're like, "Wow, they're getting into it." So it's cool to see. It's definitely really cool.