Welcome to Redux, presented by Renthal. Are we just going to have to wait until a 2011 Dungey/Pourcel rematch?

Okay, maybe I'm getting ahead of myself. At the Toyota Trucks Thunder Valley National, round five of the Lucas Oil AMA Pro Motocross Championship, Ryan Dungey did actually get beat, straight-up, in a moto. I'm sure Josh Grant believed he could whip up on The Dunge all year long (because Josh Grant fears no one or no thing), and now he's finally done it. In the first moto, Josh caught, passed and left the points leader, which is something no one else has done all year—even Ryan Villopoto started in front of Dungey when he won in Supercross, and James Stewart caught and passed Dunge at Anaheim 1, but he sure didn't pull away much.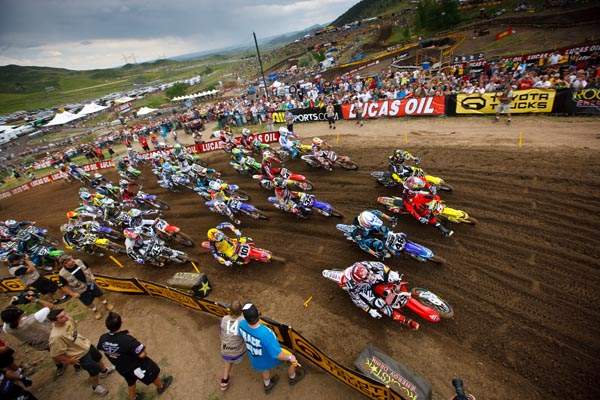 It was such a nice day at the races, the officials decided to let everyone race two motos.
Simon Cudby photo

But Grant's speed has always been offset with crashes at the wrong time. So this race ended up eerily like Millville last year, where Josh beat Chad Reed straight-up in the first moto and then crashed in the first turn of moto two. We've seen this too many times from JG. And so the frustration continues for the 450 class, the division formerly known as the wide-open one.

Grant had speed but couldn't close the deal. Ben Townley finally showed what he had in an error-free second moto, and while it was good, he admitted he had nothing for Dungey anyway. Chad Reed's slump makes no sense but is real nonetheless. Something is wrong with Mike Alessi or his new bike. Andrew Short and Brett Metcalfe are still a notch away. And Dungey continues to win. These guys have to be bummed. After Hangtown, they had him!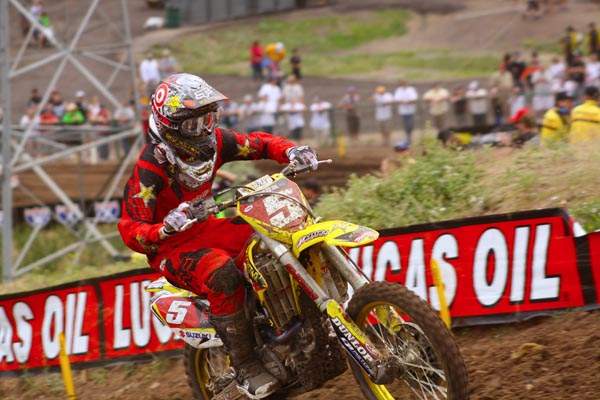 The Dunge could become the youngest rider ever to win both 450 titles in the same season. And yes that includes the old days when the 450 class was the 250 class.
Pete Richards photo


So are we in for two more months and seven more races of Dungey domination?
Let's throw a few stats out here, some that favor him, and some that don't, just to keep this interesting.

Dungey won't turn 21 until December. Right now it looks like he might win both premier-class championships in the same season, putting him into a class of greats: Hannah, Hansen, Bailey, Ward, Johnson, Stanton, Bayle, McGrath, Emig and Carmichael. However, Dungey would be the youngest rider to ever in that class He'll also become the first rider ever to win the Lites-class Supercross and Motocross Titles and then follow it with both big-bike championships the very next year.

I'm pretty much sick of reciting the "Suzuki plucked Dungey out of the Intermediate class back in 2006" story, but I'm going back in time one more time here. Back when Dungey started winning supercross races in '07, DMXS Radio's Kevin Kelly said "Imagine if Dungey is able to continue this level of improvement for the next few years. He'll be unstoppable." Well, he pretty much has, in fact, continued to improve at the same rapid rate, and that's the hardest thing to do. Rising from also-ran to contender is one thing, but from also-ran, to contender, and then keep improving all the way to dominate in the toughest class? Ivan Tedesco and Andrew Short were once nobodies in the Lites class, and they improved to where they eventually started winning races (and championships in Tedesco's case). But the curve has slowed way down for them in the 450 division. It's like how decent players can go from walk on, the bench players, to starters to even all-stars. But superstars? Rare. But Dungey, somehow, still hasn't hit the ceiling.

So now we must ask who is left that can beat him? Grant may be fast enough, and believes he can, but he needs to fix his inconsistency issues first. Reed and Alessi probably believe they can beat him but there's little proof. I don't think the Short/Metcalfe/Townley group has it in them, although you get the feeling Townley is on the rise. But we're basically left with three possible candidates right now—Ryan Villopoto, James Stewart and Christophe Pourcel. Unfortunately, Pourcel won't try until next year, and it might be the same story for RV and James. And when they're not racing him, Dungey keeps getting each and every week. Has Pourcel advanced as much this year as Dungey has? And how much will Villopoto and Stewart lose if they go two whole outdoor seasons with virtually no racing?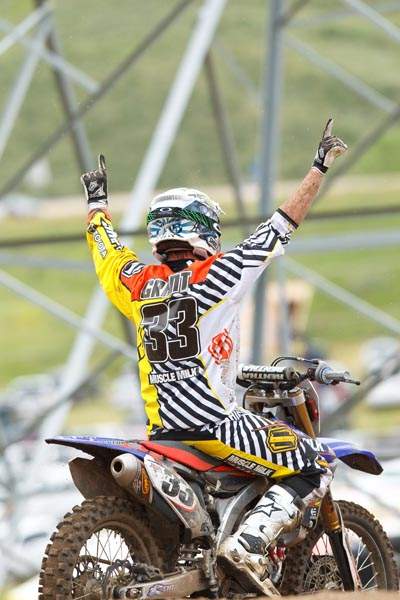 Josh Grant: One sleeve and one, um, sleeve.
Simon Cudby photo


The sky is the limit here for Dungey, because this is a trajectory we've never really seen before. Carmichael was a sensation from day one, and he just kept being awesome. Dungey just keeps getting better. At this rate, how long until we start talking about the record books?

Okay, enough gushing and guessing over Dungey and the future. Let's look at this season again. Dungey's points lead, 51 after five races, is massive. For example, Carmichael only had a 40-point lead five races into his 2004 perfect season (although he did have a 69-point lead after round five in 2005). But Dungey's 450 title is not a lock--stranger things have happened.

Jeremy McGrath started the summer of 1996 with a run similar to Dungey's. In the second half, though, Jeff Emig caught fire and won some races. Then MC hurt his foot trying an impossible jump at Millville. Emig marched from over 40 points down to win the title.

In 1995, Steve Lamson missed a race in the 125 class with a knee injury. Once he got healthy again he went on a tear, reeling in Damon Huffman and Ryan Hughes from about 60 points down to win the title, which I believe stands as the greatest points-deficit comeback ever.

In 1992, Emig mounted a comeback in the 125 class when Mike LaRocco suffered two different DNFs in the same day at Steel City due to two separate mechanical failures—perhaps the worst day of bad luck in the history of the series. Emig won the title from nearly 60 points down.

In 1990, Guy Cooper held a 60-point lead on Mike Kiedrowski, and Kiedrowski reeled him in to get the points lead, but Coops got the title back by a single point.

What I'm getting at here is that we're not even halfway through the series, and with 14 motos left, that's 350 available points if you win every moto. So Dungey doesn't have this title on lock, and things can change in a hurry in this game. But I don't see much evidence.

If Dungey finally stopped climbing, if bad luck finally got him, what a crazy race we'd have on our hands. Just 16 points separate second from seventh in the 450s. Theoretically, Reed could run him down, but how many mulligans can we give the champ? First moto, I heard some riders say the gate dropped earlier than they expected, and Reed ended up with a horrible start. He was wiping his goggles with his forearm late in the race, probably having spent his tearoffs coming through. But Dungey lost his goggles last week and still pulled out a third in the first moto. I just don't know if Dungey, even with a 30th place start, would finish 10th in a moto. Second moto, Reed really wanted it, and when Metcalfe stacked it up in a berm, Reed tried to dive underneath him in a corner and got caught. That's unfortunate, but still, Chad didn't exactly rage back through the pack after that.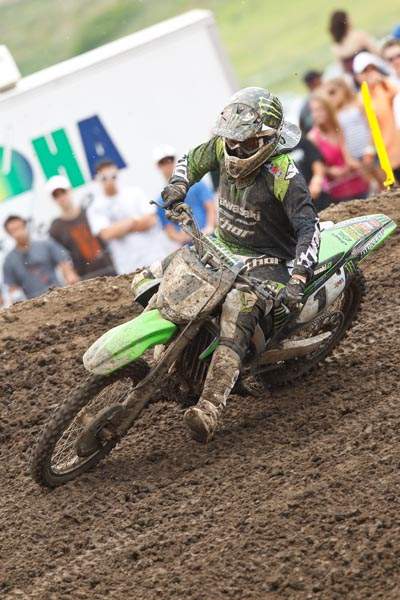 Here it is: The first official typing of "What's eating Chad Reed?" Seriously, what's going on with this guy?
Simon Cudby photo

Alessi seems to be under the weather, and yes I know, we're all under the weather unless you're a wealthy Russain who paid for a trip to space. Whatever weather Mike is under, it's not sunny. When the Glen Helen date dropped from the 2010 AMA tour, Mike said he was disappointed because he wanted to take advantage of supercross guys who were already worn out. No doubt, Dungey used to that weekend off to return as a new rider. Meanwhile, Alessi hasn't been the same guy since racing the USGP at Glen Helen. However, I just can't see how racing one extra race on one weekend could have messed with Mikee Boy that much—this was a dude raised racing 17 classes on a Saturday, finding another track with 17 more on a Sunday, then racing some fair race on Wednesday and bragging about how he whipped John Smith from Kalamazoo in the A class in the Alessi////Weekly newsletter. He is a racing machine. Also, Mike has one holeshot and one moto win this year. He's not known for coming from fifth to first.

Good news for Mike. Red Bud's start is level, and I think he can bang a holie or two there—I remember watching Stewart pull a holeshot there on a 250 against 450s in '05. But is Mike strong enough to go the distance? Before the second 450 moto, I escaped from my TV cage and chatted with some of the riders down at the line. Mike didn't look like he was just sick, he looked like a kid who was trying to show you how sick he was so he could get out of school. I expected to see him stick a thermometer under his pipe and then say, "Look I had a temperature of 480 degrees!"

Townley has been fast all year. But it was typical Townley in moto one when he started second and then washed out in some water on the first lap. Second moto, he kept it on two and delivered second. A few months ago, I mentioned to Townley how the guys he used to battle in the Lites class, Dungey and Villopoto, were now the lead dogs on 450s. He said, "Don't remind me. I'm sure they've been improving every week while I was sitting on the couch doing nothing."

There are basically seven big names in the 450 class—Dungey, Metty, Reedy, Alessi Townley, Shorty, JG. If you can't manipulate your name to end in the sound of "EEE" you're in the next tier, and most of those guys are on Yamahas. Kyle Cunningham rode awesome in the first moto and finished fifth. Ryan Sipes was fast again but had crashes and mechanical woes. Dan Reardon has at least been in the hunt the last two weeks. And Kyle Chisholm has been the most consistent of this second tier, which is why he's eighth in points. If we could start calling him Kyle-E or Chizz-E maybe he could get into that next group. But he did battle his old buddy Reedy in the second moto.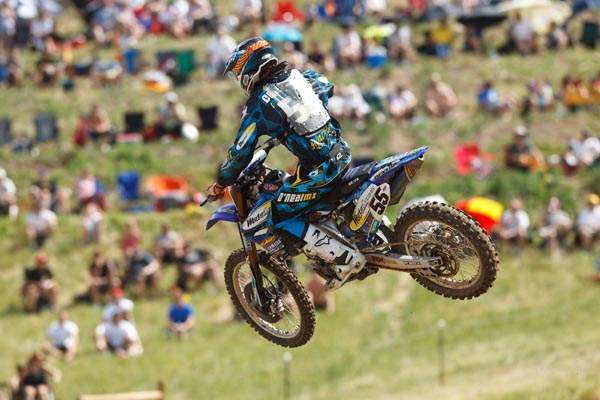 "Kyle Chisholm who is that guy?" It's this guy. And who's on first? What's on second ? I'll be here all night folks. Don't forget to tip your waitress.
Simon Cudby photo
Honda privateer Kyle Regal was back up front. Expect to see him there a lot all season long. Then some teams are going to be very tempted to take him aboard next season, and yes he has documentation.

The 450 class lost Tommy Hahn just as he was putting in his best rides. Third in the first moto, second fastest lap in the second moto. But then he crashed. Tommy told me today that he broke two bones in his foot and pulled some ligaments and tendons. Hopes to be back for Millville.

Okay, so maybe none of those guys can run Dungey down. What about Pourcel next year? As Dungey continues to win, Pourcel's "I proved I could run with Dungey last year" stock continues to rise. His mysteriousness continues, as well. In the first moto, he actually slowed up and let teammate Dean Wilson battle with him for a few laps, then looked over and gave up a thumbs-up before taking off with a big lead and the win. Did the same thing with Tomac in Texas. Who else does this?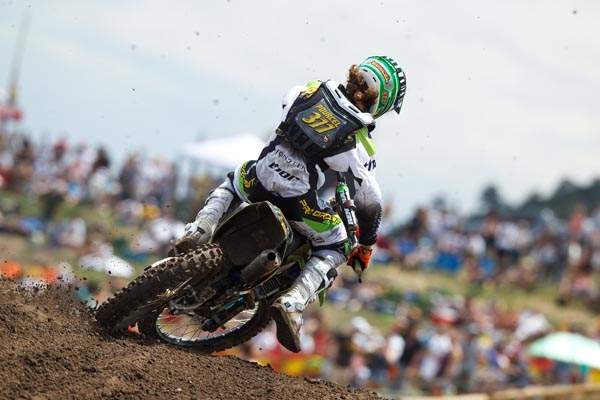 Not only can the 250 guys not match Pourcel, but even the WMX girls are hard-pressed to match that hair.
Simon Cudby
With Pourcel always seemingly half caring about winning, it seemed like the only thing separating him from winning both motos at these races was, well, actually caring. It looked like he really wanted it in moto two as he raged past Wilson, Tyla Rattray and eventually Trey Canard to get the moto win. It's as close as I've ever seen from "charging" from the guy.
Did you know that Canard translates to "duck" in French? (I don't speak French, but I kiss that way). Well, that made the second moto the perfect chance for me to drop the "Duck Hunt" reference on SPEED's TV coverage but I flaked. I now hope and pray we see another battle like that. Canard rode perfectly, he pushed it hard and tried to hold Pourcel off, but he didn't go on his head and knock himself out of the series like he did the last two years.

Pourcel isn't taunting these guys, either. On the podium after the second moto, he actually joked with Canard, saying, "You're riding good! You need to slow down so I can catch you next time." It was pretty funny. You'll be very mad at yourself five years from now when you decide you actually like Pourcel.

Canard had a breakthrough ride, which shows how close the comp is in the 250 class behind Pourcel (which is much like how close the 450 class is behind Dungey, which is why I'm already buying stock in Pourcel v. Dungey 2011). Anyway, the speed differential is ridiculously close in this class—who is really faster between Canard, Wilson, Rattray, Barcia, Wharton and even Broc Tickle? Very tough to call, so it can be mixed up like this every weekend.

ReduX Stat of the Week: A lot of people were thinking Colorado would turn Jake Weimer's season around like it did last year. It turned into one of his worst days ever, complete with something like four crashes in the second 250 moto. But here's an awesome stat I uncovered. After all of those crashes, Jake was a lap down and out of the points. He should have pulled off. But instead, he put down his fastest lap of the moto on the very last lap! Yes, most riders would have pulled in at that point, but Jake kept digging in hopes of maybe catching 20th and getting one point. I hope someone noticed this because that's a hero effort.

Broc Tickle is seriously fast and strong. Seriously. He's the best guy not on the PC Kawi or GEICO Honda team, which has to mean something.

The altitude is always a topic at Lakewood, with the track sitting 6,100 feet above sea level. It didn't turn out to be much of an advantage for Eli Tomac, whose ET nickname is now solely due to his initials, because the kid is apparently human after all. But he's still a good human, though. My Racer X Motocross Show cohost Paul Lindsey pointed out that, if Tomac had not won Hangtown, we'd be talking about how the kid is turning in a solid season. Instead, we're all wondering what happened?

As far as altitude, the 450 teams had it easy this year with EFI. Some teams, like Muscle Milk/Toyota JGR, were pulling their guys in during practice to try different mapping, and everyone was going to bigger rear sprockets and lighter flywheels to try to make the bikes feel snappy. Or somewhat less unsnappy. The 250s are a little tougher, since everyone but Honda still runs carbs. I talked to several GEICO Honda mechanics and none of them really said EFI would be a huge advantage on the track, but it did make life easier not having to spend a ton of time with jetting.
Rumor has it that team Star Racing Yamaha benched Nico Izzi for "not putting in enough effort." This is very dissapointing to me because the run of "Izzi's third. Is he? Yes he is" jokes will have to go away for a bit. Otherwise I don't know what's going on with that situation.
The WMX class was back in action this weekend and Jessica Patterson continued to kill it. She passed Ashley Fiolek on the first lap of the first moto, and then Fiolek and Tarah Gieger collided in the next turn and both went down hard. Then they got nailed by the rest of the pack who was right behind. That's the kind of luck Patterson used to have, but now she's sailing away while Fiolek and Gieger seem to find trouble at every turn. The motocross Gods tried to mix it up with a quick rain shower before the second WMX moto, but officials simply delayed the start until the rain ended, followed by Patterson crushing everyone again. Comebacks like this don't happen very often--I'm reminded of how Matt Mladin never could get his crown back from Ben Spies, or Jeremy McGrath couldn't turn the tables back on Carmichael despite changing trainers or bikes or whatever. Jessica has it going her way right now.

Okay, this weekend is Red Bud. Halfway point. Time for someone to make a run at the points leaders. If not, we'll just have to say same time next year. Email me: Jasonw@racerxonline.com