Welcome to Racerhead, which is coming to you from a short family vacation in New England--home of Jo Jo Keller, John Dowd, Doug Henry, Jim Meenan, Paul Buckley, and many more Southwick legends!


Last weekend I was lucky enough to be handed a microphone again for a chance to fill in for Speed's
Jason Weigandt
as he and his wife,
Alisa
, helped little
Lily
Weigandt join the human race.
Jeff Emig
was my copilot in the TV truck, with
Erin Bates
down on the track. We got lots of support from the regular production crew of
Chris Bond
,
Jeff Manhart
,
Billy Artzberger
,
Dan Walsh
,
Scotty Mac
,
Pete Richards
,
Aaron Canard
,
Cole
from Lucas, and everyone else, so we didn't look too far out of sync. Thanks to everyone who watched and commented on it, and also thanks to Weege for letting me keep his seat warm.
Weege will be back tomorrow at
Thunder Valley
, along with
David Bailey
, so it's a whole new team of talent in the booth, with Erin down in the pits checking out all the action. Good luck to all, and thanks for the opportunity to have a "rebut" in television!
You can watch the Toyota Trucks
Thunder Valley
National from Colorado tomorrow night on Speed at 11 p.m. Eastern, same-day coverage of the 450 class. The 250s will air Sunday at noon on the East Coast.
And you can watch the live stream of the first set of motos on
www.allisports.com
, starting around fifteen minutes before the motos do and featuring Bailey, Weege, Bates, and of the eighty fastest riders in the world (give or take a couple of Italians and Frenchmen) at 1 p.m. Mountain. You can also be sure to get a healthy dose of live updates and pre- and post-show videos right here on Racer X Online.
Have you been watching the World Cup? I know you're watching soccer, as Team USA has made an improbable run and plays tomorrow against Ghana in the knockout round. What I meant by World Cup was the 250 class of the Lucas Oil AMA Motocross Championship. We've had four different winners from four different countries in the first four rounds, which I believe shows not only the competitiveness of the class but the global reach of the tour.
Eli Toma
c (USA),
Christophe Pourcel
(France),
Tyla Rattray
(South Africa), and now
Dean Wilson
(Scotland or Canada) all have had their flags raised as overall winners. Add Australia's
Chad Reed
as a winner in the 450 class and that's five nations, four continents--not bad for a "national" championship.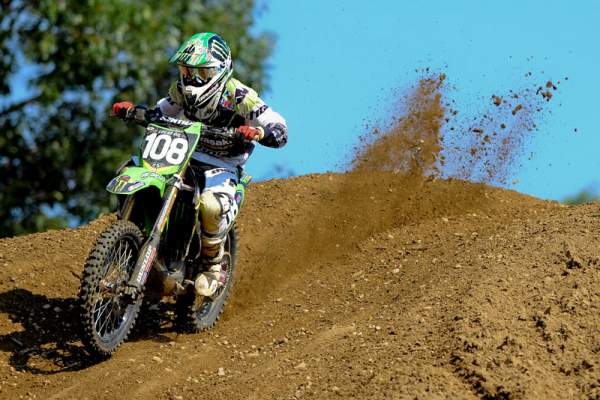 Congratulations to Dean Wilson on his first victory as an AMA professional.
photo: Steve Cox

Mitch Payton's stable of riders also has three consecutive wins in the 250 class right now with three different riders. The odd man out right now is Jake Weimer, but remember who won the 250 class at Thunder Valley last year? Yep, Jake Weimer.

I also want to add my congratulations to Dean Wilson, who took all of two weeks to erase the two biggest blunders I think I've ever seen, both coming on the last lap at Freestone, where he first gave away the moto win to his teammate Rattray, and then the overall win to his other teammate Pourcel (Jake Weimer must still feel left out). This time Deano left no doubt that he was the winner, getting the monkey off his back and giving everyone in Scotland and Canada something to cheer about.

The racing at Budds Creek was excellent, and they also had a great crowd (after a couple of lean years after the move to August). Now we move to Thunder Valley. But I am sitting this one out, so I should turn it over to the other guys right here.... Thanks for reading Racerhead, see you at the races!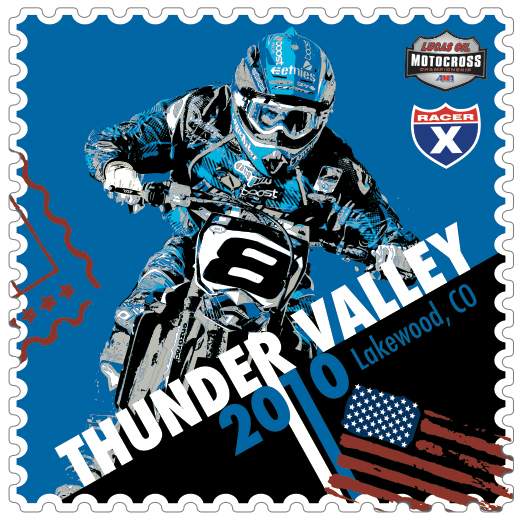 Get your FREE Thunder Valley event sticker at the Racer X booth this weekend.

Here's Jason Weigandt, who hasn't slept a wink all week long:

I missed last week's race at Budds Creek, but it won't happen again. I just landed in Denver, and here are five things I'll be watching for at this weekend's Toyota Trucks Thunder Valley National:

1. What Jetting?
This year many of the teams have a new weapon in getting the bikes to adjust to Colorado's altitude—electronic fuel injection. Basically, every bike in the 450 class runs it, but in the 250s, Honda's bikes have it but Yamaha and Kawasaki don't, KTM hasn't put it on Tommy Searle's bike yet, and the lone 2010 fuel-injected Suzuki RM-Z250 will be piloted by Austin Stroupe, who isn't racing yet. In that class, then, it will come down to getting the right setup, and no doubt the Monster/Pro Circuit Kawasaki team, with the top three riders in the series right now, will have their carbureted machines dialed in on Saturday. Still, horsepower is key in the 250 class, and elevation takes some away. A minor power disadvantage at most tracks could become a major one here.

2. The Weather
So EFI might help the bikes, but the riders won't have any relief. After a few years of night racing, Lakewood returns to a day schedule this year, which means higher temps to match the elevation. This will be a real physical test.

3. Dungey Express
Ryan Dungey is the man in the 450 class right now. Can anyone take it away from him? Chad Reed admitted that he trained too hard last week and drained himself—we'll see if he can rebound. And Alessi, Grant, Townley, and Metcalfe have all showed flashes—but if they give Dungey any more momentum, they might run out of chances.

4. Tomac's Back
Well, back in his home state of Colorado—not sure if he'll be back to the crazy speed he had at Hangtown and Texas. The grind of week-in-week-out racing can take a toll on rookies, and now we'll see if Eli can get back in front of his conditioning—and get back in front on the pack.

5. Short's Shot
In the early stages of the second moto at each of the last two races, Andrew Short was in position to win the overall but Dungey ran him down. Short was still smiling, of course, because he was happy to build some momentum with podium finishes. He won't be quite as happy if he merely nabs a podium here—this is his home race, and he seems to be building toward a peak for it. Of course he'll probably still be smiling no matter what, but he won't be truly happy unless he finally wins.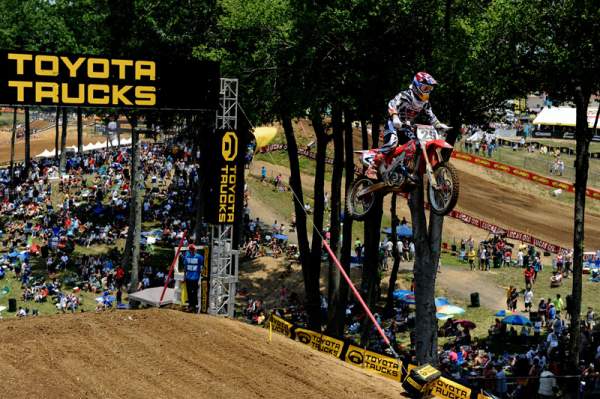 A lot of people will be cheering for Andrew Short to get that first overall win tomorrow in his home state of Colorado.
photo: Steve Cox

Let's turn it over to Steve Cox, who just returned from the 2011 Kawasaki KX250F press introduction at Budds Creek. Yes, Cox still got game on a motocross bike.


More to come on that.
Youthstream announced a 2011 schedule, and the release says it's a "tentative" schedule. I guess that's right, because there are a handful of dates that have a country but no venue announced. That seems weird to put out a schedule missing so much information. But as promised, it starts after the supercross series ends, on May 15 in Broadford, Australia, the site of the last Australian MXGP.
Another weird thing is that this schedule came out before the 2011 AMA MX schedule, which you would think the FIM would want to know they're working around, as
Glen Helen
is scheduled for September 11, which is the date of the
Pala
MX National this year. If Youthstream and the FIM want the American teams to provide support – with trucks, personnel, etc. – you'd think they would wait to make sure the weekend is open for the teams. And that doesn't just mean open as far as being an off-weekend, but a weekend not one weekend after a race that might be in
Steel City
or something like that.
And because of the late start to the championship, the Motocross of Nations is scheduled to run with two GPs still left on the calendar. Pretty strange. And speaking of the GPs, please
click here
to help the privateers here in the USA, where we actually have privateers.
See you in Denver, home of the Broncos!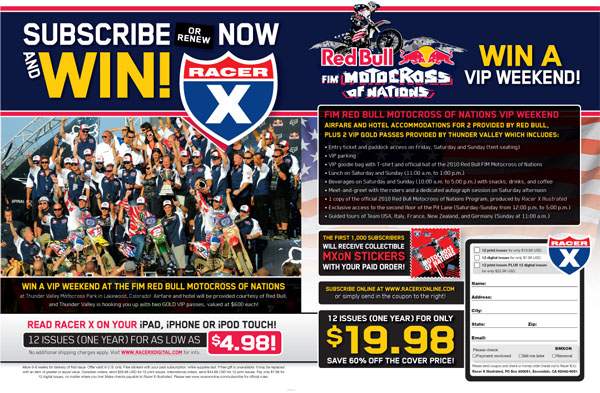 You can win a VIP weekend at the 2010 Red Bull Motocross of Nations at Thunder Valley. All you have to do is subscribe (or renew) to Racer X Illustrated for a chance to win. Click here to learn more.

Check out these two videos:

Racer X Films: Broc Tickle

Racer X Films: Grant Langston

Here's Ping, who is giving away a few copies of his new DVD through some online trivia in today's Ask Ping, presented by Motosport.com.

There are moments when you see a guy really take charge of a series and it becomes obvious that he is in the driver's seat. I remember McGrath passing Stanton at Anaheim back in 1993. And Carmichael took over the world when he passed McGrath at Anaheim and stole a win and momentum from the king. Those are defining moments in a series. I saw something last week at Budds Creek that really solidified Ryan Dungey's place in the sport right now.

A couple laps into moto one, he lost his goggles. I don't know what happened or why he pulled them off, but I was stoked because he was behind Ben Townley at the time. I'm a big Ben Townley fan, and it doesn't hurt that he's riding for the team I'm currently managing. I got on the radio and said something like, "Sweet, there's no way Dungey is going to get up on Ben without goggles." Well, Ryan began passing riders, including Ben, and worked his way into third … with nothing protecting his eyes but a squint! He even sat on Alessi's rear wheel for the entire moto and ate rocks with no goggles on! I can barely stand the roost of a 450 with a full suit of jousting armor on, let alone without goggles. It was an impressive display, and if anybody was still in doubt about who "the man" is in this series, I don't think they are anymore. Nicely done, Ryan.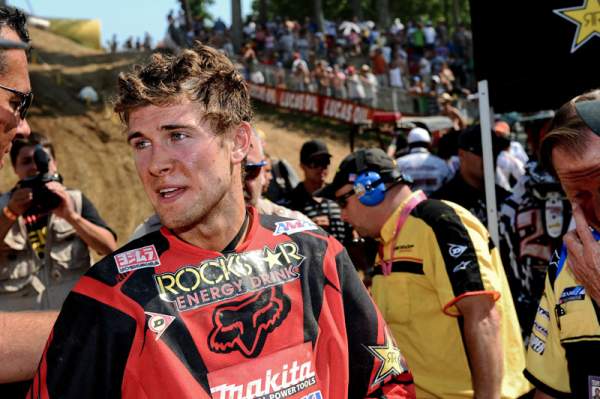 No goggles? No problem.
photo: Steve Cox


The Hahn boys are having shoulder problems. Tommy popped his shoulder out at some point early in the day and soldiered on to finish the day. Wil, who is coming off a career-best day in Budds Creek, 5-4 for fifth overall, crashed this week and separated his shoulder again. He caught a flight to his orthopedic specialist, Dr. Ting, on Wednesday and is planning on surgery Monday morning. It's too bad, because Wilbur was really making improvements every weekend. And he went from notoriously bad starter to the guy who will pull at least one holeshot per weekend—guaranteed.

Okay, you have to keep an eye on Christophe Pourcel this weekend. The flying Frenchman has some interesting habits that include showering every time he gets off the bike. As a fellow neat freak, I can appreciate his attention to detail and cleanliness. But what is really interesting is his starting-line procedure. First of all, he wears gloves that look several sizes too big. Maybe he uses them to do a little welding back in the pits. After his parade lap, he has his mechanic hand him several bottles of water, and he soaks himself from head to toe. Even the massive gloves get a dousing! I've heard of guys tipping a little water down their backs before the gate drops, but this is next-level stuff. According to one of the PC team members, he does this because his body still doesn't efficiently cool him when he gets hot. Maybe the injury to his spinal cord had an effect on the way his body perspires. Anyway, it's a trip if you get to see it, because when the water rolls off him and hits his exhaust and engine, it turns into a massive header of steam. Check it out if you're going to Colorado. Then, when you get home, log on to www.motocross101.com and purchase the DVD that will change your life. Or at least entertain you.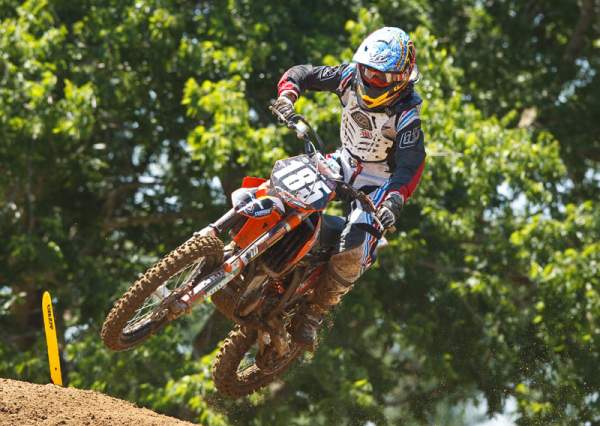 Keep an eye on local privateer Killy Rusk this weekend.
photo: Simon Cudby
In other news:

From Ryan Smith:

I was wondering if you could help a buddy of mine out with some support to get to the extremity games. He qualified for it this year and needs some support to get there. Here is a video of him. His name is Darius Glover.

AMA racers Scott Simon and Adam Chatfield are currently racing in Brazil. Reader Greco Gaspar sent us this link.

Scott Wallenberg informed us that former minicycle champion "Flying" Mike Brown was at the 1980 Carlsbad movie premiere and very excited to talk about his new association with a company called Real Financial Strategies, specializing in helping people with stressed mortgages. You can learn more about it by going to their Facebook page.

Finally, two of our own were nominated for ESPY awards recently, so let's help Ryan Dungey and Ashley Fiolek take it down and show the sports world how big the motocross community is. You can vote online or by mobile device at www.espn.com/espys or on the ESPN Facebook page: www.facebook.com/espn.

Well, that about does it for this week's Racerhead. We hope you enjoyed the show, and we'll see you at the races.