Privateer Profile: Killy Rusk
Killy Rusk is a Colorado-born privateer competing in his first year of the Lucas Oil AMA Pro Motocross Championship. At Round 2 in Texas, he managed to finish 18th overall in the 250 Class with 19-17 moto finishes. After not being able to afford the last two rounds, this weekend he is racing in his home state and is looking for that breakthrough ride.
Racer X: So Killy, most people have never heard of you. What's your background?
Killy Rusk: I grew up in Durango, Colorado, and started racing when I was seven-years-old down in New Mexico. I did my first amateur national when I was nine at Ponca City. I've just been trying to improve every year since.
How did you do as an amateur?
Generally I finished top ten. I really started doing better when I got on big bikes. I had a fourth at Loretta Lynn's in the School boy class in 2008.

When did you turn pro? Did you race anything indoors?
I turned pro this past winter and went out to do some pro ams to collect points.
Hangtown
was my first real pro race.
How did you prepare for Hangtown and your pro racing career?
I went out to California with my dad this winter and just lived in the parking lot at Milestone. I rode six days a week and trained very hard. It really helped being able to see how fast all the pros were going and gauge my speed.
So you guys lived in California over the winter? How did you like California?
Yes, we went out in late January after I healed up. California was good! A lot of tracks to choose from and you can ride a different track every day. Our focus was to ride and train almost every day. So we put in a huge effort to be prepared for the nationals.
So back to Hangtown; how did that go for you?

I made it out of the qualifiers, which really was my goal for the weekend. I felt good but needed a better start to get up there. But I always charged forward and never gave up. My goal was accomplished and now we are just raising our goals each weekend.
What did you learn from Hangtown at the end of the day?
Gate pick is key. So I need to get my qualifying times a little lower and be more aggressive coming through the pack.
Going into Freestone, what did you do to prepare during the week off?
My dad and I went down to Three Palms and trained in the heat down there. When we got up to
Freestone
it was actually kind of cool compared to what I was training in. So actually I don't think the heat was that big of deal. My fitness is great and once I get a start I know I can run the pace and finish strong.
How did your day go at Freestone?
It started a little rough on the first lap. I got hit in the face with a rock and knocked my lens out! So I had to come in and get a new set which put me way back of the pack. I just put my head down and charged all the way back into the top twenty. I felt strong and if I had more laps I could of picked off a couple more riders.
Wow, that's pretty impressive that you came back to score your first point! How did the second moto go?
I got a better start in the second moto and just worked my way up. I was almost into the top fifteen but ran out of time before the checkered flag. I felt good, the heat was fine and I feel like I was always going forward.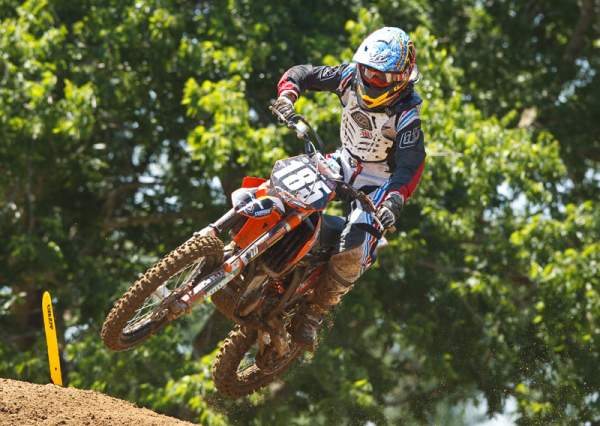 Killy Rusk considers Thunder Valley his hometown national.
photo: Simon Cudby
Sounds like your father is really supportive. What is his role in your racing?
Everything, really. He's my driver, mechanic, trainer, and my biggest sponsor!

How does the rest of your family support your racing? Do you have any siblings?
Everyone is real supportive. My grandmas help out when they can and so do my grandpas. My Uncle even helped us get a good motor this year. My mom works really hard trying to keep us on the road. My sister kind of takes a back seat, but I did get to go to her recital after Texas and see her dance.

So what do you guys travel in?
We have a truck and fifth wheel with about million miles on it.


What's the plan for the rest of the nationals?
We are going to race Lakewood this week then
RedBud
and
Millville
. From there we are just going to see how it goes. If we can do more we will. I would like to race some of the track back east but we will see.
So is Lakewood your home track?
Not really, but it is closest to home. I never rode it until this last week. Denver is still a pretty long drive from home and over really high passes so we usually head south. But it's nice up here and it's nice to actually be in my home state.
Are a lot of your friends and family coming up to support you this weekend?
Yes, my mom and grandpa are coming and some friends from New Mexico are coming up.
Do you live in Colorado or New Mexico?
I was born in Colorado and grew up in Durango until I was about 11, and then we moved about five miles over the border into New Mexico to be closer to our local track.

What are your expectations for this weekend?
I think top ten is my goal for the weekend. If I can get a good start I believe I can do it.

Well, thanks for your time, Killy, and good luck! Is there anyone you would like to thank?
Yes, the list is big. My mom, dad, sister, grandparents, Troy Lee Designs, TCX Boots, Leo Vince, Cosworth pistons, 3 Brothers Racing, Motorex, Race Tech, Stealth Works, Utopia goggles, R & D, Ti Fuels, No Toil, RK, Excel, EVS, Dunlop, Factory Service KTM and Rusk Racing Decals.