Sign of the (Lap) Times: High Point
So far this outdoor season, we've already witnessed how long, rough, motos can skew results toward the consistent instead of the merely fast. The weekend's Rockstar Energy Drink High Point National put that theory on display again, as changing weather and track conditions throughout the motos make our fast lap charts look a whole lot different than the actual moto results. Of the four High Point motos, the fastest lap only came from the race winner in one of them. Have a look:
450 Moto 1

450 Moto 2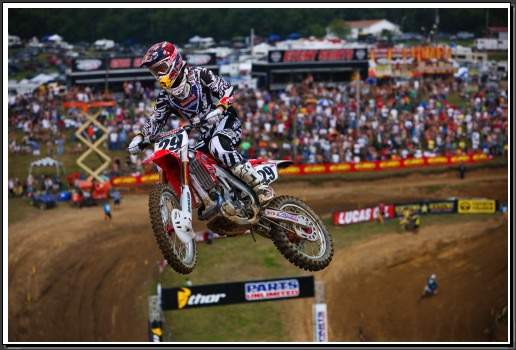 Andrew Short usually says he needs to find more speed. He may have found it at High Point.
Simon Cudby photo
Each week, Rockstar Energy Drink tracks the fastest lap of the second 450 moto, and at the end of the year the rider with the most 450 second-moto fast laps gets a diamond Rockwell watch. And now we have three different winners in three races, as Andrew Short nailed the fastest second-moto lap time. If only Short could have maintained that pace to the end! Ryan Dungey won that moto with the second-best time, and won moto 1 by going fastest of all.
Also note in moto 1 how just about everyone logged their best lap on the third lap. Rain came down later in the race to slow the times in the latter laps. In moto two, times were all over the map, as the rain made the course pretty tough.
Tough luck for Josh Grant, who was obviously fast all day but had a second moto flat front tire ruin his results. Also Ben Townley, who turned in last week's fastest lap, was right amongst the fastest again this week, even while slicing through traffic after a terrible second-moto start.
250 Moto 1


250 Moto 2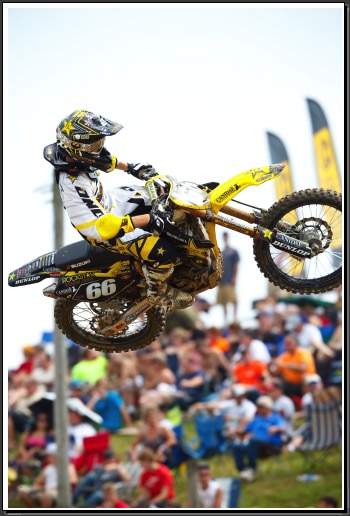 Blake Bagget was flying in moto 1.
Cudby photo
First thing to note here is the weather. The first 250 moto started with rain coming down, but when the sun came back out after a few laps, the track got faster. Note that the fast laps came right at the end. That's probably the reason moto winner Justin Barcia was only the 7th fastest--by the time the track got fast, he was already long gone and cruising with the lead. And not Blake Baggett's time: three seconds faster than anyone else!
Moto two makes a little more sense, with the leaders logging the fastest laps for the most part. Third-fastest, Nico Izzi, suffered a crash that knocked him out of the top ten.