Racer X Redux: High Point
Welcome to Redux presented by Renthal. They're starting to get away.

Last year's 250 class championship was supposed to be wide-open, but Ryan Dungey and Christophe Pourcel quickly established themselves as the main players. After this weekend's Rockstar Energy Drink High Point National, the third round of the 2010 chase, and they're beginning to pull points leads again, only now in two separate classes.

New class for Dungey, but same old championship strategy: Ride hard while everyone else hands over piles of points. It worked last year against Pourcel when the Frenchman's engine went south at Southwick. It worked again in supercross when RD's primary competitors crashed out of the series. And now, even after giving the comp a head start due to a poor race at the Hangtown opener, it's all falling his way again.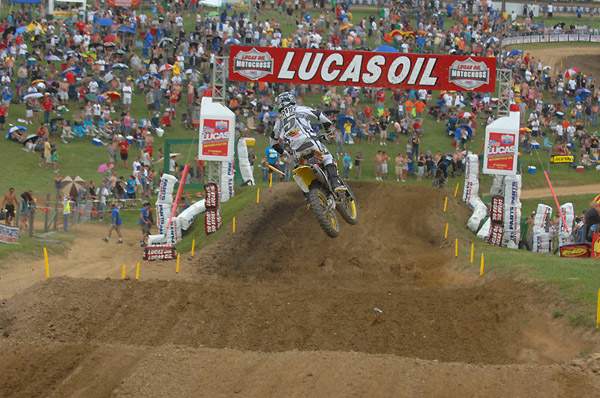 He's starting to get away again....
Carl Stone photo

Mike Alessi crashed while leading the second moto last week. Andrew Short's bike didn't start. Chad Reed busted a goggle lens and a front brake caliper at High Point. Josh Grant got a flat front tire. These are freak deals that very rarely happen, and they never happen to Dungey. He's been remarkably lucky over the last few years, and when you're that lucky for that long, you have to think that maybe it's not really luck at all. Ricky Carmichael's perfect seasons branded him as good, not lucky, for example.

Everyone says you can make your own luck, and that's not entirely true. I remember the 2007 Orlando Supercross, when Dungey had the lead on the first lap, and Matt Georke's bike came flying across the track from another lane and smashed a hole in Dungey's cases. Not much you can do about that. But you can, perhaps, minimize the risks. Maybe Dungey rides a little safer or smarter. Maybe his fitness allows him to avoid crashes and mistakes—because we all know you get sloppy when you get tired. And his team has piled up a remarkable record for reliability, too.

Dungey has become Mr. Reliable. Maybe it's not as spectacular as looking for the next Michael Jordan in the NBA, or the next Hannah, McGrath or Carmichael (or the next Jean-Michel Bayle if you're French) in this sport. Hannah, MC and RC were game-changing dynamos, but sometimes a rider wins by just being solid. When that happens, the comparison switches to a workhorse like six-time AMA National Champion Jeff Stanton. The "next Jeff Stanton" moniker gets tossed around a lot, and when Dungey rose through the ranks and collected a supercross title this season, I started to hear "It's just like Stanton in 1989." Hey, Dungey might be capitalizing on the mistakes of others, but Stanton did the same, and that only made him good, not lucky.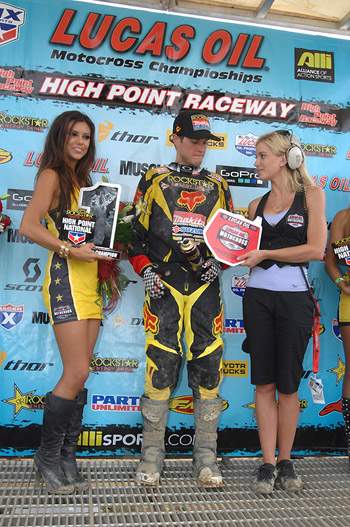 Dungey accepts the red plate as the new points leader.
Carl Stone photo

As far as Pourcel in the 250 class, he hasn't exactly dominated like I expected, but he actually holds a 27-point lead in the standings after just three races. As always, consistency is an issue with the young guns in the small-bore class. Eli Tomac has come back down to earth, with the 20-minute mark of the motos still haunting him. I know his dad is the Mountain GOAT, but Eli is still a rookie and there's just a certain amount of adjustment needed to dealing with 30 plus two every weekend. I think that's kind of good. As a fan, you want to know you're sport is tough enough to where it takes a few years to get it right.

Justin Barcia had his moto mojo back with a great ride in the first moto, but he smashed his header pipe in moto two and ended up in the worst possible position, 21st—struggle the entire moto and end up as the first guy to not score points. Dean Wilson was fast again but a crash in moto two dropped him from the podium. Trey Canard was on it, too, but he crashed at the beginning of both motos, leaving him with 14-4 scores and seventh overall after a pair of remarkable comebacks. Man, that poor GEICO Honda team. Every year they enter the Nationals with guns loaded, primed to finally take down the Monster/Pro Circuit/Kawasaki juggernaut, and every year Mitch's boys end up back on top. And so this year the Frenchman keeps pulling away—maybe we'll get a JMB versus Stanton repeat next year in the 450 class.

And even if Pourcel doesn't come through, Pro Circuit has the rejuvenated Tyla Rattray sitting second in points. I'm impressed with Tyla. Last year, Tyla just wasn't fast enough to contend, and I didn't see it changing this year. People like to theorize that riders coming over from Europe will get faster in their second year here because they learn the tracks, but it never actually works out that way. The adrenaline of finally getting here and going for it for the first time is usually the best fuel for these guys. Look at the history: JMB won the first AMA National he ever raced at Glen Helen in'89. Greg Albertyn hauled butt in his first National in '95 and could have won if his transmission didn't break. Sebastien Tortelli was scary fast in his first AMA National, going from 20th to first in both motos to win at Glen Helen. David Vuillemin won rounds two and three of his first season here, and never won two nationals in a row again. Grant Langston went 1-1 in his first AMA National in 2001. Pourcel didn't seem to have a problem learning the tracks last year, either. And I think Rattray's best weekend last year was, of course, the opener when he went 5-2 for third overall.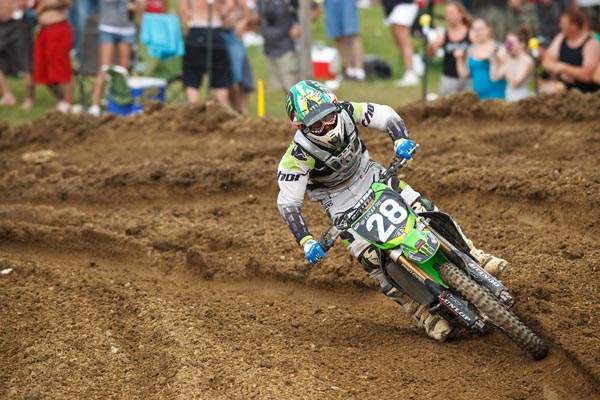 Rattray finally gets one. Thought this would happen a year earlier, really.
Simon Cudby photo
Rattray went 8-16-6-1 in his first four motos this year, and last week's moto win was gift wrapped by Wilson (those abnormally grueling conditions lent themselves to Rattray's strength, too). I wasn't fully convinced that Styla would contend for wins every week, but at High Point, he nailed it with the overall win. His 2-2 victory wasn't just luck (there's that word again) either. In the second moto he was closing on Pourcel, and he had the fastest lap time of the race. He found the speed he needed last year, and armed with that, he's going to be tough, because Rattray was already strong, fit and consistent—kind of like, um, Jeff Stanton.

High Point is always a fun weekend because it's the home race for those of us in Morgantown. Everyone is usually impressed because the mountains are so green, but I'm going to let you in on a secret: you don't get that kind of greenery without A LOT of snow in the winter and rain in the spring. And summer. And fall. It basically rains here all the time, and High Point's illustrious mud race history offers up some proof. Rain was back again this year, but the moto gods were kind enough to throw in sunshine just before the live 450 moto on NBC, so the jumps were doable and the racing looked good.

The rain led to some crazy conditions. The first 250 moto started fast, slowed way down, and then got faster as the laps went on. More than half of the riders put in their best laps on the final two laps, which is something you never see. The "new fastest lap" graphic kept popping up during our first moto allisports.com Webcast, and Blake Baggett's name seemed to dominate that screen. Baggett's best lap in the first 250 moto was three seconds faster than anyone else! That's crazy speed, and he was also really fast in Texas and Hangtown. In other words, he's just plain fast, so I would expect a moto win soon. Nico Izzi was totally flying in the second moto, third fastest of anyone, but he crashed back, just like he did in Texas. There's a chance, though, in a few weeks we'll be talking about how Nico Izzi is having a resurgent summer.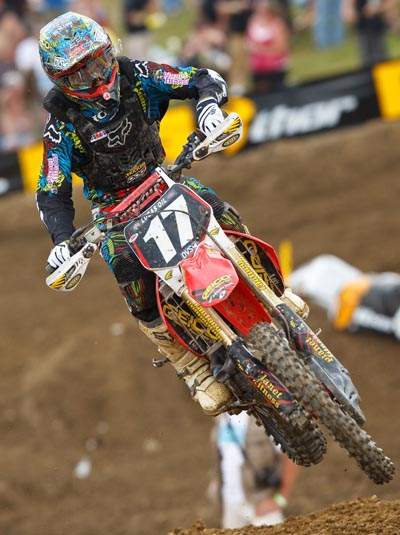 Look closely at Barcia's header pipe. Bam Bam!
Simon Cudby photo


This was a live NBC TV weekend, and I know some hard-core types don't understand why they run features like a girl walking through the finish line tunnel into the crowd, or joining a barbeque with the fans. It's a racing show, so show racing, right? Well yeah, that sounds good, but if the racing itself were good enough to make this sport huge, this whole thing would have exploded back when the nationals started on ESPN in….do you even remember what year ESPN started showing the nationals? You would if it made a major, massive, huge impact on the sport, but it didn't. Sometimes just showing racing on a racing show isn't all it takes.

You don't get the sport in front of a live network audience very often, and you have to try to grab new fans during those moments. Maybe someone watching that show, who didn't have an interest in motocross before, saw it and said, "Hey, that looks like a fun. The racing is okay, and we could go, camp out and hang out. I would do that." The 100,000 fans at a NASCAR race don't come exclusively to watch racing. They go for the hangout, and those segments were designed to highlight that element in motocross.

They ran a Hahn brothers' feature during the show, designed to sell some personalities in the sport, because personalities are as critical as competition if you're trying to grow. And if you're still so hard core that you say you don't even want the sport to grow, think of it this way: Take Red Bull, Rockstar, Monster, Muscle Milk, Toyota, GEICO and DNA out of the mix and you'd have a lot more riders without rides. The best support the privateer ever had comes from these companies—because they build teams that make privateers ex-privateers. Anyway, that's my defense of the TV package.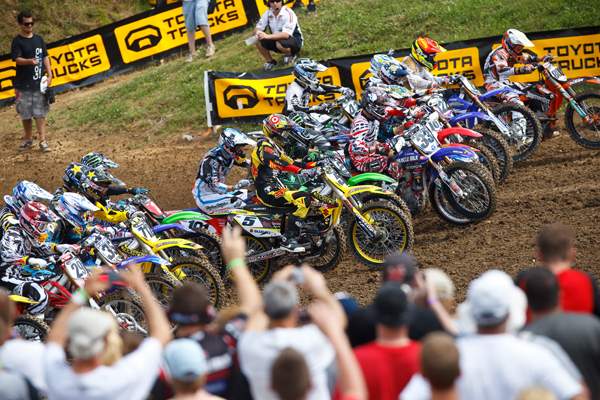 Take a look at the massive jump Mike Alessi gets in the second 450 moto.
Simon Cudby photo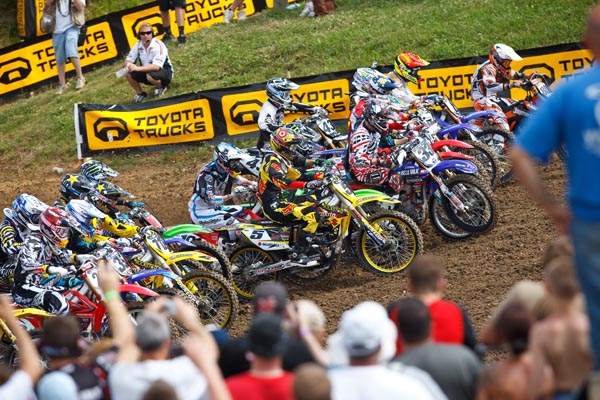 Got nearly a bike length on everyone else. He's gonna get that start.
Cudby Photo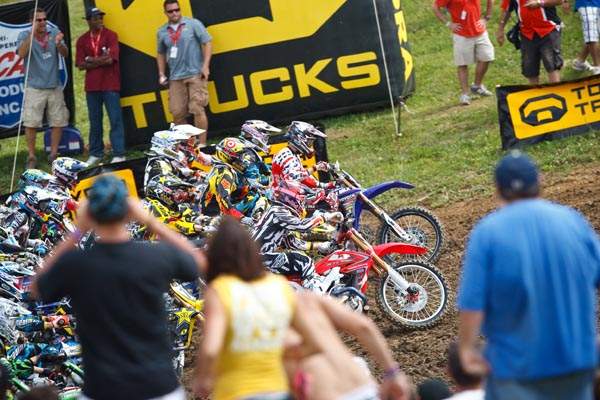 Nope! The pack swallowed him up. Is that a 450 thing?
Simon Cudby photo
I repeat this from last week: after Mike Alessi won a moto at Hangtown, Tony Alessi denied all interview requests with Mike. Tony said things could change in a hurry in the 450 class, and they didn't want to do any definitive "the 350 works and we're going to crush everyone" interviews until they knew for sure. And now that Mike has gone 12-5-7-5 in the last four motos, I think Tony was on to something by saying nothing. Still a work in progress, there.

Ben Townley was fast again but had a bad start, a stall and a crash in the second moto, which resulted in 4-6 scores and fourth overall. After his second-moto crash in Texas, I was worried that BT's bad luck was back. Then I saw him listed in 29th early in the second High Point moto and thought "Here we go again." But he fought all the way back to sixth. Can BT get out of the Sebastien Tortelli "he works so hard and he's so fast but he's so unlucky" trap? I sure hope so.

So you're Chad Reed and Josh Grant, and you're out of supercross hurt almost before the season even starts. You're watching the races thinking you could win them because that's how racers think. You don't just think, you know, that when you're finally healthy, you're going to battle Dungey.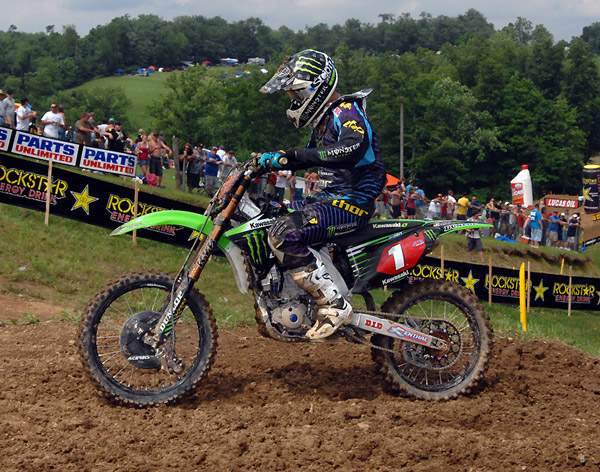 Check out Reedy's dangling front brake. When you see stuff like that, it makes you wonder how in the heck there have been three 24-0 seasons.
Carl Stone photo

If you're Reed, you go out and win the first moto of the year to show everyone what's up. Texas wasn't so good, and then you have freakish bad luck at High Point. Now you're chasing Dungey again, and you have barely had a chance to race him.

JG and Dungey were set to do some battle in the first moto, until Josh slid out while leading. In the second moto, you could see Josh was super determined to get into the lead and win, but then he got a flat moments after he took over second place. High Point is a great track for Josh (won his first national there back in '07, was hauling last year before a crash) so this had to hurt.

My mom came into town this week for the pending birth of Weege Baby, and on Sunday we went to the grocery store. Lo and behold, I saw Brett Metcalfe there, and I quickly became a 14-year-old again, with the fear of being seen shopping at the mall with your mom. The riders are only in town one week a year, so this is my only chance to look cool! So I ran the baby excuse to Brett. Then I told my mom that the guy standing behind us in the check out line got third in the 450 class at High Point and she was amazed and surprised. And that's kind of how it seems to work with Brett—he does really well, but no one seems to notice.

Grant Langston was back this weekend, running as privateer as privateer gets: he literally bought two YZ450Fs from a shop (well, his shop, but you get the idea). He didn't even have graphics on the bike on Friday when it rolled through tech, and I was really hoping he would race that way to designate his privateer status. But he had Langston Motorsports logos ready for Saturday.

So GL8 is just using his own motor home and riding his own bikes. What's he even looking to accomplish by going to the races? I asked him, and I think his answer is, basically, he would rather be racing than not be racing. Will he get back into podium or race win contention? Will he start making money at this again? Hard to say right now. Grant just wants to ride. He also hyper extended his thumb on the first lap of practice, which slowed him a bit. It may take some time to get a program in place that allows him to run up front again.

There are a lot of Yamaha 450s out there. Grant also told me he saw Michael Byrne's huge crash on a downhill. Byrner's in a cast now with a broken hand. Bummer. But his Valli Yamaha teammate, Kyle Cunningham, rode well, battling and tangling with Alessi in the first moto en route to 9-12 scores. The Motoconcepts Yamaha guys, Georke and Sipes, rode well, too, with Sipes going 10-11 for ninth overall, and Georke going 5-7 for sixth. He's getting there. Justin Brayton was back for JGR and raced his way back into shape with 14-8 finishes. Former Yamaha rider and last week's privateer hero, Kyle Regal, crashed out in practice and didn't race the motos.

That's about it for High Point. In the old days I would have tons of all-night party stories to share from this weekend, but now all I have are tales of grocery shopping with my mom while I wait for a baby to be born. Such is life.

Email me if you have something more exciting to talk about: jasonw@racerxonline.com