Two years ago, few would've likely thought that the most eagerly anticipated motocross bike to come along since the YZ400 would turn out to be a KTM – or any sort of 350 for that matter. However, as news and photos leaked out over the past year or so of a KTM with suspension linkage, that turned out to be a 350, the anticipation began to build. Eventually, KTM was testing the machine at public tracks, fueling the fire, and this year – with help from the ability to race works bikes in the GPs – Antonio Cairoli made the machine's race debut at the Mantova Starcross, and won.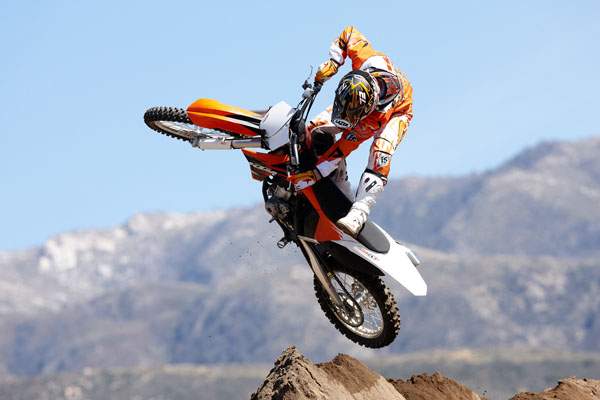 Stefan Everts still knows how to ride a dirt bike. Here he is on the new KTM 350 SX/F.
Mike Alessi made a similar American debut aboard the machine, winning the second moto at the AMA National opener at Hangtown.
Alessi was able to ride the 2011 KTM 350 SX/F at Hangtown because KTM actually got its 2011 machines homologated in time for the 2010 national – which also benefited FMF KTM's Tommy Searle, who has been racing the 2011 KTM 250 SX/F from round one as well.
Well, last week, KTM had the press (and the next day, KTM dealers) out to check out, learn about, and ride the 2011 KTMs, and the anticipation was evident among the journalists as well.
And lucky for everyone involved, KTM didn't just bring out the shiny, new four-strokes, but the tried-and-true two-strokes as well.
150 SX
At least in California, it seems that track days are just as popular, or more so, than race days are. At track days, you can pay $20-30 bucks and get to ride all day long, while you get much less time on the track for much more money on race day. Many riders who frequent track days are former racers who have no real interest in racing anymore, but rather just want to go out and have fun.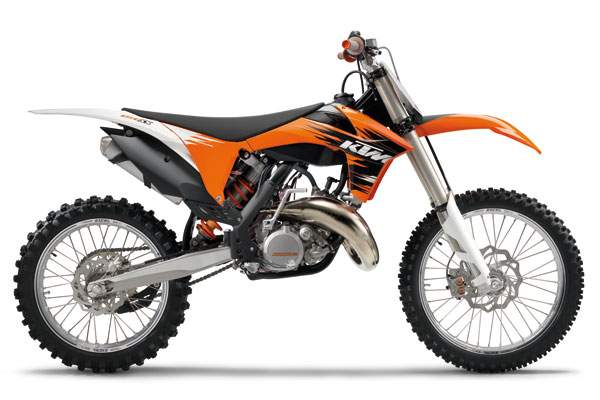 The KTM 150 SX = Fun
And with this group, the KTM 150 SX is the best guarantee of fun in the KTM lineup. After all, it's not really about winning when you're doing track days, is it?
So, while the 150 isn't legal in most 250F classes, that doesn't matter!
Riding the 150 (which is still a 144cc bike) isn't easy for those of us used to riding four-strokes. It takes effort to keep it on the pipe, and you have to work your clutch hand quite a bit. But probably the hardest part of riding the 150 is trying to wipe the smile off your face. It's just fun. It turns like a maniac, and at 215 pounds, it pulled me around the track just fine – although it's not really designed for big dudes. I had enough power to clear all the jumps on the Vet track at Pala Raceway (as the main track was closed for the day), and if anything I would expect that riding a small-bore two-stroke is good even for people who race 250Fs or 450s, because you have to hit your lines and carry your momentum on this bike. You have no choice. I think if you can ride the 150 at a reasonable clip, you should be able to rip on a 250F or 450 (or 350, huh, KTM?).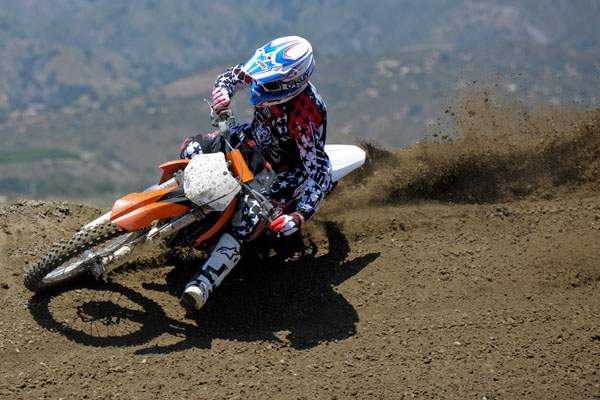 Twist the throttle, tap the clutch, and remember what it was like to be a kid...
If you have 6300 bucks lying around, you could do a whole lot worse than buying the KTM 150 SX, complete with the hydraulic clutch, Renthal Fatbars, wave rotors front and back, and more. And don't freak out about there being no linkage on the 150 (or 250 two-stroke), because KTM still outfitted the bikes with new shocks, but figured with the engine characteristics of two-strokes, and the desire to keep them very light, linkage wasn't a big deal. And unless you're blitzing stadium whoops at Anaheim 1, it's a non-issue. The bike handles great.
250 SX
If you want some culture shock after spending years riding four-strokes, jump on a 250cc two-stroke. The 2011 KTM 250 SX also features a redesigned frame and new styling, and it has always been known as a powerhouse. Nothing has changed there. If anything, it's even more hyper.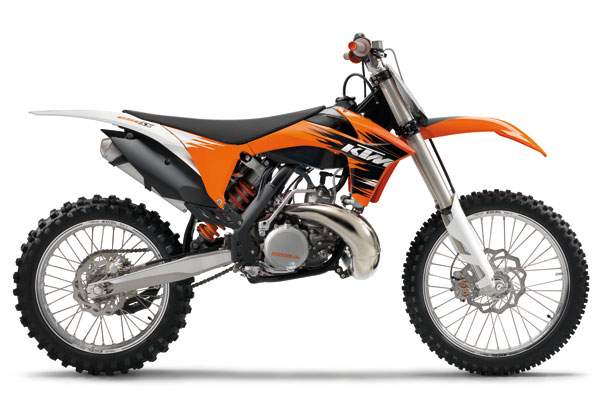 The KTM 250 SX
And hyper really is the best way to put it. It's not as if it's out of control or anything, but when you get on the pipe, if you're not ready, you find yourself working to catch up with the bike as if it hits hyper-speed without you. The 2011 250 is actually more powerful than previous generations, with a new exhaust, new airbox, new cylinder (with a lower exhaust port, new timing, etc.) and more.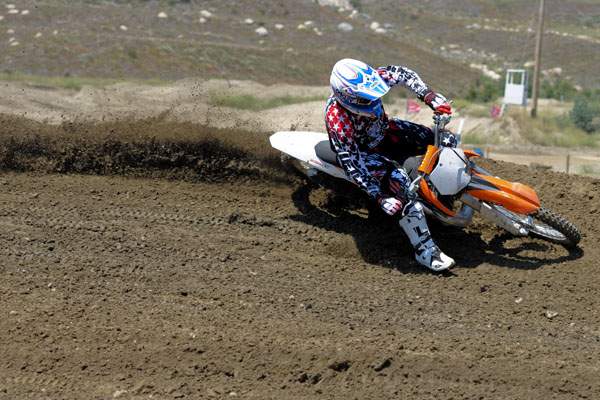 A two-stroke rocketship! There are few things more exhilirating than lighting up a 250cc two-stroke.
But it has to be said that there's no better feeling than shredding a berm on a 250. It's light, nimble and very powerful. It's everything you could or should want from a motocross bike, except that if you raced one you'd be stuck in a class with 450cc four-strokes, which given the power delivery of the 250, makes it pretty hard to be competitive.
Again, though, if you head to track days all the time, who cares about what class you would race? It's about fun, and the 250 SX has fun on tap – a tap of the clutch.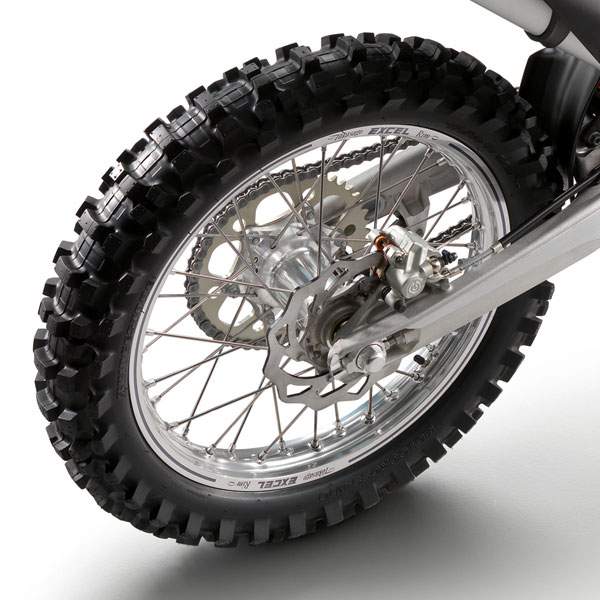 All of the new KTMs feature Brembo brakes and Excel rims.
And it should be said that neither of the new KTM two-strokes seem to have the same weird feel that KTMs were always known for. Of course, I'd be better equipped to say that with confidence if I rode more than once every couple of months...
The 250 SX retails for $6699.
250 SX/F
In professional racing, KTM has had most of its success racing 125s and 250Fs. Championships and wins in the AMA have all come in Lites-class supercross and motocross. As such, it's hard to say that the KTM 250 SX/F needed much work, but KTM made a bunch of changes anyway. The 250 is the first of the three KTM models to get the linkage treatment at the back of the bike. For years, some have claimed that KTMs needed linkage to compete, chassis-wise, with the Japanese manufacturers, and for years KTM has stood by the PDS shock system instead. No more.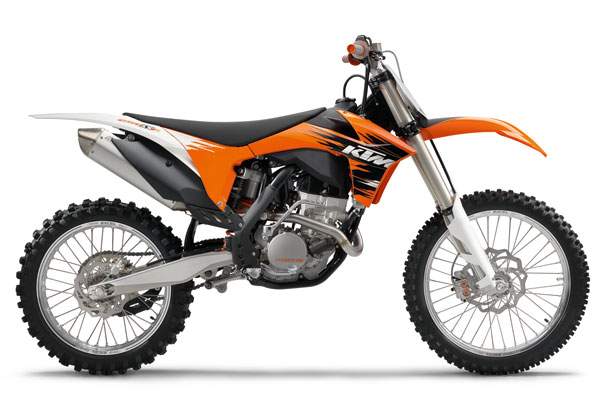 The 2011 KTM 250 SX/F
For 2011, all of the big SX four-strokes get linkage, taking the KTMs one step toward what many riders, racers and editors thought should be the goal – making the bikes handle like Japanese machines.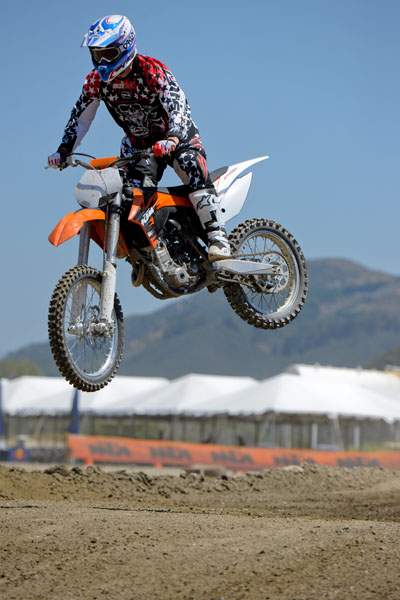 The 250 SX/F is like most 250Fs - light and nimble.
However, that's not KTM's goal. Still, the big four-strokes feature chromoly frames that KTM says actually weigh less than the aluminum frames on their competitors' bikes, and by design the frames will have more flex, which isn't a bad thing. Part of the reason Kevin Windham was using stock suspension components this year on his Honda was to allow more flex in the chassis.
The 250 SX/F is the only bike in the SX/F lineup that features a kick-starter. But that kick-starter, alongside the new electronic fuel injection, makes starting the bike easy enough. And KTM will offer an option to easily add the electric-start to the 250 in their KTM PowerPart lineup.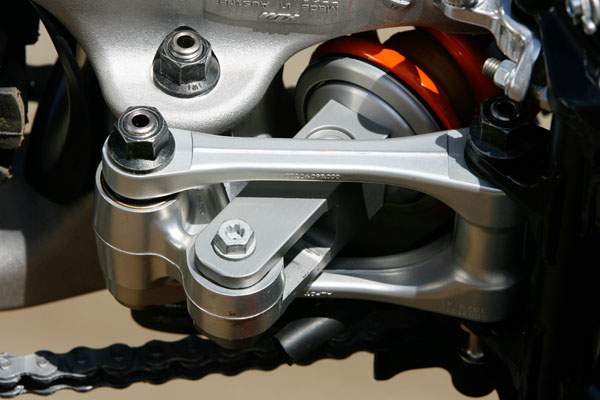 KTM's new SX linkage...
There are numerous other changes to the 2011 KTM 250 SX/F, both internally and externally, but you don't need to see them all here. You should only wonder how it runs.

Yes, the 250 SX/F has a kickstarter, but it doesn't have to if you don't want it to!
Well, it runs great. Just like with any 250F, if you spend a lot of time on a 450, it will feel a little slow at first, but then you remember you're on a 250F, you wick it up, let it rev, and you get to really hauling. If you are a 250F rider, there is very little about the KTM that will leave you disappointed. It retails for $7699.
450 SX/F
This is the simple one: KTM updated everything that got updated on the other bikes – the frame, the linkage, the styling – but pretty much left well enough alone otherwise. The 450 SX/F has long been a big-power machine, and it was the first in the 450cc MX class to give you an electric starter standard. It still has that, and still has the big HP numbers you expect from the big-bore KTM.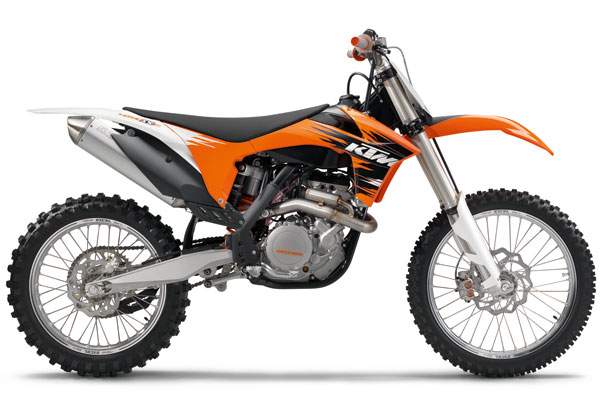 The KTM 450 SX/F
The 450 is still carbureted, and the only other changes, outside of the obvious, are a refined clutch and an exhaust header that includes a "Header Pipe Resonator System" to help quiet the bike down.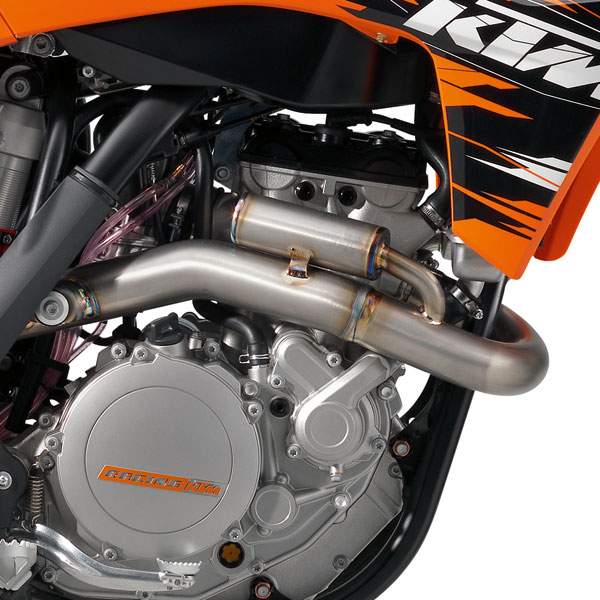 The "Header Pipe Resonator System".
Combine the proven horsepower with the new chassis, and you have a very capable motocross machine. The 450 SX/F retails for $8799.
350 SX/F
And finally, the bike everyone was waiting for: The 2011 KTM 350 SX/F. The idea for 350cc machines has been around for probably a half a decade, as factory riders complained that 450s were simply too big and fast for supercross racing (as opposed to supercross riding), and many local riders expressed the same concern – that the bikes are too fast and too powerful.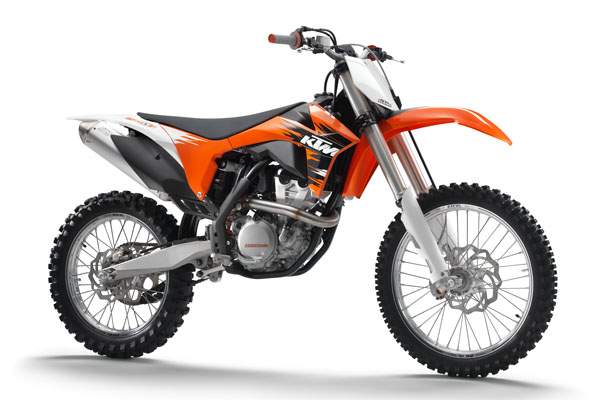 The 2011 KTM 350 SX/F
Well, KTM was the first manufacturer to step up to the plate with a 350, and that figures, actually. KTM has long been the manufacturer most willing to take risks like this. The 350, like the 450, features an electric starter, but it can be retrofitted (why?) with a kickstarter, and you can even have both if you really want. But once you sit on the bike, push a button, and have it fire right up, kickstarters just seem antiquated.
The 350 also has EFI, much like the 250, and as we saw at the US GP at Glen Helen, and at Hangtown, the 350 is very much competitive with 450s – in the right hands.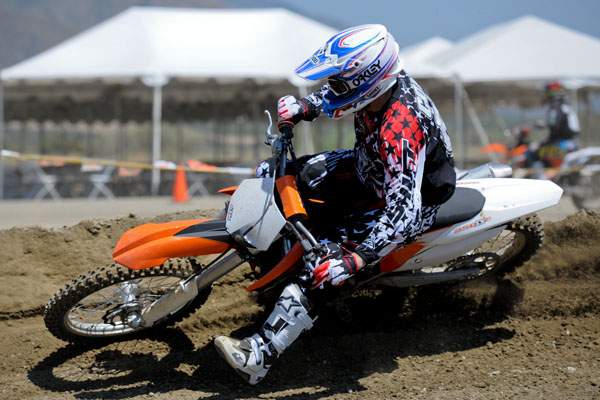 The 350 really does handle a lot like a 250F.
But this is a bike, much like the two-strokes, that even if you don't race, you may want to buy for track days. Why? Because, even if you're down a few HPs on your competition, that doesn't matter on track day, but what does matter is how much fun you can have, and the 350 is most definitely fun.
Riding the 350 is almost exactly like you would expect it to be: It's not quite a 450, and it's not quite a 250. It's a 350. It revs higher and has more power up top than the 450, but has much more torque on the bottom than the 250. And it handles much more like a 250 than a 450 as well, thanks mostly to the smaller amount of circulating mass in the engine. Like holding a spinning bicycle wheel at the axle, the more spinning weight a bike has, the harder it is to turn. With the 350, it has less circulating mass, and thus is easier to turn than the 450, even if the weight isn't all that much different.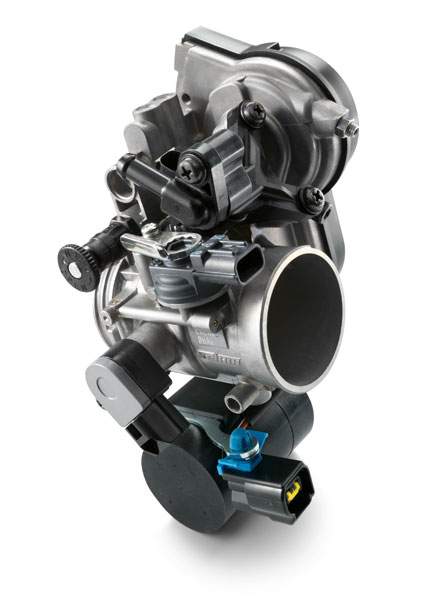 This throttle body is shared between the 350 and 250 SX/F models.
In short, it feels lighter, whether or not it actually is.
Coming out of turns, you have the torque to grunt over jumps, much like on a 450, but going into the same turns, you have a turn-in ability that is much more reminiscent of a 250. It really is the best of both worlds in a lot of ways. If you have a friend who owns one, ask them to borrow it for a couple of laps. You might be surprised.
Retail price for the 350 SX/F is $8499.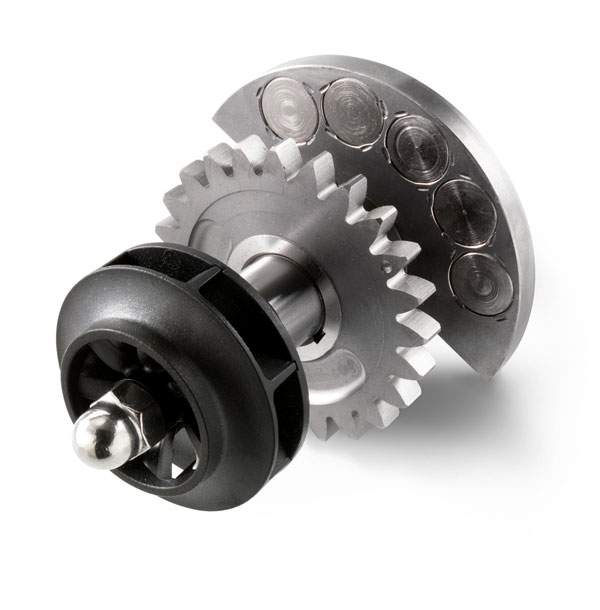 This is the balancer shaft from inside the 350's engine.
For more information on any of the details you want to know about the 2011 KTM lineup, visit the KTM website at http://www.ktmusa.com