Welcome to Racerhead - and one of our busiest weeks of the year. The Rockstar Energy Drink High Point National is this weekend, which means the entire American motocross caravan has come to town to set up for the third round of the Lucas Oil AMA Motocross Championship. So my motocross friends and my Morgantown friends are on a collision course, and it will all come together probably sometime tomorrow afternoon—after everything here at the racetrack goes off smoothly, I hope.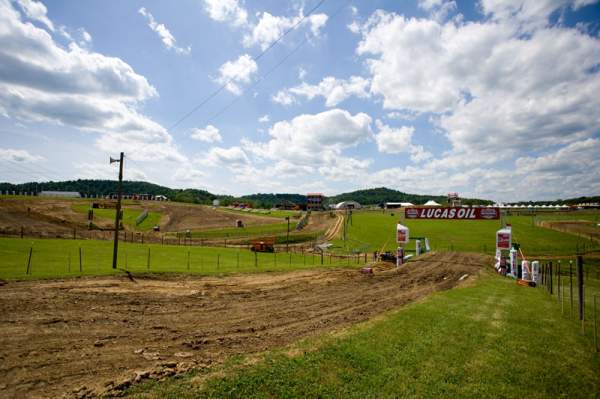 The calm before the race.
photo: Andrew Fredrickson

You can watch tomorrow's High Point National live on NBC beginning at 3 p.m., with Jason Weigandt and Jeff Emig calling the shots (the stork has yet to deliver the Baby Weege). You can also watch next-day coverage of the 250 class on SPEED at 6 p.m. ET on Sunday. And after a week of restructuring, rebooting, and retooling, the live streaming should finally be up to speed sometime before 1 p.m. tomorrow on Allisports.com. But I will keep my fingers crossed, because last week's sound problem was our second strike this year. We are sorry for the ill communications.


Having the race live on NBC is a big deal and a very big production. All of the races require three big television trucks, as the series is being broadcast all over the world, including live in series leader
Chad Reed
's native Australia. With the growing international presence in the series – we've had four moto winners from four different continents in the first two rounds – the TV production requirements seem to grow by the race. But live on network TV in America? That's a big deal when you think that it was only three years ago that the races were running on a couple weeks' delay on OLN.
So the whole crew has been out here working hard, trying our best to make
High Point
look like
RedBud
does for its national. To me, that's the pinnacle of American motocross. We've once again brought in
Marc Peters
to work his magic on the big equipment, brought in tons of topsoil and sawdust to make the track as lush as possible, and now we're just hoping for good weather. So when you're watching live tomorrow, rain or shine, hopefully you will see the effort of a lot of people pushing together.
Chad Reed
, by the way, is the new cover subject for
Racer X Illustrated
, and
High Point
is the only track on the entire AMA Motocross tour he's won on more than once (Chad took his first AMA outdoor win here in 2002 and his first 450 outdoor win here last year). With
Ryan Dungey
suddenly turning things back round, he could have a tough time earning his third win here.
High Point
is special for
Mike Alessi
too. The KTM rider earned his first national win here back in 2005, on the same brand he's on now. Alessi had a really bad week last weekend in scorching-hot Texas. I would be surprised if he wasn't up there battling for the lead and the wins in both motos.
Now that I think of it, KTM just had a bad weekend altogether in Texas, as
Tommy Searle
had problems after a fantastic opening to his season at
Hangtown
. He could also use a good race right now to get things turned around.
Yesterday was press day, and that meant that
Eli Tomac
got his first look at the
High Point
track. He was out riding with his GEICO Powersports Honda teammates
Brett Metcalfe
,
Blake Wharton
, and
Justin Barcia
, plus Honda of Troy's
Michael Willard
,
Darryn Durham
,
Les Smith
, and
Sean Lipanovich
. They all seemed to really like the track, and it was impressive to see how quick Eli got up to speed. Afterward, he told me about a very strange backyard encounter he had outside his house in Colorado earlier in the week. Watch the Racer X Pre-Race Show later on tonight or tomorrow morning for more on that….
Okay, I have to go help sort out
Dirty
from MTV, as he's racing
Rocket Rob
's Pit Bike race later for a
Rock-N-Jock
show. Before I turn this over to the other guys, I'm sorry again that we had some hiccups with the webcast streaming last week from Texas. We have a whole new group working on it now, and this time I hope we can give it to you the proper way.
If you're going to
High Point
this weekend, make sure to stop by the
Racer X
booth to get your free
High Point
event sticker (which you can see below.) While you're at it, we hope you'll consider subscribing to
Racer X Illustrated
.
For only $12, you'll get thirteen issues of Racer X, a free Thor/Racer X Roost Rag, and a cover poster.
The best way you can support our efforts to cover the world of motocross and supercross racing is to subscribe, and the best place to do that is at the races. Hope to see you at the booth.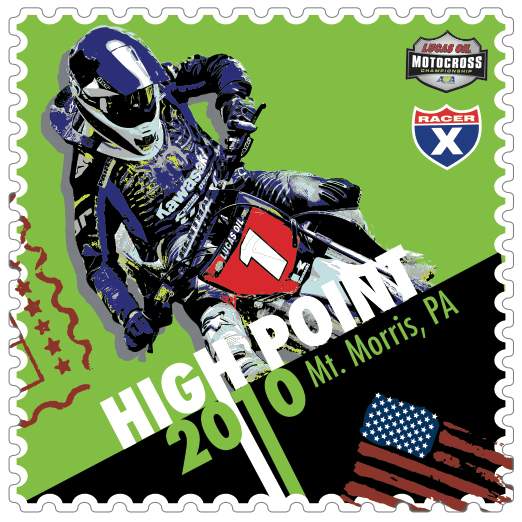 Get your FREE High Point sticker at the Racer X booth tomorrow.

Natalie McFarlane, the widow of professional Australian MXer Andrew McFarlane, sent out a thank-you note earlier this week for all of the support during this sad time. You can read it right here.

Here's Ping:

First things first: Have you gone over to www.motocross101.com and purchased my video yet? Just do it, because you know I'm not going to stop talking about it until every last person who owns a bike has picked up their copy. Thank you.

There was a lot of chatter about whether it was safe to run full-length motos in Texas due to the extreme heat and humidity. A large contingent thought it put the riders' safety at risk and that the motos should be shortened. To all those gals I would like to say, try another sport. Jeff Ward was in the TLD race shop this week talking about it and he made some good points.



"I can't believe that all of a sudden the motos are too hard when it gets hot," Ward said. "We've been running 30 plus two for a long time, and I can tell you that it was rarely cool back in places like Axton, Virginia, or San Antonio or any place in Florida. Why is it such a problem now? They run the Ironman Triathlon in Hawaii every single year in conditions worse than what they had last weekend. And every year there are competitors that push too hard early or just weren't prepared, and they buckle. That's part of the sport; it's not easy. I don't see what the big deal is."
It's difficult to argue with a guy like Wardy on a topic like that. I did see a handful of riders hit the deck after the motos with overheating issues, and it can be scary.
Ashley Fiolek
,
Trey Canard
,
Nico Izzi
, and at least a half dozen others made their way to the Asterisk rig for an IV before the end of the day. The two hottest races I ever experienced were in Troy, Ohio, in 1994 and one or two years later at
Millville
. I literally rode my bike down into Spring Creek and fell into it to keep from passing out. The good news is the weather looks like it's going to be amazing for this weekend's race at
High Point
.
Would you believe it's silly season already? There is going to be a lot of movement in the 250 class at the end of this year. Pro Circuit will have at least two slots open with the exit of
Weimer
and
Pourcel
. My guess is that
Broc Tickle
and
Blake Baggett
will end up there. There are also a couple spots open at Factory Connection. I've also heard the guys at Star will do some house cleaning at the end of the season, which would open some positions. It's all speculation at this point, but rumors have
Trey Canard
at Honda next year, and he could be alongside Pourcel or Weimer, the two standout supercross riders in the 250 class this year. I've even heard rumors of
Stewart
there. It will be fun to see where everyone lands.
Shawn Norfolk
has taken a position in the marketing department at Troy Lee Designs. Shawn has been working in the industry for a long time and has been a big part of the success of companies like Goat Eyewear, Renthal, and Tag Metals. It's good to have the big guy on board. And no, he wasn't the mechanic who helped
Jeremy
along to all those supercross titles early on. That was his brother
Skip
.
I got a message from
Shae Bentley
this week letting me know that his mechanic,
Todd Dunn
(known in the industry as "Grape Ape") had passed away from a longstanding heart condition. Very sad news. Our condolences go out to all his family and friends.
In other sad news, local California racer
Jeagher LaFountaine
passed away this week. His trainer,
Randy Lawrence
, spoke with him at 9:00 in the evening after a day of riding. He passed away in his sleep that night of unknown causes. That's just unimaginably tragic. Again, our deepest condolences to his family and friends.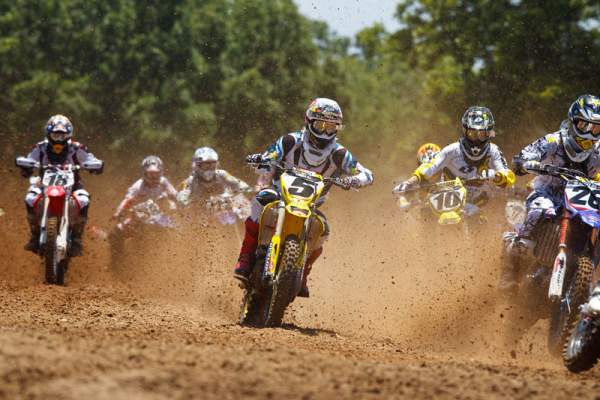 Ryan Dungey is coming off an impressive 1-1 in Texas.
photo: Simon Cudby


Let's turn it over to Steve Cox:

Hangtown was chilly and overcast, then Texas was like an oven (but hotter), and now it looks like there's a decent chance of rain tomorrow at High Point. What's going to happen at Budds Creek? Fire? Snow?! A solar eclipse? Sheesh….

I've shot at a lot of very hot nationals (I've only missed one since 2004), including the Southwick National in, I think, 2005, where Chad Reed shaved his head after the first day (back when there were two days of riding/racing at the nationals), and I don't ever remember being that hot before at a race. And my body agreed - when I took off my shirt Sunday night before bed, I saw something that kind of freaked me out – hundreds of little pimple-looking things all over my upper body, including my neck. I broke out in a heat rash (I had to look it up on the internets). I've never done that before, so I think that confirms that it's as hot as I've ever been. It was actually difficult just to make it through the day, and all I was doing was shooting photos. It was flat-out gnarly out there. I can't even imagine what it must have been like for the racers who were covered from head to toe in riding gear and sitting on top of boiling-hot motorcycles. Insane.

And while I'm talking about last weekend, what the hell is up with Texas? When we were there for the Dallas Supercross a few months ago, a BLIZZARD blew in, and now it's like standing on the surface of the sun! It sure does make me appreciate California, despite the smog, traffic, and everything else people normally complain about here.



On Monday, our graphic artist extraordinaire
Langers
and I went out to
Pala
Raceway to check out the 2011 KTM SX lineup, and while I'll have a complete review up soon (I rode a lot of different bikes), the focus of the intro was really the new KTM 350 SX-F. And for those of you who were wondering, it really is just like you would assume: It's not a 250F and it's not a 450 - it's right in the middle. It has more torque, similar to a 450 but not that much, and it feels lighter and more nimble than a 450, even though it may not actually be much lighter at all. It's a really cool bike, especially for guys (unlike me) who weigh under 200 pounds. You can ride it a bit like a 250F but still have the torque to pull out of mistakes or over jumps like you have on a 450. If you get a chance, check it out.
But I have to say that I spent most of my time on the 150 SX – the two-stroke overbore 125. Man, there's just nothing more fun than a 125 – except a 144 (which is technically what the 150 is, as I understand it). On a 125, you can just ride wide-open all over the place, but it still takes a bunch of skill to go fast and it exaggerates your mistakes, unlike four-strokes, which mask your mistakes. And with a 144, it's all of that, but it's just that much more power for a guy like me who weighs a bit more than the bike is probably intended for. At the end of the day I went, in sequence, from the 150 to the 250 four-stroke to the 250 two-stroke to the 350 four-stroke. It will definitely mess with your riding style to do that, but it's fun.
And honestly, one thing I love about KTM (and about Yamaha) is that you can pick whatever you want. KTM's lineup includes 125s, 150s, 200s, 250s, and more in the two-stroke lineup, and then in the four-stroke lineup you have 250s, 350s, 450s, etc. Working at KTM has to be the most fun job in the industry, because they get to just pick what they want to ride and go ride it. If I was wealthy, I might just own one of each to make sure I have the right bike to fit my mood on any given day. They all look good now, too. The only problem I ran into on any of the bikes happened on nearly all of them, which was that the top of my right boot kept hanging up on the radiator shroud. But that probably has more to do with my bad riding habits and giant feet (size 12) than it does any sort of poor design at KTM.
In other news:

You can win two VIP tickets to the national of your choice by entering our TGI Freeday contest.
Click here to enter
.
Unfortunately, local hero
Broc Hepler
will not be racing the
High Point
National. We confirmed this with Broc earlier this week via text message. However, Broc said he'll probably be there to watch, so keep an eye out for him.
There is pro practice available all week long, just 50 minutes south of
Budds Creek
. The track is eight miles off interstate 95, and is private on 1,000 acres. The track will be watered each morning Monday–Thursday. Overnight parking/camping is available, and there's a pond for swimming and fishing. Longtime motocross coach
Chris Panchyshyn
will be on hand to assist in any coaching needs. For more info, contact Chris (804) 304-1516.
Tomahawk MX Park, located between High Point and
Budds Creek
, will also be hosting free pro practice all week.
Click here
to learn more.
Tyler Davis
was at the Birch Creek Loretta Lynn's Southeast Regional and filmed a little montage, which includes some shots of
Malcolm Stewart
. Check it below:
Birch Creek Southeast Region Amateur Qualifier from Lockdown Media on Vimeo.

OK, that's it from us. We're off to the track. If you can't make it to the races, please be sure to tune in to NBC tomorrow at 3:00 p.m. Eastern to catch 450 Class from High Point.

We'll see you at the races.