Welcome to Redux presented by Renthal. Dungey is back and Pourcel takes a win in a manner so sneaky that he surprised himself. What else did we learn in Texas?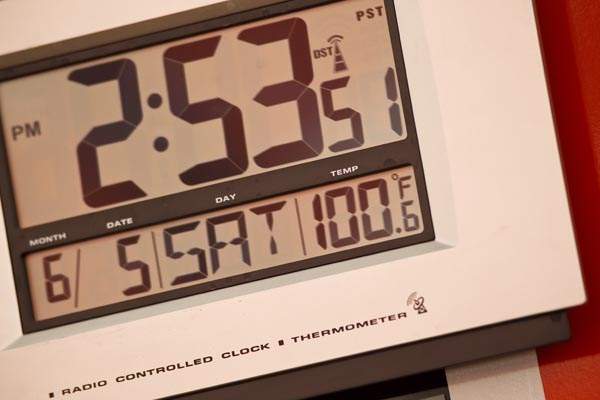 Forget national numbers. We're focused on triple digits.
Cudby photo
On Friday before the Flagstar Bank Freestone National, teams and riders asked about shortening the motos. It was going to be hot, and teams were afraid someone would get hurt from pushing too hard for too long. On Saturday morning, Dr. John Bodnar would consult with the teams and make a decision on what to do.

Now I know what you're all thinking: Shortening races because it's hot? What happened to motocross racers being tough? What happened to training? Where's Bob Hannah?

I understand that. But when talking about possible heat stroke, everyone saw the image of Brett Metcalfe at this race in 2008—he crossed the finish in the second Lites moto and pretty much collapsed on his bike. He was probably riding the last few laps—doing jumps—with his brain on full boil. It was dangerous. And Metty's a hard trainer. From Australia. Tough as nails, wants it, works hard, trains for it. That same weekend in 2008, Jason Lawrence and Josh Hill rolled a rental car in the pits and were cited for drinking (not Gatorade) at the track. They both raced the next day and rode poorly, but they didn't suffer from heat exhaustion, either.

So there's a mystery factor when it comes to heat. In the end, they kept the motos at the regular thirty-plus-two length, and the riders and teams were told to police their efforts and not race themselves into the ground. As Dr. Bodnar said in the riders' meeting: "When it's hot for a marathon, they don't cut the distance of the race - they just tell the runners that you're not going to shoot for a personal best today."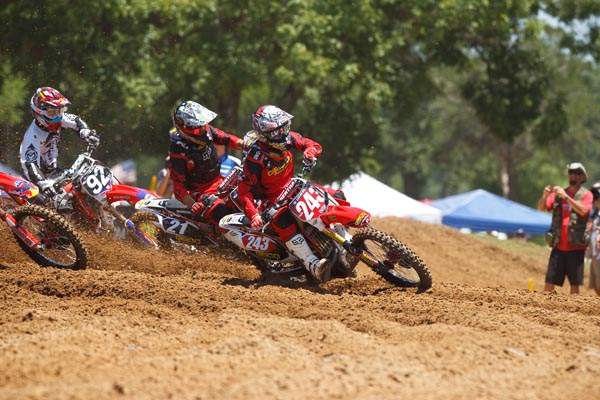 Right now, conserving energy is so far down the list that they should just be driving Hummers.
Cudby photo


Teams were told to watch the lap times—if a rider drops twenty seconds a lap, pull him in before he hurts himself. Basically, the riders would have to pace themselves. And that's the big difference between our dreamy Bob Hannah memories and today's racers. They don't pace themselves—especially not in the 250 class. It's a full-on balls-to-the-wall sprint from the moment the gate drops. Back in the days of 45-minute motos and crappy bikes, guys would wait to make a charge. In the 250 class today, the field is so deep and the intensity is so high, that you have to get on the train when it's moving. You could dangle anything you want in front of the riders on the start of a 250 moto—money, chicks, cars, whatever, and tell them it's a reward for going slower at the beginning of the race. But then they would all go out and pin it. There are 20 guys in that class who think they can win a moto if they get the start and go fast early. And heat stroke, you can't overcome that by being tough.

It's easy to tell the riders to pace themselves but harder to actually do it, especially when you're a teenager who wants to win badly. Take Eli Tomac—the super-trained son of the GOAT of mountain biking (Mountain GOAT?). He grabs the holeshot in both motos and goes wide-open. His opening laps were about as fast as you'll ever see anyone go on a 250F. But after 20 minutes, he had a fork sticking out of his back. Done. Eli's only raced two 30-minute motos in his life. As awesome as he was at Hangtown, he did get pretty wobbly at the 20-minute mark there—he crashed in one moto but held on in another. And I remember, during his Loretta's days, Eli admitting that heat and humidity is pretty tough when you ride and train in Colorado.

Don't worry, the kid will figure it out. On TV, Erin Bates interviewed Eli's dad after Eli started dropping back, and Dad was still smiling! They don't care about losing a moto or two right now. They'll learn from this and be even more unstoppable down the road.

Such an unpredictable animal is this heat that the CANADIAN kid was going to win. Hey, Canada lost most of its NHL teams to hot-weather American cities right? And you know Dean Wilson was fired up for this - he's been watching the other rookies win races all season and definitely wanted his turn. In moto one, he went from 13th to third. When he started behind Tomac in the second moto, you could see Dean's determination to run with him. Once Tomac hit the wall, Dean took the lead and took off.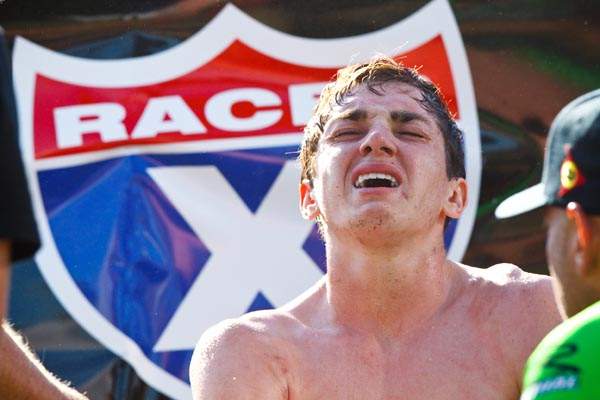 Dean probably felt the same when he got stopped at the border, too.
Cudby photo
But then Dean's mind must have gone on the fritz. He pulled the ultimate, all-time brain fade move. ALL-TIME. WORST. EVER. He actually pulled over and LET Tyla Rattray and Broc Tickle pass him on the last lap, because he thought they were lappers and he had a giant lead, and he wanted to help Rattray get another lap to make some passes and score some points. What was that going to do? Help Rattray move from 32nd to 31st? This is not the thinking of a rational man, and I suspect the heat was a factor.

When Tickle passed Wilson for second (five feet in front of the finish!) it handed the overall over to Pourcel. Wilson's move is an all-time brain fade, and it probably literally came from a fading brain. Kevin Windham mistaking the white flag for a checkered? Not even close. That umpire who blew the call and cost a pitcher a perfect game the other day? You've got company. Dean Wilson gave away a win for no real reason at all.

Damn, dude. So that gives the crafty Frenchman the victory in the craftiest nature yet—even he didn't think this would be good enough for win. He outsmarted himself!

Texas was supposed to deliver a Tomac vs. Pourcel showdown. In the second practice, they followed each other around the whole time playing cat and mouse. In the first moto, Tomac had checked out, and then when he started to fade, Pourcel closed in. Then Pourcel went off the track and caught right back up! The kid was just plain tired, and when Pourcel passed him, he kept looking over as if to say, "What's wrong? Let's race!" After the race, I asked Pourcel what was going on. "I wanted him to play!" he said. "I wanted to play with him a little. I want to race the guys. I think it would have been fun to race him. But I guess he was too tired."

Pourcel really knows how to play his role.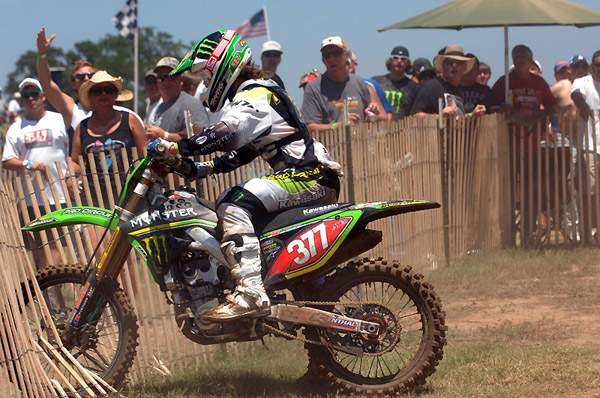 The Frenchman tries to get across the border!
Carl Stone photo
About the only thing you could predict about the heat was that it would have zero effect on Tyla Rattray and the American version of Tyla Rattray, Broc Tickle. These dudes don't even appear on the radar until halfway, and they never, ever fade. Start an Ironman challenge where the guys put huge tanks on the bikes and just ride until they all collapse, and I guarantee you Rattray would be the last one standing. Unfortunately, those skills rarely come in handy in the "go as fast as you can as soon as the gate drops" style mentioned above, but on days like this one, it almost got him an overall win.

A few people are rumbling that Rattray is too heavy for a 250F, but he told me he watches what he "doesn't eat burgers" and "would rather have a few extra pounds than be falling down and breaking bones all the time."

Normally we start Redux by talking about the 450 guys, but there wasn't as much action there. Why? I suspect that by the time a rider has matured enough for the big class, he has learned, somewhat, how to actually pace himself. You didn't really see anyone wilting in the big class.

(Which brings up the age-old argument, does it actually take more energy to wrestle a 450 or wring the neck out of a 250F?)

Anyway, Ryan Dungey is back. He won both motos and shrugged off the Texas heat like he had an A/C strapped to the bars. Perhaps he could have offered us a check of his helmet to show that he was barely sweating out there, a la Alessi at Hangtown. Dungey is pretty hard to stop in these conditions. Not only is he in shape, but he rides smooth and rarely makes mistakes. How often, even on a 250, did you ever see The Dunge get way out of control? He's even calmer on the 450. Combine all that and he'll never get tired.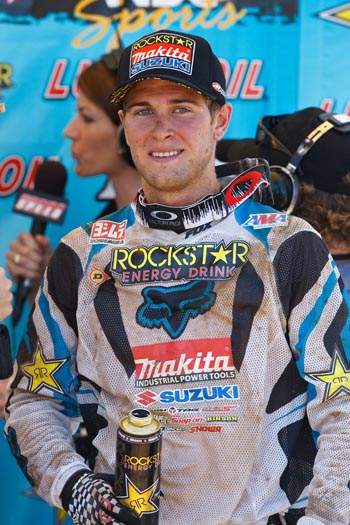 Dungey was clearly exhausted after the effort.
Cudby photo
The win was especially key because Dungey actually showed up in Star magazine this week as potentially dating Jamie Lynn Spears (Britney's sister). Not kidding, a few 450 riders were pumped on this news, hoping Dungey had finally cracked, fallen into the trap of chicks and partying, and hence would ride like he did at Hangtown all summer. Nope. He's back in Florida with a trail of broken hearts in his wake.

Chad Reed rode more like the 2009 Chad Reed than the Hangtown 2010 Chad Reed. Took way too long to get going in both motos, but he scored solid points and doesn't have any ill effects due to heat. Maybe he was just playing it smart? The mind boggles over the possibilities of a Reed-Dungey title fight this year. How can you possibly pick a favorite between those two?

The only 450 rider who really looked like he was pushing it was Ben Townley. At Hangtown, BT101 looked like his main goal was to not crash—which, if you missed two whole years with injuries, should be your goal. But he was carrying some confidence from that Gen Helen GP moto win into Texas. He was on the gas in practice, and David Bailey and I visited him after and saw him smiling ear-to-ear. He's got that fast feeling back, and while his fitness isn't at max capacity yet, it will be soon. By the way, Ben had the fastest lap time of ANYONE in any of the motos on Saturday.

Unfortunately, BT went down in the first turn in moto two and burnt his back. But at least he got up relatively unhurt (for once). He raged back to 14th before running out of steam and dropping to 16th. He's going to be fine.

BT is doing this on a team that has never run the full national tour and doesn't have nearly the works Honda backing you would think—Ben's not running a factory bike with TLD graphics, trust me. But then again, the actual factory Honda team couldn't get Andrew Short's bike running for the first moto. I have never heard of this happening to a team at that level. They later told Erin "Take The" Bates that it was an electrical problem and provided some vague answers—which is what the teams always do. Ever break a crank? A piston? Nope. Darned electronics always get 'em.
Davi Millsaps struggled in the heat, but if I mention that he was alone in fifth in moto one and then started falling back on lap nine—to sixth, then, seventh, and eventually tenth—I would probably just be considered a hater who doesn't know how hard all of these guys work. So I'll just say he faded back for some unknown but totally legit reason. He said blew out a fork seal in the second moto and took 19th. So that makes Townley the top Honda guy out there, right?

Oh wait. Kyle freaking Regal! The kid has been involved in some controversy lately since being dismissed from (or leaving) the Valli Motorsports team, but regardless of what's going on, you can't say he's not a good rider. Regal was sixth in moto one and passed Chad Reed twice in the second race en route to a second. He also got around Short, who should have been strong after missing the first moto. Regal was a solid top-five guy last year, so expect more of this.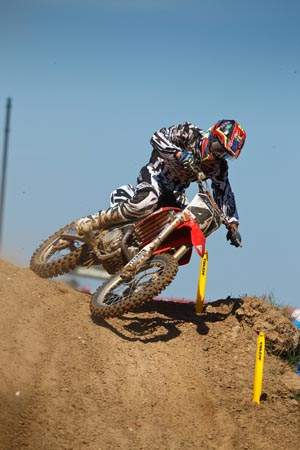 Look! An italicized number four on a Honda!
Cudby photo
I don't know what to say about Short. The dude can't possibly work or train any harder. Another internet "observationist" told me on Friday how, unfortunately, Short is known for fading. I wanted to disagree, but I really can't after he ended up sixth in the second moto. I don't get it.

Another Honda guy, Brett Metcalfe, has done much better on the 450 than I expected. He's right where he was on the 250s—fourth, basically just one small notch off of being "the guy." I don't know if he'll ever finally make that leap and win a race, but his aggressive style looks a lot calmer on the 450 already, which means he could be a solid threat in that class for a long time to come.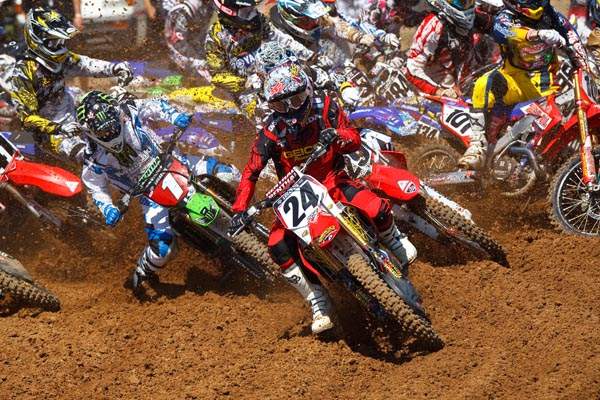 I didn't mention Metty last week so he deserves some extra love here. Good job, Metty (and also, note the dark cloud of fate about to pull Townley into the ground).
Cudby photo

After Hangtown, I asked Tony Alessi about getting an interview with Mike. Tony said they won't do interviews until RedBud, because the 450 field is too deep to know what's going on early. Before the race, he told Mike could easily be back where Dungey was at Hangtown, and Dungey could win. The man is a genius! Mike rode badly in the first moto, utilizing the scenario everyone feared this year: Mike gets a bad start and basically can't handle it. He was much better in moto two and actually got to the lead and took off. I really wanted to see if Dungey and Reed could run him down, but Mike crashed. He fought back hard to get a fifth in the moto, Maybe he fought back thanks to that easier-to-ride 350? Or wait, is a 250 easier to ride than a 450? I don't even know.

Didn't see Josh Grant all day. This is one of those rare races where the result (fifth overall) makes it look like a guy actually rode better than he did. For example, Grant was fifth and Townley was eighth. Hopefully, Tony Alessi is right (and when, really, is he ever not?) and guys are going to be bouncing around like this every weekend. It will make for a fun series.

On the other hand, the results don't show how well some others rode. In the 250 class, Blake Baggett charged from eighth to third in a few laps and then his bike broke. Nico Izzi was really fast in third for a while, too, but then crashed, and I think the heat got to him. Remember, Nico missed all of last season with an injury. Darryn Durham was up there going fast too but crashed. I could see myself writing that a lot this summer.

After Jessica Patterson crushed it at Hangtown, a few theorized that Hangtown's choppy track lent itself to her style. Well, Texas must have been good too, because she checked out and went 1-1 again. Ashley Fiolek took two seconds, but she was suffering from the heat at the end. Earlier in the day, Wil Hahn and Cole Seely had their heads shaved in the pits to stay a little cooler. Even Blake Wharton has cut back on the size of his fro a bit. But JP ran her long hair and basically seemed to ignore the heat—I think I may start a weekly "Here's how freakin' tough Jessica Patterson is" story. Could be fun.

Tarah Geiger was third overall in WMX, with Vicki Golden fourth and Sara Price fifth. Good to see Golden back up to speed after some big injuries last year (lacerated liver and collapsed lungs). Same for Price, who had an embarrassing endo when she didn't realize a jump at Hangtown had one of those "billboards" on the other end. Due to that, they now wave green flags at the approach of those jumps in practice so the riders don't accidentally roll over the falls.

Oh yeah, so I mentioned Blake Wharton earlier. He came through the pack for a solid seventh in moto one and had bike problems, I think, in moto two. It's definitely becoming "one of those years" for Blake, which is a shame because he's a good dude and a good rider. But that 250 comp is tight … and that's why no one paces themselves.

That's it from Texas. Shoot me an email (jasonw@racerxonline.com) and follow me on Twitter (@jasonweigandt) or just come over to my house while you're heading to High Point this weekend. You can sleep in the yard just like most of the junk cars on my block.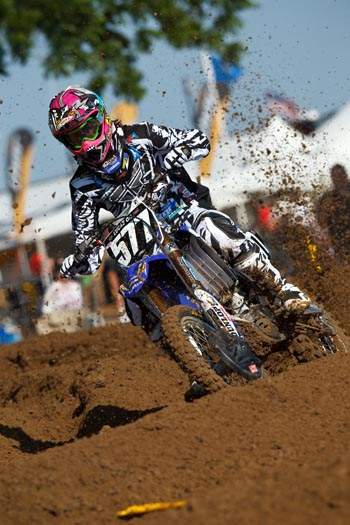 When it's hot, why don't we talk about Davalos? He's practically from the equator!
Cudby photo