Welcome to Racerhead. As you can imagine, it's been a pretty hectic week in and out of our office, so today's installment of Racerhead is going to be short and sweet.


Can you feel the excitement? It's hard to believe, but tomorrow is the kickoff of the 2010 Lucas Oil AMA Pro Motocross Championship at the 42nd Annual
Hangtown
Motocross Classic near Sacramento, California. If you're within driving distance, we hope you're headed to the race. The forecast looks perfect (partly sunny with a high of 66), and tickets are still available; just visit
www.hangtownmx.com
or call 1-800-HANGTOWN with any questions you may have.
If you're one of the many who can't make it to
Hangtown
, don't worry, you're covered. You can tune into
http://www.allisports.com/motocross/live
to catch all three of the first motos live and free (that includes the WMX class.) You'll then be able to listen to the live audio of all of the second motos on the same sit. So tune in around 12:30 to 1 p.m. PST (that's 3:30 and 4 EST). Then tune into SPEED Sunday (or set your DVRs if you're out riding or racing yourself) starting with the 250 class at 5:00 p.m. EST, and the 450 class starting at 6:00 p.m. EST. As always, be sure to check your local listings.
Twitter? If so, follow the action at
www.twitter.com/americanmx
and
www.twitter.com/racerxonline
.
So, between the two classes, who do you think will be this weekend's standout performer at
Hangtown
? That's the subject of this week's
Hammerhead Designs Online Poll
.
Let's kick things off with
Steve Cox
:
It sounds like
Chad Reed
is ready for a title defense. He went home to Australia last weekend to attend his friend
Andrew McFarlane
's funeral and spent more time in the air than on the ground (he was only there for thirty hours or so). But he says the perspective and closure the experience gave him makes him want to do his job more than ever.

"It really opens up your mind," Reed said. "When you're sitting at a funeral and you're looking at highlight reels, you just remember all the good times. None of the low points ever get brought up. So I'm just happy to be out there and be enjoying it. I just went through so many different emotions. Within a couple days, after I really just considered stepping away, I was just like, 'Why am I doing this?' And after a couple days, you really realize it, and going to Andrew's funeral really made me realize that motorcycles have been my life – my whole life. It's all I know, and it's what I do. It's who I am, so I'm excited to go through all those emotions and really find out that this is really what I want to do and this is who I want to be. I'm ready to win races and more championships."
Hangtown
will be Reed's first race since McFarlane's funeral, but it's also going to be his son
Tate
's first race ever. Reed spent the rest of the day after Press Day getting his motor home equipped for his son and his wife,
Ellie
.

You know how sometimes it seems like things come and go in groups? Well, Chad and Ellie had Tate recently, and Trey Canard's mechanic, Brent Presnell (aka "Big B"), and his wife, Lyndsey, had their first baby boy this past week as well. Beckham Presnell was born last Sunday night at about 9:30 p.m. and weighed in at 6 lbs, 5 oz. Little B and his mom are healthy and happy.

And obviously, this weekend features the birth (get it?) of the 2010 Lucas Oil AMA Pro Motocross Championship at Hangtown, where Reed will attempt to defend his title against last year's 250cc MX champ (and this year's 450cc SX champ), Ryan Dungey, and a host of other contenders. Check out our Racer X Preview of the series right here.

And before we go any further, make sure you save this link: http://www.allisports.com/motocross/live. That's the direct link to the part of AlliSports.com where you'll be able to watch the first motos live, then listen to the audio of the second motos, and keep tabs on the living timing and scoring, all for free.

Oh, and for those who missed it, check out this interview with Greg Schnell that went up yesterday. He was featured on MTV's Made yesterday, and it will be re-airing this Saturday at 2 p.m. Eastern on MTV. It's a really cool episode where he actually takes a kid (Cameron) and, in one month, gets him good enough on a dirt bike to graduate from a CRF150F to a CRF150R, and then Cameron goes out and races. Don't miss it.

Before Pingree began preparing his team for battle, he sent this in:

The MTA Four Stroke World Championships needs a name change. Aside from that, it's a good chance for riders to shake down their motocross setups and gauge their speed and fitness on a national-caliber track. Ben Townley holeshot the first moto and walked away from the rest of the field. With about a twenty-second lead, Ben got a rear flat and had to return to the pits for a wheel change. On a related note, I made a rather sizeable order of Moose tubes on Monday morning. Weston Peick came from the back of the pack to win the first moto over Trent Pugmire, Austin Howell, and Dan Reardon. Moto two saw Townley go from fifth to first in about four turns and march away for the moto win. Dan Reardon was a solid second and Peick was third in the moto, which was good enough to give him the overall.

In the 250 division, Tyla Rattray got the overall, but only after grinding Max Anstie into the ground physically. The first moto, Max got out front early and absolutely checked out. Tyla battled with a small group of riders for a few laps, and by the time he got into second, Anstie was gone. Even then, Max was pulling away from Tyla a little bit every lap. The second moto, Tyla got to the front much quicker and started to pull a lead. Anstie passed into second, closed the gap on Rattray, and appeared as though he would go by and take off. But the former world champ remained solid, and before long Anstie tired and faded off the rear wheel of Rattray. Decotis would finish third, Lance Vincent put in a sold 4-4 effort for fourth, and Chris Gosselaar rounded out the top five.



As usual, the
Glen Helen
course had massive hills and a sketchy step-up that only the very best riders in the pro classes were jumping. If that jump is still there in a week's time, the FIM and the visiting GP riders are going to stain their shorts. If you want to see how a riders' union works, watch those Grand Prix boys when they see that jump. I hope I'm there when it all goes down.
There is all kinds of speculation about which riders will be at the front of the pack in this weekend's races.
Dungey
is an obvious one and
Chad Reed
would seem to be as well. But there are a lot of question marks in the lineup too. I haven't heard too many good things about the progress of
Mike Alessi
over the past months.
Josh Grant
was really fast at
Hangtown
last year - where will he be? How will
Matt Moss
do in his factory Suzuki debut? Can
Kyle Cunningham
put it down on the big boys like he did in Vegas? That was impressive. Was
Ricky Dietrich
really that good or was the field just thinned last year? How will
GL
do outdoors? What about
Metty
on a 450? Is national winner
Matt Goerke
going to be as fast as he was last year? How will
Ryan Sipes
do on a 450? Will
Kyle Regal
be as strong as he was last summer? What will Ben Townley do after two years off? I have a little bit more perspective on that last one than most, but the rest of them are totally up in the air to me. And this is just the 450 class!
The 250 field is even deeper, and that racing should be awesome. In the WMA motos, the battle between
Ashley Fiolek
and
Jessica Patterson
continues. But I would wager that there will be a few new names in the mix in 2010. That should be fun to watch. Like everyone else, I'm psyched out of my mind to get the ball rolling in Sacramento.
If you are going to be in Sacramento, remember to check out the Crossover Challenge event going on Friday morning among the amateur-class races. Top action-sports athletes from various disciplines will get a chance to ride the national track and share their common passion for MX.
Shaun Palmer
is a regular in this event, but word is that they aren't going to let him ride the crossover class because he always wins it. So he's being moved up to the Media class! See you on the starting line, Palm. Pack your tear-offs.

Daron Rahlves is also making the trip, along with Winter X Games hero Nate Holland and a long list of BMX, skate, and snow athletes. Practice starts at 7:00 a.m.-ish for the crossover and media classes with races following.

I saw this photo of Davi Millsaps working with his riding coach posted on a message board and thought it was telling.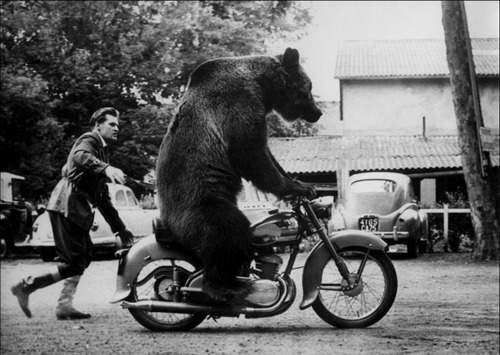 In other news:

If you've never played a Fantasy MX League, there's no time like the present: ProMotoFan.com and DeCal Works (www.decalworks.com) are offering up to twenty-four chances to win a cool $50,000 cash. It's a fast and easy Pick Em' game that should be a ton of fun, and there are a bunch of other prizes they're awarding for each race. Check out www.ProMotoFan.com before Hangtown to get in on the action.

Here's a cool Honda commercial we dug up on YouTube this week:
Ricky Carmichael
headed to Charlotte for the week and had a chance to test am 800+ horsepower late model for the upcoming Prelude to the Dream race, which is run by
Tony Stewart
. It's a charity event where many top NASCAR and other celebrity drivers team up and raise money for a bunch of good causes. RC is on Team St. Jude with
Denny Hamlin
,
Ken Schrader
,
Carl Edwards
,
Aric Amirola
, and
Ray Evernham
. For more on the Prelude,
click here
. The event is shown live on HBO PPV.
The car RC tested was
Austin Dillon
's (Austin is the grandson of
Richard Childress
). That was pretty cool, since Austin drives the very famous #3. Austin is an accomplished dirt driver (and also competes with RC in the Truck Series) and was there to give RC some pointers and help out. For his first time out, the test team members were all impressed. During that test, Team RC was also trying out a new way to connect with the fans by streaming most of the test live on www.rickycarmichael.com/video. The uStream setup allows Ricky to broadcast live from virtually anywhere, and he will be trying out new ways to interact with the fans, so stay tuned.
If you missed it, you can see the archived videos on the same page. You can catch upcoming live events by following RC at
www.twitter.com/rickycarmichael
. RC will give you a heads-up tweet when he is about to go live. He looks to continue his solid start to the race season tonight at 8:00 Eastern on Speed.
Here's a letter we got from
Kim Cyr
:

My 17-year-old daughter, Katie Cyr, is on a cross-country motocross adventure with her dad, and WMA Pro Julie Parizek. They're hitting practice tracks all over the west coast, and will be attending most of the AMA Nationals. Katie started a blog of their trip a few weeks ago, and will continue it until they come home at the end of July. It's a great perspective from an amateur racer, and she has photos to accompany it. I think it would appeal to a lot of your readers.

If you're interested in using it, please go to www.katiegoesbraap.blogspot.com. She's got 6 or 7 blogs written now. It would be so cool to be able to share them with your readers, as she works her way up through the amateur ranks.

So that about does it for Racerhead. Thanks for reading, and we'll see you at the races.