The Fox Fifty: Virginia Results
The results are in for our sixth state in The Fox Fifty, and the fastest rider ever from the state of Virginia is none other than the Icon himself, David Bailey, who led the voting with 26 percent. Abingdon native and current MX2 Grand Prix racer Zach Osborne is second with 19 percent, narrowly edging out amateur legend Kevin Walker. Chad Lough came in fourth, with Ray Pulley and Timmy Walker tying with five percent of the votes.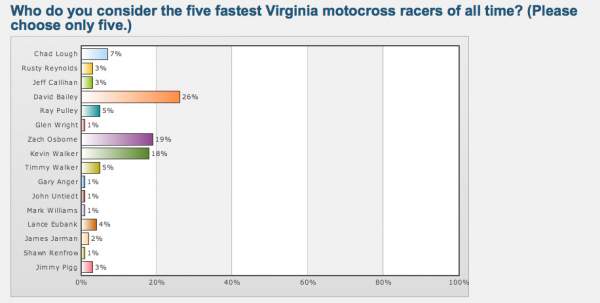 Our panel of voters here at Racer X and Fox came up with who we think are the five fastest from Virginia, and they are:
1. David Bailey
2. Zach Osborne
3. Timmy Walker
4. Jeff Callihan
5. Chad Lough

Now here's some feedback regarding the state of Virginia:
Great list, but you forgot a few. Randy Renfrow was a MX fast guy before road racing. And as Shawn Renfrow's older brother, he taught him how to go fast. Also, Vincent D'ercole. He was a regional AMA champ and winner of LCQ at Lake Sugar Tree National in '77 or '78 and is still going strong out west. He almost won his class in the Baja a couple years ago at age 50 something with only his wife and a friend for support. That probably deserves a story in itself.

Gerald Williams
Springfield, VA

You missed 1984 250A Loretta's champion Scott Bland. He is from Vienna, Virginia, and was the top rider in District 7 for many years. He now resides in Florida and is riding the vintage nationals on a 1983 480 Honda. He has won several classes in Texas, Florida and North Carolina. He gets my vote.
Pat Elburn

Thank you for this article. What a blast from the past. Having started racing in 1981, I had the privilege of seeing some of these guys tear the track up. David Bailey aside (he is in a class by himself), Glenn Wright was just awesome to watch coming down Robertson Blvd. at the old White Oak MX Park in Fredericksburg, VA. He used to sit on the line and let the field go, taking his time putting on his gloves, goggles and then slowly pull off a wheelie down the start straight. After letting the field go a half a lap or more to the last rider, he would throttle up and start tearing up the track. He would come down Robertson Blvd on the far left passing riders like they were sitting still. And while the pack would line up throught the main right hand berm throgh the hairpin turn, Glenn would stay far left and cut his own berm through the thick loam and cut back across the main line, passing several riders in one swoop. I can see it just like it was yesterday. Awesome! Jeff Calihan was super smooth and incredibly fast too. Jimmie Pigg and James Jarman were the crowd favorites, super fast and great guys.

There is one other rider that comes to mind that should be on the list. David White. Whether MX or Hare Scrambles, when he showed up (usually late getting to the track with a dirty, well-ridden bike thrown in the back of pickup), you could pretty much count on him blowing the competition away. He was the type of rider that could show up at the track and jump right on someone else's bike that he had never ridden and smoke the field. Yeah, David White should be added to your list.
Trey Woody

There is another rider from Virginia that was left of the list. His name is Vincent D'Ercole. He won many amateur races as well racing at the Pro level. He was a sponsored by Ossa back in the late '70s and early '80s. He was on the front cover of Motocross Action magazine going around the first turn at the start of the Lake Sugar Tree National. If I remember right, he was in the top 10 until the end of the race, then he got a flat tire.
Carter Mackiewicz

I definitely wasn't the fastest of all time, but got to be in the top 50 somewhere. 1986 District 13 125 Expert #1 Plate. In 1986-87 I raced most of the east coast Nationals (125 pro) and qualified at all races. I think my best finish was 22nd at Succession and a 22nd at High Point. Also raced a couple supercrosses in 1987 but never made a main. In 1988 I got a support ride with Cagiva, raced a few rounds of the Florida Winter Series, couldn't stomach the bike, gave it back, and went off to college. I would also consider Randy Everett, Scott Bland, and Jim Gibson. He has to be on the list; the guy would smoke Pigg, Taylor, Kessler when he was on.
Doug Solether

I have been racing Virginia D13 since 1986 and I can think of several riders you might have missed. I'm sure we could list names for hours but these are a few that should not go with out mention:
Casey Martin - I believe top five Loretta Lynn's rider in the mid 80s. Also a Team Green rider.
Mike Martin - Younger brother of Casey. Also a top Loretta Lynn's rider.
Terry Kennedy – Super-smooth rider from Richmond area with a style that had to be seen. Qualified for a few nationals in mid 90s.
Isha Wood - Qualified for a few nationals. From the Harrisonburg area.
Devon Pilkington - From Virginia Beach. Finished fourth this year in the Lites Arenacross East. He's going north to Canada to do the nationals this summer.
Matthew Wells