Racer X Race Report: Las Vegas
The grand finale of the Monster Energy Supercross tour displayed why this year's champions became champions, as Ryan Dungey and Jake Weimer finally got to put championship consistency behind them and run for wins again. And run hard they did, landing big victories in front of a packed house in Sam Boyd Stadium in Las Vegas. With that, any doubt of their championship credentials were washed away with the victory champagne.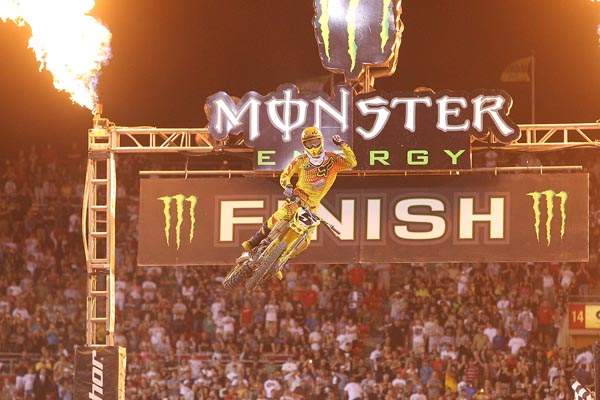 Ryan Dungey returned to victory lane in Las Vegas
Simon Cudby photo
Dungey's win came against a game Chad Reed, who finally showed hints of the real talents that make him a multi-time SX Champion. Dungey grabbed the Spike Holeshot in the main event but Reed quickly passed second-place starter Kyle Chisholm and set out after Dungey, a showdown fans have been waiting to see all season. Meanwhile Kevin Windham, who had won two-straight races coming into the event, started just inside the top ten and had a long way to go to challenge for a three-peat. He was too far back to challenge Dungey and Reed, who kept setting blistering laps out front.

Lap by lap, Dungey inched away from Reed, pulling a gap and holding it through lapped traffic. Reed never gave up and stayed within five seconds of Dungey the whole way, but was never able to quite get up to Dungey's pace. At then end, Dungey won it by just over five seconds, his sixth win of the season. Reed's second place finish was his first podium of the year, while Windham rallied back to third, but was never able to make a dent in the gap Dungey and Reed had built up.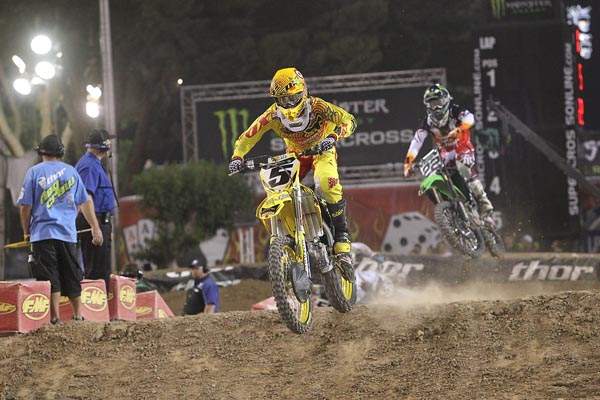 Dungey held off Reed's race-long charge.
Simon Cudby photo

Dungey gave Reed respect for racing him hard for the full twenty laps, and also was happy to put two sub-par rides at the races behind him. Reed fought back tears on the podium, explaining how badly he wanted to win the race for his friend Andrew McFarlane, who passed away tragically at a race in Australia last weekend. Windham knew he had no chance of catching the leaders, facing an eighth-second gap by the time he got to third. He backed it down and finished about that far back at the end.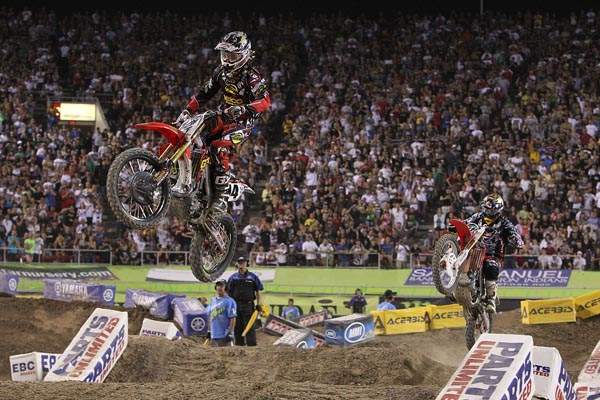 Windham's win streak came to an end with his third-place finish.
Simon Cudby photo

Perhaps the most surprising ride of the night came from Valli Motorsports Yamaha's Kyle Cunningham, who passed Honda Red Bull Racing teammates Andrew Short and Davi Millsaps to take an impressive fourth. Short battled Millsaps down to the last lap and made a pass for fifth, pushing Millsaps back to sixth.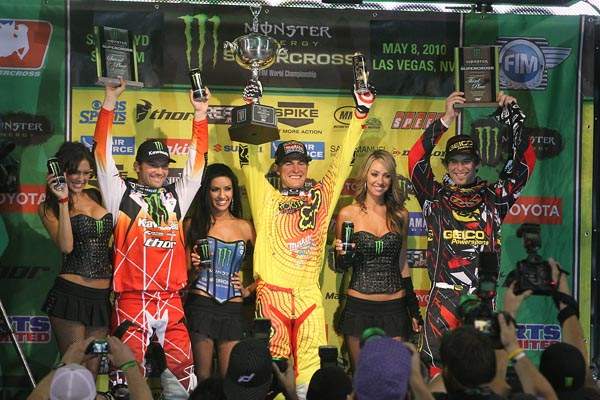 The SX Class podium.
Simon Cudby photo
The Lites class was very much the big show, since Dungey already had the SX title wrapped up. The East versus West battle shaped up perfectly when co-champions Weimer and Christophe Pourcel came thundering into the stadium battling right from the start, with fellow Monster Energy Pro Circuit Kawasaki rider Dean Wilson right with them. GEICO Honda's Trey Canard soon knifed into fourth, but then crashed, putting a fourth Monster/PC Kawi rider, Josh Hansen, into fourth place. From there, the green boys dominated, pulling away and settling the race for the win in a private duel amongst teammates.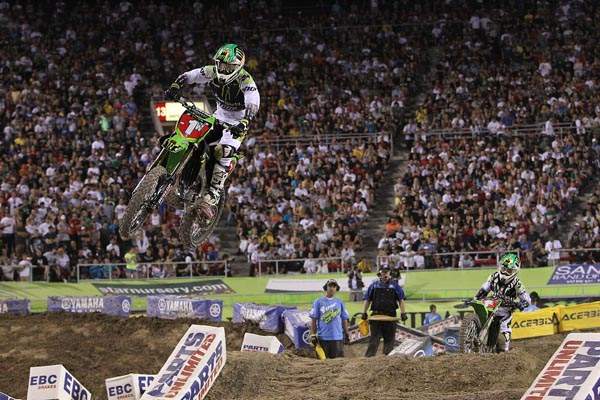 The #1s squared off in the shootout, with Weimer leading Pourcel early and holding on for the whole race for the win.
Simon Cudby photo
Sure, the Pro Circuit squad has been a dominant force at the races for years, but this may have been their greatest victory yet, with all four riders battling in every corner. Wilson passed Pourcel and went after Weimer, stalking him for several laps. Then he made a few mistakes and gave Weimer some breathing room, pushing the Hansen/Pourcel battle up to him. Wilson made a mistake and Hansen pounced to get into second, with Pourcel following him through for third. Weimer held on the whole way for a win, with Hansen, Pourcel and Wilson completing the team PC sweep. GEICO Honda's Justin Barcia was fifth. All four Kawasaki riders took victory laps, excited about the historic sweep.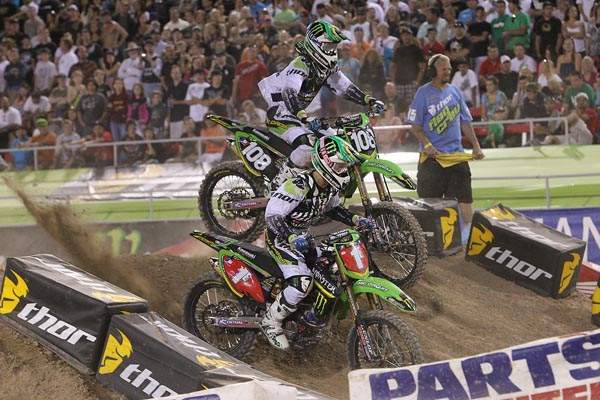 WIlson and Pourcel battle in the Lites main.
Simon Cudby photo

Don't forget to check out the CBS AMA Supercross season wrap-up show that airs on CBS Sunday, May 9 at 5:00 p.m. (EST).


AMA Supercross Class Results: Las Vegas
1. Ryan Dungey, Belle Plaine, Minn., Suzuki
2. Chad Reed, Tampa, Fla., Suzuki
3. Kevin Windham, Centerville, Miss., Honda
4. Kyle Cunningham, Fort Worth, Texas, Yamaha
5. Andrew Short, Smithville, Texas, Honda
6. Davi Millsaps, Murrieta, Calif., Honda
7. Justin Brayton, Murrieta, Calif., Yamaha
8. Tommy Hahn, Alvord, Texas, Suzuki
9. Nick Wey, Murrieta, Calif., Kawasaki
10. Chris Blose, Phoenix, Ariz., Honda

AMA Supercross Class Season Standings
1. Ryan Dungey, Belle Plaine, Minn., Suzuki, 363
2. Kevin Windham, Centerville, Miss., Honda, 293
3. Davi Millsaps, Murrieta, Calif., Honda, 268
4. Ryan Villopoto, Poulsbo, Wash., Kawasaki, 266
5. Justin Brayton, Murrieta, Calif., Yamaha, 238
6. Josh Hill, Carlsbad, Calif., Yamaha, 233
7. Nick Wey, Murrieta, Calif., Kawasaki, 197
8. Tommy Hahn, Alvord, Texas, Suzuki, 186
9. Ivan Tedesco, Murrieta, Calif., Yamaha, 183
10. Kyle Chisholm, Valrico, Fla., Yamaha, 177

Dave Coombs Sr. East/West Shootout Results: Las Vegas
1. Jake Weimer, Rupert, Idaho, Kawasaki
2. Josh Hansen, Elbert, Colo., Kawasaki
3. Christophe Pourcel, Groveland, Fla., Kawasaki
4. Dean Wilson, San Jacinto, Calif., Kawasaki
5. Justin Barcia, Ochlocknee, Ga., Honda
6. Broc Tickle, Holly, Mich., Yamaha
7. Martin Davalos, Cairo, Ga., Yamaha
8. Travis Baker, Temecula, Calif., Yamaha
9. Ryan Morais, Murrieta, Calif., Suzuki
10. Trey Canard, Shawnee, Okla., Honda

Western Regional AMA Supercross Lites Class Season Standings
1. Jake Weimer, Rupert, Idaho, Kawasaki, 171
2. Wil Hahn, Decatur, Texas, Honda, 156
3. Trey Canard, Shawnee, Okla., Honda, 153
4. Broc Tickle, Holly, Mich., Yamaha, 140
5. Blake Wharton, Pilot Point, Texas, Honda, 116
6. Josh Hansen, Elbert Colo., Kawasaki, 100
7. Cole Seely, Newbury Park, Calif., Honda, 100
8. Phillip Nicoletti, Bethel, N.Y., KTM 83
9. Max Anstie, Hemet, Calif., Yamaha, 82
10. Ryan Morais, Murrieta, Calif., Suzuki, 76

Eastern Regional AMA Supercross Lites Class Season Standings
1. Christophe Pourcel, Groveland, Fla., Kawasaki, 160
2. Justin Barcia, Ochlocknee, Ga., Honda, 147
3. Brett Metcalfe, Lake Elsinore, Calif., Honda, 133
4. Austin Stroupe, Lincolnton, N.C., Suzuki, 126
5. Blake Baggett, Grand Terrace, Calif., Suzuki, 118
6. Dean Wilson, San Jacinto, Calif., Kawasaki, 105
7. Ryan Sipes, Vine Grove, Ky., Yamaha, 93
8. Kyle Cunningham, Fort Worth, Texas, Honda, 84
9. Martin Davalos, Cairo, Ga., Yamaha, 83
10. Michael Willard, Newark, Ohio, Honda, 66