5 Minutes with... Josh Hansen
After a frustrating season filled with a lot of speed, a lot of heat-race wins, and a lot of main-event crashes, Monster Energy/Pro Circuit Kawasaki's Josh Hansen finally kept it together to win a main event last weekend in Salt Lake City. Despite his past lapses in concentration, he waited for probably the most difficult race of the year to get his win. We got his thoughts after the race.
Racer X:
I interviewed you a while back, right before the West series started back up, and you said your goal was to win the last three races. Well, that didn't work out last week, but it sure did this week, huh?
Josh Hansen
: Yeah, and I was going fast at the last race, too. It's been a rough season. I felt like I rode really good in Seattle, and I had the fastest laptimes at a lot of races, but that doesn't win races...
Not by itself...
Right, but I felt like I really came through the pack good there and got up to third, and then I got into some lappers and crashed, and that was pretty heart-breaking. But this weekend, I felt like I kept my head together, had fastest laptimes in practice, and went into the heat race feeling good. It was gnarly out there, with the hail and snow and stuff, and the track was gnarly. I was just trying to throw down my jumps and keep consistent. I was definitely on my toes. It was crazy.
Are you a mud rider?
No! I've never been a mud rider. I've never been a mud rider. I don't even know what just happened tonight! I wasn't expecting that! I don't know, I just went for it! It was crazy! I don't know if you can call me a mud rider.
You're so good on hard-pack, so it seemed weird to see you dominating out there like that...
Basically, I just had balls! I just went for it and it worked out! I wanted to win so bad that I wasn't about to be too easy on it. I was just like, "Let's do this. I need to go out with a bang." I'm glad it all worked out. I had a couple close calls, but I was stoked.
What was with the Aussie accent on the podium after the race?
[Laughs] It's a little inside joke I had with the Monster guys. No comment on that [laughs].
It wasn't that good, actually...
It wasn't? Do you want me to try it again?
Sure, go for it.
So, yeh, I wen out an' got a good stawt and went ahid and put down fiteen good laaps, and my Monsta/Pro Sicket Kawarsaki boyk took me to the finish loyn...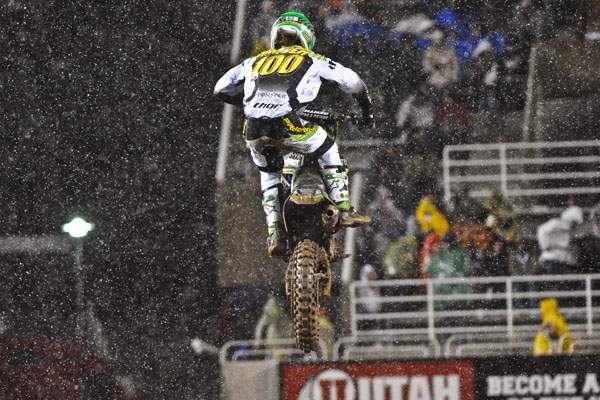 Steve Cox Photo
[Laughs] You're crazy, man...
[Laughs] Yeah, sorry.
You said you wanted to win out, and you have one more shot at a win at a race that, historically, doesn't really favor the champs. What are you thinking going into Vegas?
I think I have a good chance. I'm going in there prepared, so I'm excited. I would love to win it. I realize I have really good teammates – Jake Weimer and [Christophe] Pourcel are going to be really hard to beat, and [Dean] Wilson is going fast, too – but I feel like I have a really good chance, so I'm going to go in there, just like every race, and I really do believe I can win, so I guess the best man will win. We'll see. It'll be good.