Sign of the (Lap) Times: Salt Lake City
Rain, sleet, snow, hail, the Salt Lake City SX threw just about everything at the riders, and they showed just how talented they are by continuing to race hard and jump the biggest jumps on the track. After a few track changes to tame the whoops down due to the slick conditions, most of the track was passable, which is reflected in the lap times listed below, which aren't much slower than any other race this year. Not bad for a mudder!
Supercross Class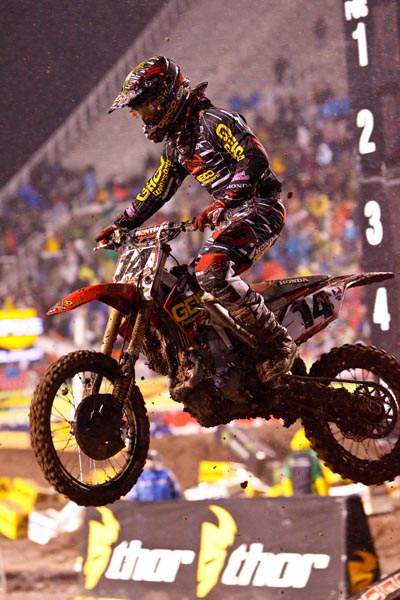 Windham still has good style, even in the mud.
Simon Cudy photo
Kevin Windham and Davi Millsaps were once again the fast guys in the big class, but unlike Seattle, Millsaps was able to start up front and finish up front this time. What our chart really reveals is the third spot--Tommy Hahn only finished eighth after a bad start and a crash, but he logged the third-best lap. Meanwhile, Andrew Short only had the ninth fastest time, but finished third. Staying on two wheels is key in sloppy conditions.
Windham lapped up to fourth place even though the race only went 15 laps. And it's clear why he did as soon as you see how much faster his laps were than the majority of the field. We're talking nearly 10 seconds a lap faster than than nearly half the riders.
Supercross Lites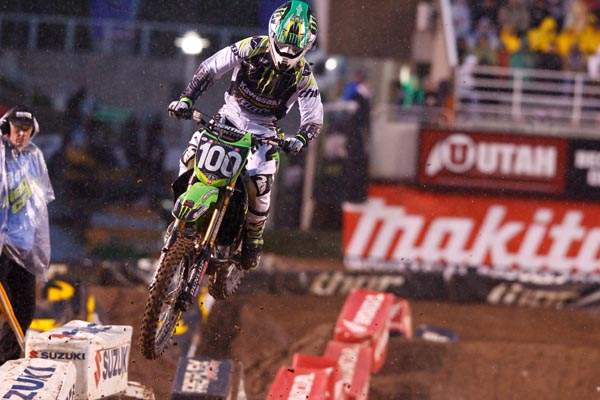 L'il Hanny went big in Salt Lake.
Simon Cudby photo
You hear the Josh Hansen story all the time: he's got the speed. And he really did have it in Salt Lake city, riding fast on the slippery track and getting away from Wil Hahn to take the win. Credit to Hahn, though, who gave it everything he had while riding with a bad shoulder. He had the second best lap.
Note that all the fast laps came early. This track just kept getting tougher as the rain came down.