Welcome to ReduX presented by Renthal. This was one for the ages. Literally.
Kevin Windham
won the Seattle Supercross, and everyone is pumped. With local boy and title contender
Ryan Villopoto
out for the evening (and many, many more evenings) with a broken leg, the Seattle faithful were aligning their faith to K-Dub. These days Kevin is always the crowd favorite. Reed and Stewart are too polarizing, and the Ryans are young and haven't created enough of a public persona or identity to draw the fans en masse yet. But Kevin has the goods—well-spoken, respected, fun to watch, and a classy family guy. Everyone has a fond
Kevin Windham
memory, and everyone roots for him—even the other riders.
You know it's an old-school win when you get a classic no hander over the finish. Let's get a heel clicker next time!
Steve Cox photo
During the week, the Villopoto crash and
Chad Reed
bagging on the tracks dominated the news, especially since Reed actually reached out to the press to pound his point home. However, once the weekend began, the focus went back to the matters at hand: the actual race on Saturday. When everyone started to fire up their Magic 8-Balls (now available as a free iPhone app!), Windham's name kept popping up.
Look at the evidence: Kevin has been hauling lately. Dungey was going to play it safe. Villopoto was out, and Reed's heart isn't in it at the moment. Plus, Seattle is always a gnarly track, which lends itself to KW's awesome technical skills, and there's always a chance of rain in Seattle, and Windham is a mudder. All signs pointed to a Windham win—except that sometimes when all signs point to a Windham win, the pressure builds and it doesn't happen.
So the only real question was if Kevin could stare those expectations in the face and perform. It was evident in his heat race that this would not be a problem, because he was way, way faster than anyone else on the mega-rutted track. Three seconds a lap faster than anyone else! So much faster that even if the pressure did get to him, he could probably ride all twenty laps with arm pump and still win.
Kevin handled the expectations with aplomb this time, nailing the Spike Holeshot and checking out early. Everyone made mistakes on the rutted track, but he made the fewest. Eventually, it turned into a race for survival, like a dry mud race, and the only rider charging down the stretch was
Tommy Hahn
. Like an NBA team, he made a run from behind at one point, but then Windham clamped down. Awesome win for 32-year-olds everywhere (including me!).
That GEICO Powersports Honda truck was really the center of the action, as Windham's win for the aged sent us scurrying into the record books to see if he was the oldest winner ever. The SX souvenir program has a records section that claims
John Dowd
was the oldest winner ever, at 32 years, eight months, and eight days, while Windham is 32 years, one month, and twenty-five days. We told Windham about that and he said he thought
Mike LaRocco
, his GEICO Honda team manager, actually held the oldest-win record from 2004 in Indianapolis. At the moment I was hit with panic, because I was pretty sure Kevin was right. On the air, I just said, "We'll have to check."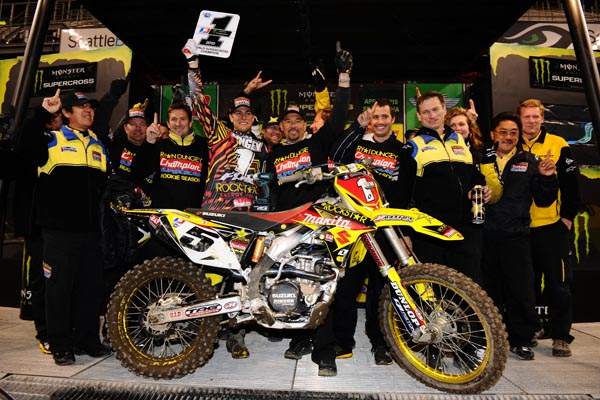 Anyone predict this was going to happen back in January?
Steve Cox photo
Through all of this talking about age, it occurred to me that Dungey, at age 20, might be the youngest supercross champion ever. But I was way too sheepish to bring that up after screwing up the LaRocco deal. Later, a listener called in to the show and mentioned that, ironically, Dowd's win at 32 only happened because a 20-year-old
Kevin Windham
was leading the race by a big margin and went over the bars! And here's the best trivia yet: If Windham had won that race, he would have taken over the SX series points lead that night, and he was only 20 at the time - even younger than Dungey.
But alas, Kevin didn't win that race (Charlotte 1998) and didn't win the title. The next week, he went over the bars again and broke his collarbone. Dungey avoided that fate this season, and that's why he's champ. I'm now going to drop the "rookies always crash and get hurt" subject for good.
As soon as I got back to the office on Monday, I checked the stats. Indeed, LaRocco is the oldest winner ever at 33 years, one month, and eight days. And indeed, Dungey is the youngest champ ever! That's one amazing accomplishment. And while I'm sure perennial SX series runners-up like Windham and LaRocco are saying, "Hey, why couldn't the other big stars get hurt the year I was going for the crown?" the bottom line is Dungey is now officially the champ, and that's the goal, and no one can take that away from him. I'm still not sure if he is aware he was the champ already coming into the race. I think the whole points situation was a little crazy to him.
So Windham must have been smiling big back at the truck. But I'm not sure LaRocco was. First of all, LaRocco never smiles. And second of all, his team's shot at the Lites West Championship went up in smoke when his own
Blake Wharton
ran into
Trey Canard
off the start and ruined everything. From my vantage point high up in the broadcast booth, it looked like Wharton just took the inside from Canard but did not actually hit him. But then I watched the footage on TV. Uh, yeah, he hit him.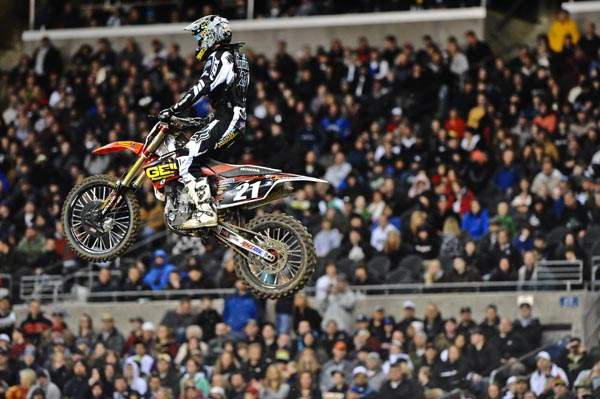 Under almost any circumstances, Wharton did the right thing. Just not these circumstances.
Steve Cox photo
Can you imagine being
Blake Wharton
, already struggling this year with one podium finish, and then you run into your teammate with a title on the line and have to face
Mike LaRocco
after the races? Expect to see Wharton running sunglasses next week.
(Note: I was going to run a joke about Wharton's hair absorbing the blows, but as soon as I dropped the "How many punches did LaRocco throw?" on twitter, everyone came back with jokes about the hair. So, twitter followers, you get to keep those!)
Worse yet, Canard had the exact situation he was looking for when Weimer went down early as well. After the wreck, Canard rode badly (as expected, his face was probably redder than his hair or bike) and could only get to eleventh. Weimer rode smart and finished third, and he said he never knew Canard went down and spent the main thinking he was in big trouble.
On the podium, a dejected Canard had to accept his holeshot award and actually talk on the mic. He wrapped it up with "Sometimes some people don't always ride smart."
Meanwhile,
Broc Tickle
won! As we've been saying all year, Tickle is serious. So serious that he didn't seem one tiny fraction of a bit excited on the podium, just throwing out his usual props to his girlfriend and his team. Seriously, he wasn't excited at all. When we got him on the webcast after the race, he said that was because he had several dreams over the last few weeks about winning the race. He also said that in his Monday Conversation. So I guess this was old-hat to him.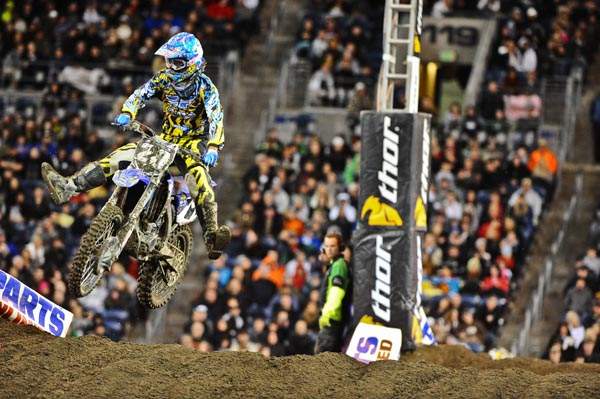 Tickle started the old-school shenanigans with this!
Steve Cox photo
Star Racing team owner Bobby Regan was pumped, though. Bobby seemed a little down during the East rounds, but he was in a great mood Saturday morning when he realized he had the all-healed-up
Max Anstie
and the "dreaming of wins" Tickle ready for battle. He was so excited that he stuffed about 100 DNA Shred Stix (that's beef jerky) into my pocket and told us it was going to be a great day. Hey, any day with free beef jerky is a great day!
Anstie was super fast and won his heat race (he was inside of Weimer in the first turn and "just went straight," according to Weimer). But he went down with Canard in the main and fought up to ninth.
Nice job by
Tommy Hahn
for second in the SX class - this was way overdue. He came into the year beat up and then, after it looked like he was turning things around by San Diego, got sick for a few weeks and went backward again. That's a lot to deal with, but in general, Tommy just hasn't ridden the way he knows he can, and hopefully now that he's back up there, he'll stay there.
And
Justin Brayton
finally got that podium that was coming. He needs to talk to Tickle about those dreams. If Brayton had the belief earlier in the year he could have been on the box already.
Kyle Cunningham
played double fill-in role on the Valli Motorsports 450 after
Kyle Regal
was let go and
Ivan Tedesco
got hurt. He looked pretty good on the bike, too, making the main and finishing thirteenth. Have I mentioned that moving up to the big bike in supercross is usually tough for newcomers? Which reminds me, last year, the AMA revised their Lites eligibility rules so
Trey Canard
could stay there for another season (he was supposed to be out since you only get one season to defend a Lites title). That was good for Trey, because I'm not sure what 450 teams would have been interested in his services before this season, but it's funny that the conventional wisdom last year was "Trey is pretty small and would really not be ready to race a 450 in 2010."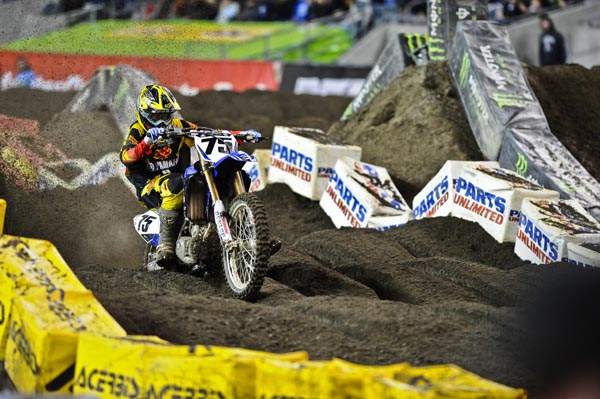 It's kind of like Hill has been stuck in this rut since February.
Steve Cox photo
With Washington favorite Villopoto out, there was a small glimmer of hope that
Josh Hill
could find his old form and run for the win. Maybe, just maybe, the switch back to West Coast time was all he needed. He nailed the fastest lap in qualifying and all looked well, until he crashed in the whoops and got stuck under his bike. I think that was the bottom finally falling out of Hill's season. He pulled off a few laps into the main, and now he's back to fifth in points.
Windham passed Hill in the standings and so did
Davi Millsaps
, who was probably the second-fastest rider on the gnarly track. He won the other heat race and, after crashing early in the main, went on a mission for the podium. Then he crashed again and had to stop in the pits to fix his front brake (but it was a quick enough stop to avoid the Erin Bates ambush interview). He finished fifth, and it was one of those races where the results don't show how well he was riding.
Maybe the best time of the weekend came on Friday night, when I was hanging out with a fellow internet observationist (let's call him Matt Steviths) downtown. The waiter told us the first round of drinks was on some dudes on the other end of the bar, which was odd, until that group of guys finally came over to the table and ignited the greatest bench-racing session ever. Big props to Chris, Corey, Conrad, and Alan. It was fun.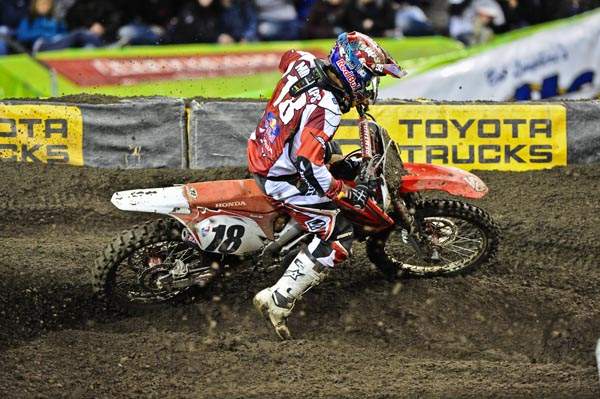 Millsaps was fast but unlucky. Same mastery of the ruts coupled with a good start resulted in a win in San Diego.
Steve Cox photo
Two races remain, and I'll give everyone some time to get in their essays from last week. If you missed it, here are the rules:
I want you to write your ReduX review on the way you WISHED this supercross season had gone. Go ahead, write up a little report looking back on your dream season, 500 words or less. Feel free to get crazy, throw in any "what if" scenario that you want. Think super crazy awesome title drama, write a review of that mythical season that never was, and the five best stories will get a super-trick and sano Renthal Racer X ReduX T-shirt and Renthal sticker kit. Seriously they only made a few of these shirts so it's limited (and special and platinum) edition. And we'll share the stories here on Racer X Online. Email your stories to me at jasonw@racerxonline.com
I need your stories by this Thursday, April 29. Due to the response, last week my email crashed for the first time in the nine years of the
jasonW@racerxonline.com
address. So if you sent me a story last Wednesday, I probably didn't get it. Send it again.
That's all from Seattle, folks. It's off to combine DNA Shred Stix and Salt Lake City. Blood pressure be dammed!