The thing about racing motorcycles is this: It can all change in a hurry. A rider can be up, and then he's down. A team can have a star and a title shot, and suddenly they're both gone. Promoters and track-builders can have good reputations, then one awkward jump—or one business decision—and it's suddenly not-so-good. It's like
Steve McQueen
once said (or repeated), "
Racing can be such a cruel mistress…
"
Ryan Dungey
or
Ryan Villopoto
. The two even collided together, as RV used his growing momentum to take a stab at Dungey the leader and executed a "pick-up pass" where he knocked the other Ryan and himself down, and then picked his bike up and got going first.
Maybe a lap and a half later, though, and the championship fight was over the moment RV stepped through the handlebars of his endoing motorcycle, his lower leg about to snap, and
Ryan Dungey
was mathematically the champion before he even passed his downed rival. It was a terrible turn of events for Villopoto and his team, and it would lead to some serious track-talk from the straight-shooter
Chad Reed
, about the pitch of the jump that claimed Villopoto, as well as
Ivan Tedesco
just a few laps later.
Monster Energy Kawasaki lost their only title hope left for this series, as well as the early favorite for the upcoming Lucas Oil AMA Pro Motocross Championship (knocked out of the outdoors for the second year in a row). RV is likely done for 2010, which means his crash will probably knock him out of the FIM Motocross of Nations for the second year in a row—and this time the biggest race of the international calendar takes place right here in the USA, at
Thunder Valley
in Colorado. For three years RV led Team USA to wins in that race…. It all happened just-like-that.
Nevertheless, congratulations to the Rockstar/Makita Suzuki team, to
Ryan Dungey
and his family, to the GOAT of Mechanics in
Mike Gosselaar
on another title, and to The Man himself,
Roger DeCoster
, for his incredible foresight a few years ago when he plucked Dungey, a nice kid from Minnesota but not exactly a phenom, out of the 125 B class and put him on the factory team. I called Roger to congratulate him on Monday, and it honestly sounded like it still hasn't registered that Dungey had clinched the title with his 77-point lead over
Josh Hill
, with only three races to go.
Nick Wey
will ride Villopoto's bike for the last three rounds of the AMA Supercross tour, then the team will review its options for outdoors. That's where
Grant Langston
's name also comes into the conversation…
And also
Ricky Dietrich
, who was a revelation filling in for Monster Kawasaki and Villopoto in last year's Lucas Oil AMA Pro Motocross Championship. We emailed RD39 this week to see what's up with the outdoors this year, and he said "Right now I'm only planning on doing the USGP at GH, under my offroad rig. But, since Villo is out, I'm waiting to see if there will be another fill in opportunity. So we will see..."
And after some initial thoughts about staying at home in case the baby comes,
Chad Reed
will race in Seattle after all—he flew there this morning.
Collapsed lung + Cabin pressure = Bad Idea. As a result, one person who won't be flying anytime soon is
Ivan Tedesco
. So in a very innovative and electronic marketing idea, ONE Industries will be supporting
Ivan Tedesco
's trip from St. Louis back home to Southern California and will be doing it online so his fans can stay connected. Check out the
press release
.
Ivan is scheduled to be released from the hospital today. Fans can check
www.oneindustries.com
for updates starting Friday night and throughout the weekend.
And while you're waiting for updates, there's another piece of advice I often share with friends, and will post it here once again: Dead whale + Dynamite = Bad Idea. Don't believe me?
Here's why
.
This morning
Racer X
reader
Dane Hatfield
called us and asked, besides
Blake Baggett
this year, has there ever been any other rider to win a major race while riding the previous year's bike? (Baggett was aboard a 2009 RM-Z250). Do you know? Email us at
letters@racerxonline.com
.
Justin Barcia
, I immediately thought of
James Stewart
in his 125 class days. Barcia whipped it so hard at the end of the first lap over the finish line, it was like
Bubba
Two (only one year older as a SX debutante at 17). He's got the same aggro style, he's got charisma to burn, and watching him ride is downright exciting.
Barcia's path to the win in St. Louis was smoothed over by the fact that
Christophe Pourcel
, already the champion there, had a bizarre moment where he nearly collided with another rider, went up high on a wall berm and then got stuck on the Tuff Blocks! (And adding injury to insult was the fact that his mechanic
Kyle Bentley
broke his ankle in the signal area!)
Pourcel has one more race—the East-West Challenge in Las Vegas—and that's it for his Lites SX career. Both Christophe and
Mickael Pichon
have won world titles, as well as a pair of AMA East Region Lites Supercross titles. Both hail from France, ride for Mitch Payton, and have basically finished their 125/250F careers in the class. So which of these two extremely fast and talented imports do you think was the better Lites SX rider? That's the topic of this week's Hammerhead Designs poll question.
Vote right here
.
Ben Townley
was in Australia over the weekend to check out the Rockstar Energy Australian Nationals and cheer on his friend
Cody Cooper
.
www.fullnoise.com.au
reporter
Aaryn Minerds
caught up with the Lucas Oil/Troy Lee Designs Honda rider to see how his stomach was healing up after that freak practice injury five weeks ago.
"It is around five weeks since the injury (and) at six weeks I am back into everything," said BT101. "It is a funny injury as in it is already actually healed, the injury itself has healed I have to wait for the muscle around to basically knit. If you don't you run the risk of a hernia and apparently and I don't know much about that, but it's apparently not good.
"I am just trying to take my time you know, I have been through so much I would be foolish to try and rush back into something right now," said Townley, who has basically been hurt since the 2007 Motocross of Nations at
Budds Creek
(the first Race of the Century). "I don't really know, I intend on riding in a couple of weeks but I just don't know I'll just see how things go."
In that race in Canberra, Australia, that Townley attended, American export
P.J. Larsen
finished third on his KTM in the 250 class, behind
Kirk Gibbs
and
Lawson Bopping
(great name!). The 450 class was won by
Todd Waters
, with
Jay Marmont
second and
Tye Simmonds
third.
Carlos Aguirre
caught up with some guys brushing up on their outdoor games at Competitive Edge. Among them?
Tyla Rattray
on his Monster Energy/Pro Circuit Kawasaki, and
Tim Ferry
, back on the bike—only now it's a Yamaha! But before anyone jumps to conclusions, Ferry was helping the Fox Shox guys out with some suspension testing, and it's still questionable whether he will be able to ride outdoors, as his right ankle is just not working for him like it needs to.
David Pingree
is a busy man. Besides raising a family, working as team manager for the Troy Lee Designs/Lucas Oil Honda team, writing his columns for
Racer X
and
Racer X Online
, and adopting puppies in Puerto Rico, he's also been secretly working on a project called Motocross 101. It's a how-ti riding video where Ping draws from more than twenty years of riding and racing to offer tips for everyone from beginners to experts. The video is in post-edit right now being finished up, but here's a
cool trailer
he put together for us to preview. Check it out:
Ping shot this whole thing in HD so be sure to watch it in the highest resolution your internet speed will allow.
With the NASCAR tour heading to Talladega this weekend,
Ricky Carmichael
flew over early to have a first-hand look at the Barber Motorsports Museum, the single most amazing collection of rare and historic motorcycles in the world (though our friends
Gregg Primm
and
Terry Goode
may have them covered when it comes to factory motocross bikes). It also gave RC a chance to tour the grounds and check out the long-discussed future home of what could be an amazing motocross track.
Mark Barnett
, himself a Hall of Fame motocross racer, was also there to tour the ground and check out the place. Together, the Bomber and the GOAT came up with some very good ideas. Stay tuned.
Jeffrey Herlings
, absolutely dominated, according to several outlets. The kid won each moto by more than 40 seconds, in a field that included fellow KTM factory teammate
Shaun Simpson
, Frenchman
Steven Frossard
, and Belgium's
Joel Roelents
. Now Herlings will get to go up against all of his GP competition when the world tour drops in at Valkenswaard, not the sandiest track in Holland but definitely tough. It should be interesting to see if he can be the one to stop AMA-bound Marvin Musquin's perfect season to date.
Here's a video of Herlings
, shot by
Moto
in the UK.
Speaking of Herlings, we spotted
this video
on YouTube of the kid practicing on a very smooth and fast Valkenswaard circuit (it will be much, much rougher when they start tearing it up tomorrow):
Be sure to check out the Ohlins GP report here on Racer X Online on Monday.
If you'd asked me five years ago if I'd run in the Boston Marathon I would have laughed!" That's what
Cycle News
editor
Paul Carruthers
told me this week after returning from not only running in the legendary Boston Marathon, but also finishing the 26.2-mile run in 3 hours, 44 minutes. Paul said he got some serious leg cramps in the last six miles, but he gutted it out, and in doing so helped race funds and awareness for Rett Syndrome, which we spoke about last week in a
Racer X Online interview
. Well done, Paul, and thanks to everyone in the motorcycle industry who supported his Race 4 Rett's.
Have you noticed the "Masterpool 956" patch on all of the Fox riders' jerseys on the AMA tour, including last weekend's winners
Ryan Dungey
and
Justin Barcia
? They are a solemn nod of course to the young prospect
Jesse Masterpool
, a Fox rider and future champion who was passed away after suffering a terrible crash at Lake Whitney last month. According to
Fox Racing
's
Warren Johnson
, "Our guys will wear the 956 number plate logo on their jerseys all season and beyond. We have also included the logo in our 2011 MX catalog's table of contents as well. We want the memory of young Jesse Masterpool to flourish in the motocross community…"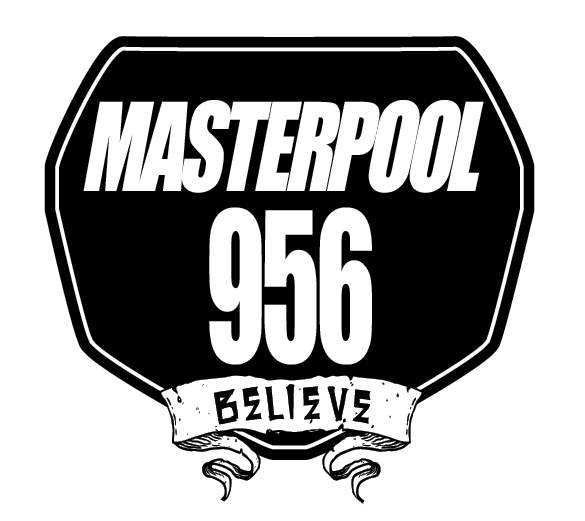 This salute brings back memories from a few years' back of another classy move by
Fox Racing
:
Ricky Carmichael
ran his friend
Ernesto Fonseca
's signature on his gear in every race he rode following his career-ending crash, even though Ernesto was an Answer rider at the time.
Okay, here's
Ping
:
As DC mentioned I've been burning the candle at both ends for the past year. In addition to ramping things up with the Troy Lee Designs/Lucas Oil/Honda team, my work here at
Racer X
, school and being a daddy I've been working hard on that video. It isn't just another typical instruction video; it's shot entirely in Hi-Def and utilizes techniques and camera shots that have never been used in a video like this. The DVD will be ready to go in a few weeks but for now we have a trailer up and running that will give you some idea of what I've been working on. Check it out.
I love our new online feature,
The Fox Fifty
. I'm a big fan. But there was a huge mistake last week in the Arizona poll results. Not a lot of people remember
Robert "Fig" Naughton
and, consequently, he didn't make the top five list. But Robert was a Honda-supported rider back in the 1980s and he came just a few points short of winning the 125 West Region Supercross title one year. His second-place finish in the series wasn't enough to keep his Honda support and he was left without a ride. He eventually got into downhill mountain bike racing where he did pretty well and now into off-road truck racing, where he did win a championship in the class I think they call Pro Lites. Anyway, just wanted to give Fig some love since he wasn't voted into the top 5. (
Editor's Note: We also messed up when we left Drey Dircks off the Arizona ballot all together, which we deeply regret
.)
For all of those who were worried about our transporter making it to Seattle this weekend (that includes you,
Mitch
) you can relax. Our guy pulled in early Thursday morning to a very chilly Quest Field. That means
Jake Weimer
,
Hanny
,
Morais
,
Hewitt
,
Hahn
and
Seely
will have bikes to use on Saturday. Why the panic? Our team has the youngest truck driver in the series; he just got his license a couple months ago and Seattle was his first solo road trip. Nice work,
Cory
.
How many times did you watch RV's crash on YouTube? I probably watched it back a dozen times and it looked nasty from every angle. It looked eerily similar to the crash that
Christian Craig
had at the end of last year. Both of them jumped through the bars clean and had their landing spotted as they rolled up the windows through the air. In both instances things went bad when the bike flipped back up and hit them. And in both crashes it actually accelerated them and knocked their feet out from under them. Christian landed on his butt and injured his back where Ryan landed sideways on one foot and his tib/fib took the brunt of the weight. Both riders will be off a motorcycle until the end of the summer, more than likely. Heal up quickly Ryan and Christian. And Ivan and James and Josh and…..
Okay, here's
Steve Cox
:
With the Lites East series over, and with only the Las Vegas East/West Shootout left to run on a 250F, GEICO Powersports Honda's
Brett Metcalfe
has been out testing his outdoor bike – a CRF450R. As with last year, when
Justin Barcia
made his debut at the first round of the nationals for the team, and
Dan Reardon
moved up to a 450 while
Kevin Windham
rode the couch, this year it will be
Eli Tomac
moving into the pro ranks for the team, and it will be a different Aussie in
Brett Metcalfe
moving up to the 450cc class for the Lucas Oil AMA Motocross tour. In all likelihood, the East/West Shootout will be
Brett Metcalfe
's last race on a 250F.
Sheena
got some pics of Brett out riding his 450 yesterday and sent them over.
Most of my news this week is Aussie-based, as it turns out. In addition to the
Brett Metcalfe
stuff, I hope you guys read the
Chad Reed
interview on our site yesterday in the
Between the Motos interview by Eric Johnson
. I also did an interview with Reed that same day about mostly the same issues, and you can hear the entire audio of the interview (including some power tools in the background, as well as a fountain, since it wasn't planned to be an audio interview, but rather to be typed out) on
Chad Reed's website
. It's actually pretty cool to hear his tone of voice since sometimes things can get lost in a text interview, such as tone. And when you hear
The Office
theme song in the background, that's my iPhone ring tone for when my boss,
DC
, calls.
Here are a few highlights, though. First, talking about the leap that took down former national champ and two-time Lites West champ
Ivan Tedesco
and championship contender and multi-time champ
Ryan Villopoto
, part of what he had to say was this:
"Ryan [Villopoto] is going for a title. He's going for it, so he's got to lay it on the line. He has got to do that triple. And look at that triple, because as soon as Ryan [Villopoto] crashed, Dungey missed it a couple of laps after that; you're not going to lay it on the line. It's mind-boggling for me to be in the position to say, 'Hey, guys, it's really dangerous,' not once, not twice, but multiple times, and I saw a lot of other riders and team managers complaining about it, but nothing got done, and it just comes down to that mentality that… You don't have to jump it. It's like, okay, that's fair. To some degree, that's fair. But c'mon, you don't have to have it there either!"
He goes on to talk about ideas to make the tracks not just safer, but better for racing, including ways to build the berms back up on the outsides of the tracks, and many other things—his opinion on the U.S. Grand Prix at
Glen Helen
is pretty direct. So to hear it all, including more about some of his ideas to help make racing safer in America, go check out the interview
here
. It's worth it, although it's not short (about 45 minutes).
See you guys in Seattle. Hopefully, it's not raining, but it is what it is…
And now over to
Weege
, who just landed in Seattle:
Racer X ReduX (presented by Renthal) column
where you get to write about the season you wish had taken place this year. The best essays get an exclusive ReduX t-shirt courtesy of the Renthal folks—and yes, this is a full works item that weighs at least 15 pounds less than
Chad Reed
's production bike. Send your SX Dream Season emails to
jasonw@racerxonline.com
.
Now, for some real things that can happen this weekend:
1.
Best of the West
: Just one title remains up for grabs, with
Jake Weimer
holding a 14-point edge on
Trey Canard
with two West Lites rounds to go. Weimer will have to make a mistake to give it up, but as we've seen over and over this year, you never know…. Check out this
West Refresher
.
2.
Dr. Trey's Big Experiment
: Here's a great research study. Will
Trey Canard
's awesome performance on a 450 translate over to the Lites class? Will he go to another level and blow people away this weekend? For all of those who experiment with practicing on one bike to get better on another, this will be interesting to watch.
3.
The Dunge's Motivation
: With
Ryan Villopoto
out, it would appear
Ryan Dungey
can win these last three races easily, since he's been able to get the better of the remaining field nearly every week. But what's RD's motivation to hang it out now? Will he back it down just to make sure he gets through these final races safely? Meanwhile, a rider like
Kevin Windham
knows time is running out on chances for wins. No doubt he will be going for it.
4.
The Championship Celebration
: Only once in the history of this sport has a rookie won the SX title—but Dungey is about to make it twice, joining none other than
Jeremy McGrath
is this extremely exclusive club. If you're there this weekend you will get to see some history.
5.
Seattle is Cool
: Anyone who lived through the 1990s knows that anything in Seattle is just automatically cool. So be sure to take in some sites through your black rimmed glasses, drink some coffee and don some flannel. And prepare for rain. Forecast doesn't look too ominous, but you never know out here.
Thanks Weege.
Guy B.
was on the scene yesterday at
Glen Helen
as some very fast men (and women) were all working on their outdoor game, including Jeremy McGrath, who is doing some shakedown testing for Team Honda. Check out
Guy B's VitalMX.com slideshow right here
.
A tip of the visor to the guys at
Dirt Rider
magazine. In the June 2010 issue, which features
Destry Abbott
on the cover, there is a "Supercross Time Machine" story written by
Kurt Markham
, a man who raced the first night-time international motocross at Ascot Park back in 1970, then pretty much vanished from the motocross scene. When he resurfaced, they took him to the Anaheim SX opener for a bit of culture shock, and then asked him to write about his experience from the perspective of a man who last saw a supercross race BEFORE they actually invented "Supercross." It's good stuff.
MX for Children has posted a new item, "SX Auction Friday Night at RMC." Come bid on this year's stash of unique autographed gear at the MX for Children silent auction at Renton Motorcycles on April 23, 2010. The auction runs during fan appreciation night so it is a great time to get a Dungey authograph (or Wey, Weimer, Hahn, Morais, or Hansen to name a few) and then [...] You may view the
latest post
.
A few big guns are in Virginia this weekend for the Lake Sugar Tree Loretta Lynn's Area Qualifier. Muscle Milk/Toyota Yamaha test rider
Travis Preston
and
Andy Bowyer
are entered in the Plus 25 class. Good luck, guys, and to all the competitors.
Ezra Lusk
is the clear favorite so far in The Fox Fifty voting for the state of Georgia, but there is a very close race for second between
Shae Bentley
and
Matt Walker.
Who do you think are the five fastest riders from The Peach State?
Click here to vote!
Ken Block
and his trainer
Ryan Hughes
found themselves stuck on the other side of the planet in Turkey after the volcano in Iceland basically locked down air travel in Europe for most of the last week. Ryno finally made it home on Tuesday night after a 42-hour trip that included four flight delays! As for Block, he did have time to work on his new
Gymkhana 3
video, which follows the two previous ones—the first of which has been seen by more than 30 million people on YouTube alone! The new video comes out this summer, and the details of what he does in his new Ford Fiesta Gymkhana car and where it all took place is still a closely guarded secret.
Congratulations to Factory Connection West's
Mark Rodgers
and his wife on the birth of another daughter,
Milani Suzanne Rodgers
, on Monday. Both mother and daughter are happy and healthy.
Also, the U.S. District Court for the Eastern District of Nebraska ruled a consent judgment recognizing the holeshot device patent of inventor
Kevin Maret
. This will likely lead to a new round of legal wrangling over the device. Several companies have similar devices, and so a patent-infringement jury trial could be on the way in Lincoln, Nebraska. Stay tuned.
Another track in jeopardy, this time in Plattekill, New York. ACE Motocross has been around for more than fifty years, but now a New York Supreme Court Justice name Richard Platkin has ruled or the town that's fighting the track over noise.
Check it out.
Josh Strang
is a perfect 4-for-4 in the series; here's a look at his last win, at the Big Buck GNCC in South Carolina.
Got a customized motocross license plate? Check out this
comprehensive sampling
of moto-inspired license plates.
I mentioned
Dave Osterman
, longtime mechanic and motocross guru, and his new "Ask Ozzy" gig last week. He's now got a Facebook page up too: Check out "Ask Ozzy" and go the the man who used to have the biggest affro in the pro pits for advice!
Got a note from an old friend in
Gunner Wright
, who used to work in the motocross industry but is now making a go of it in Hollywood. Gunner rode his Z1000 to the premiere of movie
The Losers
a couple of nights ago and even got some red-carpet time.
Finally, stay tuned for some really cool news about some fan innovations we've been working on for the upcoming Lucas Oil AMA Pro Motocross Championship. We believe it will really change the way people watch motocross races—both at home and by the side of the tracks.
That's it for Racerhead. See you at the races.