Welcome to Racer X Redux, presented by Renthal.
Six weeks ago in Redux, I wrote this:
The Dunge and Villo have battled before, but they have never had friction—they even formed a common bond in the J-Law battles. But the stakes are higher now. I think that at some point in the next month, things will tighten, pressure will rise, and something crazy will happen. Maybe at St. Louis, which always seems to host wild events…
And yes, the Edward Jones Dome delivered again, with a triple shot of close racing between the two, a wide-open takeout move by
Ryan Villopoto
, and a massive crash that ended the whole darned title chase. Did you see that big triple where Villopoto crashed? If you had a dyno chart of this season's excitement, it would look just like that jump; a few steep peaks with some low points in between. The whole Reed/Stewart Phoenix fiasco was exciting,
Ryan Dungey
and Villo's rise to the top was cool, and the St. Louis battle was the third and final peak. And in one blink of an eye, it's over. Now Dungey has it won already for all practical purposes, since Villopoto is the only one with a mathematical shot at the crown, and he's not coming back. Dungey has a 36-point lead, which means he needs to score 15 points this weekend (sixth place or better) to have the 51 point cushion needed to officially wrap this up. But he could skip all that and just pre-game for three weeks in Vegas right now, because he will be champ when this is over, no matter what.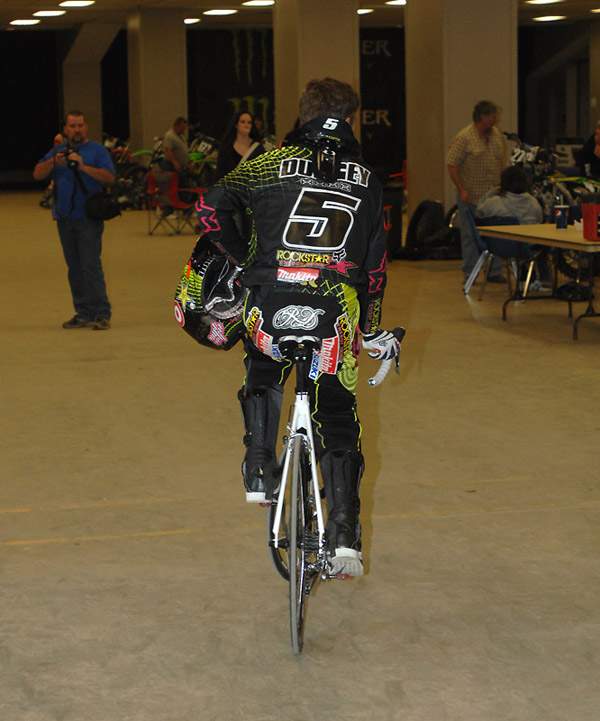 Dungey is free to cruise away.
Carl Stone photo
So the first question this week:
James Stewart
,
Chad Reed
and Villo got hurt this year, so did Dungey get a gift? I say no. Few rookies even make it through a full 17-round season without piledriving themselves into the ground, so Dungey outlasting more experienced competition is an amazing accomplishment. You can't overstate how impressive it is for Dungey to ride this well as a rookie, because seriously, rookies in the big class almost always have sucky years. Only three rookies ever have been in the title hunt all the way down to the last round: Jeremy McGrath, Reed and now Dungey. That's it.
To further illustrate the point, here are some stories of Lites champions and moving to the big class: Damon Bradshaw broke his foot in 1990. Brain Swink broke his wrist in 1993. Damon Huffman hurt his knee in 1996. Mickael Pichon broke his femur in 1997.
Tim Ferry
hurt his knee in 1998.
Kevin Windham
broke his collarbone in 1998.
Ricky Carmichael
crashed 17 million times in 1999.
Travis Pastrana
, well, take a guess how that turned out in 2002.
James Stewart
broke his arm in 2005.
Davi Millsaps
broke his femur testing before the 2007 season.
Grant Langston
broke his collarbone that same year.
As the pattern repeats itself over and over, you have to think it's more than just luck. Wrestling the bigger bike against faster competition, for five more laps, for twice as many races, is really, really hard. Since turning pro, Dungey has only missed races once due to injury--a broken collarbone in 2007. He's able to avoid the pitfalls. We can't diminish that accomplishment.
The only way he did get lucky was with that massive San Francisco crash, which wasn't much different than Villopoto's wreck on Saturday night. The Dunge got away with one there. But the title? He earned it. Remember, if Dungey wasn't going fast and pressuring Villopoto on Saturday, I doubt would RV would have crashed over that triple. He matched RV's lap times stride-for-stride during the race, battled Stewart tooth-and-nail at Anaheim 1, won in Dallas and Atlanta. The goal is to win the championship, and Dungey did it. Can't take anything away from him.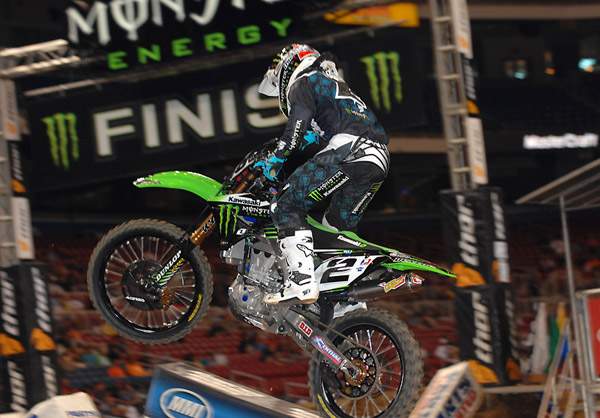 Dammit we've lost him.
Carl Stone photo
And by the way, that rookie injury streak listed above runs the gamut from easy tracks to hard tracks, from two-strokes to four. And the high-water mark for SX injuries is still 2003, when only Carmichael, Reed and Fonseca were left in the factory trucks late in the season. And most of the riders were racing two-strokes back then. Just wanted to point that out.
Now, about that Villopoto pass, um, attempt. What exactly was he attempting there? It was such a blatant knock down that I'm thinking it wasn't blatant at all. Maybe he just got whisky throttle, or misjudged something, or had flashbacks to
Trey Canard
at this building two years ago. He had a zero-percent chance of staying up himself, and it was only halfway through the main. Why get desperate? Plus, he doesn't really have a dirty-rider rep, unless he's settling a bad-blood score with
Mike Alessi
or
Jason Lawrence
. I'll call it the blatant takeout that was so blatant that it couldn't be blatant. Something else had to be going on there, and yes, that's giving Villopoto some huge benefit of the doubt there to not just say he was guilty.
Finally, let's discuss Villopoto's crash. Steve Cox pointed out that most riders were using the left side of the track to takeoff for that triple, but halfway through the race, they had worn the transition all the way down to the concrete. Watch the replay and you'll see that RV switches from the left to the right part way through that section to avoid the concrete patch. That put him in uncharted territory with ruts, and the takeoffs to all the jumps changed throughout the race. It was probably just different enough on the right side to ruin his drive. And while it looks like he was coming up way, way, short, Jim Holley told me that when you bail off a bike, you actually shove it down to the ground, so the real reason the bike smacked the landing so hard was because Ryan jumped off. But that's not saying he wouldn't have been hurt if he had held on – just ask
Ivan Tedesco
.
The track designers have been taking a lot of heat for the Villopoto crash, and since I'm not racing it's hard for me to say if that section was too hard. I do think the track designers get too much heat, too often, though. When the races are boring, they get blamed for one-lined track designs, and when riders get hurt, they get blamed for dangerous tracks. But I've seen plenty of boring races and rider injuries on tracks Dirt Wurx didn't design. Sometimes it's just the nature of the beast. And then you have the age-old debate over making tracks that offer passing opportunities and separation while also not having any unsafe obstacles. Hard to have it both ways.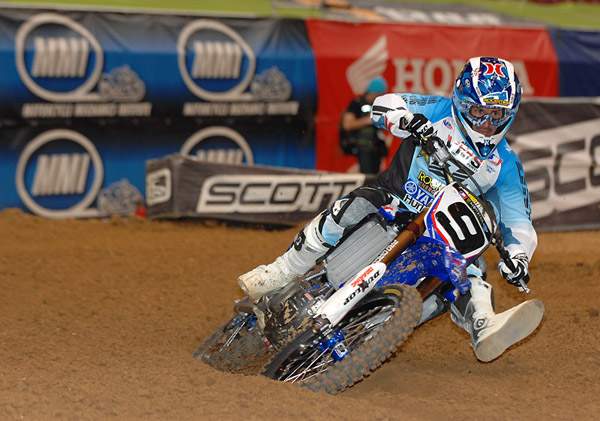 Lost him, too, dammit.
Carl Stone photo
Now, after I have spent the first 1000 words praising Dungey, I just want to give credit to Villopoto for riding his ass off for the last 10 weeks. If he's sitting in the hospital and wants to read some encouraging words, I'll link up last week's ReduX for him. The dude is a warrior and I'm sure he'll be fast whenever he's back – and I sure hope it's for a good portion of the outdoor tour.
With RV out, Dungey could be free to cruise to the SX title. Maybe he'll cruise so much that someone else will win a race, like
Kevin Windham
, who actually had RD in his sights late in he race until he jacked up the rhythm section on the opposite side of the stadium from where RV crashed. That was just the amount of breathing room Dungey needed, but still, Kevin is riding awesome.
And you still have
Chad Reed
in the mix. Last week's race was the worst I'd ever seen
Chad Reed
ride in a supercross. Until this one! Chad was sixth on the first lap and at one point slid all the way back to ninth. RV and Dungey were on the ground locked together, but Reed wasn't even around to take advantage. It's a good thing Reed had an awesome heat race—where he passed and left Dungey—because otherwise, I'd start getting worried. The elite racers either win or go home, they don't usually flounder around. That's why the really good guys don't race back into shape; they don't want to take a confidence hit by racing for 10th. For a few laps, Reed was. Ouch. I don't think riders with his kind of pride and his kind of bank account can struggle like that for long before they're over the whole darned thing. And one of these days he's having a baby. Just sayin'.
I will give Reed credit for one thing, though: I needed to chat with him for a magazine story, so he told me to come to the truck on Saturday afternoon. I showed up and he gave me every last second he had. When we were done talking it was literally eight minutes before practice, and Chad was still in his street clothes! Ten minutes later, I was back upstairs in the press box, and Chad was out on the track riding! Too often we media folks point out when a rider disses us, but we need to give credit when someone goes out of his way. And I'm starting to wonder if Chad puts his gear on in a phone booth.
Amazingly, Reed's drop-off from his heat to the main was matched by
Justin Brayton
, who beat Villopoto straight up in his heat and had the first gate pick in the main. Never even saw him after that. I talked to his Muscle Milk/Toyota JGR teammate
Josh Grant
yesterday and he said he's going to have a talking to with Brayton about passing dudes early in the mains. And why isn't Josh racing himself? The JGR team basically locks him in the shop on the weekends so he can't get to the races. They're saving him for the nationals, which is looking like a smart move now that Villopoto is out.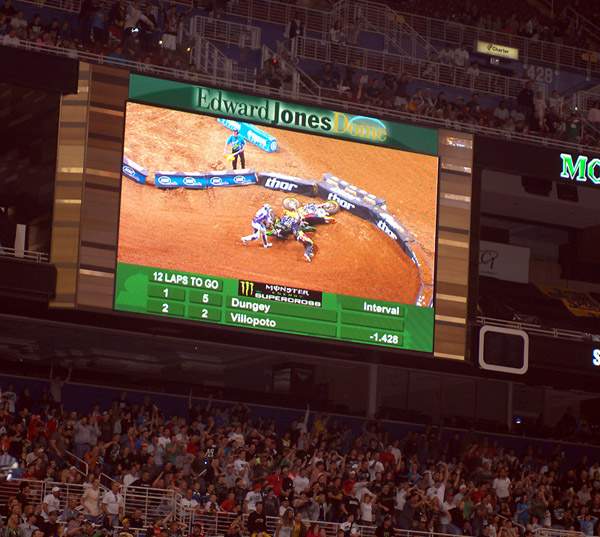 It was fun while it lasted!
Carl Stone photo
Andrew Short
did what
Andrew Short
does: He was solid and smart and scored a podium. I'm sure Shorty has been back in third many times hoping the leaders take each other out, but the one time it happens, he's already tired because he's been out injured.
The real hero of the Supercross Class, though, was
Nick Wey
. His fourth was the best SX ride I've seen him log in four years. Well done.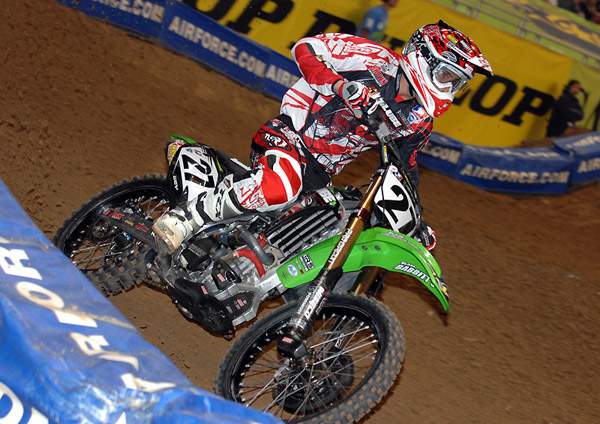 Wey rode like it was 2006.
Carl Stone photo
Onto the Lites: If I have one wish for 2011, it's that the three rookies, Barcia, Wilson and Baggett, get matched up on the same coast. These three have the right mix of aggression and speed to make things interesting every week. For example, last week, Dean-O could have settled for third, but instead crashed going for second. This week, he could have settled for second, but crashed trying to track down Barcia. Then he apologized to his team on the podium for not winning.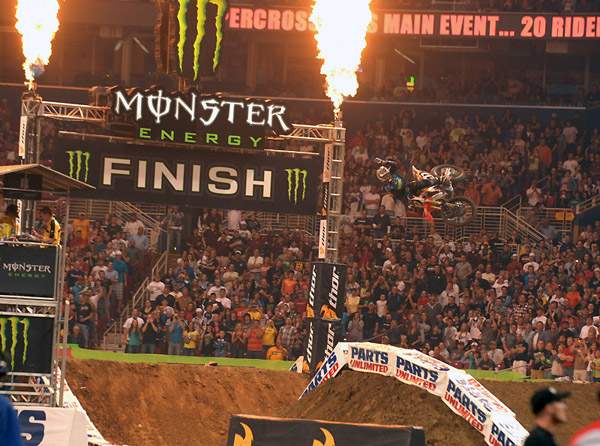 Bringing back the Bradshaw block passes and the Magoo rodeo whips. This kid is wise beyond his years!
Carl Stone photo

Barcia, man, you never know when this kid will go fast. Like I've said before, he's not the win or crash guy you would think, as he actually doesn't crash much. But he's only able to find that crazy speed sometimes. If he does bottle it and get it every weekend, though, look out. He had a massive lead in this race.
Christophe Pourcel
rode like he really didn't care about the race, which I find hilarious. We'll see how hard he tries at the shootout.
Ryan Sipes
was definitely trying hard; he was fastest in practice but didn't get the start he needed in the main. He was hauling, though, and was going after Metcalfe and a podium when he crashed in the whoops. This was old-school Sipes, blazing fast but on the edge. On paper, it was a disappointing year, since he missed a couple of podiums (and a win) under tough circumstances, but I'd still rate his season as a success, since he put himself back on the map. Sipes could do something outdoors—he's got the speed, that's for sure.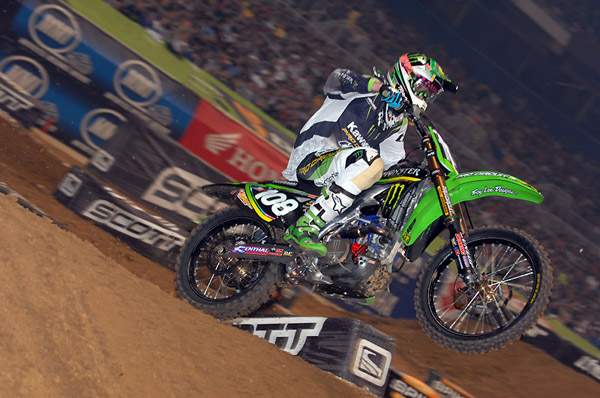 His little immigration issue was bad, but overall,
Dean Wilson
's riding this rookie season was good.
Carl Stone
On Saturday morning,
Ivan Tedesco
said he has found a half-second a lap in speed. Sure didn't look that way in practice, where he was seventh, or his heat race, where he was sixth, but once again those provided no indication of his real speed, because in the main Ivan passed Reed, Brayton and Millsaps and was in fourth until he crashed in the same spot where Villopoto did. Bummer there, too.
And Millsaps, he was leading his heat race until he crashed, and then crashed again a lap later. He's really been taking a beating lately. It was also funny that Davi headed back to the pits after the second crash, but his mechanic Carlos was stuck in the mechanics area, because the track went by on both sides. I'll ask Carlos this weekend what he did for the next few laps, without a rider to even board for.
With all of these injuries, it's tempting to think about how cool this season could have been. Maybe the Ryans would have been taking each other out in Vegas. Maybe we would have had another Reed/Stewart showdown. But unfortunately the air has been knocked from the tour with three races left.
Now it's up to you to provide the entertainment, then. Last week, I said we would hold the mother of all giveaways, and here it is: I want you to write your ReduX review on the way you WISHED this supercross season had gone. Go ahead, write up a little report looking back on your dream season, 500 words or less. Feel free to get crazy, throw in any "what if" scenario that you want. For example, I'm certain that had I gotten a dirt bike when I was three years old and started racing that I would be a multi-time SX champ. And there's probably some super athlete out there somewhere that could have won races this year if he hadn't decided to go into track and field. Think super crazy awesome title drama, write a review of that mythical season that never was, and the five best stories will get a super-trick and sano Renthal Racer X ReduX t-shirt and Rental sticker kit. Seriously they only made a few of these shirts so it's limited (and special and platinum) edition. And we'll share the stories here on Racer X Online. Email your stories to me at
jasonw@racerxonline.com
Good luck doing my job for me. Suckers.