Gajser Sweeps All Before Him in Slovenian Championship Event
Tim Gajser's exposure to the demands of international racing has led to an improvement in more than his racing skills alone. With his net being cast wider in search of international stardom, the developing 13 year old is naturally taking a keener interest in the discussions that impact on his future career. With growing confidence, he has taken more of an interest in the discussions with his sponsors, supporters and other stakeholders, and in the last few months, his command of English has improved spectacularly.
Despite his fine achievements at a young age, the Slovenian teenager is still modest with his feet planted firmly on the ground, and never allows himself more than some quiet confidence when discussing his prospects for the 2010 season. There was not a hint of over-inflated self confidence in him when he realistically remarked that his results in the Slovenian championships would be no yardstick for the tougher opposition that awaits him in the European championship series.
Nevertheless, Tim and his family are loyal to their sponsors, and for the sponsors of his homeland, it is important that he performs on home soil as well. He reported for duty therefore at the first round of the Slovenian Championships at Konjice. Some April showers turned the track into a nightmare for most of the riders, but this played right into the hands of our young hero. His experience of many track in Europe and all kinds of conditions that the weather gods could throw at him, served him in good stead, and he was simply untouchable, winning both races by a margin of more than a lap over his nearest competitor on his EHR-tuned Bodo Schmidt KTM.
Although Tim and his supporters were equally happy about the result, he remained realistic, with his eyes fixed on his larger goals. His first true test of the year will come next weekend at the first round of the European Championships at Olstyn in Poland. As the reigning champion he knows that he has a huge big target fixed to the back that the rest of the field will be aiming for, and he will go all out to defend his title successfully.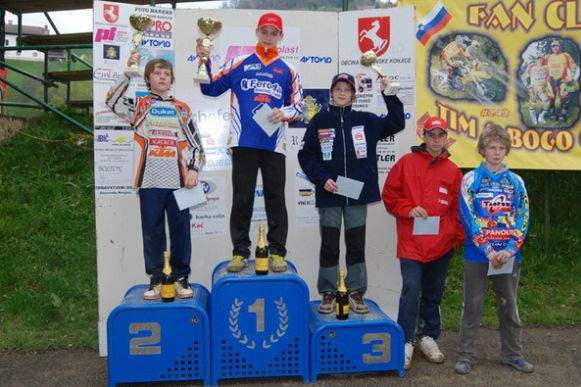 By now, Time has the top of the podium procedure pretty well sorted out.
Photo: mxslo.com