The Fox Fifty: Ohio Results
Last week was the highly-anticipated debut of an all-new online feature here on Racer X Online that all of us here at Racer X and Fox Racing are very excited about: The Fox Fifty. Not sure if you checked it out yet or not, but the basis of it is to bench race and vote on who you think the five fastest riders are from a particular state. We plan on running the feature every week until we go through all 50 states, and we debuted last week with the Buckeye State of Ohio.

So, without further ado, here are the top five MX/SX riders from the state of Ohio, based upon your votes:

1. Brock Sellards – 18%
2. Gary Semics – 17%
3. Gavin Gracyk – 10%
4. Jeff Gibson – 10%
5. Jeromy Buehl/Fred Andrews (tie) – 7%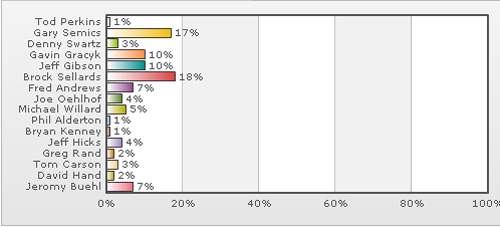 Racer X
staff's and
Fox Racing
's final top-five for the Buckeye State, which leans towards more of the old-school heroes than the new:
1. Gary Semics
2. Brock Sellards
3. Fred Andrews
4. Jeff Hicks
5. Jeromy Buehl
We had a total of sixteen riders for you to choose from on our list, but of course there's not enough room to list everyone, and we apologize if we left off someone who would get your vote. Some readers commented on the article and listed other fast Ohio pros that they felt deserved to be on the list, including riders like Josh Steel, Charlie Dunaway, Mark Musselman, Mark Weaver, Bob Taylor, Jeff Piasecki, Randy Richardson, Denny Ashworth, Dave Glenn, Gary Easton, Chris Turner, Shawn Fletcher, Tim Shepard, J.D. Collins, Tony Graham, Chucky Reed, Dale Spangler, Brad Strunk…the list goes on!
Reader Jeff Greenberg noted that he too was a fast Ohio pro, but said the rider we missed that was probably most deserving to be on the list was Jon Leak. "Norwalk, Ohio's Jon Leak was no doubt one of the top five best racers Ohio has ever produced. Jon was AMA National #28 in 1976. He won five Ohio State Championships and was the uncrowned "King" of Mid-Ohio. Jon had several top-ten national results as well as a top-eleven moto finish in one of the mid-70s 125 U.S. Grand Prix races. His amateur record in Ohio arguably has no equal. Jon left us way too early at the age of 39 in a ultra-lite crash—flying was his other passion."
Someone also mentioned that we missed
Josh Demuth
, who grew up in Marion, Ohio, but Demuth has been a residence of Texas for quite some time now. It's definitely going to be a gray area identifying the home state for some riders, but we feel that Louisiana can claim
Kevin Windham
, Kansas can claim Jeff Emig, and David Pingree was born and raised in Montana.
Regardless, we hope you enjoy the new feature and we encourage your comments and feedback. If you want to nominate a particular rider for any of the remaining forty-nine states, email us at
letters@racerxonline.com
.
Stay tuned to Racer X Online this Thursday for the second state for The Fox Fifty: Arizona!