EACH
state? Topics like that make for some great bench racing, and that's why we're introducing a new feature for Racer X Online:
Fox Racing
's Fastest in Fifty States—The Fox Fifty.
The goal is to figure out who the five fastest riders of all time were for each of the fifty states in the U.S., the fastest motocrossing nation on the planet. And
Fox Racing
and Ra
cer X
need your help to determine just exactly who these great American motocrossers are.
Each week for the next fifty, we'll pick a state and provide you with a list of riders from that state, ranging from legendary champions to local heroes. Some may have AMA Motocross and Supercross Championships to their names; others might have never made it further than the state line. We then want you to vote on which five riders make your own personal top five, and at the end of the week we'll tabulate the numbers and reveal your top five, as well as our own final list, based on the epic bench racing sessions that have taken place over the years inside the
Fox Racing
headquarters and
Racer X
.
So let's spread out on the starting gate and get ready to drop it for a full year of national-level bench-racing. First up? Ohio, which is not only the birthplace of aviation, but also home of the first-ever professional motocross—the 1970 Trans-AMA opener—that was sanctioned by the American Motorcyclist Association, which is also based in Ohio.
Here are the candidates for Ohio's five fastest of all time:
Tod Perkins
:
Seventies' era privateer hero on the national tour
Gary Semics
:
1975 AMA 500cc Supercross Champion
Denny Swartz
:
Last rider ever to win a major U.S. race on a Maico

Gavin Gracyk
:
Tough-as-nails privateer on the AMA circuit
Jeff Gibson
:
Defending AMA Arenacross Champion
Jeromy Buehl
:
Race-winning member of the legendary Peak/Pro-Circuit Honda team
Brock Sellards
:
AMA National and 125cc Supercross winner
Fred Andrews
:
Longtime privateer contender in AMA Motocross and SX
Joe Oehlhof
:
Former KTM factory rider
Michael Willard
:
Local legend still active on the AMA tour
Phil Alderton
:
Fast local pro who went on to found Honda of Troy racing team
Bryan Kenney
:
Winner of two 500cc nationals in 1972
Jeff Hicks
:
Former Yamaha factory rider and Team Tamm survivor

Greg Rand
:
Multi-time Loretta Lynn's youth and amateur champion

Tom Carson
:
One of the most respected privateers of his generation
David Hand
:
Held a double-digit AMA National number for more than a decade


Now it's your turn. VOTE BELOW!

Be sure to check out Racerhead tomorrow to view the poll results.

Next week? Arizona!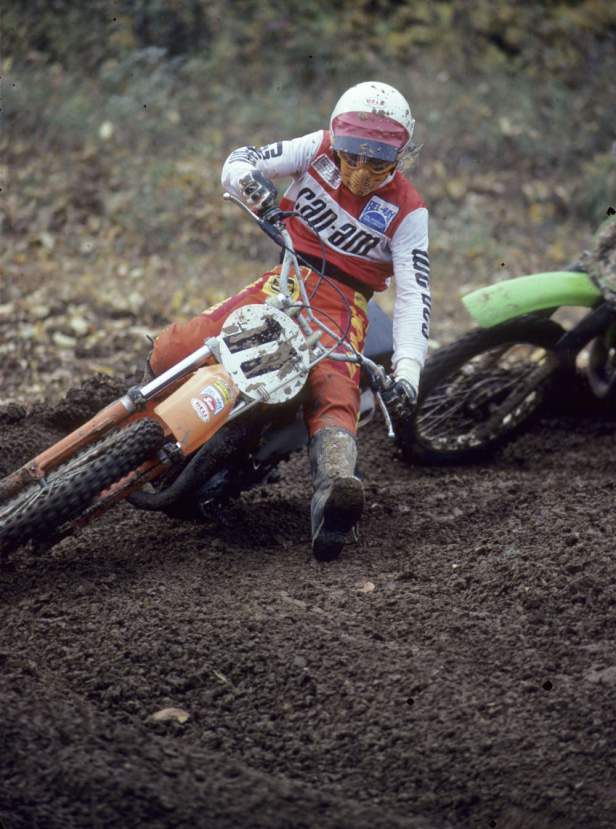 Gary Semics
photo: Dick Miller Archives