Smith Introduces the Fuel v.2 Goggle
(Ketchum, ID)
The leaders in motogoggle technology, innovation, and Made in America quality, have gone back to the drawing board and redefined the motogoggle yet again. Introducing the Fuel v.2, a thoughtfully designed goggle which delivers unmatched fit, face seal, peripheral view, and attention to those little things which make a big difference.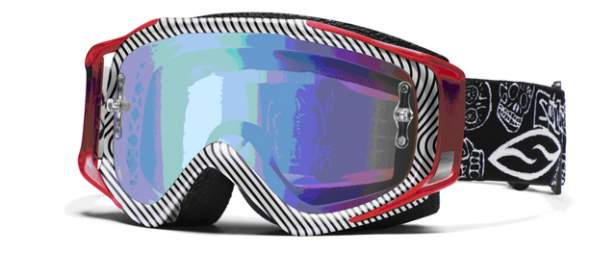 The Fuel v.2 has been strategically designed for seamless integration with every moto helmet on the market thanks to its innovative Ergonomic Outrigger Positioning System. Strap ends are injection molded to a free-floating set of outriggers strategically shaped and positioned to remove contact interference from the perimeter of any helmet's face port. With pressure focused to pull from the center of the goggle frame, the v.2's plush and ultra moisture absorbent Sweat-X F.A.T 3 layer face foam comfortably seals the goggle evenly to the face with pressure uniformly distributed across the goggle frame.
One lens does it all on the v.2. Standard In-Lens Tear Off Posts are easily removed and Roll Off canisters mount to the pre-drilled lens in a snap. Further, the v.2 uses the same lens profile as the Fuel, Intake and Smith winter goggles--Fuse and Stance. Completely interchangeable, the addition of lens offerings for the gamut of riding conditions as well as utilization of stockpiled lenses makes transition to this new design seamless.
A bevy of other features complete the package. Highly scratch resistant and roost-busting Lexan lenses ensure the highest optical quality available. Ultra wide, double woven straps feature a silicone bead backing with the Smith-exclusive Stay-Put strap retainer, ensuring that where you position the goggle is where it stays when slaying track or trail. Fuel v.2 Graphic Series goggles ($80 SRP) come with a specialty Sensor Mirror lens installed and the custom painted Sweat-X v.2 options ($55 SRP) come with a choice of colors paired with Smith's Platinum Mirror, Blue Mirror, Red Mirror or standard Clear lenses.
Like all Smith products, the Fuel v.2 is backed by Smith's True Lifetime Warranty.