5 Minutes with... Christophe Pourcel
Monster Energy/Pro Circuit Kawasaki's Christophe Pourcel has been the 250 East Region points leader since the series opener in Indianapolis, but after three wins to start the series, he landed a third at round four and could only manage a seventh at round five, after going down in a first-turn crash with most of the field. In Jacksonville, Pourcel came back to take his fourth win of the season.
Racer X: Christophe, you've had a couple of off races before winning at Jacksonville last Saturday. How are things going?
Christophe Pourcel
: Two weeks ago, I went over the bars in the heat race, and I screwed up my main event because I was sore from the heat-race crash – my ribs and all this stuff. But third wasn't bad, and I was ready to go for the next weekend and try to win again, but then we had a giant crash in the first turn and the track wasn't good at all. So I did what I could.
With the way the last two weeks have gone, were you freaking out at all about it?
No, it's just racing. I'm all right. Seventh is fine. I can walk and do whatever I want – I have fun during the week, and that's all it is for me. I try to win every race, and I give it my best, even if I finish tenth. As long as I gave my best, it doesn't matter to me.
In Jacksonville, you were chasing Brett Metcalfe and Austin Stroupe early in the race, and then you almost passed them both at the same time. Was that a strategy?
You never really have a strategy for something like that. I was just waiting and they made some mistakes, so I passed Austin, but then he passed me back, so I squared a corner and passed him again. Then I figured I had to get by Brett right away, or else Austin was going to try and pass me again, so that's what I did. I knew my lap times were really good, so I put my head down to do some good lap times and my mechanic showed me the board to show I was doing 49s, which was good. I had, like, six seconds on the last lap, and then I crashed. It doesn't matter if it was my fault or the lapper's fault, because it was me on the bike and I made a bad choice. I was wide-open in the whoops and there was a lapper in front of me, and he slowed down to take the inside of the turn and I hit him from behind and fell. But it worked out okay.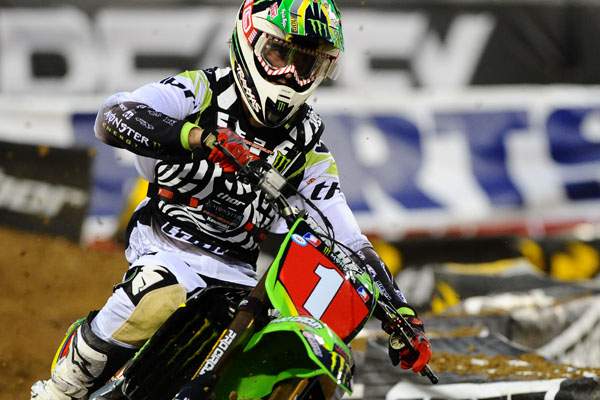 Photo: Steve Cox


What did you think of the track and the dirt in Jacksonville?
It was really good. I think the track was one of the best, because a lot of the recent ones, they have been one-lined. We need tracks we can race on.
The first turn looked a little scary in Jacksonville with that hump going into it, though, didn't it?
It was kind of scary, but the one before in Dallas, I knew it was scary. We all wanted the holeshot, and the 250s are pretty even off the starts, and we all went down.
Explain what it was like to be in that crash, because about three-fourths of the field went down!
Yeah, like, sixteen guys, and my bike stalled while it was down, so I was like, "Everybody crashed, so they're going to put out the red flag. They have to." I was taking my time. But then I was sitting there starting my bike, and I look up and they get the green flag, so I was like, "No way! Okay, then, let's do this!" I had to work really hard, and that was the shittiest track ever – it was one-lined and the dirt was weird and slippery.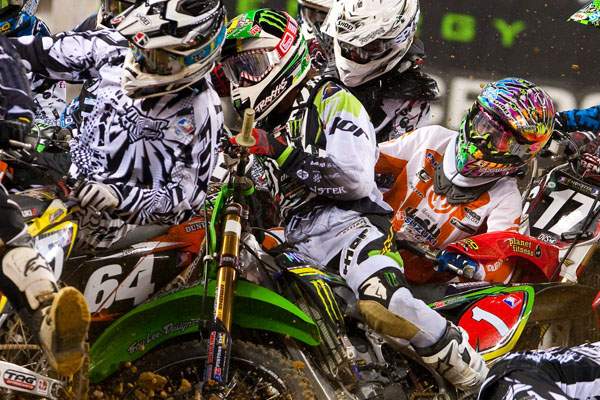 Dallas lites main event start crash
Photo: Brian Robinette
What was it like to be in the middle of that crash? It looked like Martin Davalos hit the inside Tuff Blox and flew into the rest of the field.
Yeah, a little bit. It was me and Davalos. We talked about it and he said that he got hung up on my elbow, and then he crashed, but he was on the gas when he did it, and so was I, so we just all crashed.
You've got a week off, so what are you doing in your time off?
I'm going to ride my jet ski, and I'm going to ride on my track.
Are you going to test for the outdoors at all in the time off?
Yeah, this week I started. I'm done with supercross. I'm tired of it. I just want to ride the nationals.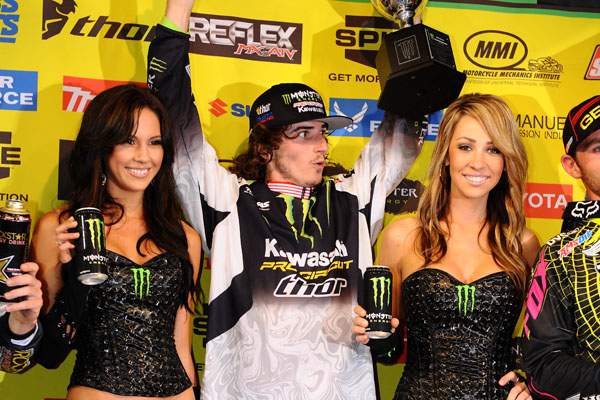 Pourcel on the podium in Jacksonville
Photo: Steve Cox