5 Minutes with... Ryan Villopoto
Monster Energy Kawasaki's Ryan Villopoto had a heck of a time two rounds ago in Dallas, as he struggled on his way to a fourth-place finish in the main. However, despite a freshly hurt foot, Villopoto put it all back together again last weekend in Jacksonville. We talked to him after the race.
Racer X: What happened to your foot in practice?
Ryan Villopoto
: Actually, it started out as just a little crash. It was kind of small, but I started washing the front end out when I jumped off that tabletop, and I was like, "All right, I'm going down," but then at the last second, it hooked back up and it basically highsided me into the berm. As I was going into the Tuff Blocks, I was on the face of the berm, and I was kind of on my toes on the face of the berm, and the bike flew over and landed on my foot and just crushed my toes.
Is it more of an Achilles-type injury? Like on the back of your foot?
Well, that's where the bike landed, but no, it's actually my big toe and the joint area there. I guess it just chipped a little bone in there in my left foot.
So it's your shifting foot?
Yeah.
At least you probably don't have to shift all that much on a 450, right?
I tend to be in first, second and third gear. I don't think everybody rides in first gear, but I do on some tracks a lot. So I shift quite a bit.
Why did you decide to sit out the second timed practice?
Once I finally got up, I just wanted to put in a laptime that I knew would qualify me in, and then I was in some pain. I was actually surprised because I've never had a foot injury before – not even really a sprained ankle or anything – but just that little chip, earlier today, after we got back at the truck, I was in a lot of pain. I was actually surprised. I had to lie on the ground and put my foot up on the couch and ice it down and work on it.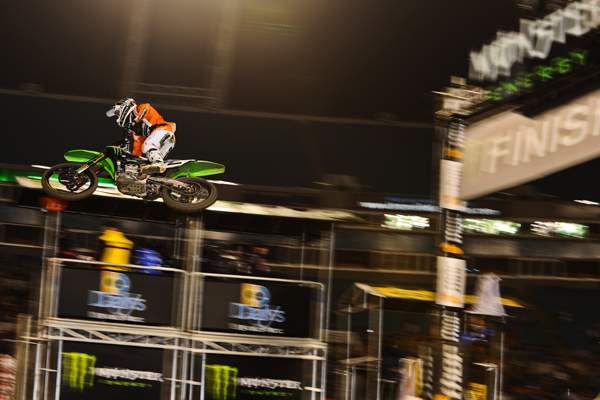 Photo: Cox
Even with all of that, your race went a lot smoother this week than it did last week, so that's kind of weird, isn't it?
I had an off-weekend last weekend, and I've made a lot of mistakes that have cost me a lot of points, so I just have to go out there and win races and hope for a mistake. Hopefully, one of these weekends, I can make up five or 10 points and be right in the hunt there to hopefully win. If not, all I can do is win races, and I guess the more races I win over him, at least I'll have that bragging right if I can't win the title.
The bonus isn't quite the same, though, is it?
It is not
quite
the same... Ultimately, it's just about having a supercross championship, though.
I'm just playing with you about the money. I know it's not really about the money...
What do you mean?
Obviously, I know you want the money, but for most racers it's about the number-one plate – knowing you're a champion – not about the bonus. The bonus is just something you get.
Yeah, for sure. You got that right.
A lot of the riders were raving about the track. What did you think about it?
I thought it was good. Dirtwise, it was good, just maybe a little slippery because the moisture came out of the dirt when the night came. It was a track that left a lot of us really close in laptimes, but other than that, it was good. The Florida dirt always seems like it's pretty good.
What are you doing on your week off?
I'm going to work on my foot a little bit and hang out. It's the first weekend off and then starts a long season with five weeks of supercross and then the outdoors.
Are you going to be doing some outdoor testing during this time?
Yeah, actually, the guys at Kawasaki are going to be staying in Florida this week with me and we're going to work on some stuff, depending on how sore my foot is.
I don't know if you lost confidence with your ride a week ago, but did this race help you to feel better about your place in this championship?
I definitely feel better. I don't know what was going on last week, I was just off. Now, all I can do is just win races and see what happens.