Racer X ReduX: Jacksonville
Welcome to Racer X ReduX presented by Renthal. Get some rest.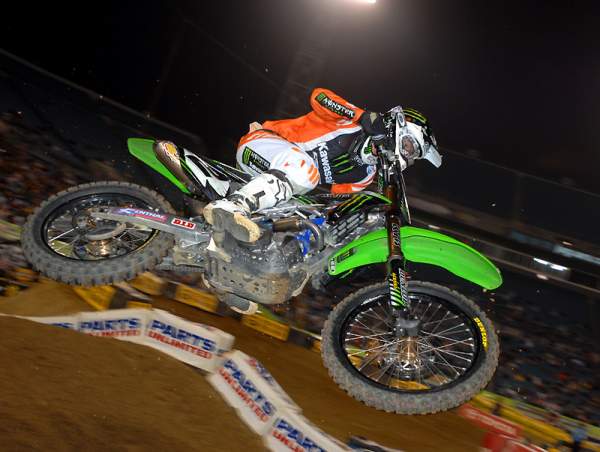 When it came down to crunch time, RV2 ignored the pain and won.
Carl Stone photo
Injuries have always been a part of this sport. In 1987, I started following every round of AMA Supercross by reading Cycle News. Here's the 1987 storyline: Defending SX Champion Rick Johnson knocks himself out at Anaheim. Jeff Ward dominates early until he breaks his ankle. RJ mounts a comeback, but then crashes at Pontiac and breaks his fingers, allowing Ward to regain the points lead and win the title. Other expected contenders? David Bailey's career was over due to injury. Johnny O'Mara suffered through knee problems. The only other guy who could run with RJ and JW was Ron Lechien, and he just wasn't focused enough.
Insert that plot into any SX season for the next 23 years and it would fit right in, square peg into a square hole. So I'm not going to point blame at 2010's injury woes on some new developments here—four-strokes, or 450s, or the tracks, or trainers or whatever. It is what it is, and, it actually even is what it was.
But I will say that this schedule is crazy, racing for 12 consecutive weekends. That much racing means more paychecks for me, but for the riders, dude, it's harsh.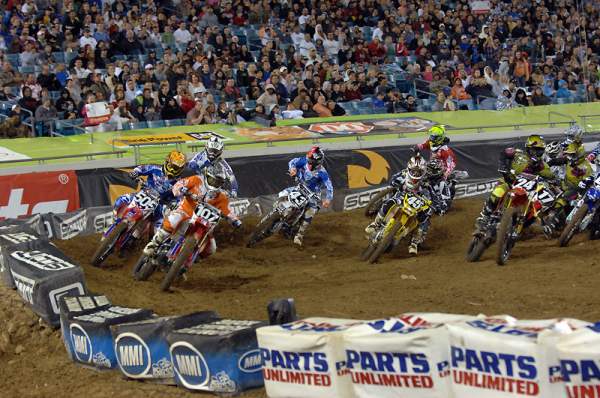 Kelly Smith gets the holeshot for Honda of Troy. Did I just get in the Hot Tub Time Machine?
Carl Stone photo
Another internet observationist and I were talking about this: There's just not much to write about right now. We're waiting for Villopoto and Dungey to start hating each other. Waiting for Reed, Stewart, Grant or Short to come back. Waiting for
Josh Hill
to heal up. Waiting for Canard and Pourcel to move up. Waiting. Waiting.
And then, during the wait for contenders, we very nearly lost one. In Jacksonville,
Ryan Villopoto
went flying over a berm in the first timed practice and came up limping. Rumor had it that he had broken the joint in his big toe and had torn some ankle ligaments. You knew RV was going to ice that sucker and give it a go in the main event. But would he be 100 percent? Could he even challenge Dungey for the win, or was the massive list of title contenders down to one?
Luckily for everyone, RV dug deep and raced to win. Afterward, I asked if he was planning on racing to win or racing to score points, and he said, "I'm so far back, the only way I can get points is to win." True. He dominated, holding Dungey at bay in the heat race and main event, just like Dungey did to him last week in Dallas. How close are these guys? Dungey had the fastest lap time in the main, but only by one one-thousandth of a second.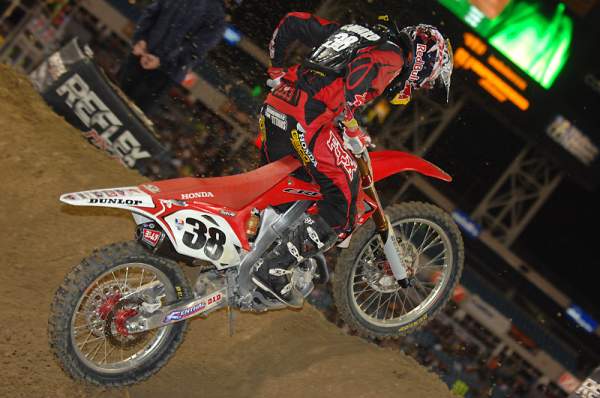 Dungey and Canard are making the steep climb up to the 450s look to easy.
Carl Stone photo
Now RV gets that merciful weekend off, and hopefully he can keep this interesting in Houston, perhaps with Reed, Short and Grant in there, too.
Of course, Villopoto's win was devoid of the hype it deserved. If Stewart or Reed had missed practice with an injury and came back to win, it would have been seen as either an epic display of heart or another bottle of whine for a drama queen, depending on which side of the Reed/Stewart battle you're on. But with RV, he just wins, and no one really talks it up.
If Villopoto had missed the main, Dungey would have had a gigantic points lead, but I think Dungey's okay with this. He needs a little challenge. So far, The Dunge has received nothing but accolades all season. But this weekend, when Villopoto went down in practice, I heard the inevitable for the first time. And it was: "Man is Dungey going to back into this title?"
That hurts. As far as I'm concerned, winning the title in your rookie year in SX is an amazing accomplishment, no matter who else was there. Yeah, a lot of guys crashed and got hurt this year, but it was supposed to be Dungey, the rookie, who did that—just ask all the 125/Lites class phenoms who went down and went down hard their rookie seasons: Bradshaw, Huffman, Roncada, Carmichael, Stewart, Pastrana, Windham, Millsaps, Langston, and the list goes on.
For Dungey, not getting hurt isn't the caveat; it's the credit. Only two other rookies have ever raced this fast, smart and solid: Jeremy McGrath, who won the 1993 title in his rookie season, and
Chad Reed
, who lost the title to Carmichael by just seven points in 2003. Two riders. Ever. Otherwise, history is littered with big names and big disappointment.
Even Villopoto had trouble last year, as he got sick from the weekly grind and had to take some time off. Don't underestimate how hard it is to race 12 weekends in a row; something that Dungey is doing for the first time in his life.
Two weeks ago,
Trey Canard
said that one of the hardest things about racing the 450 this year is not getting a break. Trey has raced every race this year, too, and by Toronto the grind of weekly coast-to-coast flights was getting to him. Yes, he's making the switch look easy, but it's not. Contrast his five podiums with the wild rides for
Austin Stroupe
and Ryan Morias on 450s this year. When Big Treat Millsaps tried moving up for a few weeks as a Lites champ in 2006, he twisted his knee in practice and never even made it to the night show. Like Dungey, Canard staying safe while everyone else is banged up is the whole point.
So it's a well-deserved break for anyone still out there, and if you're Reed (thumb), Short (ankle), Grant (shoulder),
Christophe Pourcel
(ribs),
Austin Stroupe
(thumb),
Josh Hill
(ribs), Villopoto (foot and ankle),
Jake Moss
(finger),
Nico Izzi
(toe) it can't come soon enough.
The Jacksonville track featured some awesome dirt, and Villopoto was especially pumped on it when the day began. Could that have been the only difference between this race and Dallas? Riders liked the layout at first but then I heard the typical "it didn't allow people to separate because everyone did everything" talk. I'm still holding out for the day when someone says "this is the type of track where you don't need to get a good start."
The first-turn layout was the exact opposite of last week's, with a long straight to let the field, yes, separate before turn one. But the wild men of the Lites class still got crazy.
Steven Clarke
had the holeshot in heat one, but he hit the corner at about 90 mph and went flying.
Martin Davalos
did the same thing in the second heat, but he at least tried to make it to the berm to save himself, which just meant that he got hit from the side instead of the back – by his old friend
Justin Barcia
. Martin has been riding must faster lately, but he's been taking a beating as well. In the main he ate it over the dragon back, which I believe is the name of a new cartoon movie by Dreamworks.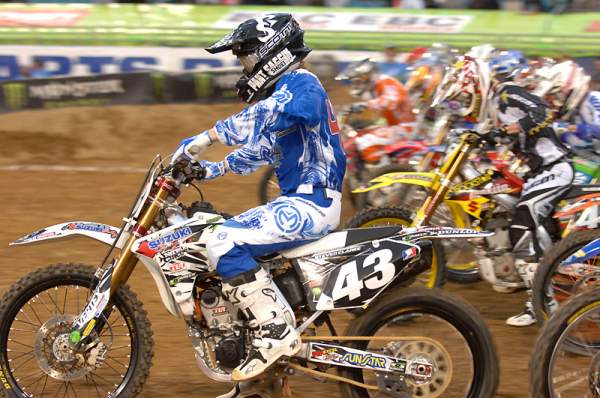 Think
Steven Clarke
is going a little faster than everyone else heading for turn one?
Carl Stone photo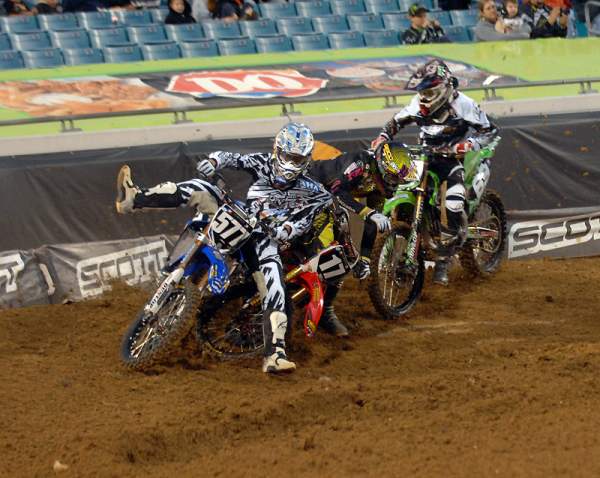 The Star Racing press release said Davalos came into contact with "another rider" in the first turn of his heat race. And hmmm, I wonder who that other rider was?
Carl Stone photo
Clarke was back for the LCQ and passed Les "is more" Smith in the last turn to take the last transfer spot. A bunch of guys went down in the melee, and we had
Mike Alessi
joining us in the broadcast booth, and I can tell you his cardio fitness is spot on because he was screaming and yelling and laughing without taking a breath. He also denied any troubles with KTM, and was there in the Jager pits signing autographs (but not drinking Jager).
Ryan Sipes
, last week's Lites runner up, didn't make the main after stalling in his heat race and crashing in the first turn of the LCQ. By the way,
Christophe Pourcel
told me he was bummed at Sipes because, "He is riding good and should have won last week. Why can he not pass lapped riders?"
Remember that.
So, in the Lites main, the big question was which Pourcel would show up: The fast one from Daytona and Indy, or the vulnerable one from Atlanta and Toronto? I wasn't sure at first, because
Austin Stroupe
was doing what he needed to do by going after
Brett Metcalfe
for the lead, while Pourcel sat in third. CP sat third in Toronto and didn't move up. But this time, Le Crafty Frenchman was back.
Metty
and Stroupe touched, and Pourcel went right past.
How many times have we seen this? I have never, ever, ever seen a rider take advantage of others' mistakes better that Pourcel. After a while, it's like the bad guy in an action movie. A few times per movie, the hero will "almost have him" but then he gets away at the last darned second. Saw it here. Saw it in Atlanta. But Pourcel isn't invincible. At the end of the movie something horrendous usually ends up taking the bad guy out... Blown engine at
Southwick
, for example.
Pourcel had this win in the bag until, wait a minute, he crashed into a lapped rider while leading, Sipes-style! This gave Stroupe one last shot, but he just couldn't generate enough speed to make the pass.
What's interesting about the Pourcel and Stroupe dynamic is that neither is, um, the most refined interviewer yet. So you get bold truths from them at times. After the race, Stroupe was out of answers and quipped, "What can I say? I gave it everything I had. The guy is fast."
Pourcel was more pumped with this win than any I've seen before. He was even giving it some good old Rik Flair "whoos!" down on the stage. Consider the ship righted.
Where was Barcia, Barcia Barcia? He got a bad start and just didn't have it on this night. Barcia charges hard, so it's tempting to give him the "man that kid is so fast" rep. But in reality, Barcia's not a Stewart/Bradshaw win or crash guy. He has weekends where he is fast and weekends where he isn't. And he really doesn't crash too much. Really, if you break this east season down, Pourcel fits the fast but crash prone rep more than Barcia does. Especially the fast part, of course...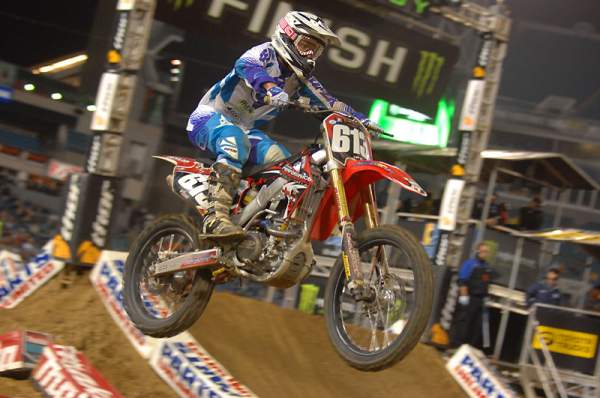 Decotis!
Carl Stone photo
And in fifth we have... Jimmy "Roger" Decotis! After this kid led some laps in the first heat race of the season in Indy, a lot of people were asking about him. Then he scored 20, 17, 14, 16, 16, finishes each week. The hype died down, but this time he finally got a start in the main and rode really well, even staying close to Pourcel for a few laps. This just goes to show you how mental this game is. The kid getting 16th has the speed to run up front on the right night.
I think Canard's ride on the 450 is vaguely similar. You have guys like Millsaps and Tedesco searching for that last little piece. When will they finally not have the nagging injuries? When can they find that last bit of speed? Then all of a sudden some kid comes along with zero pressure and just kills it. Canard totally worked those dudes this time, and then he ran down Windham to make a last-turn pass and take third. A total demoralizer if you're K-Dub. Those dudes must be super-pissed – not at Trey personally, but just that it happened, and they're trying, but they couldn't stop it.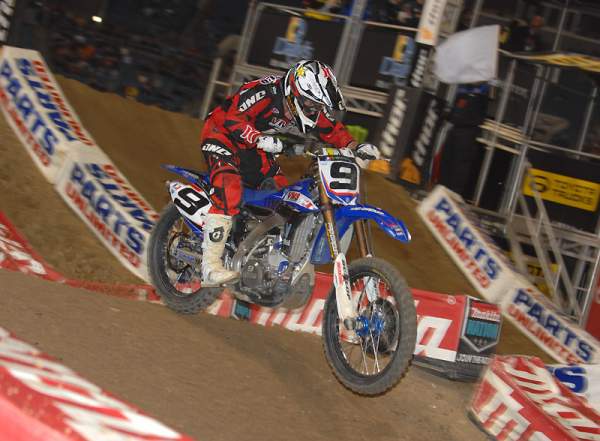 Photographic proof: just because you don't win doesn't mean you're not trying!
Carl Stone photo
Trey's not made of magic. He's been in the same exact spot, thinking the same exact thing, as recently as this year. Sometimes it's all about putting in the work, but other times, there's something more intangible. It's the grind, the mood, the mental outlook.
And that's why everyone needs this break really badly.
I've got some more free time this weekend. Email me,
jasonw@racerxonline.com