Let's start with a flurry of clichés: Change is never easy. There are two sides to every story. All things end badly—that's why they end. It is what it is….


cancellation of the 2010 Glen Helen National
. Facility owner
Bud Feldkamp
and the company that I work for—MX Sports—could not come to terms on the length of the contract extension for that round of the Lucas Oil AMA Pro Motocross Championship, and that is regrettable for everyone involved. I know the fans in Southern California who have come to love that event and the big, spectacular track
Jody Weisel
designs every year is among the most demanding tracks in the world.
The announcement came as a shock to many, and it set the message boards off in ways that made me feel just like
James Stewart
. Maybe even
Tony Alessi
. It's not really worth going into here, other than to say MX Sports and
Glen Helen
could not move forward together under the terms, and I'm sure both the series and the racetrack will survive. I hope it inspires
Glen Helen
to invest in their facility and our sport and show everyone what they can do, because that's what this whole experience has motivated me to do.
So the May 29 round of the series has been canceled, and a new race will take its place on the schedule on September 11. The series will open on Saturday, May 22 as planned at the Rockstar Energy
Hangtown
Motocross Classic, hosted by the Dirt Diggers North M/C at Prairie City OHV, right outside of Sacramento, California. Then everyone will have Memorial Day Weekend off before heading to Texas for Round 2 on June 5. And
Bubba
and Tony can keep their unwanted gigs as the focal point of so many posts—I'd rather go back out on the infield and just hang banners and pick up garbage.
Speaking of Tony Alessi, that's another big story—I think. The word on the street is that
Mike Alessi
and KTM are not seeing eye-to-eye on a lot of things, and the end may be near for #800 and the orange (credit
Steve Matthes
for breaking this one). It's been a long year for the Alessis since last June, when Mike was pulling away with the early lead in the 450-class standings, only to injure himself while getting ready for the
High Point
National. Mike took SX '10 off to get ready, maybe even do some Grand Prix races in Europe, but that's all off the table now. I just hope he finds his speed and comfort zone before
Hangtown
, because it sounds like the 450 class is going to be even more stacked than first thought.
Dean Wilson
is STILL stuck trying to get back into the United States. His agent,
Tony Gardea
, has been working almost nonstop on this immigration problem going back to right after the Toronto Supercross. Wilson, the Monster Energy/Pro Circuit Kawasaki rider who was third in the standings after he finished fourth at Toronto, was born in Scotland, moved to Canada, and then came down to the U.S. What seems to have piqued the attention of the border patrol was not his status but rather the fact that his parents' visas had run out.
MX Sports'
Tim Cotter
has been working with Gardea and using all of his contacts in Washington, D.C., including U.S. Senator
Jay Rockefeller
's office and
Ed Moreland
of the AMA, to get the kid and his family back here in time to race this weekend in Jacksonville, but it's looking bleak right now.
"We've been talking to U.S. Citizenship and Immigration Services, Department of Homeland Security," Cotter told me by email. "Wilson's case is now on the adjudicator's desk for approval. He would not say if there were any problems. The only explanation he would give is that we should hear something within the 15-day period that started on March 19."
Cotter also told me he contacted the AMA's Government Relations department in Washington, and Ed Moreland, who was on his way to the airport. Ed postponed his trip and went to his office on Capitol Hill, where he and
Rich Podiska
started to work the case from their end. "As I understand it, they spoke to the State Department and Congressman
Campbell
's office [in California]. Cotter has also been talking with Dean and his family in Toronto, and they are understandably bummed out but also hopeful this will all soon be behind them. Here's hoping they catch a break today—like his paperwork finding its way to the top of the stack—and he somehow makes it to Jacksonville…. And pencil Wilson in for the West next year, because I really don't see him taking a risk and leaving the country anytime soon!
James Stewart
made a lot of news this week. His upcoming reality show
Bubba's World
is getting a lot of buzz around mainstream media circles, including a piece in
USA Today
. That's where he told the reporter
Nate Ryan
that he plans on being "back in May and ready for the AMA outdoor nationals," which sounds like a great storyline for the summer! He was also featured on the
Fox News channel
, albeit with a photo of him from 2005, still riding a two-stroke Kwacker and wearing
Fox Racing
gear….
Carl Stone
was on the set of Fuel TV's
Daily Grind
in Manhattan when none other than Stewart came in to talk about his brand new show.
I also spoke to
Chad Reed
a little bit this week on a wide variety of topics, and I asked when we might see him back in Monster Energy AMA Supercross.
Reedy
told me he really wants to come back for Houston right after Easter break, but he's going to do it differently this time.
"I wanted to come back so bad when I was first hurt that I would call [
Mike] Fisher
every Wednesday and say, 'I think you can go ahead and get my bike ready,' but then I wasn't quite ready," he explained, who broke his hand at the Phoenix Supercross. "Finally, even if I wasn't ready, I just said 'I'm racing' when I got to Daytona, and then I end up hurting my thumb in practice. Now I'm taking my time and getting ready. So yeah, probably Houston for me."
And then there's the
strangest story
of the week: Why did
"Mad" Mike Jones
go mad in the Miami airport early Monday morning and end up making national news when he assaulted two airport workers and a police officer, was hit with a taser five times, and was finally arrested for a myriad of charges?
Here is
another report
on what exactly happened early Monday morning at Miami International Airport:
And another…
.
I've known Mike since he started racing in the mid-eighties here in AMA District 5. He would have won the 1990 AMA 125cc Supercross title, if not for
Denny Stephenson
, but then he was forced up to the 250cc class too soon (like a few other guys at the time) and never got a real shot with a factory team. Jones become a journeyman, racing for SX prize and show money all over Europe, Asia, and Canada, while at the same time transitioning into freestyle. He won some X Games medals, countless freestyle contests, and become better known for his post-racing career than for his accomplishments between the banners. And yes, he married
Kris Bellora
, whose family owns the farm that the
Steel City
MX track is located on—that's why you see all the ramps off to the left when you roll in the front gate.
But along the way, Mike suffered from two things: bipolar disorder and a growing number of concussions. According to the news reports above, those things conspired to set him off, though I personally have not spoken to him. He remains in a Miami jail, awaiting bond.
The irony here is that back at the Daytona Supercross, a member of one of the teams got into a jam and ended up in jail and in need of some bail money—cash only. The team certainly had the funds but not in cash, but because signup for the
Ricky Carmichael
Amateur Supercross was taking place nearby, and we volunteered to help get the guy out. But the team was busy getting ready to go practice, so they sent a friend to come and get the bail money. It was Mike Jones.
Whatever happened down there, I hope Mike gets through it, gets some help, and gets back to being himself, because I don't know a lot of people in this sport with a bigger heart that "Mad" Mike.
Finally, before I turn this over to the other guys, the motocross world found out early Sunday morning that
Jesse Masterpool
had passed away as a result of his injuries at the amateur race at Lake Whitney the previous weekend. Jesse put up a heck of a fight, and he will be remembered as a future star who never got the chance to live his life and show the world what he could do. It reminds me a little of the terrible train accident from Ponca City back in 1982 that took the lives of three promising young men who almost certainly would have made bigger names for themselves on motorcycles:
Bruce Bunch
,
Rick Hemme
, and
Kyle Fleming
. Godspeed, Jesse. Our deepest condolences go out to your family and friends.
A memorial service is being held this Sunday for Jesse in Paradise, Texas, at 2:00 p.m. For more information,
click here
.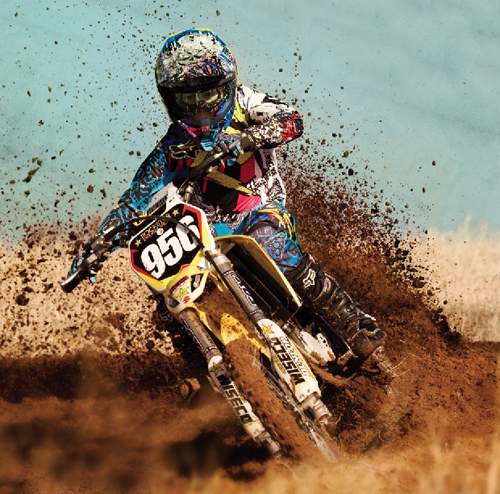 R.I.P. Jesse Masterpool


Here's Steve Cox:

Many of us have had the experience with some government entity where the harder you tried to make something happen, the more resistance you ran into. That seems to be what's going on in Canada right now with Monster Energy/Pro Circuit Kawasaki's Dean Wilson. Perhaps Dean can head back to Scotland and find an easier way back to the U.S. through there. Either way, his loss is our loss as race fans.

You know how a lot of the time, the guy with the bike problem on the line ends up with the holeshot? I'm going to go ahead and predict a Dean Wilson win in his first race back after an ordeal like this.

Rumors were circulating about whether or not Grant Langston was going to come back for supercross this year or just wait for the outdoors, but when I talked to him this week, he indicated that he'd love to come back for the last couple of supercrosses but that it all depends on how fast he heals up from his brutal crash at Daytona. He doesn't want to come back too quickly and risk making things worse.


Dr. Steve Augustine
is hosting his Action Sports Medicine Foundation fundraising dinner tonight at 7 p.m., and a couple of hours later, Red Bull is throwing a premiere bash for
James Stewart
's new reality show,
Bubba's World
, which will air on Fuel TV starting next week. Then, on Saturday, there's that motorbike race over at the stadium in town, which leads into the first (and only) off weekend of the entire supercross season. I have a feeling there are going to be a lot of pumped-up riders, mechanics, and other industry personnel knowing that they get to spend a weekend at home with their families for the first time in over three months. And it's also going to be a good time for many of the racers who are currently a bit hobbled to heal up and get ready for the home stretch.
Oh yeah, tune into CBS Sports on Sunday at noon ET for the broadcast of the AMA Supercross class, then set the DVR for Speed at 6:00 p.m. for the Lites class. You can also watch the live timing and scoring on your
handheld device or your computer
.
And don't forget that
Weege
and
Jim Holley
will call the action live on
www.supercrossonline.com
.

Jason Weigandt pretty much covered everything there is to know from the Dallas SX in his Racer X ReduX column, but here are 5 things to watch for in Jacksonville from the Weege:

1. The RD/RV battle again.

One of these weeks the twenty-lap main event duel has to happen, and hopefully when it materializes, they will be an equal match. Last weekend they hooked up in a heat race and Dungey just walked away.

2. Nearing some rest for the weary.

The only weekend without a race is seven days away. But before then, riders like Christophe Pourcel will have to deal with some pain again. Last week we learned CP has bad ribs, so he will have to add "fighter" to nicknames like "crafty."

3. The Waterfront.

Maybe Jacksonville isn't on your glitz and glamour list like Vegas, but everyone was impressed with the waterfront area when SX made a J-Ville stop last year. Not a bad place to be at all.

4. Blowing the roof off of the place.

Besides Daytona, this is the only east SX without a roof overhead (sure was good to have one in Dallas!) The weekend forecast looks pretty good, but there's an old saying in Florida "If you don't like the weather, just wait twenty minutes." Spotty showers are always a possibility. Check the weather here.

5. Can Stroupe regroup?

While rookies Barcia and Baggett have won the last two races, Austin Stroupe has closed the points gap on Pourcel. But had he won those races, he would be in the lead himself. With CP ailing, it's now or never to make a push.

Here's Nick McCabe:

This week KTM released a solid prototype and further information about their new electric dirt bike. There are a number of electric dirt bikes (and street bikes) currently on the market, but what seems particularly interesting is the marketing angle KTM is taking. One of the very first points they made in the PR was "a chance for a new off-road sport." Basically, they are pitching this bike as a solution for those who live in urban areas and have noise issues with the existing internal combustion two- and four-stroke motorcycles.

There is no shortage of companies (Zero, Quantya, Mission Motors, Brammo, Vetrex) chasing success on the electric motorcycle market, but KTM is the first to actively focus on a unique marketing angle for the usage of these machines. The main challenge for these unique products (be it a dirt or street versions) is having a practical battery life. KTM is claiming that theirs makes for one hour of battery time, which is more than a normal tank of gas.

There is a real race for each of these companies to develop the battery technology, as once the battery life becomes a non-issue it can then be transferred over to automobiles, which could eventually do to cars what the four-stroke did to the two-stroke if the world of off road dirt bikes - but that is still a very long way off. One fun fact to keep in mind: Honda, Suzuki, and BMW were motorcycle manufacturers long before they ventured into automobiles, and KTM, with their unique Xbow vehicle, is no stranger to taking chances.



Oh, and one more thing: For those of you who remember the epic '80s dirt bike movie
Winners Take All
,
Rick Melon
now has a Facebook page. He was reportedly getting ready for this past weekend's Dallas Supercross, but his bikes were burned in the hotel parking lot by some scofflaws.
The
Tedder
family is looking for an ambitious young mechanic who wants to spend the summer as a race-team mechanic's intern. There is no salary with this position, but all room, board, and expenses will be paid, along with some spending money.
Click here for more
.
Jimmy Albertson
, the young American getting ready to embark on the Grand Prix tour, rode the last round of the Italian Championship and took sixth on the day and fifth overall in the series. "Rocky, slimy, scary were a few of the words to describe the track," he wrote on
www.jimmyalbertson.com
.
The
eBay Find of the Week
comes from
Trent Howie
, who spotted a 1986 Loretta Lynn's Amateur National race program on the virtual auction clock.
Longtime Ohio racer
Chris Whitcraft
is respected rider now unfortunately suffering from a back injury. Friends have put together a site to help Chris out in a very tough time. Please take a moment to visit
www.helpchriswhitcraft.com
.
They have also put together a Help Chris Whitcraft Bike Raffle on Sunday, May 2 at 5:00.
Event: Help Chris Whitcraft Bike Raffle
What: Fundraiser
Start Time: Sunday, May 2 at 5:00pm
End Time: Sunday, May 2 at 5:10pm
Where: Ohio
To see more details and RSVP, follow
this link
.
Be sure to check out
www.dreamtraxx.com
.
Jason Baker
and the boys over at MADesign have posted an all new gallery page displaying the 'Dream Traxx' of some of the top riders in the sport like
James Stewart
,
Tim Ferry
,
Nico Izzi
,
Matt Boni
, BBMX, Super X Australasia,
Chad Reed
(Australia Track) X-Games and more. Get a first hand look at how Jason makes each track a pure work of art.
Here's a note from reader
Matt Emmott
:
I live in Uxbridge Mass, and the local public motocross track was shut down by the town back in 2007. Recently, the owner has gathered enough signatures to go before the local board of selectmen on March 30 and ask that the track be allowed to re-open. When the track was open it was home to several local racers as well as stars like John Dowd and Keith Johnson.

The track is Uxbridge Motorsports Park, and I have set up a /group.php?gid=106150792746147 " rel="nofollow noopener">Facebook group that people can join to show their support.

For those of you in the Boise area,
Todd Huffman
of
MX Files
fame just sent over a DVD transfer of Dirt Digger stalwart
Bruce Young
's archival 8mm footage from Inter-Ams and
Hangtown
races in NorCal back in the late '60s and early '70s. This rare footage will premiere Saturday night as part of the
Racer X
Vintage Inter-AM festivities being held in Boise at the famed OMC track. Free admission to the races on both days and the video will be shown throughout the evening at nearby O'Michael's Pub and Grill at Bogus Basin and Hill Rds. in Boise. Bruce Young will be there along with JT Racing founder
John Gregory
and Resource Marketing's hot new rider
Chuck Sun
. Door prizes from
MX Files
and a concert by the Blues Addicts is also part of the Saturday evening show.
And finally, the Stimilon MX Classic is, well, wow, we're not sure. We do know it takes place at
Southwick
's MX 338, and pre-entry is coming up soon. That's all we really know about it, though
this video
might help.
That's all. Thanks for reading Racerhead. See you at the races.