Welcome to Racer X ReduX presented by Renthal.
First, a moment of thought for the Masterpool family. Jesse Masterpool, an outstanding Suzuki amateur prospect, passed away on Saturday after a weeklong battle following a big crash in Texas. I got to know Jesse a little bit at Loretta's last year and again at the U.S. Open, although I can't say I knew him well. His family and close friends need our support right now. Go to
www.jessemasterpool.com
to see how you can help.
As for the racing, we transition to Dallas—er, Arlington. Everything is bigger in Texas, and now they have a football stadium to match. Baseball's Texas Rangers have always played in Arlington, and the Cowboys used to play in Irving, though now they've moved to Arlington too. This led to some confusion over calling this the Dallas Supercross or the Arlington Supercross, although no one ever called the previous Dallas Supercross the Irving Supercross. (They did, however, try to cheat from 1987-1991 by occasionally pretending the New Jersey Supercross in the Meadowlands was the New York Supercross. Just like the New York Giants and New York Jets who play there. Don't get me started.)
The Dallas vs. Arlington battle makes more sense once you visit the area. The Rangers' ballpark in Arlington sits right next to the new Cowboys Stadium, with Six Flags Over Texas next to that, as well as all the major highways. It's an impressive overall design that's not jammed into a downtown like most new parks. I can see why Arlington is so proud.
Want to know what an alien attack would look like? They would probably pilot something that looks like this building, yet at the same time they wouldn't think twice if Will Smith rolled up piloting a 1950s model in
Independence Day
.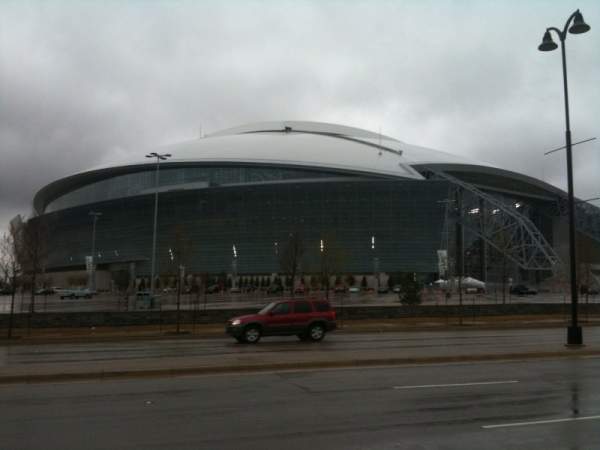 The Deathstar has landed!
Weigandt photo
Ford Field in Detroit, I feel, comes close to Cowboyz—sorry, Cowboys Stadium in terms of size because it has massive conference rooms. Indy's new Lucas Oil Stadium and Houston's Reliant Center are nice too, but nothing has the grand style of this place. We spotted marble floors in elevators. Paper towels in the restrooms featuring the Cowboys' star logo. And that TV screen is ridiculous—riders could study video of themselves during the race.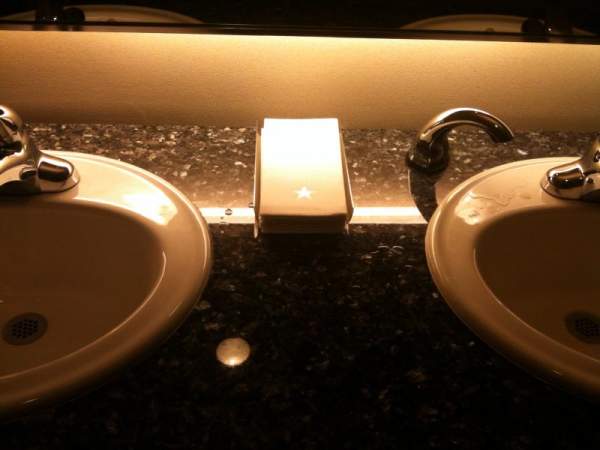 How 'bout them Cowboys paper towels?
Weigandt photo
However, the freestyle team jumped right underneath the screen and couldn't even come close to hitting it. Let's get Guy Cooper in here next year.
One feature stood out above all the rest: the roof. If we raced in the old Texas Stadium, we would have had a snow race. Imagine seeing Roger DeCoster in line at the local Suzuki shop looking for some heated grips!
I also heard that they brought in all-new dirt for this race, but it looked just like the old hard-packed Dallas dirt. The original track design looked really technical, but once they got the lay of the land down and made some adjustments to accommodate the Jagermeister Freestyle Team (words to live by: "Jagermeister changes everything") a few of the sections didn't make it into the final design. I don't think they were missed, though. Lap times were short but the races seemed long enough, and the obstacles were still pretty challenging to hit consistently considering the constant threat of wheelspin.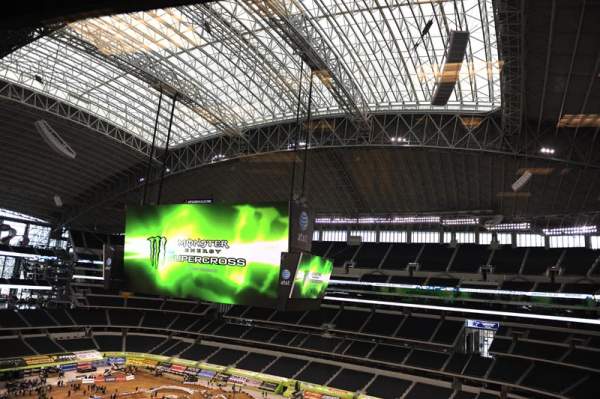 It took 40 years, but they finally fixed the hole in the roof problem.
Steve Cox photo.
The riders always say difficult tracks help separate the field, which is what they like. Oddly, no one ever admits he's slow and wishes for an easier track so the fast guys don't get away. Anyway,
Ryan Dungey
looked fast all day, and his championship rival
Ryan Villopoto
looked like he was pushing a little harder to match that speed. This carried into the night show, when RV and RD were matched up in their heat race and Dungey passed him on lap one and checked out. Meanwhile, Villopoto was constantly experimenting with new lines in hopes of finding some magic, especially in the bowl turn before the whoops, which he was squaring off to try to run the extreme left side of the track.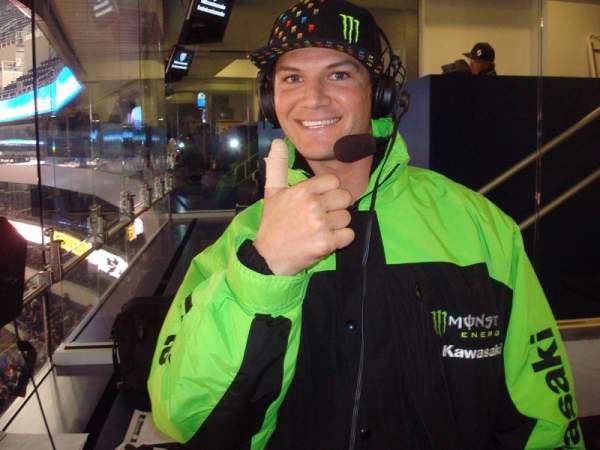 The thumb that is up is keeping Reed down.
Weigandt photo
Chad Reed
decided to stop by the webcast for the third time this year, not because his sponsors asked him but because he felt like it. He then gave us more inside scoops and info in ten minutes than most riders do in a whole season. When we saw Villopoto struggle through the whoops, Reed said, "I offered some setup advice but they decided to go another direction." When we mentioned that
Christophe Pourcel
seemed to be riding with a mysterious injury, Reed said, "It's his ribs." When we mentioned
Davi Millsaps
taking a week off from riding due to injuries, Reed said, "Everyone always says Davi is lazy and doesn't train but that's just because he's built a lot bigger than everyone else."
Chad said he tried riding on Tuesday but realized his thumb wasn't ready, so he will wait for an off-weekend after Jacksonville and race in Houston. He also says his stomach problems seem to be clearing up. And he'll probably be in Jacksonville to watch so expect more hard truths on the webcast!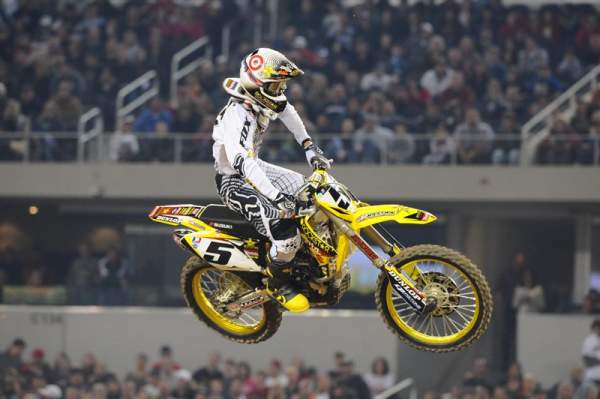 A nice, crisp Dungey shot. He looked good all day and guys can say that about other guys when they're talking about racing.
Steve Cox photo

By the time the main event rolled around, it was clear that only a mistake or a bad start were going to stop Dungey, and he avoided both and took off. Millsaps did keep him reasonably honest, but I think Dungey was only going as fast as he needed to. Late in the race, Millsaps was charging really hard because
Trey Canard
was catching him, and there's no way 'Saps wants to get beat straight-up by his temporary teammate. They pushed each other right up to Dungey's wheel at the finish.
Earlier in the day, Holley asked Millsaps about getting beat by Canard. Said Davi, "Well, Trey is riding really good, but he gets good starts and by the time I start catching him I wind up going down! I think last week I definitely would have ended up passing him."
Really? I guess we'll never know, but you can tell Davi is motivated by the new red rider in the same way he is when he races
Kevin Windham
, who told us in Indy, "Davi has always seemed to race me harder than anyone else."
Credit to DM18 this time. After his Toronto crash, where he jammed his back and pinched some nerves so badly that he couldn't even move at first, he took the week off and still logged twenty hard laps.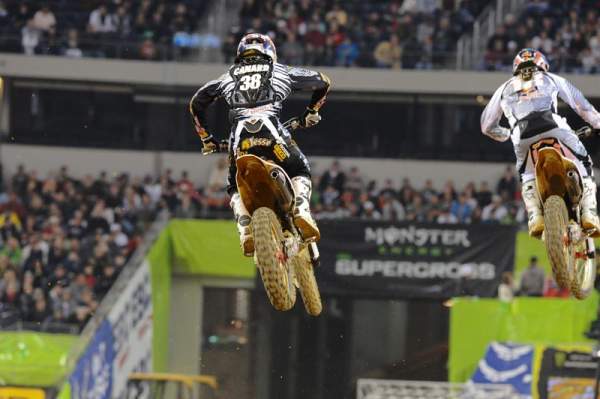 Canard chases Millsaps. Note the Masterpool buttpatch, Dungey was running one also.
Steve Cox photo
Canard was on the box again. Last week Trey volunteered that his podiums aren't the same since Reed and Stewart aren't racing. But that doesn't matter. Dudes fresh out of the Lites class are often challenged to even complete all twenty laps. Just check out
Ryan Morais
, who crashed out again, unfortunately.
As for Villopoto, his start was good, but on the first lap he tried to square the turn before the whoops again and got some wheelspin, pushing him back to around tenth. From there it was sheer force of will to get back through, and
Justin Brayton
was really stubborn in a battle for fourth. Think all the way back to Anaheim 2, when Brayton held off RV in a battle for sixth and I said, "What rider loses a battle for sixth early in the season and then comes back to win the title?"
Well, this time Villopoto pulled through, making a pass with two laps to go. I was shocked later when I checked the lap times and saw RV actually had the fastest of the race. By all other accounts, it looked like he didn't have it.
Brayton's thumb didn't bother him as much because the Muscle Milk/Toyota team cut a hole in his grip, so I went down for a look, thinking the team had used one of its high-tech lasers to develop some radical new grip design. Turns out they just cut the edge off using a razor blade.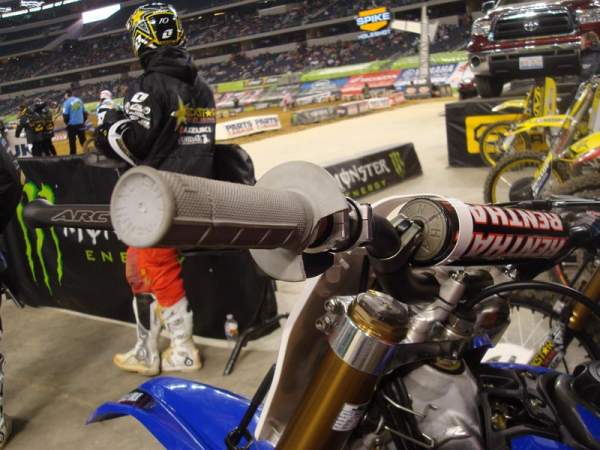 The JGR Team brings more innovations to supercross.
Weigandt photo
In the April issue of Racer X Illustrated we have a story on
Ivan Tedesco
's search for a ride in 2010, and it mentions how JGR was looking at him and Brayton but decided to go with Brayton. It really must have been a tough call, because these two are often a dead-even match on the track, and they're not afraid to run it in on each other, too. They may not be battling for the lead, but if you see them get close, keep watching.
Tedesco was ready to battle Brayton again, but his new 450 partner
Kyle Regal
ended that. Regal looked fast at times in his 450 debut, but there were also a lot of mistakes, the biggest coming in the main when he cased a triple and went over the bars. His flipping bike caught Tedesco and ruined the night for both of them. Still, I think Regal has some skills and will be okay if he can smooth out a little—straight into the 450s in your first season of SX? That's pretty crazy.
Dungey's points lead is now 24. Remember, last week I warned against doing the "If Villopoto wins the final seven races he'll win the title" math. That trend didn't even last for one week!
One of these nights, RD and RV will have the battle we're all waiting for. Until then, the Lites race steals the show.
It starts with the LCQ. Race leader Sean "Hawaii 5-0" Lipanovich went over the Tuff Blox and down, and at the same time
Brett Metcalfe
was already in the mechanics' area after a crash. They were clearly the most frustrated guys in the building. They were so mad that they didn't even notice that the red flag had come out and they were about to get a second chance!
Metty
won it the second time around while
Blake Baggett
held off
Kyle Cunningham
, who tangled with Lipanovich. As luck would have it, their crappy gate picks gave them lousy starts, which paid off when fifteen riders—yes, fifteen—crashed in turn one.
A track with a start going across the width of the floor can have these problems, because the straight is so short that everyone is still pretty much side-by-side when they enter the corner. And because the main line into the corner is based on entering from the previous turn, not the starting gate, you don't have a natural arc into turn one and it's really easy for riders on the inside to get plowed into Tuff Blox like
Martin Davalos
. He locked up his brakes to avoid it but still crashed, and that stood up
Christophe Pourcel
, who stood up
Austin Stroupe
, who hit would-have-been holeshot artist Levi Kilbarger, which took everyone else down. And of course Barcia was in the middle of it all, pinning his CRF and spinning his tire on Pourcel's bike. That little kid!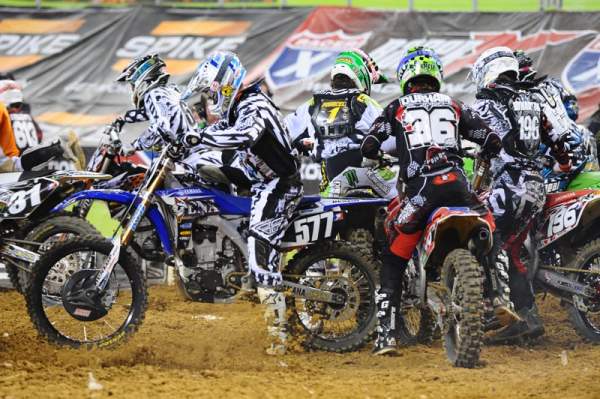 Chaos!
Steve Cox photo

Pourcel got up in last, which, combined with his rib injuries, gave Stroupe a golden opportunity to get the points lead. But Stroupe was knocked a little silly in that first-turn crash and crashed several more times. Metcalfe made it through turn one only to crash in turn two, and then my MotoXDream.com fantasy team took a major hit when my dark-horse picks,
Jake Moss
and
Troy Adams
, landed on each other battling for third.
So we had
Ryan Sipes
and
Blake Baggett
left up front. Bam Bam Barcia didn't have a front brake, so he couldn't challenge from third. Sipes looked a little tight leading, but he settled down. He couldn't shake Baggett, though, and the rookie found a hole when Sipes got stuck outside of
Tyler Wharton
while putting him a lap down. Sipes kept his cool, but man, have lappers jacked him this year!
Baggett won in one of the most dramatic fashions ever, coming from the very last transfer spot (and a crash-induced DNF last week) to win.
Pourcel only got seventh, but he got off the hook thanks to Stroupe's rough ride. He'd better heal up quick, because he might not be so fortunate next time. By the way, Stroupe, after multiple crashes, losing his visor and riding dizzy, logged his fastest lap of the race on the very last lap! No doubt this kid wants it.
The rider who really missed out, literally, was the man sitting third in points coming into the race,
Dean Wilson
. As Mitch Payton told us, Canada likes Dean so much they gave him a key to the city and told him to stay awhile. Reed said, "You know, some people try to cut corners on things like that and this is what happens."
The big surprise in practice was Davalos, who finally showed his real speed by leading most of the first session in lap times. Martin told me he has left the Millsaps Training Facility for a while just so he can put the Barcia fight drama from Atlanta behind him. Now he's practicing at
Davi Millsaps
' house, which is not a part of the Millsaps Training Facility, so I guess Martin moved from the MTF to the DMTF. Davi says Martin just needed to get some confidence back. Watching Barcia scrub and rev all day will make you feel a little lame, so good move on Davalos' part.
In the main, Davalos started that whole first turn crash, finished the first lap in eleventh and came all the way through to fourth! He also logged his fastest lap on the last lap.
So why didn't they red-flag the race when fifteen guys went down in turn one? Why should they? Red flags are for safety when you can't get the track clear, and that wasn't an issue here. Throwing a red flag just because a lot of guys crashed doesn't make sense—should the NFL have thrown a flag when Eli Manning avoided three Patriots linemen, threw the ball downfield on a broken play, and picked up a massive first down in the Super Bowl? Red flags are for safety, not for do-overs when something crazy happens.
Awesome win for Baggett. In his amateur days, his mom would drive this huge truck cross-country to get to the races while Dad was working back at home to pay the bills. Major sacrifices for this family, and when they didn't get a ride straight out of Loretta's, Mom just drove the truck to the pro nationals and Blake earned a spot with Motosport Kawi—er, Rockstar Suzuki. He was really fast in Atlanta and Daytona, did some helmet testing in Toronto, and put it together in Dallas. Plus, the kid cried when he won. We need to see more of this. In Formula 1, drivers even figure out ways to pump their arms within the four-inch box they're sitting in, and most of the time this is after leading a race so boring you would expect them to stop for a cup of coffee on the last lap. Here the riders usually shake each other's hands, the mechanic jumps up and down a little, and that's about it.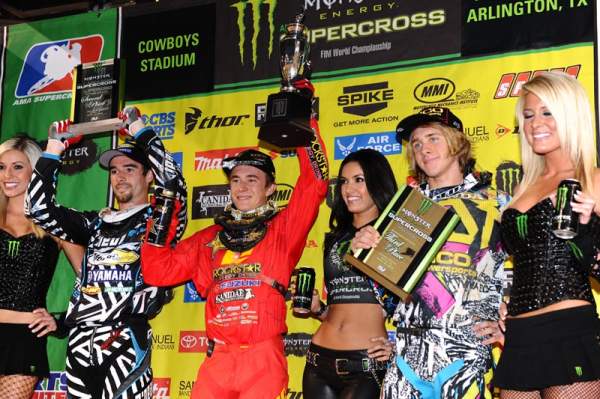 Only took four races to be able to use the phrase "Baggett Bags It" in a story.
Steve Cox photo
There's much more to cover here but this is way too long. Send me an email at
jasonw@racerxonline.com
and I'll tell you whatever else you want to know. And no, they don't have surveillance cameras inside the Cowboys cheerleaders' locker room. I already asked.