5 Minutes with... Tommy and Wil Hahn
When we contacted Rockstar Energy Suzuki's Tommy Hahn about being featured in an interview on the website, he inquired about interviewing the interviewer instead, so we made that concession, but it quickly turned into a Hahn brothers interview when Wil wouldn't shut up and demanded an interview, too. This is a long one, but if you want to know a bit about the Hahn brothers, read on...
Racer X: Hey, Tommy, what's going on?
Tommy Hahn
: I just got done working on my bike.
Did Tommy Hahn just say he was working on a motorcycle?
Yeah! Up until this year, I've always worked on my own bikes!
No wonder you suck... It's not your riding, it's your mechanic!
Wow... Well, I have a practice bike mechanic now, but I always help him out.
I'm just playing with you...
Wow... Ask Frankie,
Ivan Tedesco
's mechanic, if I'm a good mechanic or not. He'll tell you straight up.
Frankie would probably make some crap up to make you feel better because he's a nice guy...
No, he's
not
a nice guy. He'd blow me out. He'd be the first one!
Okay, let's actually do an interview. You've had a pretty tough year. San Diego was pretty good because you fell in the first turn but still caught up to seventh, and then in Daytona you grabbed sixth, so what's the difference now? Why are you doing better?
Basically, from the middle of December, it was just one thing after another. I had a big crash here at my house and messed up my shoulder and my neck, got knocked out, broke some ribs, and didn't ride from about mid-December until about two days before the race. I rode about a day. I went to the races and tried my best, but I wasn't riding during the week until I got better. Obviously, as stiff as the competition is, you can't do that. You make yourself look like an idiot. But I wanted to do it, and I did all my training off the bike during the off-season up until that point. Now, granted I got on the bike a little bit later than normal, but I didn't feel that I was off at all. I felt the best that I had ever felt in supercross on a 450 up until I crashed. So, once the season started, I was just riding myself back into shape, and trying to get results when you're hurt, that's really hard. I just kept my head down and kept at it. I started feeling better and came back home to Texas, and I rode some rutted stuff before San Diego, and I felt comfortable, and I felt good all day. I got myself upright behind Dungey after the crash and I just latched onto him the whole race and ended up in the top seven. I had a good week after that, and then the Friday night before Anaheim III, I just got the gnarliest flu ever and ended up having to miss the race. I went to the hospital and got taken care of. Then I came back for Indianapolis still a little fatigued and I don't even want to talk about how bad it was. I felt like I was trying as hard as I could and I could only get up to 16th.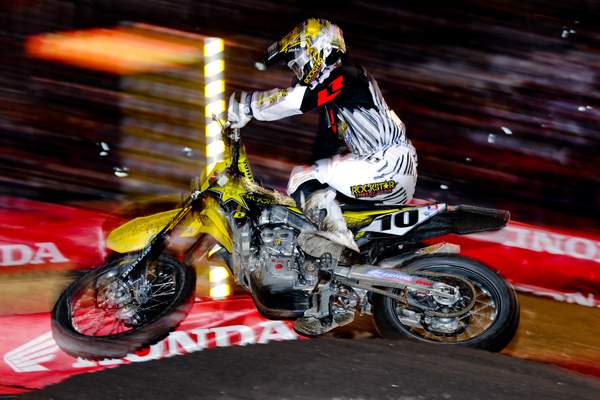 Tommy Hahn got his season-best (so far) sixth place at Daytona.
Photo: Cox
Then it got worse at Atlanta...
I had a good week that week, and I started feeling more like normal again, and I was riding a lot better, but I fell in the first turn in my heat race and sat there and kicked my bike for a little bit and didn't get into the main. Then I went to the LCQ, and I got up into a qualifying position from a bad start, and somebody ran into the back of me and caused me to stall my bike, so I started kicking it again, and that was that.
Like I said in the beginning, it's been a tough year...
Up until Daytona, it was really frustrating, because I had one good race all year, and I crashed in the first turn. I got a seventh, and that's not good enough for me. It was a good race, though. I rode really good and I came from a long ways back and made some good progress, but it's just been one thing after another. I rode some outdoors before Daytona, and it felt like a vacation from supercross. Supercross just gets so boring doing the same thing over and over, doing lap after lap after lap on the same track. It just gets boring.
Chad Reed talked about that a little bit last year in Australia. He was talking about getting burnt out, and he said that he was having fun racing a different track every weekend, but if he was in California riding the test track every day, he would be burnt out.
Exactly, and I agree with him 100 percent. So I rode outdoors, and it rejuvenated me, and when I came back to the supercross track, I felt faster. I was in my comfort zone riding outdoors, and supercross on a 450 isn't exactly my comfort zone. I believe I'm a good supercross rider. I showed it on my 250F. I never won a race, but I got on the podium a whole lot, and I came really close to winning some main events and won a bunch of heat races. I'm not going to say that I had a terrible 250 Supercross career, so I'm a good supercross rider, but on a 450, I do feel more comfortable outdoors. It gave me some confidence, too, that maybe I do still know how to ride a dirt bike. I had a good heat race and a good start in the main event, but it got red-flagged and I got crappy start the second time around. Honestly, I knew a lot of those guys were going to get tired, and fitness was never an issue with me, so the race was kind of easy. If you're not in shape at Daytona, it's going to show. I'm not bagging on the other riders, but I do feel like I had some more in the tank than some of the other riders, and I was able to pick a few more riders off in the last four laps. I got up to sixth, which still isn't what I want, because I think I should be in the top five every week, not only for myself, but for my team, my mechanic, and all of them. They work their butts off during the week and on the weekends and they don't do it for me to go out and get 10th or 12th, or even seventh or sixth; they do it so I can do good, and I believe doing good is getting a top-five.
That should be the bottom of it considering you're an actual AMA National winner in the 450cc class... That's what's so weird about this year, that you're such a good rider, and you have such great speed and style, but you're out there floundering around in 10th. I'm standing on the side of the track going, "What's going on?! This doesn't make sense!"
I'm sitting on my bike thinking the
exact
same thing! "What the hell am I doing? Seriously!? I'm better than this!" So I've just been upping everything the last few weeks, and I'm hoping that's going to start paying off. I just want to get some good rides in on a supercross track that's in a stadium. I'm tired of not doing it, and I'm tired of waiting for it to happen, so basically I've got to make it happen.
Racing really is ultimately up to you, right? Other things can come into play, like some guy hitting you and making you stall, but the reality of that is that it was still under your control at some point because you shouldn't have been in the LCQ at all, or at the minimum got the holeshot in the LCQ and got away...
Exactly. I'm not blaming me not making the main in Atlanta on the guy that hit me, I'm just saying that it happened, but it does come back on me. I shouldn't have been there in the first place. It's not anybody else's fault. I had some other issues that I had sorted out with injuries and things like that, and things finally started to come together at Daytona. It was kind of a coincidence that I was on more of an outdoor-style track, which I enjoy riding more, but I think that's what I needed to get myself up into the top five. I've gotten sixth, seventh, eighth, ninth, 10th, so I just need to step it up, get a good start, break away the first few laps, and then it should be easy after that.
Okay, now it's your turn to interview me...
What's it like being an interviewer? Do you ever get burnt out interviewing all these people and pretty much hearing the same things from all of us about how everything's great when it's really not? Does it ever get tiring for you to hear the same crap come out of everyone's mouth?
Honestly, I don't think I hear the same thing from everyone, but I do get burnt out, it's just not on doing interviews, it's on transcribing them! The actual conversations are usually pretty interesting to me, because even when someone's being coy and covering something up, you can usually tell, so that's still interesting. You can sit there and go, "I think he's lying to me right now..."
Do you think I'm lying to you right now?
No, not at all.
I didn't know if that was meant toward me or not!
Guilty conscience?
No!
Next question...
How many words a minute can you type on your computer?
The last time I took one of those tests, I think it was at like 72 or something.
Wow... I can smoke you. I had typing class at school and I was at like 120 words per minute.
Is that where you just type "the" over and over and over again and you think it's 124 wpm?
No, it's when you have a teacher standing over you with a stopwatch and a whistle. He was a basketball coach, so he couldn't let the training go... I was still like fourth in the class...
Well then, I'll go ahead and call you out: Let's race!
All right! I don't really get on the computer anymore, but I will brush up my skills, and I'm sure I can at least take home the W in that... At least I'll win something! (Pause) I've always been kind of a fourth-place guy anyway...
You haven't always been a fourth-place guy!
No, there were a couple of times I got second or third, and I even got a first once...
What other questions do you have?
Have you ever gotten hit by a bike at a race?
No, I have catlike reflexes.
Oh, because I swear, whenever I go off the track on MX vs. ATV Reflex, which is a lot, you photographers are running around, and I can't believe you've never gotten hit. You'd have to have something more than catlike reflexes to move someone like you out of the way. You'd have to have like mongoose reflexes.
Any other questions?
Wil wants to know why you don't ever want to interview him...
I'm pretty sure I did one after he got second this year...
He says in three years of racing that you've done one.
Dude, I know I did one after he got second in Jacksonville last year, plus at least one this year, so...
Now he wants to know if you're a good enough journalist to interview him right now on the spot. You're on the spot! This is where your true colors come out. If you're a good reporter, then you will do this.
Racer X: Sure, put him on.
Wil Hahn
: Hey there, Steve!
Hey, Wil, how's it going?
Phenomenally. I just got done working on my dirt bike.
How did it feel to get beaten by your teammate like that in San Diego?
Wow... Unbelievable... That hurt... It didn't feel bad at all. He rode a good race. I can't take anything away from him.
How did it feel to be fastest in practice, then get the holeshot at Anaheim 3 only to finish third?
Wow... Unbelievable... Tommy, he's coming with some serious heat at me right now. Honestly, it felt great to get a holeshot, because that was my first holeshot, but to get third? Uh... Not really what I was looking for, to be honest with you. But like everybody said, it's just baby steps, so you have to take it one step at a time.
(Laughs) You're a funny guy, Wil. It's cool to see you can take it as well as you dish it out. In all seriousness, you have to be out front sometimes before you know what to do with it once you're up there, right?
Yeah, it does.
Trey Canard
, he's been there, and that's why he got around me as quickly as he did. I have no excuse for that night, though, because I was the fastest qualifier, I rode strong in the heat... I just got a little flustered. All I can do is go home, study it, and then work so that it doesn't happen next time.
If you get away quickly, that's one thing, but if you get a holeshot and everyone is right on your butt, that can be even worse than not getting a holeshot because you don't know what lines people are taking and you can't key off of what they're doing and improve what you're doing. Then, when you get passed, your confidence is shot.
It flustered me up pretty good. If someone blows by you like that, it does kind of break your brain a bit. You try and shut it off when you're out front and not think and just go for it, but it wasn't that easy. I'm ready to learn from it and go get a win, though.
In the off-season, you weren't a hot commodity despite a podium finish last year in Jacksonville, so how stressful was that?
It was, but I didn't have a stellar season outdoors, therefore it's easy to get looked over. People forget about what happened in April when it's September. I struggled in the outdoors last year not only with myself but with my bike, but I think this year is going to be all different. I have a really good team behind me, and I think we're going to turn some heads outdoors, too. I haven't done that yet since I've gone pro, so that's what I'm looking to do. I knew I could ride supercross, and with this team behind me, I know I'm going to open some eyes outdoors as well.
Do you think there's value in the fact that you have such a funny personality? And to what do you credit that?
I think it goes back to being a little brother maybe? I don't know. My dad always said I was his payback, so maybe I just had a different personality growing up...
Payback? Like, he was a dummy when he was a kid, so he got you to pay him back for what he did to his parents?
Yeah, something like that. It's one of those things. I'm not really sure. It's before my time. I don't know.
What have you been doing the last few weeks while the West has been on hiatus?
I've just been making sure no one comes in and steals the couch. That's pretty much my break. The TV, too. I'm guarding it. And my Xbox. No, just kidding, I rode a couple days of supercross after Anaheim 3 to keep the ball rolling. I tried to take a few days off and I just got stir-crazy, so Bones Bacon [from Pro Circuit] got me some outdoor stuff going, and I've been riding outdoors ever since, and then I'm going to get back into supercross riding this week with Tom here. I've just been keeping the routine going. I got a couple days off, but when I can't ride, then I get stressed, so it's nice to just ride and get used to the bike with outdoor suspension and get back to that style of riding where you're wide-open down straightaways and stuff.
Thanks for your time, Hahns...
No problem! You'd better post this whole thing!