The only thing
Ryan Villopoto
does to draw attention is race and win. Beyond that, his career is mostly devoid of the controversy that makes message boards go off and bench racers drop the hammer. Sure, racing at the highest level like he does has drawn him into a few big rivalries, with the Alessi crew as an amateur and some scuffles with
Jason Lawrence
as a pro, but besides those occasional outbursts, RV doesn't do anything to draw attention besides win. A lot.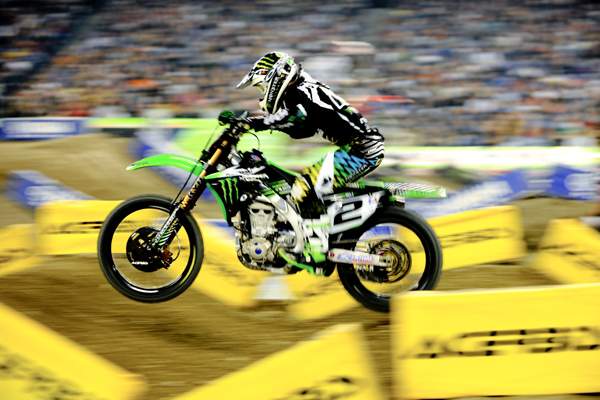 Believe what hype?
Steve Cox Photo
Barely halfway through the 2010 SX season, Villopoto has five victories. Ever since winning his first supercross race on a 450 last year, he has won seven out of the last 13 races, and he also threw in an impressive 1-1 sweep at
Glen Helen
in his 450MX debut last year.
Villopoto's record as a Lites rider was outstanding, joining only Mark Barnett,
Ricky Carmichael
and Broc Glover with three-straight Lites MX Titles (
thanks for the correction with Glover, derl
). Yet each season the pre-season mantra was the same: "This season, the Lites class is going to be wide open!" It's like somehow, each season, people forgot the defending champ was still there. And then, by the end of the tour, the story was the same: RV is champ.
This year he has charged from 20 points down to grab a share of the Monster Energy Supercross points lead, but even that didn't seem to register on the hype scale. Did you know when
James Stewart
crashed out of Anaheim 1 last year, he was only down 19 points on
Chad Reed
? Now RV is mounting another comeback, again, going about it quietly, almost robotically.
The buzz around Villopoto never seems to match his actual win and championship record. Maybe it's because he doesn't draw the attention in any other way. He doesn't whip it like Carmichael whip or scrub like Stewart. Besides the short-lived fight with
J-Law
or the long-gone rivalry with Alessi, he hasn't had a long-lasting feud like
Chad Reed
has engaged in with Stewart. Heck, he survived the entire 2007 outdoor tour battling his teammate Ben Townley every week, and never once did tempers flare between them.
Villopoto isn't much of a talker, either. He's not the best PR machine ever, but he's also not the worst. When Kawasaki needs him to do something, he's there.
What about his riding style? What's the rep there? Is he smooth like Windham, potent like Carmichael, or next-level like Stewart? Is his speed a product of his talent, or is he one of the work horses?
Where's the memories of some massive jump he put together, or huge crash he got up from? His speed is there, but it's as if each section gets 100 percent, but never the occasional 150.
We're on the same plane this year. Villopoto and
Ryan Dungey
are engaged in a battle for the championship, but the stories seem to run the gamut from, "Will Reed and Stewart return?" to "Can Dungey handle the pressure?" Villopoto is the constant. He's just winning while the others are drawing the attention, and even that isn't a big deal, because it's not like Ryan gets mad about that. Go ahead and talk about everyone else. Ryan will take the trophies.