Red Bull Pro UK Nationals Report
The vast package of races that is the Red Bull Pro Nationals made their 2010 bow at former des Nations and Grand Prix circuit Foxhill Moto Park - the Fuchs Silkolene 2-Stroke British Championships ran the Open class on Saturday which saw James Noble sweep imperiously to a trio of wins aboard the steel-framed Proppa.com Honda CR500. Behind him, some typically frenetic 2-stroke racing saw a frantic four-way battle for the podium with Stuart Edmonds coming out on top ahead of reigning champion Mark Eastwood, Nathan Parker and Dave Willett, a welcome sight after the series stalwart's lengthy absence last year with a serious knee injury. Willet would lose out on victory in the final moto by less than a tenth of a second to Noble, so that knee must be fairly well-healed.
In the 125 class of the 2-stroke Championships, Dave Willett took the race-one win ahead of reigning champion Jim Davies – who was recovering from a midpack start – followed by the Kawasakis of Jamie Smith and Luke Remmer, before the race was stopped prematurely by the collapse of an inflatable arch. Race two saw both Willett and Davies on the floor on lap one, James Dunn leading from the off and desperate to get away before the chasing pack closed him down. Jamie Smith, Lloyd Morgan and Luke Remmer indulged in a three-way battle before Smith broke free and began to run Dunn down. Morgan and Remmer would be scrapping all race, whilst Smith bridged the gap to Dunn, taking a great win by less than a second from Dunn, Remmer and Morgan. Willett finished with a spectacular flourish in moto three, however, winning by a country mile ahead of the TM of Davies and young Dunn - both Smith and Remmer were in the hunt but Smith would crash out of contention whilst Remmer would collide with another rider whilst leading, damaging his front wheel and effectively ending his contribution to the proceedings.
The Elite Youth Cup ran both days in a full-on five-moto format, Lewis Trickett and Bradley Pocock trading wins in the Rookie class until Pocock had a mishap in moto four giving Trickett the edge for the overall with Sunny Thompson taking the final step on the podium, whilst Oliver Osmaston came out victorious in a scrappy Small Wheel 85 class ahead of Josh Gilbert and Danny Lanfear - the Big Wheel class was a two-horse affair, with Bens Howell and Watson going toe to toe; Howell would take the overall after Watson could only take an eleventh in their fourth battle of the weekend, while James Harrison was best of the rest in third. In the 65 class, Albie Wilkie edged a nail biter ahead of Keenan Hird, the pair of them first and second in every race and starting the deciding moto level on points, the class of the field, whilst Ryan Vickers took home the bronze.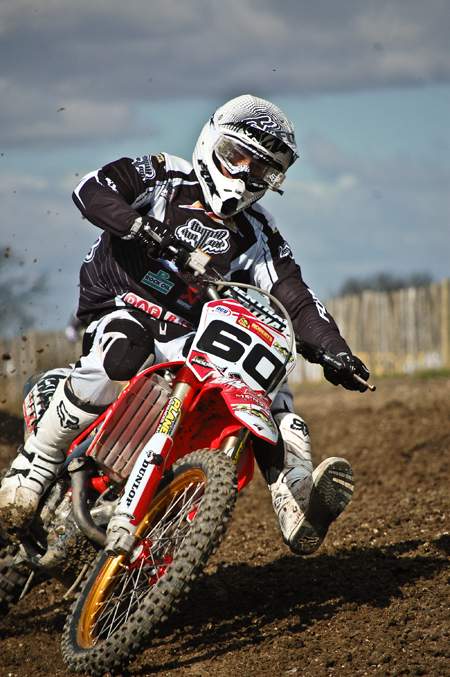 Brad Anderson topped the Pro class.
Photo: Harris
In the headline Pro class, Brad Anderson was nigh-on unstoppable, sweeping unchallenged to a brace of wins. Carl Nunn chased him home in the first, coming out on top of a rolling brawl that involved Elliott Banks-Browne, Nathan Parker, James Noble and Jake Nicholls. With Ando again away in moto two, Stephen Sword came back from a disappointing opener to take second spot, the pair of them some way in front of Jason Dougan and
Ben Lamay
, Carl Nunn crossing the line fifth just in front of Nicholls - by virtue of his better second moto finish, Nicholls would take the MX2 class after tying on points with EBB, the pair of them getting amongst the MX1 folks to prove that horsepower isn't everything, even up and down Foxhill's steep slopes.