Welcome to Racer X ReduX presented by Renthal.
Canada is not known for wild scandals, controversies, or drama. Canada produces the same products and services that other countries do, but they do it with less heat (literally and figuratively). The whole idea of "Blame Canada" was born of the irony of Canada never really doing anything to get anyone mad.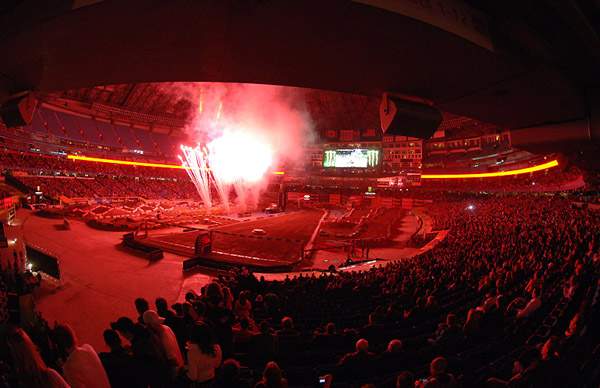 Canadians know how to heat a building.
Carl Stone photo
Canada's round of Monster Energy Supercross fit that mold.
Ryan Dungey
and
Ryan Villopoto
are fighting for the Monster Energy Supercross title, but they're only fighting in the math. This championship packs huge pressure, attention, and money. When is it going to boil over?
The Dunge and Villo have battled before, but they have never had friction—they even formed a common bond in the
J-Law
battles. But the stakes are higher now. I think that at some point in the next month, things will tighten, pressure will rise, and something crazy will happen. Maybe at St. Louis, which always seems to host wild events, or Jacksonville and Salt Lake City, where it got crazy last year.
It didn't get crazy this weekend in Toronto. Even when
Trey Canard
, a rider with a checkered history with Villopoto, got in the mix again, Dungey was a little too nice waiting to make a pass. Canard didn't move over, just like he didn't move for Villopoto in Atlanta—he's racing, he's trying, he's learning, and he's not being dirty. Still, when the title is up for grabs, riders are supposed to be irrational and just fire blame in all directions. But after the race, neither Dungey nor Villopoto had a single ill word for Canard. Or each other.
The lack of drama aside, Toronto was a great race. The track was much improved over years past, the crowd was bigger than ever (over 42,000), and Toronto is one of the best cities on the tour. You can walk from the hotel to the track to the nightlife establishments, the people are cool, and the fans are rabid. The elements were there, but we're waiting for the fuse to light on the Dungey and Villopoto battle. Maybe
Chad Reed
will come back and mess up the whole deal.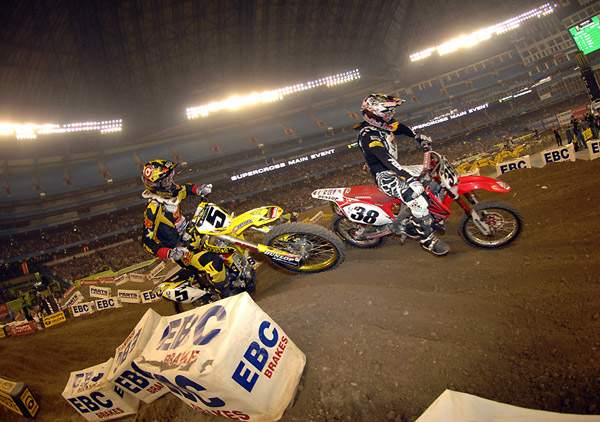 19-year-old Canard is learning from seasoned veterans like 20-year-old Dungey.
Carl Stone photo
If you want drama done right, look at the Lites class, which hosts a beautiful cast of characters: the crafty Frenchman, the "Little" Kid, and the former little kid. Pourcel, Barcia, and Stroupe. Neither likes each other, they're on different teams, and they each approach racing differently.
On Saturday morning, we asked Stroupe and Barcia what it would take to beat Pourcel. We were hoping they would draw back on Atlanta and say it's time to rough CP up, but both said they just needed good starts and would try to check out. Well, the strategy worked!
Here's how the night broke down: Pourcel was crazy fast in practice. At 5 p.m. Eastern, broadcast partner Jim Holley told me Pourcel was going to make passes by using the very left edge of the whoops and controlling the sand turn that followed. In the heat race, Barcia and Stroupe got the starts. On the first lap, Pourcel used the left side of the whoops to get next to Barcia and used the inside line through the sand to make a pass. The next lap, he did the exact same thing to Stroupe!
Jim doesn't get paid enough.
But even he couldn't have predicted Pourcel crashing a few laps later and nearly crashing again picking the bike up. Pourcel was really never the same after that. I asked Pourcel if the heat-race crash had an affect, but he said it didn't—he just rode badly in the main. Hmmm.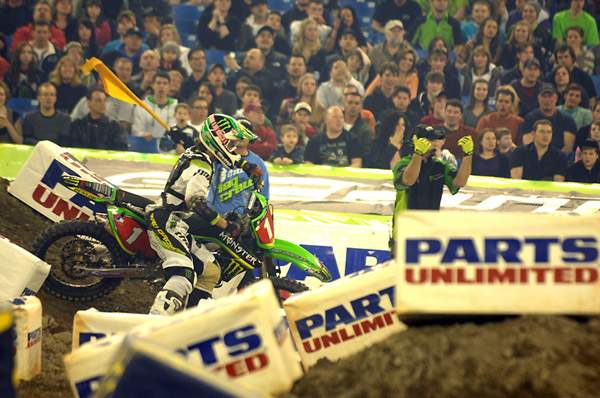 Pourcel attempted to spring ahead on this jump, but he was a few hours early.
Carl Stone photo
Meanwhile: Barcia! Barcia! Barcia! Bam Bam Barcia! Bar to Barcia! The Kid! Fire beats ice! Oh, it's on now. Barcia may not be the fastest or most successful rookie ever (hard to match Dungey and Canard winning their very first races in '07 and '08), but he is bringing style and personality to the game. Really, the only rookies I remember packing more buzz than Barcia were
James Stewart
and
Travis Pastrana
. That's rare company.
Of course, he's still young and his speed is a little inconsistent. In four races this year, he's been really fast in two of them. Kind of the same thing last year outdoors—one week he's blowing minds at
Southwick
, the next week he's going 3-13 at
Steel City
. Give him time. Damon Bradshaw was bad fast at age 17 too, but not every week. Difference is, when Bradshaw was off, he would crash; Barcia just gets fifth, like he did in Daytona.
Stroupe appears to be reformed wild man who has emerged from rehab. This is four weeks of "can you believe
Austin Stroupe
is Mr. Consistency?" Major credit there. A few weeks ago, this series looked like a Pourcel showcase. Now I'm starting to think we're in for major drama, just like those 450 boys.
By now you've all heard about only twenty-three riders showing up with 450s in Toronto. Yes,
Chad Reed
,
Grant Langston
, and
Jason Lawrence
recently hurt themselves and didn't race. But what about
Heath Voss
?
Kyle Partridge
?
Billy Payne
? Jason Langford? Robert Fitch? Jeff "Too Tall" Loop? Manuel Rivas? These dudes all raced Daytona and could have made easy money and points in Canada.
With twenty-three riders, we were supposed to have a rider start on the back row start in the main. Who would be the one and only? We'll never know, because
Ryan Morais
crashed out in practice, leaving twenty-two riders and twenty-two gates. I was really, really looking forward to a new trivia question and answer there.
The riders who did show up tried to get into the Canada thing during opening ceremonies.
Josh Hill
wore a jersey of Bubbles, a character from the popular Canadian comedy show Trailer Park Boys (this info stolen directly from another internet observationist who also took me to the Hockey Hall of Fame on Friday.)
Nick Wey
ran the Steve Yzerman jersey since his team manager, Alan Brown, is from Canada and knows how the game is played. But Dungey was set to be the crown jewel, coming out in a Sidney Crosby 2010 Canadian Olympic jersey. By Saturday morning, no one could find such a jersey, though, and the idea was scrapped. Brown came to the rescue and found one at a very high price (as you would imagine, Canadian Olympic "sweaters" are fetching big bucks right now). Dungey was going to throw the jersey into the crowd, but since he had a helmet on, it would have been impossible to get the jersey off. So he just had it rolled up in his hand and tossed it out. I don't think the fans even realized what it was!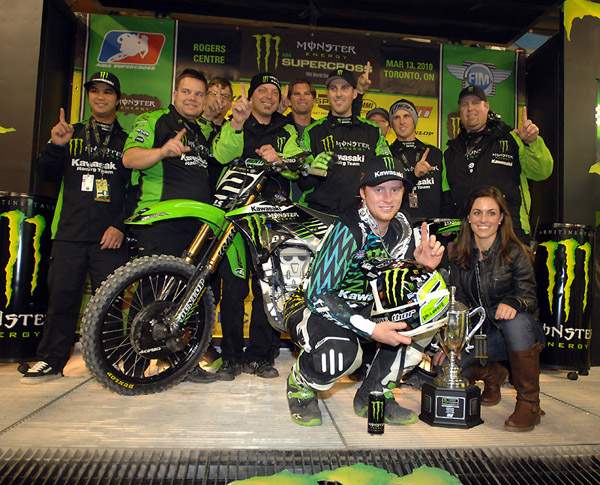 Kawasaki now has the maximum amount of wins you can count on one hand.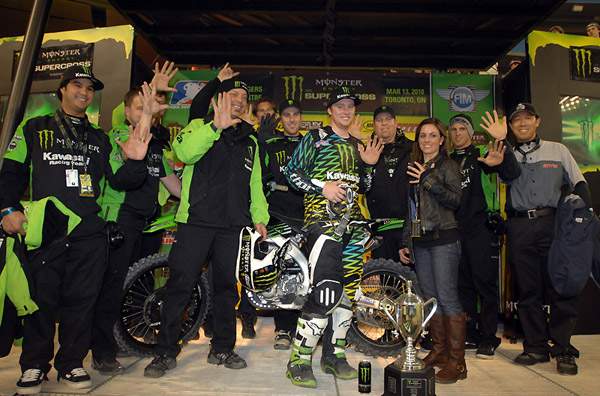 There you go!
Carl Stone photos
On Saturday morning, Barcia explained that he and
Mike LaRocco
had come up with some "sick" lines that he had to keep secret (sick being Barcia's term; I bet LaRock went with good.) In the main, Barcia connected a double by using two singles and jumping over a turn! He was dangerously close to jumping over the Tuff Blox doing that, and it bit him late in the race when he landed a little squirrelly and shot off the side of the track. He saved it but Stroupe caught right up to him. Then Stroupe got jacked by lappers two turns later and allowed Barcia to open the lead back up.
In the 450 main,
Davi Millsaps
was using the same "sick" transition, but it bit him. DM18 went down hard.
Josh Hill
is also soldiering on; rumor has it he has at least three broken bones. He seems able to go fast for about three laps before it all locks up on him.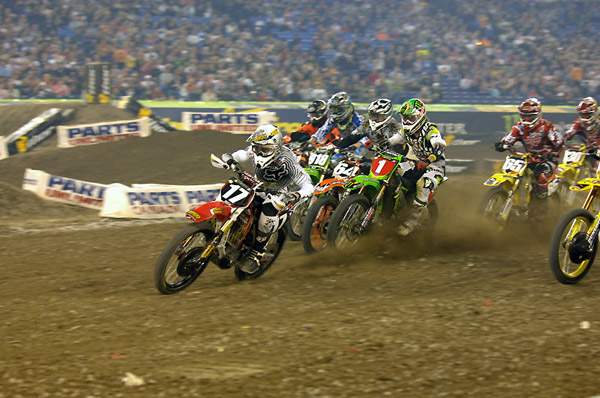 Bam Bam Bar to Barcia, Barcia, Barcia!
Carl Stone photo
Tevin Tapia
and
Jake Moss
had the battle of death in the Lites LCQ. Moss passed Tapia on the last lap and Tapia ghosted his bike over a triple to try to get him back. Moss is clearly struggling with injuries, but I swear I'm hearing conflicting reports over which Moss brother has which injury—DeCoster told me Matt still has a broken wrist, but everyone else tells me Jake is the one with wrist problems. And one of them is supposed to have a broken back. Perhaps, since they are twins, they feel each other's pain, like Xavier and Reivax did in the G.I. Joe cartoons.
Ryan Sipes
is riding awesome this year. He was fifth in the Lites main. Canada's own
Dean Wilson
rode well but was a notch below the top trio.
Last week I said Star Yamaha's Davalos-Izzi tandem was struggling. No one called me out on it at the race, so clearly no one is reading this column. Izzi did tell me he was diagnosed with mono in January and is barely able to ride during the week.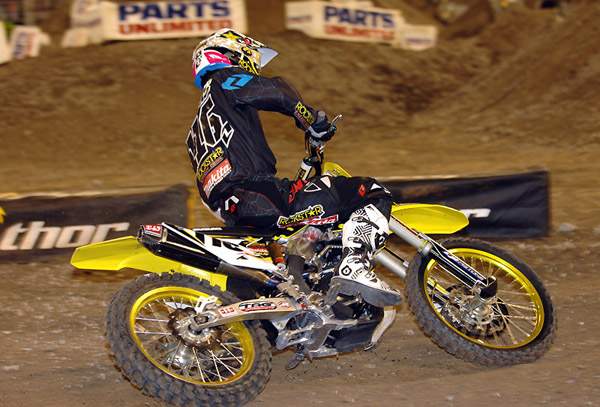 He didn't make it out of practice, but all riders were automatically seeded into the main event. That makes Ryan Morias the first 23rd-place finisher ever at an indoor SX.
Carl Stone photo
It's tempting to count points now and say, "All Villopoto has to do is win the last seven races and he'll gain 21 points on Dungey and win the title by four." Well, that's not gonna happen! No chance they run an uncontested 1-2 for seven more weeks while dealing with this pressure. Something will happen. Heck, last year at this time people were doing the same math on Stewart and Reed. No one predicted Villopoto winning two of the last three races, and no one predicted Reed crashing in the first turn at Seattle and finishing seventh. But stuff like that happens, and it's going to happen again. We'll just keep waiting.
What do you think is going to happen? Email me at
jasonw@racerxonline.com
with your thoughts on the future, be it the next seven weeks of supercross or the future of clean energy, or even thoughts on your favorite hot actress from Canada. There are plenty of options.