Cobra Announces its 2010 Race Team
HILLSDALE, Mich.
– Cobra is pleased to introduce today the world's fastest young dirt bike racers – the members of the 2010 Cobra Race Team.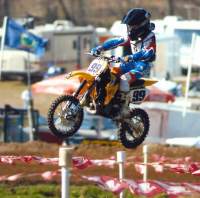 A new chapter in the "Cobra Generation" story begins to play out in the coming weeks at the first ever Daytona Amateur Supercross, Texas' Lake Whitney Spring Classic and Oak Hill's GNC Final, then continues on through the summer and fall at hallowed amateur MX racing grounds such as Vegas, Ponca City, Loretta Lynn's, Branson and Gatorback – with a trip overseas for America's top racers to join up and compete with Cobra's top European stars against the world's best mini cycle racers at the MX Masters (aka the Mini Des Nations).
Named to this year's premier Cobra Factory team are three outstanding racers that have been aboard the Cobra brand for a number of years, winning multiple national championships along the way. Missouri's "Lightning" Lance Kobush will be mounted on his King 50 and CX65, while Austin Forkner (Missouri) and Chase Sexton (Illinois) will run the 65cc class on factory-backed Cobra CX65s.
"Lance, Austin and Chase make up the core of a Cobra race team that features championship-caliber racers from top to bottom," explained Cobra President Sean Hilbert. "We look forward to the coming weeks in Texas not only to showcase our talented factory-backed racers, but also to witnessing the challenges our top guys face from privateer-mounted Cobra racers in their quest for podium spots at the major amateur MX nationals."
Rounding out the Cobra Team program are a number of equally fast racers from all points of the U.S. map, including:
Racer State Class(es)
Michael Hicks Missouri 7-9 65cc
Julian Kempany Georgia 10-11 65cc
Palmer Kling Georgia F2, F3 (Road race, Supermoto)
Guage Keith Maryland 7-8 50cc & 7-9 65cc
Jonathan Lee North Carolina 7-9 65cc
Logan Leitzel Pennsylvania 7-9 65cc
Daniel McCullon Florida 7-8 50cc & 7-9 65cc
Stilez Robertson California 7-8 50cc
Jack Rogers Maryland 7-8 50cc & 7-9 65cc
Kruz Sampson Tennessee 7-8 50cc & 7-9 65cc (GNCC)
James Shocky Virginia 7-8 50cc & 7-9 65cc
Brandon Smith New Mexico 7-9 65cc
Vance Stiers Ohio 4-6 50cc
Jackson Turpin Georgia 7-8 50cc & 7-9 65cc
Chase Yentzer Pennsylvania 7-8 50cc & 7-9 65cc
"We've got the Cobra support semi stocked with parts and are ready to hit the road for the Texas amateur national openers," said Hilbert. "Everyone at Cobra R&D is looking forward to getting away from the computer monitors for a couple weeks and into the dirt for the opening races of the season."
Cobra, founded in 1993, produces the most successful line of competition mini cycles and mini quads in the United States with more than 200 national titles in the last decade. Based out of Hillsdale, Mich., Cobra's mission is to build premium products for the serious racer. For more information on Cobra products, please visit our website at www.cobramotorcycle.com.