5 Minutes with... Blake Baggett
Rockstar/Canidae Suzuki's Blake Baggett is new to supercross, but he has already made strides in only his first two events. He finished 11th at Indy, but then followed that up with a fifth place at Atlanta, and even threw in a crash for good measure there. We talked to him this week to find out how he ended up on Suzukis after an amateur career on Kawasakis, and see how he sees the rest of his season going. Luckily, he was inside as this conversation took place, so it went on for a while...
Racer X: This last weekend, you looked really solid, but prior to this season, I think you and Dean Wilson were going for the last spot on the Pro Circuit team, and now you're out there competing on Suzukis. How did all of that go down?
Blake Baggett
: Yeah, that was the talk, and that was the plan, until it really came down to it, and then I got bumped out of it kind of early. Everyone thought I was supposed to go there, but I got bumped out of it early, and we were just kind of searching for something. I kind of knew before we went to the outdoors that I really wasn't going for that spot. It was between Wilson and
Ryan Morais
. I had fallen out of it just because Wilson did a little bit better at Loretta's – he got two championships, and he was a little bit more solid than me. So I got bumped out of it, and it was pretty much between Wilson and Morais and I'm pretty sure [Mike] Fisher was the one who made the decision to take Wilson, because he had won so much for Kawasaki, and the Xtreme team [the Rockstar/Canidae Suzuki team that Baggett rides for now] was going to Suzuki. That's how I understood it. And then Morais ended up over at Rockstar with me.
You were on Kawasakis last year during the Nationals, right?
Yeah, I was on Kawis, but since he did better, they took him.
It just seems odd to see someone who has been on Kawasakis for so long racing on Suzukis in their first real season as a pro, that's all.
Yeah, it was weird, for sure. Pretty much everything I own is green. I mean, I rode Kawasakis since I was on 60s, and that's all I knew. I'd never even ridden anybody else's bike and tried anything like that, so it was definitely different, and it took a while to get used to. I really didn't start feeling good [on the Suzukis] until probably three weeks before Indy, and then I had a big crash right after that and didn't get to ride for like two weeks before Indy. I just kept it on the DL and figured that I was going to struggle at Indy because I hadn't ridden in a while before that race. Actually, I never even got to ride my race bike, because I was supposed to after I got hurt. So I just went to Indy just guessing about what it was going to be like, and I came away decent, then I came back and then went to work and got back on the straight-and-narrow program and got back to where we were. I think we're good now.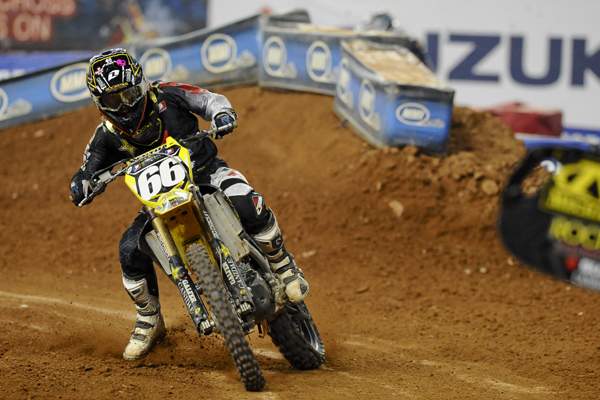 Blake Baggett is coming around on his supercross skills, even though he didn't like it at first.
Photo: Cox
Yeah, a top five is solid, for sure.
Yeah, my goal at the first one was to just get into the top eight. And then after I crashed, I figured top-10 would be good, and I got 11th, so I figured I could shoot for top eight again at Atlanta. But instead, I went from 11th to fifth, and had a crash in the main, so I think we're back on track. It should be good. I'm going to work on a few things this week and try to better myself in some places, and then go to Daytona – which is more my style, because I'm more of an outdoor guy – and hopefully it works with us.
There's a lot of talk about a lot of racers, and it seems like you sort of snuck under the radar. It's a good opportunity to do that right now.
It was pretty much me and [Justin] Barcia and Wilson in the amateur things, and me and Barcia butted heads before Wilson became the top guy. Wilson was really the third or fourth-place guy in the past years, and then last year and the year before, he just kind of came out of nowhere and stepped it up to a level a little bit above us. Some races, we were on the same level, but other races, he would just get a start and go. So before that, Barcia and I butted heads in the amateur stuff, and we were the top guys for a while, and then Wilson came in, and I was sort of second-fiddle to him because Barcia left [to race the AMA Nationals in 2009]. So I knew they came in with more hype than I did, which I kind of prefer. I prefer to be low-key and have nobody know what it is I'm doing. I think that took a little bit of pressure off because they came in with the "factory" rides, and I'm a little lower key, and I don't really mind. I knew we were going to be up there somewhere just because I had done the outdoors, and I had seen how Barcia and I did there, and then Wilson did the des Nations, so I figured he would be fast. I knew we were going to be somewhere in there, I just didn't know where.

Was it weird at first racing against guys that you had seen in magazines and on TV for so long?
I don't know, everybody talks about how cool it is, but it's really not much different from the amateur thing, other than having more people look up to you a little bit more if you're a big name like
Austin Stroupe
or
Christophe Pourcel
or someone in the 450cc class. I'm still kind of low-key and haven't proved myself yet, so it's not that much different. It's kind of weird racing every weekend, though. I think it's better, but you don't have much time to prepare, whereas for the amateur races, there were only like four races all year long, and you'd race, and then have to wait two or three months sometimes, and then you were left wondering how fast your competition is by the time the next race comes along. So it's kind of cool to know. And since all the test tracks are right there, everybody kind of watches what everybody's doing. I'm pretty good friends with Austin and he lets me ride with him sometimes, so I got to see how fast he was, and I kind of knew what it was all about. But it's not that much different being a pro from being an amateur.
And with the amateurs taking so long between races, you see the payoff every race now. Your improvement from 11th to 5th was big, and it was immediate.
I guess you can gauge yourself a lot better because you know where you're at each weekend, but you really have no time to improve that much, either. You can change a little, but you can't do anything drastic, because really you ride two or three days at the most, and then you're flying out again!
So, are there any races you're really looking forward to coming up?
Outdoors is probably more what I'm looking forward to, because I think that comes a little bit easier to me. I think I'm more of an outdoor guy. I mean, everybody said I was going to be good in supercross, and I didn't really believe them because I didn't really like it when I first started doing it. But I think this weekend should be fun, because Daytona is a bit more like outdoors. Everybody says it looks cool, but it's kind of built funky, with the sand and clay jumps, but I think it should be fun. I'd say there's a lot of hype about this race. And then the final in Vegas, I look forward to that, just because we get to race all the west-coast guys and see where we stack up against them. But then again, hard-packed dirt isn't really my favorite thing, so I'll have to work on it during those two weeks off after the end of our series back east. I don't think I'll ride outdoors until after Las Vegas.
So, you're from California, and you can't ride hard-pack?
I'm a California kid that doesn't like hard-pack stuff. I'm kind of like a hero or zero on hard-pack. I either go out there and kill it and go fast, or I struggle, but it seems like the rutted tracks with the soft dirt, I can ride that stuff, which doesn't make any sense, because I've always lived in California. I've only gone and stayed on the east coast once before, and I was like 12 years old, so it makes no sense to anybody, but that's how it is. I don't even get it because almost all we ride out here is hard-pack.
Yeah, I'm a California guy too, but I started out riding out in the desert, and that's sand, and I was always pretty fast in sand, but never that fast on really hard stuff, so you're not alone...
Yeah, same thing with me. I can ride the dry, beach-sand tracks like all the hill tracks that are super-sandy, and 4th St. over there in Ontario, I can go super-fast there, too. But there aren't really any sand races. And in the mud, I'm either a hero or a zero, too.
So, since this is our first interview of Blake Baggett on the site here, tell us some stuff about Blake Baggett that we don't already know...
I'm pretty much average and do average things. If there's anything, I don't like to go out much. I'm inside a lot.
So, you're like a hermit?
Yeah, I guess I'm close to a hermit. I'll go outside a couple days in a row, but the rest of the time, I'll go ride, and then I'll come home, and then I don't go outside anymore. Everybody asks me why. They're like, "Why don't you go outside? You've got a ton of energy and you're always bouncing off the walls, but it's always inside." And I'm like, "I don't know, I just don't like to go outside." I spent every day outside at one point because of racing and stuff, so I guess I just would rather stay inside. Other than that, I'm average.
Yeah, just stay inside and play video games or something...
I don't know, I don't really play video games or watch TV or anything, so I don't really know what I do inside. I hardly ever watch TV, and I actually just got an Xbox less than a month ago, and I think I've played it three times. The last game console I had was a PS2, and I got it right when it came out, and got two games for it, and that was it. I'm not a video-game or TV person. People are like, "So, what are you doing all day?" and I'm like, "I don't know, I'm just inside doing stuff. I walk around in circles, walk up and down the stairs, I don't know... I just do whatever." I just chill inside.
That's funny, man. Thanks, Blake, for your time, and I'll see you this weekend in Daytona.
Yeah, I don't know where we'll be parked, because sometimes we're in the front, and sometimes we're in the back.
I think you guys actually get access to the garage this year, so you guys might not even have your hauler. You might just be in the garages.
I don't like that. I don't like being away from the semi.
Yeah, again, you don't like being outside!
Yeah, exactly! I'd rather go inside!